So, you've decided to smooth over those forehead furrows; iron out those crow's feet; fade those darn elevens. Asking yourself whether you want to go ahead with treatment is the easy part (yes, please). But then what? The rest of the process is significantly less straightforward. Whether you have a zillion queries or you're at a complete loss for what to ask before getting injected, we're here to help. We sought out two providers in the country, who shared five questions they wish you'd ask during your consultation — and answered them!
What are the benefits and risks of treatment?
If you're reading this article, you've probably already researched the benefits of injectable wrinkle reducer (if not, click here for the lowdown). You know they can temporarily reduce the appearance of moderate to severe wrinkles in certain areas — but it's a good idea to ask your injector how said benefits can pertain to your individual face.
In addition to understanding the benefits of wrinkle reducers, it's equally important to understand the potential side effects (it is a medical procedure, after all!). Nevertheless, your personal risks can vary depending on your health history. Be totally transparent with your provider so you can weigh the pros and cons. Learn more about those potential risks here. 
---quiz start
---quiz end
What are your qualifications?
This question may sound obvious, but according to NYC-based plastic surgeon, Dr. David Cangello, it is the number one most important thing to ask — especially in our current digital era. According to San Francisco-based dermatologist Dr. Vic Narurkar, social media creates an environment for self-declared "experts" to target consumers looking for injectable wrinkle reducers. As a result, there are a plethora of unqualified injectors performing wrinkle reducing treatments.
Instead of selecting a provider from Instagram or YouTube, Cangello suggests seeing a board-certified plastic surgeon or facial plastic surgeon. "[Both] have deep knowledge of the facial anatomy beyond that of any other type of practitioner," he points out. That said, qualified injectors also include board certified dermatologists and certified medspa injectors. Unsure of where to find a provider, or want to double check an injector's qualifications? Chat with a trained aesthetic specialist to find providers near you!
How much does it cost? Why do you not charge by units?
Narurkar stresses the importance of this question — not just for your bank account's sake, but also for your own safety. "Often, places that charge lower prices may be using diluted or counterfeit product," he warns. It's also important to know that not everyone needs the same amount based on the area/s being treated (and the amount is measured in "units"). Price range can vary depending on location and provider.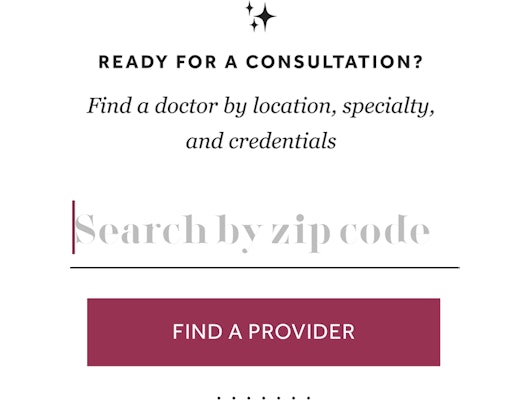 Will I look 'frozen' or fake?
Not with a qualified and trained injector — but it's totally normal to ask. Generally, your provider's goal is to treat your features without overdoing it. "I discuss how it should look [with my patients]," affirms Narurkar, who often points to treated areas on his own face to demonstrate how indetectable the results can be. Moreover, most providers take a similar approach to injectables to avoid the so-called 'frozen' look.  
May I see the actual vial of the injectable wrinkle reducer?
You have the right to know what's being injected into your face — ask to take a peek! "Unfortunately, unethical injectors may be using counterfeit products," Narurkar reiterates. There are a number of brands that manufacture injectable wrinkle reducers, but they all share a common trait: "Legitimate FDA-approved products will have holograms and lot numbers on the vial," Narurkar shares. Don't get duped!