Have you ever danced so hard, sweat so hard that you got high off your own adrenaline and endorphins coursing through your veins? I have. I just happened to be surrounded by a group of feisty, similarly sweaty women wearing skimpy athleisurewear and wedge sneakers, shouting supportive mantras at each other. All this happened while we were all twerking the hour away, practically deafened by pop, hip-hop, and reggaeton mashups.
Our ringleader was the inimitable, electric Janet Jones-Veloso. The 36-year-old dancer and entrepreneur was directing us in her aptly-named Vixen Workout. This dance fitness class teaches its participants real, performance-level choreography. (No, not the faux dance-turned-cardio style of movement you might be used to.) It's all set to fist-pump-worthy remixes and stage lighting.  
The Miami native knows choreography: a lifelong dancer, she received a BFA in Dance from Florida State University, before going on to dance for the Miami Heat. She then moved to Los Angeles to pursue a professional career in the field, assisting celebrity choreographers like Darrin Henson (Britney Spears's go-to) and backup dancing for performers like Pitbull and Jennifer Lopez. 
Her career path sounds like one that would organically lead to developing Vixen. However, it wasn't until Jones-Veloso left her love of performing for a job in corporate America that she saw the need for her energetic, mood-lifting workout. That corporate gig led her to suffer a deep depression, and Jones-Veloso realized that to happily and healthily balance career and family, she had to do it her way.
In 2013, Vixen was born — a place where "women can mentally disconnect from their responsibilities, express their emotions in a healthy way, and have a sense of community while improving their image of their bodies and self," explains Jones-Veloso. Now, there are certified Vixen instructors all over the world, with a flagship studio in (of course!) Miami and a pop-up in New York City. The classes' devotees refer to themselves as members of the #VixenArmy — and those fans are loyal (the hashtag has over 56,000 tags on Instagram at time of print).
Just a quick glance at the talented businesswoman and yes, you'll be envious not only of her moves on the dancefloor. But you'll also be mesmerized by her radiant skin, thick hair, and bright smile (and of course, impossibly toned body). You'll likely wonder how, with an ever-growing business and two young daughters (Ava, 8 years, and Brooklyn, 4 months), she handles it all. We caught up with Jones-Veloso and got her to share how she makes time for herself, her secrets to radiant skin, tips for launching your own business, and more.
Spotlyte: You are an incredible businesswoman who travels constantly and a busy mom (with an infant)! When you have limited time for pampering and self-care, what do you do to treat yourself?
Janet Jones-Veloso: It's extremely difficult to carve out time for self-care. I feel like what I consider self-care at this particular point in my life is different than a couple of years ago. Today, if I can get one hour to just sit in silence and not be needed, it's the equivalent of a weekend in the Bahamas.  
My day is constantly changing, so it's difficult to plan appointments ahead of time. If my daughters or business needs me, and I have an appointment for a facial, that goes out the window. I need flexibility, so apps like Zeel and Priv have been my go-to for last-minute windows of opportunity for a massage or a manicure.   
Spotlyte: What is your advice to anyone who wants to start a business?
JJV: Make sure that you are absolutely in love with what you are doing, and/or it serves a purpose of helping other people. It is tough to open a business. It's all-consuming, challenging, and there are many days where you wonder, "why am I doing this?" I feel like the only way you can justify all the hurdles that come with running a business are either loving it, or having a purpose that is bigger the you.
Spotlyte: What is your approach to anti-aging and skincare?
JJV: I feel like I looked much older 10 years ago when I was living a life that made me unhappy.  Stress will age you fast. Doing what you love has a huge effect on aging, and dancing definitely keeps you young. I'd like to think J. Lo's fountain of youth has to do with dancing (at least I hope!), in addition to her great skin regimen. Like fitness, [you need to] find a skin regimen that works for your daily life and you can commit to. Eat clean, exercise, and make it a point to not let anything disturb your happiness.  
Spotlyte: What does your weekly workout schedule look like?
JJV: I'm still getting used to my new normal with the baby, but I teach the Vixen Workout three times a week.
Spotlyte: Your hair is gorgeous — what is your favorite dry shampoo to go from a workout to out for the night?
JJV: I sweat a lot. If I wash my hair every day, I start to experience hair loss, so I depend on dry shampoo a lot. I also have curly hair — so dry shampoos sometimes dry my hair out — which is why I love the Aveda shampureTM Thermal Dry Conditioner ($31). It's all the stuff you love about dry shampoo, but it conditions & detangles.
Spotlyte: Vixen classes are so hot, sweaty, and sultry. What is your top longwear makeup product for class, and what do you use to make sure you get all of the makeup off?
JJV: I set my makeup with Urban Decay All Nighter Long-Lasting Makeup Setting Spray ($32), and it does not come off. I always have BeautycounterTM One-Step Makeup Remover Wipes ($25 for 30 wipes) in my bag — that's what I use to wipe it off before my nightly skin regimen.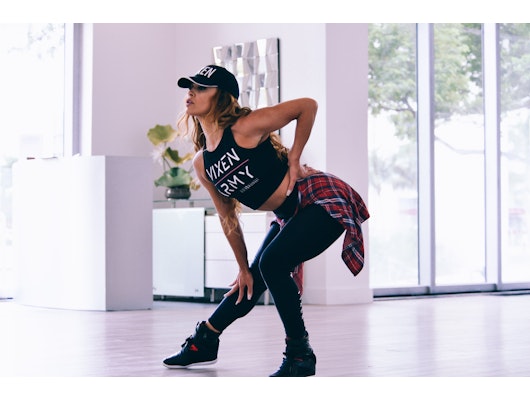 Danielle Margherite
Spotlyte: What do you eat or avoid for your best skin?
JJV: I've replaced coffee with green tea, which has antioxidants. With age, I've become lactose intolerant, so replacing cow milk with almond milk made a big difference in my skin. Dairy is highly inflammatory, and I didn't realize how it was affecting my skin until I stopped drinking it. Someone also told me dark chocolate has plant compounds that improve circulation and help hydrate skin, so it's my go-to when I get a craving for something sweet.
Spotlyte: What is your skin type? What are three products you love and use for your skin?
JJV: I have normal to dry skin. I love Dermalogica® Daily SuperfoliantTM ($59); I feel like it brightens my skin and improves the texture. I also love the Dynamic Skin Recovery SPF 50 ($72) because it easily combines my moisturizer with an SPF. I was recently turned on to Farsáli Beauty oils and I've become a little obsessed. I use them day and night, and they keep my skin really hydrated — especially when I travel.
Spotlyte: What is your stance on injectables?
JJV: Personally, I had been terrified of injectables because I see so many girls in Miami use them to completely alter their face, which can sometimes make you look older. But I love the fact that injectables can be used to [help improve] moderate to severe lines on certain areas of the face. I like my face, and I'd like to keep my face (with the help of injectable wrinkle reducers and fillers).
[Editor's note: Injectable wrinkle reducers and fillers are temporary medical treatments with risks. Please make sure to consult with a licensed provider to see if they are right for you. Looking for an aesthetic provider? Our trained specialists can help!]
Spotlyte: Have you tried injectable wrinkle reducers? Where?
JJV: I actually never have, but I am scheduling my first appointment this month! Luckily, I have been able to dodge this, but after having my second baby, I definitely see the see some moderate to severe wrinkles signs coming in quick. (I'm sure the months of sleep deprivation has something to do with it.) One of my Vixen Workout clients is a nurse practitioner, and people say she's the best for injectables, so I've been talking to her to schedule something soon. She's mentioned that as with all prescription medications, there are risks, so I encourage everyone to talk to their doctors / health care practitioners about their options.
Spotlyte: Have you tried filler?
JJV: Not yet, but as I lose the baby weight, I'm definitely seeing changes in my face that I'd like to [treat].
Spotlyte: Are there any other medical aesthetics treatments you've tried?
JJV: I have acne scars from high school. I tried microneedling only once, and there was a huge difference in the texture of my skin. It seems scary at first, but it doesn't hurt at all. You are a little red for a few days, but nothing that will keep you from your daily activities. You're suppose to do it six times for the best results.
Spotlyte: Do you feel sexier now than you did in your early twenties? If so, why?
JJV: Absolutely! In my twenties, I had no sense of self.  In my thirties, I know exactly who I am, what I want, and I am unapologetically me.
Spotlyte: For a woman who doesn't always feel sexy, what are your tips for finding and celebrating her sex appeal?
JJV: Come to a Vixen Workout! Seriously though, try a workout that offers mind-body connection like Vixen or yoga. When you connect with the body, all the negative perceptions of body image provided by the mind just fall off.  You feel in immediate improvement in body image — which affects your sex appeal.