In The Path, we spotlight different women making a difference in the fashion, beauty, wellness, and medical aesthetics industries. Here, Nudest founder Atima Lui shares her road to success.
Just a quick glance at the current beauty landscape makes it somewhat difficult to tell that just a few years ago, more than half of the population couldn't find a foundation shade that matched their skin tone. Before Rihanna and Fenty BeautyTM completely disrupted everything that the beauty industry knew about diversity in beauty, entrepreneur Atima Lui was in business school — and was working on a master color plan of her own.
Seeing that "nude" shades throughout beauty and fashion lines didn't actually match the majority of the world's population, Lui was driven to redefine the ambiguous term. With her background in marketing and tech, she decided against going the product development route, and instead, created groundbreaking technology. On National Nude Day in June 2016, Nudest was born: the tone-matching site lets online shoppers find their perfect flesh-toned makeup, clothing and hosiery — all with just a few selfies.
In this interview for Spotlyte, Lui shares how her ongoing purpose of helping dark-skinned women and girls is finally coming to fruition — and heading in the right direction — with the help of her site's Nudemeter. She also divulges a few brands that set the tone for truly inclusive makeup and fashion products.   
Spotlyte: What inspired the idea behind Nudest?
Atima Lui: I started Nudest while I was in business school. I had signed an offer to work for a large tech company, and my background is in retail and marketing. I thought that was what I wanted to do, but I just didn't feel really satisfied with that choice. I felt like my purpose was to have a particular impact on the world — I just didn't know what that was. It was actually in a meditation session that it came to me — that my purpose is to improve the confidence of dark-skinned women and girls.  
I grew up in Topeka, Kansas where not a lot of people look like me outside of my immediate family. So I had an understanding of what it's like to not fit in with perceived standards of beauty, and I wanted to create something that could help people of all skin tones love and accept themselves.
Spotlyte: Why did you decide to build your business around the color nude?
AL: I came across the problem that items labeled the color "nude" don't match 84 percent of the global population. So the global majority is being left out. I developed technology that would help people of all skin tones find the beauty products, as well as fashion items, that match their skin tone.
My mother is really into black identity, black power, and black liberation, but unfortunately, we didn't really have a solution when I was growing up. We kind of just had to cope. I was a dancer growing up, and wearing nude dance hosiery that just made my legs look ashy was a regular experience.
My friends introduced me to makeup in middle school. I remember this light, bright pink lipstick that my friend had — all of my friends' products made me look like a clown. I have a lot of examples where I just opted out of wearing makeup.
Spotlyte: How exactly does the Nudemeter work?
AL: It's artificial intelligence-based software. It doesn't require you to download an app. It just lives on a web browser, so it's accessible by anyone with an internet-enabled device. It works by having the user take a selfie and then answer a short skin quiz that tells us about your tanning preferences. From there, we calculate the customer's skin color, their undertones and which products work for them throughout the year as their skin tone changes.
There are some skin analysis software already out there, but we're unique in the fact that we allow you to scan your skin by simply using your mobile device. You don't have to go into a store in order to match your skin. We partner with different companies and, as long as we know the color of their products, we're able to match accordingly.
Spotlyte: How many skin tones does Nudest currently match?
AL: The technology can match an infinite range of color, so there is no limit on it. However, for the convenience of our customers, you'll see a language of skin tones. We've developed 54 skin tones that we have named with really easy to remember names like "Rich 3." This empowers the customer to know the color of their skin. We really envision a future where everyone just knows the color of their skin after scanning once,  and is able to shop anywhere.
Spotlyte: Within the past few years since you launched Nudest, there has been a significant shift in the beauty space toward more inclusive skin tone offerings. How has this impacted your business?
AL: It's been really great for us. When we first got started, it was a bit more challenging to explain the importance of diversifying the color nude to the investment community and tech investors. It was up to us to create the business case and show that the need existed through surveys with customer quotes.
When Fenty came out and made $40+ million dollars in revenue in one month, that did the selling for us. It has really helped my business as we approach brands about what we're building. We can really be a partner with them and legacy brands that are looking to offer a greater shade range.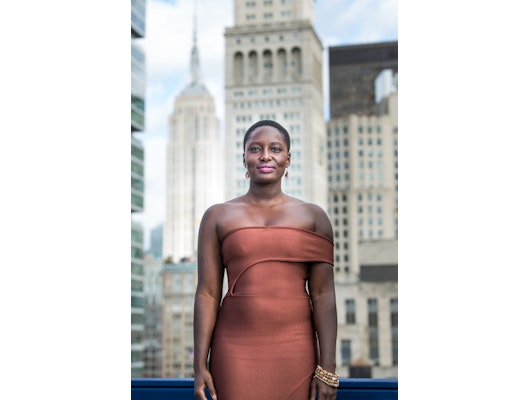 Keziban Barry
Spotlyte: How has Nudest impacted the way people shop for beauty?
AL: According to the Nielsen 2018 Future of Beauty report, the number of unique base cosmetic colors that are available on shelf has grown by 22 percent. There is an opportunity with all skin tones, especially women of color and people who are very pale. As America's and a lot of other highly-developed economies continue to diversify, it's going to become more important for companies to offer products that work for humans of every color.
That's really where our technology fits in. We help the customer wade through all of these colors that are coming out and figure out what works for them. Of course, it also helps empower brands who may have an opportunity in the color spectrum space to figure out — in a very data driven way — what the color of their customers looks like and where they may have an opportunity to improve.
Spotlyte: What areas can still use some improvement on the diversity front?
AL: There are starting to be options across categories. For the longest time, no one was innovating nude lingerie in the plus-size market. Now, thanks to young women who want to offer solutions, you can find that. Of course, there is also the wonderful Rihanna and Savage x Fenty, which does offer an inclusive size range. So, the future is definitely looking bright, and it's exciting to be on the forefront of this clear change.
In beauty, the change is that there isn't just one standard anymore. Everyone is beautiful.
Spotlyte: What are your beauty go-tos and habits?
AL: I really invest in washing my face and the moisturizers I use. I'm a huge fan of Aesop. I generally go for a natural look these days, which is also why the nude beauty category is so important to me.
Spotlyte: What are some of your favorite products that you've discovered since launching Nudest?
AL: One of the brands that I really like is CoverFx. They have a wonderful range of foundation shades. Make Up For Ever is also really great. And then, of course, Fenty is also fantastic. Before starting this journey, I thought there was no foundation that worked for me. I love the Match Stix ($25). It's so blendable, really light and feels like I'm wearing nothing.
There's also a start up by two women who graduated from Harvard Business School called Mented Cosmetics. They have a nude line of lipstick that I really love. I never really understood the value of a nude lipstick because I could never find one. Then I wore one, and I was like, "Wait, this is the best thing ever!" It gives you this very clean look.
People who have less melanin might not be aware that it's common to have two-toned lips. I have a naturally lighter bottom lip and it was really cool to see what I looked like with one nude shade on top and bottom. It may sound small, but it's such a big deal for me.
Have you ever done any laser treatments or medi-spa treatments?
AL: I have not, but I want to learn more. The medical aesthetics business is kind of a mysterious category. I have seen results of a lash growth serum on a friend and her eyelashes looked amazing. I'd be interested in trying that product for sure.