In this series, Top 11, influential people with beautiful skin share 11 ways they take care of it. Knowledge is power!
If you're a fabulously famous Indian woman or a Southeast Asian bride-to-be (with a hefty wedding budget), NYC-based makeup artist Karuna Chani may be in your rolodex. The beauty pro, who is of Indian and Iranian descent can call many engaged ladies clients of her 15-year career. She's a master at airbrushed skin, mesmerizing eye makeup, and photogenic bold lipstick looks.
That said, the 40-something makeup maven is a beauty inspiration on her own—especially when it comes to have smooth, glowing skin. KC's Instagram slug even reads, "Speaking my mind and looking good doing it." And we have to agree — which is why we quizzed her on her own beauty and medical aesthetics routine.
"Personally, taking care of my skin is a huge priority for me, not just because I'm a makeup artist," KC told Spotlyte. "I exercise and eat well to feel good and look great! I've accepted that aging is inevitable, but I'm very happy knowing that the way I look and feel is the best I can be at 43."
Of course being a makeup artist has influenced her own routine. "My career has definitely forced me to test and refine my beauty routine to a perfect art form," she says. "I'm very cognizant of the products and techniques I recommend to my followers because I feel an immense responsibility to consistently give expert worthy advice."
Since wedding makeup is such a large part of her business, we asked about her best tips for brides or anyone attending an important event. She said: "Have a solid foundation...Great skin makes for a great canvas, which allows me to create a flawless face — it makes my job 10 times easier!" Second, she recommends doing a trial run with your makeup artist. "Don't be afraid to speak up and voice your concerns immediately," she notes. "Do your due diligence and check out their social media and reviews. This is also a great way to find someone that you feel would be a great fit for you aesthetically."
And now onto the exact 11 ways KC keeps her skin looking the way it does!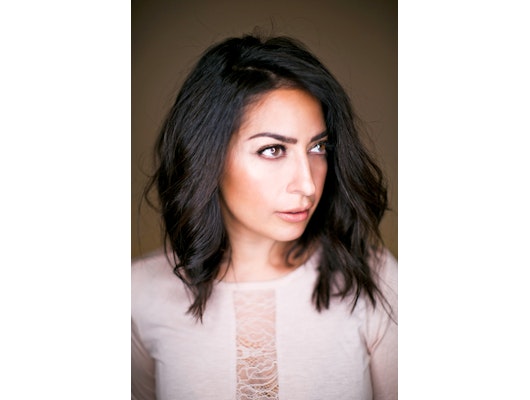 Tara Sharma
Guinot Paris Comforting Cleansing Milk ($35)
"Nothing cakes faster on my skin than NYC's dust, smoke, and pollution. But my French goodies step up to the grime and keep my skin silky, smooth, and clear. It's been a vital part of my skincare cleansing routine since 2002!"  
Guinot Paris Hydra Beaute Comforting Toning Lotion ($35)
"It's a timeless question, to tone or not to tone, and my answer is a resounding, 'Do you not want to have a radiant glow?!'  It's the most important element of your cleansing ritual even though rumor has it it's just an extension of washing your face. Not true! The best toners remove all the remaining bits of oil, dirt, and debris left behind by the cleanser. More importantly, a toner will help soothe, nourish, and hydrate the skin while restoring its pH balance."
SkinCeuticalsⓇ C E Ferulic ($166): "As much as I love the sun, there are some few sun spots on my skin I can do without. Not only does vitamin C protect against sun damage, it's a great anti-aging antioxidant.  This serum offers the highest concentration, so I dab it on like there's no tomorrow."
Charlotte TilburyTM Magic Cream ($100)
"Every girl's beauty secret can be found in a 2 fl. oz. jar!  Mine is the legendary Magic Cream by Charlotte Tilbury, which leaves the skin feeling extraordinarily hydrated, and so dewy you might be tempted to skip the foundation. It's incredibly effective because it's scientifically formulated with Bio-Nymph peptide complex that transports deep within the skin and boosts cell turnover, skin elasticity and healing.  It's been a favorite of mine for the past two years."
ImmunocologieTM Ionic Mist Spray ($65)
"Half way through a makeup session with a nervous bride, I sometimes catch a glimpse of my skin in the mirror just drying out. This is when I mist, mist, mist to instantly smooth away fine lines and tighten my pores. I truly believe the skin saving power in this mist is due to its mineral-rich formula. It's also my ultimate skin saver on long haul flights!"
Glotrition Collagen Peptide Drink Mix ($85)
"This is the answer to my collagen troubles. Sadly, as I've gotten older, I've noticed production of collagen slowing down and frightful little wrinkles with sagging skin lurking. This little drink increases skin firmness and reduces wrinkle depth in just 30 days by activating new collagen growth. Beware of over the counter creams that promise to contain collagen, since truthfully speaking, collagen cannot be absorbed through the skin."
Acure Organics Incredibly Clear Sheet ($5)
"Adult acne sounds like an oxymoron but it happens. So, I really can't ever live without these! These little masks also refresh and clarify. They contain a topical BHA mixed with organic ingredients."
"As a woman in my 40s, I am proud of how I look. Although I've devised a solid beauty routine, somethings require more. When wrinkles become more moderate and severe, injectable wrinkle reducer temporarily smooths the appearance of the lines between my brows, also called the elevens." Remember they are prescription treatments so be sure to talk to a provider about the risks as well as the benefits. (Have more questions about injectable wrinkle reducers?  Chat with a trained aesthetic specialist now.)
Peels
"At the end of any season, stressful wedding project or visit with my mother, I opt for chemical peels and dermabrasion treatments to get me back on track.  There is no better feeling than loving your skin and on any given day, my skin is lustrous, age spot free with very soft, barely there fine lines. I use mild lactic or glycol peels to more intense acid peel varieties.  All done by a professional aesthetician or dermatologist in order to monitor the progress and ensure no burning or adverse effects."
SlipTM Silk Pillowcase ($79)
"You might find it hard to believe but I wake up most mornings with glowing skin! If you don't have a silky pillowcase, please read on! There are a few things that dermatologists, plastic surgeons, hair stylists and beauty experts will agree on, but all highly recommend the coveted Slip brand. I always have my trusty silky pillow to keep my skin from creasing and losing my precious night cream. Cotton pillowcases absorb our face creams, which is a No-No in my book. Tip: Apply night cream a few hours before bedtime so it has a chance to absorb into skin prior to hitting the pillow."
Allergan may receive commission for purchases made through links in this article.