After months — maybe even years — of staring into the mirror and side-eyeing those frustrating elevens, ever-spreading crow's feet, or deepening laugh lines, you've finally made up your mind. It's time to take the medical aesthetics plunge, and you couldn't be more excited about your upcoming introduction to Ms. Needle.
Whether you've yet to make an appointment for injectable filler or injectable wrinkle reducer or have one penciled into your calendar, doing a little pre-injection research for post-injection care is a must. After all, these temporary treatments — which are injected into areas of the face to help plump (for filler) or smooth (for wrinkle reducer) moderate to severe lines and wrinkles— are still medical procedures, even if they tend to be on the quick side. And it's important to do your homework and be well informed.
Want to chat about cosmetic injectables? Our trained aesthetic specialists are here to help! Get real aesthetic answers, right now from our trained aesthetic specialists!

---quiz start
---quiz end
To help you navigate the hours, days, weeks, and months following your visit, we asked a handful of derms what you can expect after getting injected and how to get the most out of your treatment. But don't just take our word for it – be sure to discuss this with your doctor during your consultation appointment. A licensed provider will be able to give you specific advice for you and your treatment as well as tell you about all the potential risks and post-care advice.
The First 24 to 48 Hours
As is the case with most medical treatments, everyone's experience with injections varies. That said, all our experts agreed that you should allow for one to two days of potential bruising or swelling. Read: Don't get injections two weeks before your wedding, an important photo shoot, or big event.
"In the first 24 to 48 hours there can be mild to moderate swelling, and bruises can become obvious," notes Dr. Anita Cela, a dermatologist based in New York City. "When you touch the injected areas, you can experience tenderness and, in general, the area may be a bit sore."
She notes that some patients can be lucky and have virtually no downtime but that with fillers, you can get a bad bruise or swelling that can last for a week [or more]" because they're placed much deeper. Note that this sort of bruising or swelling may be more common in lips than elsewhere. On average, you can expect pain, bruising, and swelling to subside within a week. However, some swelling and bruising from filler could last from two to four weeks, so plan accordingly.
"Icing after the [filler or wrinkle reducer] procedure can help prevent bruising," adds Dr. Cela. "A good plan is to ice 10 minutes on and 10 minutes off for an hour after injections, but don't press hard." Most injectors will provide an ice pack, but it doesn't hurt to ask for one!
Dr. Cela also advised against hanging out in excessively warm or steamy environments in the first few days after your treatment since heat can increase bruising. That means you should press pause on hot yoga, hot tubs, saunas, and extended sun exposure.
For good measure, you should also avoid any scenario where your face is under pressure, including dental procedures and massage tables where you're facing downward (now's the perfect opportunity to try a foot massage). This is especially important to note if you've had facial filler — the massage table could actually shift the injected gel around and alter the look of your results.
Your skincare regimen will also need some light alterations for the first few days after your injectable appointment. Skip any products or treatments that impart heat or trauma to the skin, including facial steams, self-heating masks, microneedling, lasers, radio frequency, ultrasound, and Fraxel. Instead consider reaching for active topicals, such as retinoids, exfoliants, and vitamin C serums. Be sure to ask a licensed provider for advice on how to best adapt your skincare regimen in the days after your treatment. (Learn more about all the outstanding skincare benefits from different types of acids here.)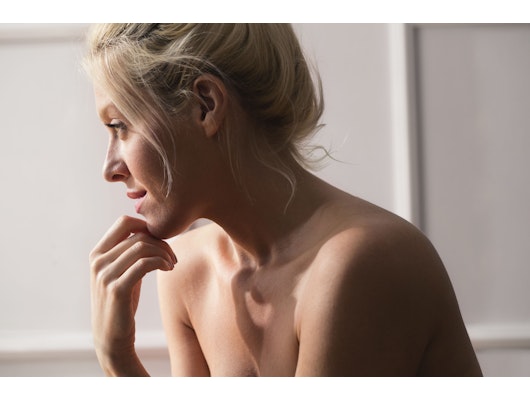 Stocksy United / Lumina
The Following Two Weeks
The good news is that those first 48 hours are the most crucial and restrictive, but once you're officially past that week mark, it's pretty much smooth sailing.
"With filler, you should see immediate results. You should have less shadowing on your face, less lines, and less sagging," says Dr. Rachel Nazarian of NYC's Schweiger Dermatology Group. After receiving injectable wrinkle reducers, you should see your lines diminishing after about one month.
Within two weeks, you can resume your regularly scheduled exercise program, spend however long you want in the sauna, and indulge in a massage should you please (but be sure to confirm with your provider!). In the name of beautiful skin, it's also important to get super serious about your skincare routine.
"Your regimen post-injections should be the same as your best routine. Always prioritize wonderful moisturizers, antioxidants, and rejuvenators," advises Dr. Ellen Marmur, also a NYC dermatologist. "Invest in wonderful products that are for the wellness and health of your skin over the long run."
Dr. Cela adds that it's also very important to stay hydrated in these first few weeks, especially if you've had a hyaluronic acid-based filler. "The fillers absorb water from your body and that is what helps makes them look so good," she explains. "So drink lots of water, use a great moisturizer, and be careful with the sun, as sun will dehydrate the skin."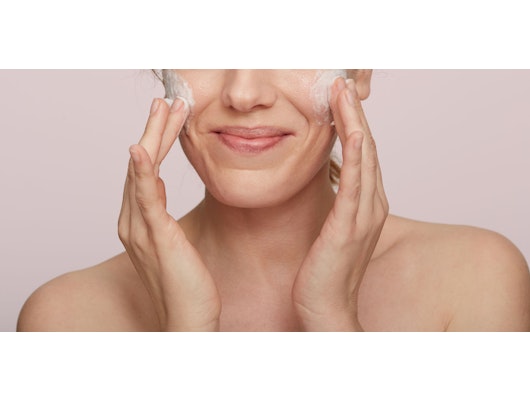 Stocksy United / Leandro Crespi
Moving Forward
Now that you've received your treatment, it's time to think about other skincare regimen. The most important steps you can take are to stay on top of your skincare regimen, slather on SPF daily (learn the difference between chemical and physical sunscreen here!), and think about what the future looks like for you in terms of injection maintenance.
Fillers last anywhere from a year to two years (depending on the area and product injected), and wrinkle reducers can be re-upped no sooner than every three months. In the interim (and if your derm approves), you may want to consider other types of in-office skin treatments.
Pairing microneedling and chemical peels are a good option between injections, as well, notes Dr. Nazarian. "Without the constant movement from facial muscles, you can [help minimize the appearance of] the deep lines on the forehead and around the eyes with these treatments," she explains. (Discover how a dermatologist's wife works to keep her own forehead smooth.)
A variety of intelligent at-home skincare, fillers, cosmetic injectables, and other in-office treatments can help you in your quest to look more like you want to — versus letting your skin sag, deflate, or wrinkle. Looking for an aesthetic provider? Our trained specialists can help!