Delayed flights. Uncomfortable seats. Sneezing passengers. The friendly skies can bring an unfriendly amount of frustration. There is one aspect of being 33,000 feet in the sky, however, that we shouldn't have to suffer in silence for anymore: the turbulence to our skin.
"Airplanes have to pump in outside air for passengers to breathe, but the air from the atmosphere outside is very cold and very dry," explains Dr. Kay Durairaj, a Pasadena-based, board-certified facial plastic surgeon. "This is why the air inside planes is so uncomfortable."
That air — along with harmful sun exposure — can wreak havoc on the most resilient of complexions. Bonus: that same air is recirculated, causing any stray germs from your fellow travelers to swirl around like a sickness cyclone. To ensure you arrive at your destination fresh-faced and fully replenished, we've consulted a few frequent flying experts for their best tips.
Drink More Water!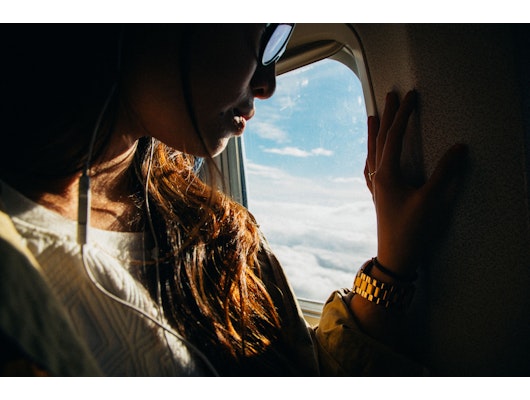 Stocksy / Maximilian Guy McNair MacEwan
You might be sick of hearing that phrase, but consuming water on board really does help counteract the effects of dry air. "Hydrating is the single most important thing you can do for your skin when you fly," says celebrity makeup artist Fiona Stiles, who travels frequently for work. "That means steer clear of caffeinated beverages and alcohol."
She recommends saving happy hour for when you get to your destination and that you opt to re-up on water every time the flight attendants offer beverage service. Stiles adds, "If that means you need an aisle seat so you can get up every half hour, it's worth it."
Skip the Heavy Makeup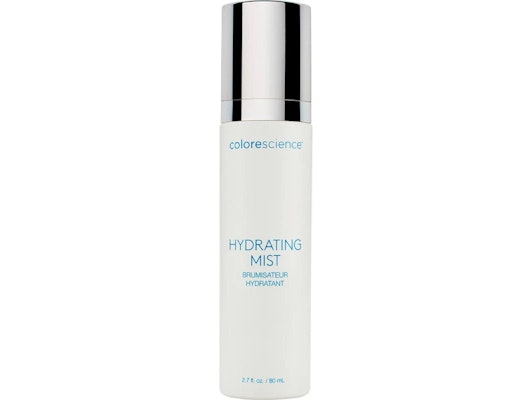 "Makeup on long flights is a definite no for me," insists Dr. Durairaj. "Makeup clogs the pores and makes it difficult for your skin to breathe." Clogged pores can lead to some nasty breakouts and irritation, so consider skipping your regular beauty routine. After all, as Dr. Durairaj points out, "You wouldn't wear makeup to sleep for eight hours, so why wear it on a long flight?"
But if the thought of traveling completely makeup-free takes you out of your comfort zone, consider going much lighter than usual instead. Flight attendant Taylor Elizabeth Niven has been jetsetting for a living for the past two and a half years. She's learned that she can still smooth out her complexion with just two products: a translucent, matte pressed powder and a weightless setting spray.
"When flying, the concealer and foundation that looked smooth and blended when first applied to your skin actually becomes raised by oil," explains Niven. She adds that she's even noticed this phenomenon on her more dry-skinned coworkers. "All that makeup looks pretty awful after many hours of flying."
The product: If you do wear makeup on board, spritzing your face with the Colorescience® Hydrating Setting Mist ($39) will help to lock in your look. You can also reapply it throughout your flight to give yourself a refreshing pick-me-up and boost moisture — it's formulated with ylang ylang, chamomile, and D2O heavy water, which uses a larger-than-usual molecule for increased hydration.
Moisturize, Moisturize, Moisturize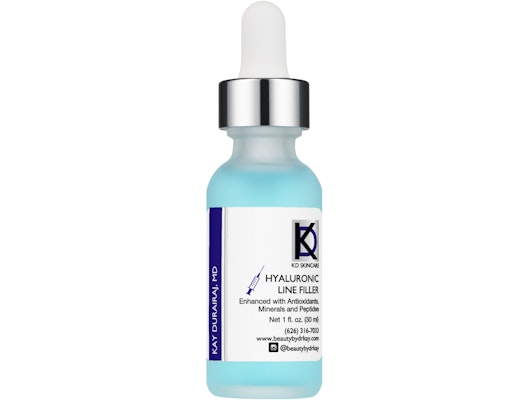 To avoid the inevitable flakiness and itchiness of dry skin, apply moisturizing products as often as you can. In fact, Niven says she does so "before, during, and after flying!" According to Dr. Durairaj, the best skincare ingredient to look for here is hyaluronic acid. "It absorbs up to 1,000 times its weight in water and adds moisture to the skin without making it oily," she says. "A layer of hyaluronic acid over the skin should keep it moisturized for your whole flight!"
The product: The KD Skincare Hyaluronic Line Filler ($72) from Dr. Durairaj's own line contains pure hyaluronic acid mixed with other nourishing antioxidants and peptides. Plus, Dr. Durairaj points out, "it comes in a 1 fl. oz bottle, which makes it perfect for flying."
Don't Forget SPF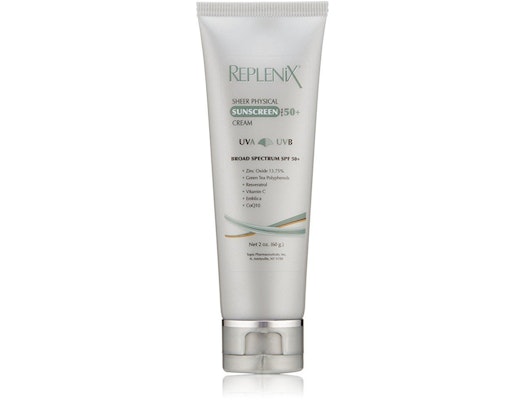 When you're in a commercial airplane, you're usually flying above 30,000 feet. This means that you're far above the lower layers of the atmosphere that typically help diffuse sunlight. Now, those damaging rays have a much shorter distance to travel than they usually do to get to your skin. So yes, you do still need to protect yourself with sunscreen.
"Most people don't think to apply SPF before they fly, however this is a dangerous mistake," says Dr. Durairaj. "Airplane passengers can be exposed to increased levels of UV light at high altitudes, especially through airplane windows."
The product: We're especially fond of physical sunscreens to block the sun's rays. Replenix Sheer Physical Sunscreen Cream SPF 50 Plus ($26) is a 100 percent mineral broad spectrum sunscreen which doubles as a free radical-fighting moisturizer thanks to antioxidants like green tea polyphenols, resveratrol and vitamin C.
Avoid the (Literal) Red Eye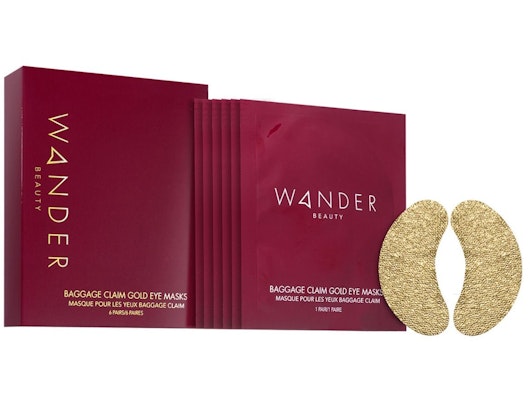 You've likely noticed that when you're sick, tired, or both, your eyes are one of the first areas to show it. According to Dr. Durairaj, there's a reason for this. "The skin around the eyes is extremely thin, and therefore dries out more quickly than other areas of the body," says Dr. Kay. "This also makes it more susceptible to puffing and swelling — and being exhausted from traveling doesn't help much either." Applying a separate product targeted for the eye area will really help soothe any potential puffiness and crepiness.  
The Product: The Wander Beauty Baggage Claim Gold Eye Masks ($25) not only contain anti-inflammatory and brightening ingredients like aloe leaf extract and calendula extract, they also sound like they were made to be used on an airplane. They only take about 15 minutes to work, so try popping them on right before landing, so you look bright-eyed and rested.
Keep Your Lips Sealed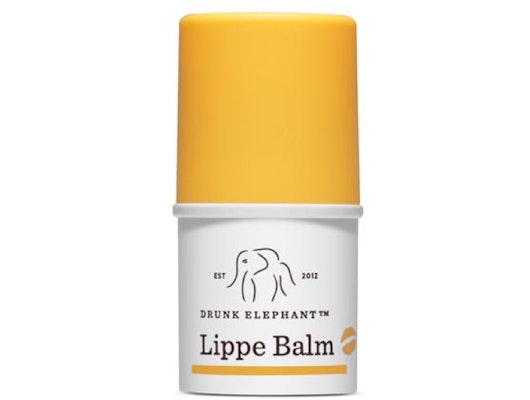 When we asked Niven what the one thing she can't go on a flight without is, she says it's lip balm. "I always keep some super moisturizing lip balm in my pocket so my lips stay smooth and hydrated," she explains. "Because without it, after a day of flying, my lips are dry and cracked, and it's not cute!" 
The Product: The Drunk ElephantTM Lippe BalmTM ($18) will keep lips hydrated, plump, and buttery soft with its cocktail of avocado, mongongo, cranberry, marula oils, and peptides. Plus, it's  formulated without potentially irritating ingredients like fragrance, essential oils, silicone, or alcohol.
Repel Germs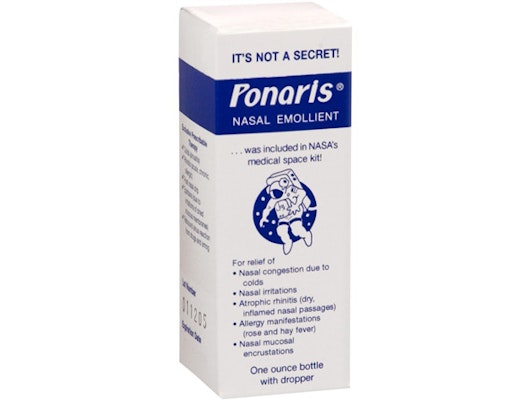 Avoid the risk of catching a bug — and the chance of having to spend your vacation sick in bed — by tending to your skin from the inside out.  "One of the most effective ways to guard yourself against illness [on an airplane] is by taking care of your nasal passages," says Stiles. "When it's excessively dry, the skin in your nasal passages can get tiny fissures and viruses can enter there more easily, but by keeping that skin moist, you can side-step that issue altogether."
The Product:  Stiles is so obsessed with the oil-based Ponaris® Nasal Emollient ($19) that she stocks it on her own online store, Reed Clark. "Unlike putting a little Neosporin in your nostrils, which is a similar idea, this coats the nasal passages all of the way back, ensuring better protection. I seriously will not fly without it."
Allergan may receive commission for purchases made through links in this article.