In this series, Top 11, influential people with share 11 ways they take care of themselves including beauty, skincare, and aesthetics. Knowledge is power!
If you've ever had your makeup done by Glamsquad for a wedding, event, date, or just because — you can thank Kelli J. Bartlett. The 31-year-old makeup pro is the Artistic Director of said on-demand beauty service, which offers blowouts, makeup appointments, and manicures in cities from NYC to LA. Bartlett's job requires her to steer the artistic direction of the makeup menu and train an army of face-painting pros. So when you book a session with someone from the squad, it indirectly has Bartlett's magic touch.
Before syncing with Glamsquad in 2014, she worked as manager at MAC Cosmetics, while adding celebrity clients and glossy magazine credits to her resume. But her love of blending, powdering, and swatching actually began at childhood. "Growing up in Kansas, my Nana referred to 'makeup' as skincare and 'glamour' as color cosmetics!" she says. "From a young age, she instilled in me the importance of a good beauty routine because she was gorgeous on the inside-out as a result of her good habits!"
She goes on: "The minute I was old enough, she took me to receive my first skincare consultation and taught me the benefits of a consistent regime. I remember feeling so excited about the multi-step process and the transformative power of taking care of myself. It wasn't until later in my life that I realized that so much of what I felt had nothing to do with what was put on my skin. It was truly about how she made me feel…like I could do anything! I've always wanted to share that feeling with others." 
Bartlett has literally done just that at Glamsquad, making gorgeous beauty accessible and affordable. And if you need more convincing of her talents, just look at her own porcelain-like skin and dolled up lashes — both a reflection of her makeup philosophy.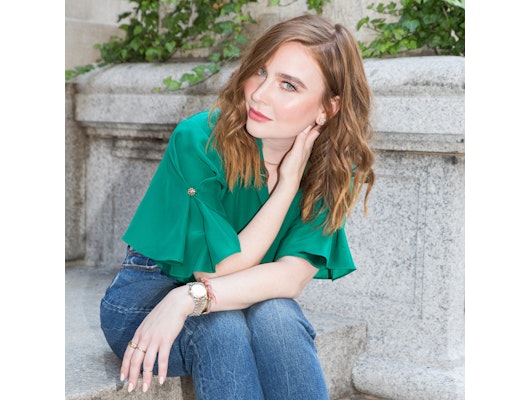 Artisan Counsel/Nicole Mills
"As a makeup artist, I have always had a 'skin-first' approach that I believe shows in [the way I do] makeup," she explains. "In my own personal aesthetic, over the years I have evolved into a less-is-more approach! Truly, I feel my best with glowing skin, big brows and curled lashes."
That said, she has concerns like the best of us. "Due to my sensitive skin and rosacea, I have had a lot of bad experiences," she notes. "So I stick to what my crew — Dr. Macrene Alexiades, Dr. Adam Kolker, and Nicole Paxson — tells me to do! And onto her personal routine, expert-advice included:
Dr. Macrene© 37 Actives Anti-Aging Cleanser ($79): "I cannot live without this cleanser! It has changed my skin. Finding the right cleanser for my acne-genic, rosacea skin was so hard because everything left it feeling hot, tight, stripped or aggravated. This creamy cleanser has Vitamin B7 to help regulate sebum and organic olive leaf to help reduce redness."
Cle De Peau© Eye Contour Balm Anti-Wrinkle ($122): "You will never regret incorporating an eye cream with retinol into your routine! Press a rice sized amount under the eye and around the orbital bone for ultimate radiance. Heavy eye creams can sometimes disrupt concealer, so I use this at night so my under eye is perfectly prepped before makeup in the morning"
Filler: "Dr. Kolker does an amazing job using filler to add volume to my lips without it looking artificial. As a result, I have rediscovered my love of sheer lip balms because I don't feel the need to line my lips with a pencil and wear lipstick. (P.S. I am currently in love with Tom Ford's Clutch Size Lip Balm in Neotropic ($36) for summer. It's the perfect sheer orangey-red that immediately transports you to South Beach!)"
[Editor's note: injectable filler is a treatment that temporarily adds volume via hyaluronic acid to areas on the face, including cheeks, lips, and laugh lines. As with any prescription, be sure to talk to your doctor about all the risks and benefits. To learn more, chat with a trained aesthetic specialist now!]
Biologique Recherche Creme Masque Vernix ($190): "This masque is revitalizing, repairing, and protective. It's my favorite masque that can be worn all day and night. It mimics the vernix, [which is] the protective layer on baby's skin at birth, thanks to a selection of active ingredients rich in lipids, proteins and antioxidant peptides. It makes my skin baby soft and hydrated and a must for 'post-procedure' repair."
Lancome Hypnose Custom Volume Mascara ($28) and Cils Booster XL Super-Enhancing Mascara Base ($26): "My secret weapons for [getting the reaction] 'Omg are those your lashes?!" First curl your lashes for at least 30 seconds, then layer on the Cils Booster XL. Wait for it to dry clear, then bump the mascara into the root of the lash, roll the brush forward to lock it in, and pull the brush in several different directions."
Dermaplaning: "I often refer to this as 'shaving my face,' but asked [the aesthetician I go to], Nicole Paxson for a more in-depth description. 'This procedure gently removes dead skin cells and vellus hair (peach fuzz), leaving smooth, glowing, brighter looking skin,' she told me. Much better! My favorite part of this procedure is that it can give you a more contoured look, because light bounces off of your skin much better without a 'peach fuzz' halo."
Rituel De Fille© Cream Blush in Lovesick ($29): "I am obsessed with the glowy radiance a cream blush gives! It instantly adds life back to the face and I feel so chic using the romantic starry packaging."
Photofacial IPL (intense pulsed light): "Due to my rosacea, I have a lot of broken capillaries, and being a redhead means freckles! In Nicole Paxson's words, "This laser uses high energy light to clear the skin of unwanted red and brown spots, which in turn, evens the skin tone and gives a youthful glow and plumper looking skin." Nicole suggests I do this in the winter, because you must avoid harsh sun exposure afterwards. This procedure has allowed me to eliminate foundation on the day-to-day!"
Injectable Wrinkle Reducer: "Right after my 30th birthday, I started to see Dr. Adam Kolker in NYC for injectable wrinkle reducers to help smooth the lines on my forehead. I love that he takes a conservative approach (treating one area per visit) that is respectful of how expressive I am!"
[Editor's note: an injectable wrinkle reducer is a treatment performed by a professional to temporarily smooth the appearance of moderate or severe lines on the face in areas such as the forehead or crow's feet. As with any prescription, be sure to talk to your doctor about all the risks and benefits. Have more questions?  Chat with a trained aesthetic specialist now.]
Josie Maran® 100 Percent Pure Argan Oil ($48): "At 5 foot 4 inches, I need all the help I can get to getting the look of long, lean legs! I slick this oil down the center of my legs for a light reflective, hydrated glow."  
Microcurrent Facials: "I call this the 'alien facial,' because I always feel like it helps lift my facial muscular structure and cheeks back in place, creating a more heart-shaped appearance. Nicole Paxson suggested I start doing these to tone and shape facial muscles and promote skin cell regeneration. If you do it consistently, Nicole says it should help improve muscle memory and keep muscles tight and firm and give a contoured jawline, wider-looking eyes, more prominent cheekbones, softer wrinkles."