In The Path, we spotlight different women making a difference in the fashion, beauty, wellness, and medical aesthetics industries. Here, Alchemy 43 founder Nicci Levy shares her road to success.
Nicci Levy will make you want to get cosmetic injectables. It's not because she will necessarily verbally convince you (though the former saleslady just might do that, as well!), but one look at her smoothed forehead and skin, and the results sell themselves. 
The 40-year-old boss lady is a beauty veteran turned business owner with street credit to her name. Levy started her career in beauty, working as a makeup artist for Benefit before moving onto more corporate jobs at MAC Cosmetics, Nordstrom, and ck Calvin Klein® Beauty. Then, she became a pharmaceutical rep for Allergan medical aesthetics, and a light-bulb went off in her head. That spark became Alchemy 43, a chic "aesthetic bar" in Los Angeles (and soon expanding to New York City) where customers can get most aesthetic treatments from oxygen facials to lip filler.
Here, Levy shares her advice on starting a disruptive beauty and medical aesthetics business, her favorite products for lit-from-within skin, and how to choose a skilled injector.
[Editor's note: Injectable wrinkle reducers aren't for every patient, so we recommend talking to your provider about the benefits and risks before treatment.] 
Spotlyte: What inspired the idea for Alchemy 43?
Nicci Levy: Growing up in the cosmetics and skincare industry, I learned early on that beauty is a form of self-care that should be celebrated. There is an element of vulnerability and intimacy attached to making any type of alteration to someone's face, whether it's a temporary or permanent change.
Our faces are so unique to our beings. Because of this, it's vital to make people feel truly cared for, and creating a memorable and elevated experience for someone is key. When I made the career transition from cosmetics to medical aesthetics, I was dumbfounded about how little emphasis many providers placed on this. I saw a real opportunity to disrupt an industry by offering a clinically credible, high-touch, single-focused cosmetic injectable beauty service in a sophisticated and elegant setting.
Spotlyte: How did you transition your career?
NL: From cosmetics to medical aesthetics:
In 2009, Allergan® was launching an exciting product, and they seemed to like the idea of bringing on people with a cosmetic background to help position this product from a sales and marketing perspective. I saw the transition from cosmetics/skincare to medical aesthetics as a progression/extension of my comprehensive understanding of the cosmetics industry. It was only when I started the job that I saw how different the two industries actually were in experience. Which was one of the key catalysts for my starting Alchemy 43.
NL: From employee to founder:
I always knew that I'd ultimately start my own company. It felt very innate for me, it was just about figuring out what the right idea was. Once I saw the opportunity and decided to pursue it, I did it via pure grit. I supported myself by independently repping a couple of different products in the aesthetics industry while creating my business plan, setting up the company and finding my first round of investors. There were a million times I could have given up or just kept at it, relentlessly. There is no part of this that is related to luck and my being here is no accident. I just worked, relentlessly to bring this dream to life. And continue to do so. That's what it's about, completely committing to something and going for it.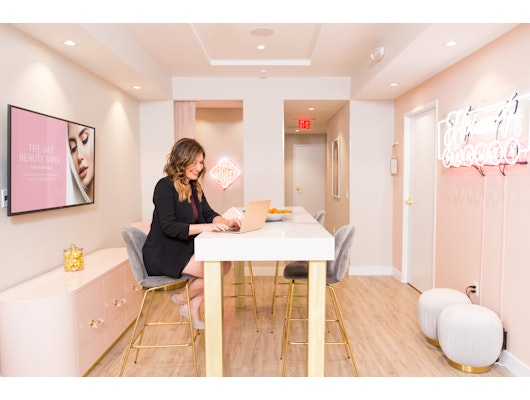 Spotlyte: What advice do you have for people who want to start businesses in the beauty services industry?
NL: So much! I'd say a main piece of advice would be that people should be super clear and strong in their vision but open to the market telling them something different. For example, if your idea is a mobile beauty services business but as you get going, the market shows you that your idea is best delivered in a store setting, listen! Stay open to the voices without letting them distract you.
Spotlyte: How did Alchemy 43 change the injectables experience for consumers?
NL: Typically injectables have been delivered in a doctor's office or medical spa environment. These places offer a plethora of other services from medical procedures to spa treatments to lasers, etc. Alchemy 43 offers injectables in a highly specialized beauty and retail environment (we don't do anything else). It is accessible, convenient, and elegant.
Spotlyte: What is your advice for anyone considering injectable treatments?
NL: Ask questions! How many injectable treatments does your practitioner do in a day, week, and month? Does this person enjoy doing them? How long has he or she been doing it for? Do not go to a place just because it's cheap. There are so many misconceptions and wrong information out there. Look at the sources who are giving you information, and do your homework. This is your face! Go to an expert. There is skill, artistry and mastery needed for these treatments!
Spotlyte: How do you train your staff on these treatments?
NL: Our practitioners go through an extensive training program when they start with us to learn our approach and to ensure that we deliver a consistent, comprehensive, and amazing outcome to each and every client that we see. We never stop training, so they also go to advanced training courses seasonally throughout their career with us. The idea is to deliver a consistent experience so that if a client comes in to our Beverly Hills store, and four months later they walk into our location in New York (coming soon!), they will have a seamless extension from one experience to the next.
Spotlyte: When did you start getting injectable wrinkle reducers and filler? [Note: Wrinkle reducers are prescription treatments that temporarily smooth the appearance of moderate to severe wrinkles on the face in places such as the forehead and crow's feet. Filler temporarily adds volume to areas of the face, such as cheeks and lips. Both have risks as well as benefits so be sure to talk to a provider. Learn more about them here!]
NL: I started at age 28. I worked in the beauty industry and was aware of wrinkle reducers. It has absolutely served me very well. People are shocked to learn that I am 40, an age that I'm sure proud to be. Wrinkle reducers have temporarily smoothed the appearance of my wrinkles and allowed me to still appear natural.
Spotlyte: What are the biggest misconceptions about these treatments?
NL: The cosmetic injectables space is rife with misconceptions about wrinkle reducers and fillers. The ones I hear most often are, one, that these treatments will make you look "fake" and, two, that they are a "toxin." 
In my experience, the best cosmetic work goes unnoticed and doesn't seek to change your appearance or make you look "ageless." Our treatments are intended to enhance, maintain, and help you look like you look like your best self and put your best face forward. If you make them a part of your regular routine, they will be much more attainable cost-wise.
As for these treatments being a toxin, I'm very passionate about this one. Let's put it this way: many antibiotics (like penicillin and amoxicillin, for example) are derived from the same mold. When you take a penicillin antibiotic to treat an infection, you are not taking mold. Scientists synthesize these drugs differently to yield a totally different end product. In the case of [injectable] wrinkle reducers, they are created via a purification process to extract the neuromodulator that smooths out skin. I could go on and on but, case in point, I can promise you are not injecting botulism but an approved dose of botulinum toxin to reduce your wrinkles. Please, never do the former.
Spotlyte: What are some of your favorite skincare products and why?
NL: So many! Skinceuticals® A.G.E. Eye Complex, because it's a literal miracle product and a drink of water for my eye area. The Dr. Jart+ Dis-A-Pore Beauty Balm, because it seamless smooths out my skin texture and completely erases my pores. Laneige Lip Sleeping Mask, because it feels and smells like a luxurious, delicious hydrating heaven for my lips.
Spotlyte: What are some facial treatments you love in addition to injectables?
NL: My absolute favorite is micro-needling (we call it micro-penning). It stimulates an incredible reaction in the skin, our own bodies' ability to heal itself, and improves all aspects of skin quality!