Growing up, I used to spend a week every summer at a camp tucked away near the soggy marshes and maple-laden woods of lower Michigan. The lake was a winding, five-minute drive away, the food was carb-loaded and delicious, and our lodging consisted of tiny, rustic cabins tucked into the woods that were named after trees and flowers.
Trade polar plunging at 6 a.m. for silent meditation hikes, swap out hearty slabs of lasagna for perfectly portioned gourmet meals, and replace "bring your own sleeping bag" bunk beds for tranquil, Japanese inspired accommodations, and my summer camp experience was quite similar to the one I recently had at California's legendary Golden Door.
Seriously, though. My expectations were that I was attending a four-day, women's-only retreat at a 600-acre, 40-room property that would provide a bougie experience — but not much more. A place ripe with the kind of photo opps I could post to Instagram to inspire envy — a place where I might rub elbows with celebrities or social elite. I had no idea that my time at Golden Door would yield such a transformation within me, or have me hearkening back to those forgotten, carefree summer days spent splashing around the sandy shores of Lake Michigan with best friends I just met.
Courtesy of Wendy Rose Gould
Sure, I snapped pictures of Golden Door's famous "agenda fan" (pictured) of the sun bursting through a dreamy bamboo forest, and of the steamy sauna that I had completely to myself one evening. And yes, I did share space with notable guests, including a former vice president for a very notable fashion brand, and the type of women who spoke about things like their mother's yacht that required $1 million a year in maintenance alone.
But this $10,000, intimate, all-inclusive "girl's camp," if you will, went beyond photo opps and offered so much more than the words I'm piecing together in this story. In an attempt to share my experience, though, I've simmered my thoughts into a sweet, three-takeaway reduction.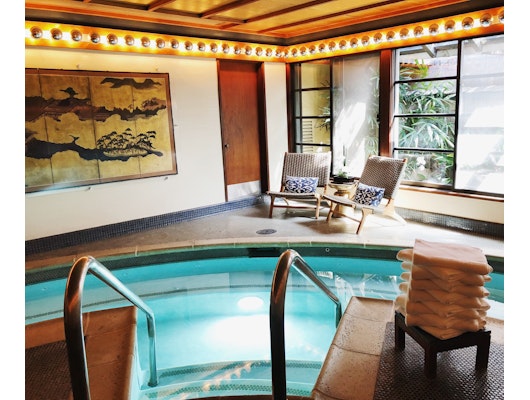 Courtesy of Wendy Rose Gould
Important Lesson Number One: Treat Yourself With Zero Guilt
It is not just OK to dedicate energy toward improving yourself from the inside out, but it's also vital to your health. As is the rule on airlines, you should put the oxygen mask on yourself first. I think women, especially, have a difficult time doing this because we're often so caught up in playing the "caretaker" role.
Golden Door turned that blaring self-care guilt on its head by providing an indulgent buffet of unapologetic pampering. Before arriving, I did a 30-minute phone interview with a staff member detailing what sort of fitness activities I was most interested in, what my health goals were, and what kind of treatments I wanted to spoil myself with. From there, the staff planned out every hour of every day from sunrise to sunset consisting of fitness classes, educational talks on health and wellness, and spa time.
Every minute was dedicated explicitly to me. Fitness wise, I enjoyed yoga, barre, boxing, running intervals, sports intervals, tai chi, spinning, and even a 1:1 lesson with a trainer, at a rate of about three classes a day. I took classes on mindful eating, futurism, and acupuncture. I also relished in a 45-minute in-room massage every single day, a facial every afternoon, and partook in rosemary body wraps, full-body scrub treatments (you truly haven't lived until someone else exfoliates your entire body for you), and a relaxing pedicure.
Perhaps the best part was that I didn't even have to think about what I was doing next because my bespoke schedule was written on one of the resort's famous fans, which is placed on your bed every evening at turndown while you're enjoying a gourmet dinner. With that much working out, indulging, and enjoying the company of others, I was insane levels of happy by the time I departed.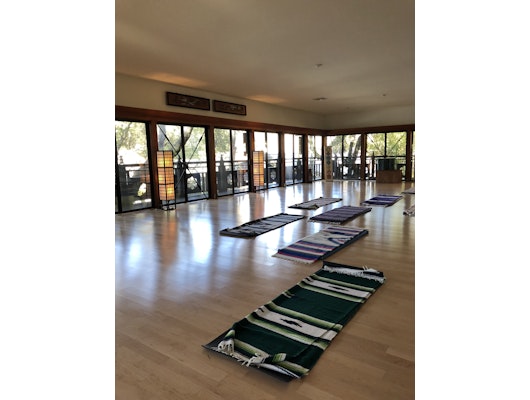 Courtesy of Wendy Rose Gould
Important Lesson Number Two: Women Are Incredible
Golden Door primarily hosts women-only retreats, which is what I participated in. Being immersed in this estrogen-strong setting allowed me to truly appreciate the immense value in spending quality time getting to know other women.
It is soul-nourishing, as a woman, making time to get to know other women, learning about their journey in this world, finding ways to relate, discovering things to laugh about (even if they're ridiculous!), and hearing stories that will impact and inspire you for the rest of your life. We have a unique, but collective experience in this world, and this became blindingly obvious and comforting to me during my stay.
On the first day, I quickly connected with a redheaded woman in her 70s named Gaye. And though she was a good 40 years older than me, it felt like we were kindred spirits almost immediately. We bonded over our love of music — she was a former chorus master who later started an unrelated business with her husband that became exceptionally profitable. We also bonded over the topic of writing.
I also connected with a woman who I would have otherwise never met named Cheryl. We spent an evening stifling painful laughter while a guest speaker went on about things like templosion and 4D technology (honestly, a bit too much while you're trying to enjoy your four-blueberry and one-raspberry dessert). At one point, Cheryl turned to me and said, "Has she said anything that make sense yet?" I think I turned as blue as my blueberries trying to hold in the giggles.  
This brings me to my final point.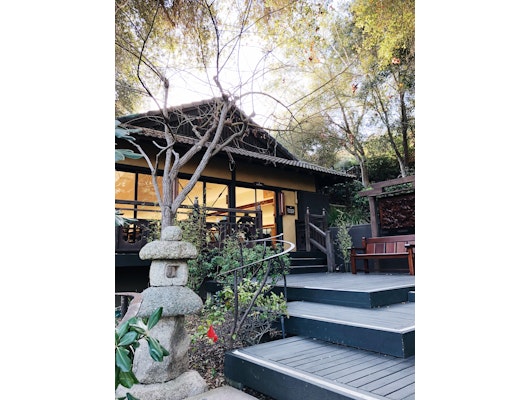 Courtesy of Wendy Rose Gould
Important Lesson Number Three: Reconnect With Your Childhood Self
As my time came to a close and in the days that followed my retreat, I realized just how important it is to let that "little girl" within you out to play. You know — the girl who polar plunged at summer camp and who didn't wear the weight of tomorrow's deadlines on her shoulder.
In many ways, immersing myself in this "grown up, women's only summer camp" made me feel like I was back in Michigan again. No damp bunk beds, of course, but there was this unspoken permission to engage that free spirit who was once a proud member of the Catalpa Tree tribe in the summer of '97.
Within minutes of getting home, I pulled out the childhood albums my grandmother put together for me over the years to find pictures of that little girl at camp. To be perfectly honest, I am still rather disconnected from her. That said, I feel like I know which path to take — even if it's full of thorny bushes and weeds at this point — in order to find her.
Do you need to spend $10,000 to realize all this? No. All of this wasn't expected. Like I said, I was there for a chance to improve my Insta feed, relish in daily massages, work with incredible trainers, and have a good story to tell. This mushy, "life changing" stuff was all a surprise, but a welcomed one, and I look forward to seeing how that short blip on my timeline will continue to transform me in the years to come.