I've been a makeup artist for close to 15 years, and at this point, I have enough experience to be able to tell if a client has gotten temporary injectable filler in her lips. Some have a very subtle plumping that is not as easy to notice, and others have more voluptuous pouts. On nearly all, though, I've noticed a defined ridge on the lip line that allows for a bit of overlining, giving me even more room to work with. That's a makeup artist's dream! (In case you need a refresher, lip filler is a hyaluronic acid-based substance that is injected into the lip to help add temporary volume. Ask a licensed provider about all the risks and benefits to determine if this treatment is right for you.)
According to Nina Silver, RN of Silver Solutions Medi-Spa in Pittsfield, MA, that boost in definition is highlighting a key part of your pucker: the vermilion border. "When injected with fillers that are packed with hyaluronic acid, lips become fuller and the filler helps define the vermilion border, which is the line between the lip and the skin," says Silver. "This [can help minimize] vertical lip lines, and the enhanced, sharpened and defined lip line stops the 'bleeding' of lipstick color beyond the vermilion border." This border is an excellent guide for applying lip products.
Have questions about filler? Chat with a trained aesthetic specialist now.
As a makeup artist, I have so much fun adding a pop of color to lips that have been treated with filler. There are so many more options to choose from! I've found that my options are much more limited when working with women who are insecure about having thin lips; they often do not want to draw attention to a feature that they aren't thrilled with.
Over the years, I've found that there are certain lip liners, stains, glosses, and other formulas that just look better on a juicy lip. No matter your pucker's size, shape, or volume, though, every lip can benefit from these selections. Here are a few makeup artist favorites.
IT CosmeticsTM Your Lips But BetterTM All-Day Waterproof Lip Liner Stain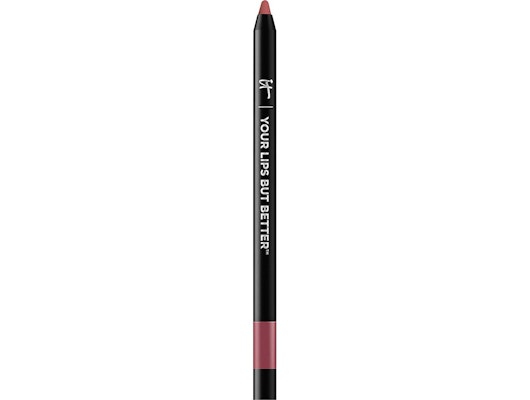 This creamy gel liner was developed with plastic surgeons and features a fat tip. Pre-injections, your lips begged for a lip liner with a thin tip because they needed the precision. The beauty of an injected lip is that plumped ridge is perfectly outlined by the thicker tip of this lip liner. Not only is this formula infused with hyaluronic acid, peptides, and shea butter to help nourish, it's also longwearing. I've found that it doesn't feather or bleed and it's totally waterproof. So drink your Champagne and dive in the pool — IT CosmeticsTM Your Lips But BetterTM All-Day Waterproof Lip Liner Stain ($20) isn't moving. My favorite shades are Blushing Nude and Buff Nude.
Buxom Full-OnTM Lip Plumper
When you first get your lips injected, you may sense that everyone is staring at your pout. As you get over the swelling that can occur in the first few days, your newly plumped feature will be especially voluminous. You might feel like you don't want to add anything else. You might believe the last thing you'd want to apply is a lip plumper. But let me be the first to tell you: that's exactly what you should do.
After your lips have been injected, the skin is stretched a little and can often feel dry and flaky. That makes hydration essential. Buxom Full-OnTM Lip Polish ($20) helps moisturize with vitamins A and E while working to plump with a mix of hyaluronic acid and peptides. It's all infused in a high-shine gloss (that comes in almost 100 shades!) that will add that little something extra to highlight your gorgeous new smile.
Stila Cosmetics Stay All Day® Liquid Lipstick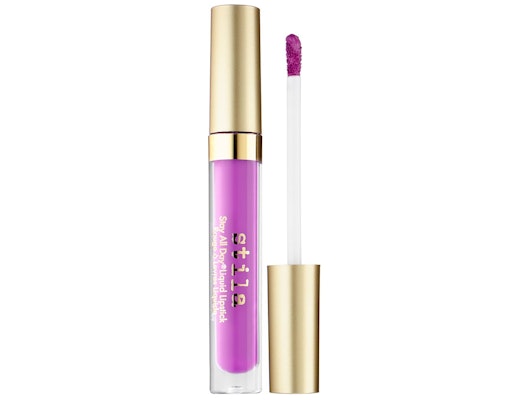 If you want the world to notice your new lips, this creamy matte liquid lipstick is the product to use. As you apply it, it will feel thin and slippery (like half gloss, half lipstick), but it dries quickly. Stila Cosmetics Stay All Day® Liquid Lipstick ($22) delivers the ultimate power pout, with long-lasting opaque color that won't budge. The added bonus of avocado oil and vitamin E ensures that you won't feel dried out, and with 32 shades, you are sure to find your next favorite statement lip!
Laura Mercier Stickgloss Lip Colour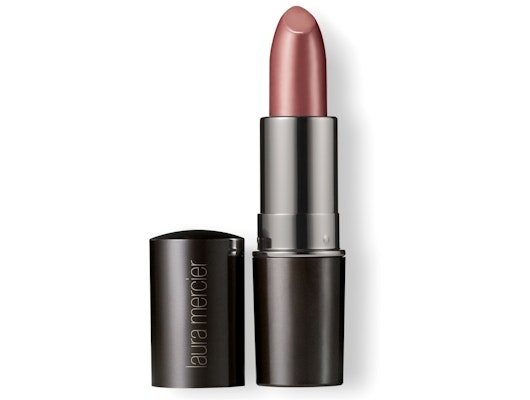 The sultry nude lip look that Angelina Jolie and Kim K pull off so perfectly on their plump puckers is now yours to recreate. The creamy Laura Mercier Stickgloss Lip Colour ($29) in Brown Sugar is my personal favorite — it adds just a hint of pink-brown for that sexy look. To avoid what I like to call "concealer lip," choose shades that aren't chalky (they'll wash you out), but have more of a warm undertone. I also like to add a lip liner that is a little bit deeper in color than the lipstick. This will really pop that naked pout, making your lips look larger than life. Try MAC Cosmetics Lipliner Pencil in Whirl ($17); it flatters most skin tones and matches many lipstick colors.
Clarins Instant Light Natural Lip Perfector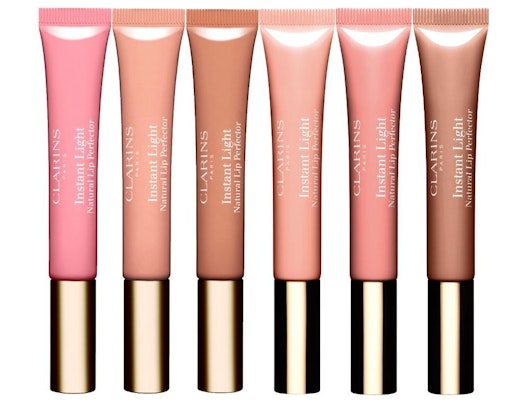 Sometimes, on an injected lip, less is more! A lip balm with just the slightest tint can be enough on a juicy pout. I am obsessed with Clarins Instant Light Natural Lip Perfector ($26) in all shades. It feels soothing and comfortable, helping soften away any dryness while delivering a gorgeous finish for an easy, light day look.
Allergan may receive commission for purchases made through links in this article.