Through the centuries, the world has grown increasingly enamored with British royalty. Perhaps it's the enchanting notion of days spent in ancient and storied castles and easy access to bejeweled crowns and luxurious clothing. Or maybe it's the opulent parties and weddings, the unobtainable status and wealth, or the mere desire to live vicariously. Whatever the case, today's royal family — particularly the women — have toed the line between enshrouded monarch and semi-approachable celebrity, making them pop culture fodder and aspirational beauty icons.  
Her Royal Highness, Catherine Middleton, is perhaps the best example of this. The duchess has gracefully basked in the spotlight since marrying Prince William in 2011 and is indisputably the epitome of wholesome elegance. It's no wonder, then, that people want to dress like her, smell like her, wear their hair like her, and even look like her. To better pinpoint how to create a similar visage, we consulted Dr. Michele Farber,  a cosmetic dermatologist at NYC's Schweiger Dermatology Group, and celebrity makeup artist Mary Wiles, who works with Brie Larson, Naomi Watts, and Kate Hudson. Here, the experts explain how to try a beauty look, inspired by Kate.
The Secret to Kate's Look
"Kate is undeniably beautiful," says Dr. Farber. "Some of her most stunning features are her defined cheeks, smooth skin, perfectly sculpted brow, and a wrinkle-free forehead." While we don't know the specifics of Kate's skin care regimen, read on for some ideas about what you could consider to look more like Kate.
Let's start at the foundation: Kate's glowing complexion. Dr. Farber reiterates what we all know, which is that great skin starts with a healthy and consistent regimen. Use a gentle, hydrating cleanser every day and reach for a moisturizer with hyaluronic acid. Hyaluronic acid plumps the skin and helps it to retain moisture, which noticeably reduces fine lines while making skin look radiant. Dr. Farber also recommends using a cream with ceramides, which are lipid molecules that help repair your skin's barrier function in order to improve texture in the short and long run.
"Also, always use sunscreen. It counts if it's in moisturizer or makeup as long as you have SPF 30 or above with UVA/UVB protection," she adds. "For anti-aging, add in a retinol or retinoid cream and antioxidant serums."
In addition to crafting a great foundation through religious and thoughtful skin care, there are a couple of prescription aesthetic medical treatments – injectable fillers and wrinkle reducers – you can try to create a look like Kate's. As with any prescription medication, there can be side effects, so be sure to talk a licensed provider during the consultation about the benefits and the risks. For full cheeks, Dr. Farber explains that fillers can be used to temporarily add to existing volume and replace volume loss. "As everyone ages, there's normal volume loss," she explains. "Fillers can be used to replace this volume loss and contour the face naturally."
Dr. Farber also gives insight as to the price for this, um, royal treatment. "Fillers are often $600 to $1,000 per treatment, depending on the type of filler used," she notes. "They can cause swelling and bruising for a day to a few days after injection, and there are other risks so you should be sure to talk to your doctor about whether they are right for you. Ice, arnica, and makeup (if approved by your doctor) can be used to help during recovery if needed." The result of treatment is a fuller, more lifted cheek. 
To mimic Kate's smooth forehead, Dr. Farber suggests injectable wrinkle reducers, which temporarily smooth moderate to severe lines on the face in areas like the forehead or the outer corners of the eyes. Have more questions? Chat with a trained aesthetic specialist now.
She also says that, depending on your other skin needs, you could try lasers to help even out pigmentation and overall texture. "Some lasers have little down time, and some can cause redness and irritation for around a week," notes Dr. Farber. "This depends on the laser and what you are treating. For example, IPL for brown spots does not have significant downtime; brown spots may look darker before they fade. For resurfacing, [fractional] lasers — which help even out skin tone — often result in redness for close to a week. Prices depend on the type of laser used and range from $500 to $1,500 per treatment."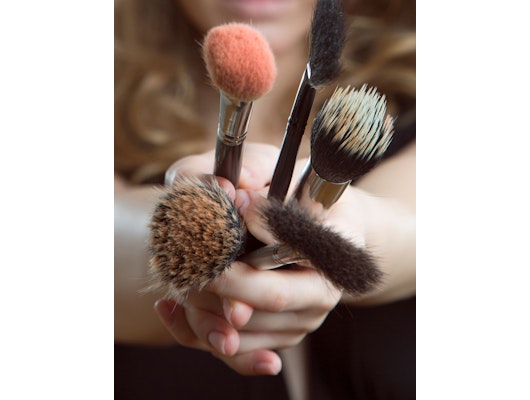 Stocksy United / Sonja Lekovic
Make Up Your Face Like Kate
In addition to Kate's full cheeks and radiant skin, Wiles noted that Kate also has gorgeous, almond-shaped eyes and bone structure that she likes to emphasize with natural-looking makeup.
Start by applying a sheer, hydrating BB cream or light coverage foundation. Then reach for a neutral palette, like Bobbi Brown's Nude Drama Eyeshadow Palette, and apply a brown-leaning shade that's about three shades darker than your own complexion across the entire lid. Blend it out with a shimmering cream up to your brows, which should be filled in lightly but not overdone.
"Next, I recommend applying Inika Black Eyeliner through the top lashes and inner lower eye, extending a little further up and out," said Wiles. Smoke it out with an angled eyeliner brush with quick, upward strokes. Finish with a coat or two of Lancôme's Hypnôse Mascara in black.
To emphasize bone structure, really play up your cheeks. "Kate has high cheekbones. That look can be emphasized with a little contour and highlight," she said. "Apply highlighter with fingers along the cheekbone and temples to create a glow and definition, and apply rouge to the apple with a flat, medium size brush blended up and out just under the cheekbone."
For lipstick, go for a neutral pink like Bobbi Brown's Lip Color in Sandwash Pink. Finally, Wiles says to apply a loose finishing powder to set makeup under the eyes and T-zone, avoiding cheeks and bones in order to keep those areas glowing.
Now you're ready for the paparazzi.