If America had a sweetheart fruit, watermelon would be it. The melon, often thought to be the star of barbeques or the inspiration behind bright nail polish shades, is being spotlighted as one of summer's hottest skincare ingredients. Watermelon-infused products have been hitting stores since the weather warmed up, and we're going to explain why it should be added to your cart.
First of all, it's hydrating as hell — it is called watermelon, after all. "In general, watermelon is a super hydrating ingredient that helps keep moisture in the skin," says Dianna Ruth, Milk Makeup's Co-Founder and COO. "Watermelon fruit is literally 92 percent water, so it instantly quenches dull, dehydrated skin. It's also packed with vitamins, nutrients, and antioxidants to protect against free radicals, soothe irritation, and calm inflammation."
Milk Makeup recently launched a Watermelon Brightening Serum ($36), offered in a stick form that feels cooling and soothing when rubbed atop skin. Use it after toner before layering on a more buttery moisturizer. We love applying it on dry airline flights or after the gym to instantly perk up our complexion.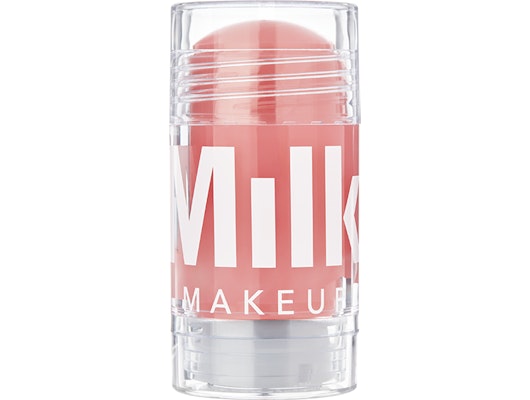 The trendy millennial makeup brand isn't the only one to tap into the melon madness. Bliss recently relaunched its entire collection, making its offering more modern, natural-ingredient focused, and cruelty-free. That new roster includes the What a MelonTM Reviving and Destressing Overnight Mask ($16), which has a pearly formula, the scent of a Jolly Rancher, and the ability to help you wake up with softer, detoxified skin.
"Watermelon is a rich source of vitamins such as vitamin A, B6, and C and is also packed with lycopene and amino acids, all of which are essential for healthy skin," echoes Susana Escobar, Head of Product Innovation and Packaging at Bliss. "Vitamin C is essential for collagen synthesis, which helps keep skin bright. And lycopene, a powerful carotenoid, helps reduce inflammation and protect from free radical damage. The results are bright, glowy, smooth, and supple skin."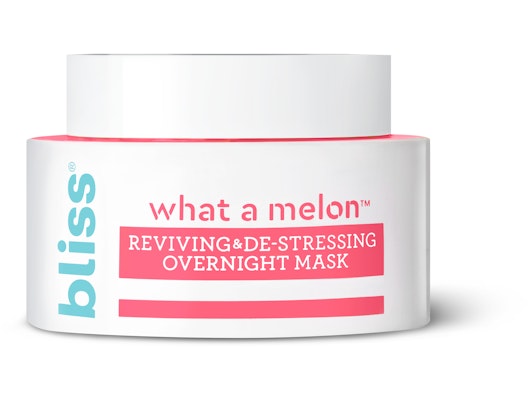 But let's give credit where credit is due. Last year, Glow Recipe caused an internet frenzy with its Watermelon Sleeping Mask ($45), which sold out multiple times on both glowrecipe.com and at Sephora. The bouncy baby pink gel mask features watermelon and hyaluronic acid, a duo that will give you nourished, petal-soft skin. The Korean Beauty brand followed up this best-seller in 2018 its newest iteration, the oil-free Watermelon Pink Juice Moisturizer ($39). It's light enough to wear to a workout but hydrating enough to keep you dewy all day. We even like to put a bit over foundation to make skin glisten.
"Watermelon has been used in Korea as a skincare staple for a long time," Ruth says. "I'm not really sure why the trend has popped up now, other than the seasonal, summery aspect and the fact that it's a beauty superpower in terms of hydration."
Sarah Lee, the Co-CEO and Co-Founder of Glow Recipe sheds light on watermelon's K-Beauty roots. "In Korea, our grandmothers used to rub watermelon rind on our skin in the summer to soothe and cool heat rashes and irritation," she explains. "Although we saw watermelon used in ingredient lists in skincare, we hadn't seen it front and center and really shine as a skin-saver. This led us to create the Watermelon Glow Sleeping Mask."
Good news: Lee and Glow Recipe's other Co-CEO and Co-Founder, Christine Chang, plan to release additional watermelon-infused products. "We're actually working on a new product that is launching soon where the main application was inspired by our grandmothers rubbing watermelon rind onto our skin," Chang reveals.
The experts agree: watermelon being incorporated into skincare is not necessarily new; it's just getting a lot of attention right now. "Watermelon is an ingredient that has been available in the skincare industry for many years," Escobar says. "I believe it is popular because it is such a delicious, juicy fruit that so many people love. Plus, the skincare industry has recently gone through a revolution where it is now OK to use a bit of whimsy to make effective skincare more fun and relatable."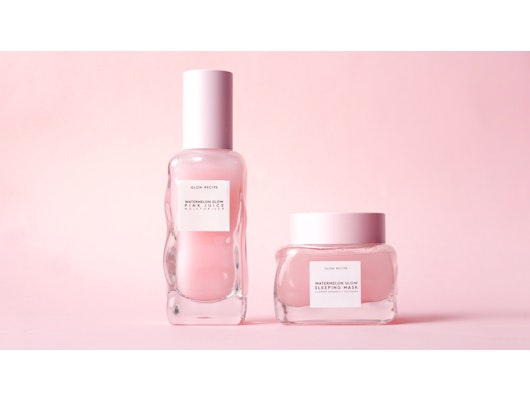 OK, but what if you eat watermelon — do you get the same skin benefits? "When eaten, watermelon is easily absorbed into the cells because of its make up," Ruth explains. "It hydrates the body quicker than water, and it works in a similar way when applied to skin."
That said, the faster way to allow your skin to drink up that watermelon juice is to use it in your topical beauty routine, according to Escobar. "When applied topically, watermelon delivers its nutrients directly to the skin so it receives the benefits faster," she explains.
You can't lose: whether you drink, eat or bathe your face in watermelon, it's a fantastic ingredient for your skin. (Plus, it makes for a pretty pink #shelfie!)
Allergan may receive commission for purchases made through links in this article.