"Stay hydrated" is one of those wellness mantras that's been thrown around forever. In most dehydration scenarios, "drink more water" is the quick and easy fix, but when it comes to your skin, it can be more complicated.
There are two main reasons your skin may be showing signs of thirst. It either isn't getting enough water internally, or it isn't getting the right amount of external moisture via your products to maintain what dermatologists call "a good skin barrier." 
"As we get older, our skin kind of loses the ability to retain moisture well," says Rachel Nazarian, MD, of NYC's Schweiger Dermatology℠. "If you drink all the water in the world, but you have the wrong skin hygiene, your skin is still going to look dry."
Here, derms break down exactly what to do when your face is feeling (and looking!) thirsty.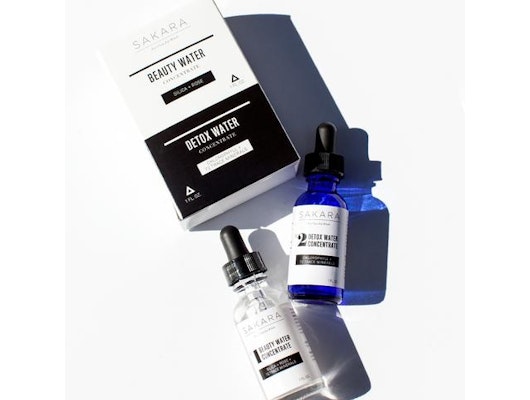 The Sign: Overall dryness 
The Solution: Drink some good, old-fashioned H₂O
Though most signs of dehydration require external care by way of products, there are a few subtle ways your skin may be trying to tell you it's time to grab a water bottle. 
"Water is important for cell hydration," says NYC-based dermatologist Michele Green, MD. "If your body is deficient, you may experience rough dry skin." 
Dr. Nazarian also calls on dry skin as a sign of internal dehydration. She's a big believer that the whole "8 glasses a day" rule (or more, for some people) is the real deal, and notes that no matter what your skin is saying, it's important to drink up regularly. 
The Product: Make your water mineral-ish by adding the Sakara® Beauty + Detox Water Concentrates ($39). These are portable tinctures that contain organic rose water and silica for skin and chlorophyll and magnesium to help detox.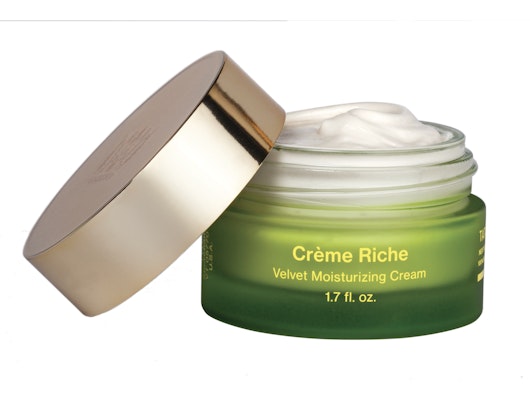 The Sign: Deep-set wrinkles
The Solution: Moisturize with hyaluronic acid
Wrinkles may be an inevitable part of the aging process, but depriving your skin of moisture isn't doing your face any favors. "There's been a huge boom in hyaluronic acid products," says Dr. Nazarian. "Hyaluronic acid is a substance that's found naturally in skin that helps it to retain water." It binds to water molecules. This can temporarily make your face look plumper and dewy, while also helping to smooth out the appearance of some fine lines. 
The Product: Tata HarperTM Crème Riche Velvet Moisturizing Creme ($185) is formulated with an intense boost of hyaluronic acid, as well as 42 other active ingredients, to increase skin hydration by 30 percent.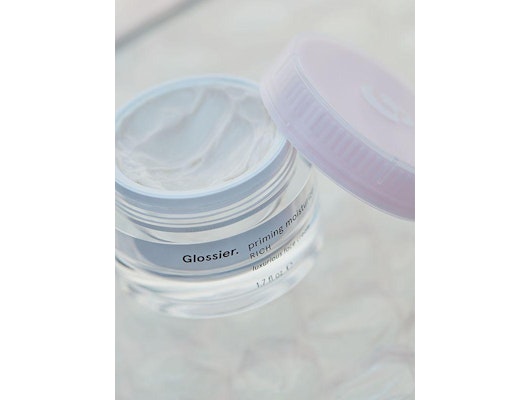 The Sign: Dry and itchy skin
The Solution: Slough on some ceramides
Think of ceramides as a way of waterproofing your skin to help it retain moisture. "Ceramides help as the building blocks for skin cells," explains Dr. Nazarian. "So rather than breaking down and weakening the skin barrier, and allowing it to lose more moisture to the environment, ceramides help protect the moisture that you've already absorbed so it's not lost as quickly." 
The Product: Glossier® Priming Moisturizing Rich Crème de Glossier ($35) mixes ceramides with hydrating natural ingredients, like lavender oil and murumuru butter, for some serious nourishment.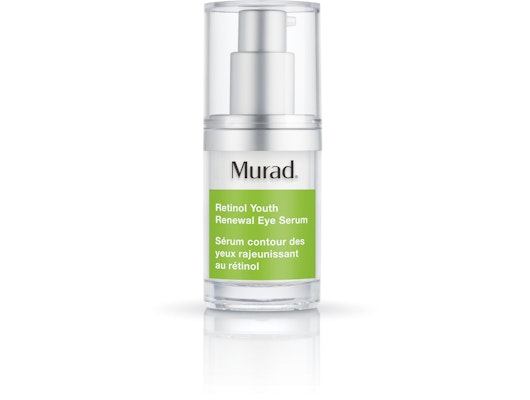 The Issue: Crinkly eyelids
The Solution: Eye cream with retinol
"When one is dehydrated, the eyelid skin can become more crinkly," says Southampton and NYC-based dermatologist Kenneth Mark, MD. "It has lost fluid and volume and therefore is less taut." Hydrating internally can help a bit, but be sure to treat the area with an eye cream. And, if you choose one containing retinol, which Dr. Green says reduces the appearance of fine lines and wrinkles over time, you might be very happy with the results. 
[Editor's note: Retinol shouldn't be used by women who are pregnant, considering getting pregnant, or nursing. Please consult with your doctor before use.]
The Product: Murad® Resurgence® Retinol Youth RenewalTM Eye Serum ($85) has three ingredients that work together to pack a triple-punch when it comes to dealing with fine lines around your eyes.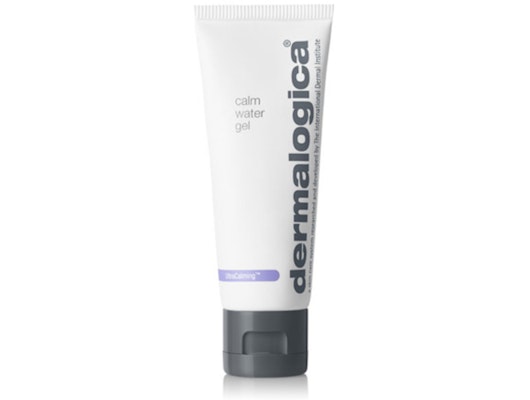 The Issue: Easily irritated or sensitive skin 
The Solution: Choose gentle formulas
If you're constantly dealing with rashes and irritations (re: dryness!), it might be time to switch to products designed specifically for sensitive skin. Look for phrases like "fragrance-free", which generally indicate gentler formulas, as well as natural formulas. NYC dermatologist Melissa Kanchanapoomi Levin, MD says botanicals may have a soothing effect on the skin (she is a fan of trendy cactus pear extract!).  
Some other tips for keeping your calm include avoiding hot water and not scrubbing too hard when you're in the shower. And applying cream or lotion right after you finish cleansing to add a barrier of moisture on your skin against the elements.
The Product: Try the Dermalogica® Calm Water Gel ($48), which feels refreshing on skin and contains hyaluronic acid, apple fruit extract, glycerin, and cactus pear extract to soften skin and help it retain water.
Dr. Melissa Kanchanapoomi Levin is a paid Allergan® consultant.