Every once in a while a beauty product comes along that climbs the ladder to the illustrious top shelf so fast, you'd swear you'd felt it hit you on the way up. Augustinus BaderTM The CreamTM ($80/15ml, $160/30ml, or $265/50ml) — followed by its more highly-concentrated sibling, The Rich CreamTM  ($80/15ml, $160/30ml, or $265/50ml)  — is one such example. It's only been about 16 months since the German brand debuted, yet it has already amassed a number of industry awards: A nod for Vogue's® "Game Changer of the Year," an InStyle® Reader's Choice Beauty Award for "Best Anti-Aging Treatment," and a place on Condé Nast Traveler's® Beauty Sensations of the Year list, to name a few.
The product has clearly achieved what beauty savants dub as "cult status," but how did this happen so quickly? Below, we share everything you need to know — including the unexpected backstory, the ingredients that make the cream unique, and an honest first-person review.
The Backstory
As the entrepreneurial mantra goes, necessity is the mother of invention. But, for German professor and scientist, Dr. Augustinus Bader, creating an eponymous skincare brand was quite by accident. Several years ago, Bader was in the middle of developing a medical-grade hydrogel to treat children with severe burns when he realized he didn't secure proper funding for clinical testing. Enter French biotech investor Charles Rosier, who would go on to become the co-founder of Augustinus Bader. Bader says it was Rosier who suggested they create another product — one that would be consumer facing — in order to help fund research and development in the field of stem cell science, including the hydrogel.
Bader, who has 30 years of experience in regenerative medicine under his lab coat, admits he was a little wary to veer from his traditional clinical path. "I had never really thought of creating a consumer skincare product," he says. Still, it only took him 18 months to simultaneously develop The Cream and The Rich Cream using a very similar philosophy to that of the hydrogel: Accelerate healing and reduce scarring.
Even though Bader's product has made a splash in the commercial market, he's still committed to his initial goal of helping patients in need. Case in point: 10 percent of the profits from every skincare purchase go towards humanitarian outreach and biomedical research. "As a scientist and physician, I'm not an expert on marketing or how to grow a brand," he says. "However, it's been very rewarding to see how many people have embraced Augustinus Bader. And how many have come forward to say The Cream and The Rich Cream have helped their skin."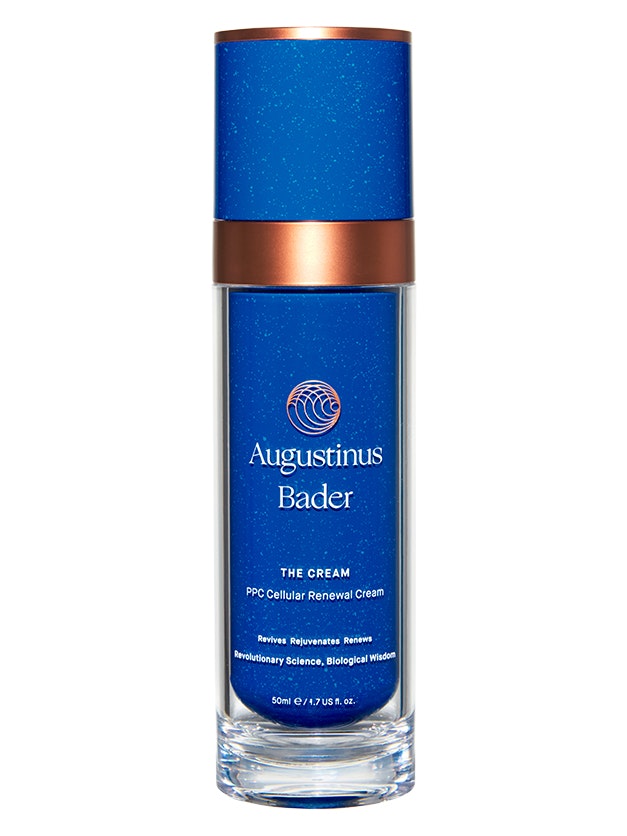 The Technology
The key to both of the products' "transformative" properties is something called TFC8TM, or Trigger Factor Complex. Essentially, it's a blend of molecules, amino acids, and vitamins — ones that our bodies already produce for the purpose of skin cell rejuvenation. By adding more of these beneficial components, you're theoretically supporting the skin's natural capabilities to renew itself.
Unlike many skincare products that promise similar results — particularly those containing EGF — Bader's products don't rely on stem cells from foreign sources like plants and animals. Instead, it supports and strengthens the stem cells we already have (via the aforementioned TFC8). "It's not about adding stem cells to the body — we're born with an overabundance of stem cells," Bader says. "The TFC helps your existing stem cells — in your own body — work more like they did when you were younger."  
The Differences Between the Two Products
Both The Cream and The Rich Cream contain the TFC8 technology, are designed to target signs of aging, and are available at the same price points.  As far as which to choose, Badar says it boils down to personal preference and skin type. "People with normal to dry skin tend to prefer The Rich Cream, and those with oily skin generally favor the lighter version."
As far as texture goes, the Rich Cream, as its name suggests, is emollient and hydrating, and The Cream absorbs more quickly and is lighter. Plus, The Rich Cream contains additional nourishing ingredients like argan oil, avocado oil, and evening primrose oil. Both products are, however, 100 percent free of fragrance, parabens, mineral oils, SLS, SLES, and DEA.
The Application Technique
According to Bader, the cream works best when the active ingredient, TFC8, is the first thing the skin absorbs.  "For optimal results," Bader instructs, "apply it to cleansed, dry skin — as the first step of skincare."
You read that right: You're not supposed to layer any serums, essences, lotions, or toners underneath. When I inquired further about this approach, Bader said those additional steps are simply unnecessary. Part of the allure of the cream (and, perhaps, a justification for its hefty price tag) is that it's intended to essentially replace the need for more than one skincare product.
Of course, if someone wanted to continue using retinol serum (or any other product for that matter), it's fine to do so. Bader just advises that nothing should ever be mixed directly with the cream, but instead layered on top once it is fully absorbed. This rule applies to sunscreen, too, which is always an important step in preventing further signs of aging.  
[Editor's note: Retinol shouldn't be used by those who are pregnant, considering getting pregnant, or nursing. Please consult with your doctor before use.]
For best results, the recommended usage is two pumps twice daily, meaning the 50ml bottle should last around six weeks if you use it morning and night.
The Review
My skin is textbook "combination" — it's oily in the T-zone and normal-to-dry everywhere else. For that reason, I picked The Cream as my elixir of choice, but I did try The Rich Cream for a couple of nights, too. (I can attest to the fact that the latter is significantly more emollient. I had to work it more into my skin for it to be fully absorbed, and it left my skin feeling tacky.)
To test whether the cream could actually replace my multi-step skincare routine, I parted ways with all of my other products — including my prescription retinoid, which was admittedly a challenge to give up. I did this for 27 consecutive days. Bader says this is about the standard amount of time you should always give a new product to determine its efficacy. "That is the time it takes for your skin to replenish itself," he explains. "Dead skin is sloughed off and new cells come to the surface."
For three weeks, I simply cleansed morning and night, and then waited till my skin was dry to the touch before applying The Cream. And just like that, my routine became so quick and easy that I almost felt like I was doing something wrong! Immediately after applying The Cream, my skin always felt soft and had a subtle glow. Some of the brand's most famous fans (like makeup artist Pati Dubroff and facialist Nichola Joss) have said that they now forgo traditional makeup primer and use Bader's creams instead. I, too, found that it created a smooth canvas for makeup.
I'm in my mid-to-late-thirties and grew up in Florida (and was never a consistent sunscreen user), so I have already jumped head first into the anti-aging fray. After using the The Cream for 27 days, my skin did feel brighter, plumper, and super moisturized. However, improvements in my lines and wrinkles were very minimal.  
Overall, I was more impressed with The Cream for daytime use than I was for night, mostly because of its ability to make my skin glow in a flash. Perhaps I'll try it again soon — but next time, I'm keeping my retinoid in the mix.
Complimentary product was provided to the author for the purpose of writing this article.