I believe that when it comes to relationships of any kind, you should follow the National Parks® mantra: leave it better than you found it. I can't speak to the rest of the impact I have on people, but I can guarantee that anyone who gets close to me gains a stronger understanding of skincare, and what products they should have in their routine. Above all, they learn that they absolutely must wear sunscreen. For the women in my life, none of this information is a tough sell. Typically, they buy a formula I recommend (it's dawned on me that I should be making a commission) or snag an SPF from my bag of superfluous product.
With the men I know, it's a different story. Knowledge doesn't always translate into action, and more often than not, I have to force the sunscreen issue. I'm not sure if most men's disdain towards SPF comes from being forcibly slathered with the chalky, sticky formulas of their youth, or if it's due to machismo (do you really think you're a match for the sun?). Regardless, none of the guys in my life — save for SpotlyteTM contributors Bart Kaczanowicz and Garrett Munce — are open to trying the sunscreen products I suggest.
I get it. I'm highly sensitive to different fragrances, one of them being that tangy, metallic scent of sunscreen, and I don't like when skincare products have textures, colors, or finishes that interact poorly with my makeup. So I set out on a quest to find a fuss-free formula that both I and SPF-resistant men would enjoy, and I found it in the popular Supergoop!® Unseen Sunscreen® Broad Spectrum SPF 40 ($32).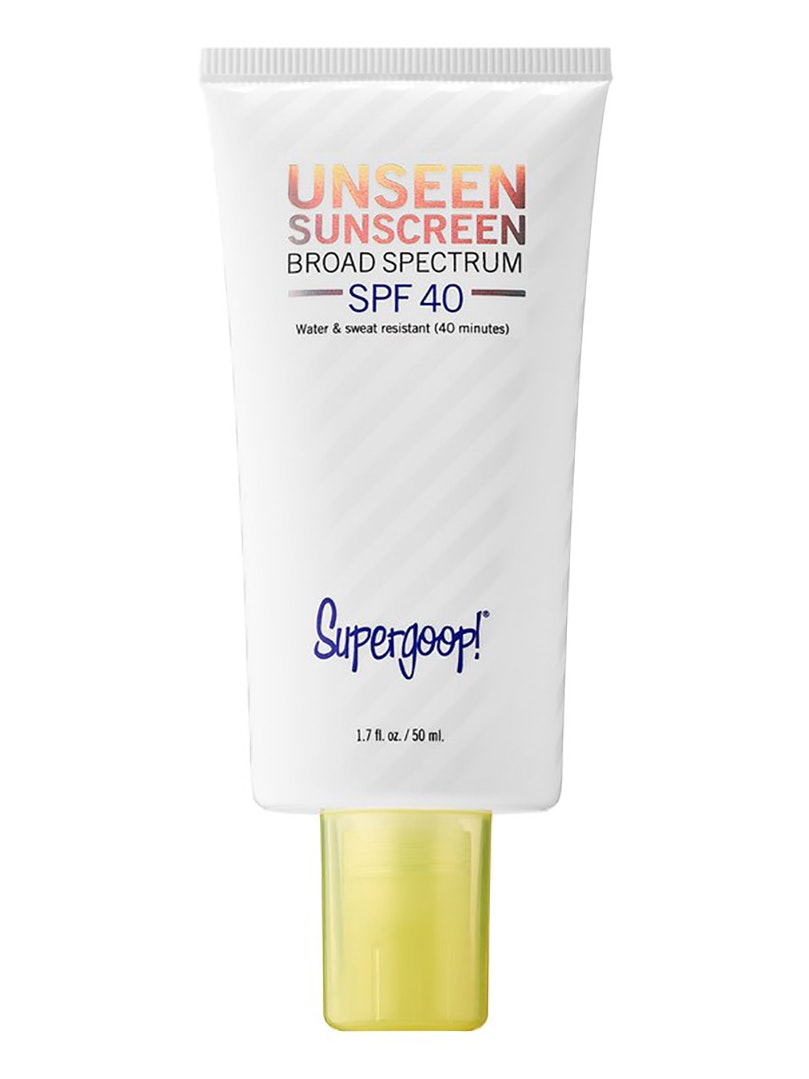 This product has quite a few positive characteristics going for it — decently high protection factor notwithstanding. First of all, it's completely clear, which caused the guy I'm seeing to double-take with surprise. While I'd recommend you look in a mirror to be sure you apply Unseen thoroughly to your face, you don't technically need to, because you won't end up with any weird streakiness if you miss a spot. And, obviously, the clear formula means that it literally won't look like you're wearing anything, a valuable benefit for the guy who doesn't want to appear like he's wearing makeup.
Second of all, it's formulated with dimethicone. This might bother some people, but not me: I love skincare products packed with the silicone-related ingredient. Unseen helps fill in my enlarged pores, fine lines, and create a mattifying effect (plus, it's the primary ingredient in most makeup primers, so it helps my look last longer). Even better, it contains diatomaceous earth to help absorb excess oil, complementing that mattifying effect further. This is great news for guys who feel like sunscreen makes them feel or look greasy.
Lastly, you'd be hard-pressed to find a skin type or tone that wouldn't benefit from this formula. The dimethicone and diatomaceous earth makes it ideal for oily skin types, but it also contains meadowfoam seed oil, an antioxidant-rich ingredient that helps increase hydration levels. And again, Unseen is legitimately clear — I tested it on a few friends of color and they were delighted to find that it disappeared into their skin tones — so there's no risk of appearing chalky or ashy. As a bonus, it contains red algae, which protects skin from blue light, the light emitted from our smartphones and other devices.
The only arena where this formula loses some points with me is its aroma. Supergoop! calls Unseen unscented, but to my highly sensitive nose, it does have the very recognizable sunscreen scent (albeit at a significantly reduced level than most products). That said, I've come to expect that smell in all SPFs, so it's not a dealbreaker for me.
It doesn't seem to be one to most guys, either. As a professional worrier, I'm constantly concerned about everyone and everything — skin health included, of course. From my dad's propensity for pre-cancerous cells from decades of skipping SPF, to the fact that the man I'm dating enjoys reading poolside, I adore that Supergoop! Unseen can cross the fear of unhealthy sun exposure for each of my loved ones off my list. Plus, the fact that this formula is so wearable means I don't have to nag anyone about slapping on sunscreen — which has nothing but positive ramifications for all my relationships.
Complimentary product was provided to the author for the purpose of writing this article.
Product price may vary from the time this article was written.
Allergan® may receive commissions for purchases made through the link in this article.