There are very few things I love more than a beach weekend down at the shore. But while all my friends enjoy laying out in the sun for hours, I'm always the pariah hiding under the umbrella and slathered in thick sunscreen. Don't get me wrong, I love sunshine, especially while at the ocean. However, I definitely don't love the skin issues that come along with all that sun exposure.
Unfortunately, I wasn't always so protective of my complexion. As a kid, I'd play outside for hours without applying any sort of sunscreen, resulting in a consistent red stripe along my nose and cheeks all summer. Then, as a teenager, my friends and I would lay in tanning beds to keep a consistent golden tan — regardless of the season. And now, as a woman in my late twenties, I've already started to see the effects of my carelessness on my skin. All those UV rays from years past have sadly manifested themselves into a dusting of hyperpigmentation across my face.
These dark spots, which are simply an excess of melanin produced in the skin due to sun exposure, tend to be difficult to treat. Luckily, my own hyperpigmentation hasn't reached the point where in-office intervention is needed. So, in my hunt for at-home products that'll fade the appearance of my dark spots, I came across the SkinMedica® Lytera® 2.0 Pigment Correcting Serum ($154).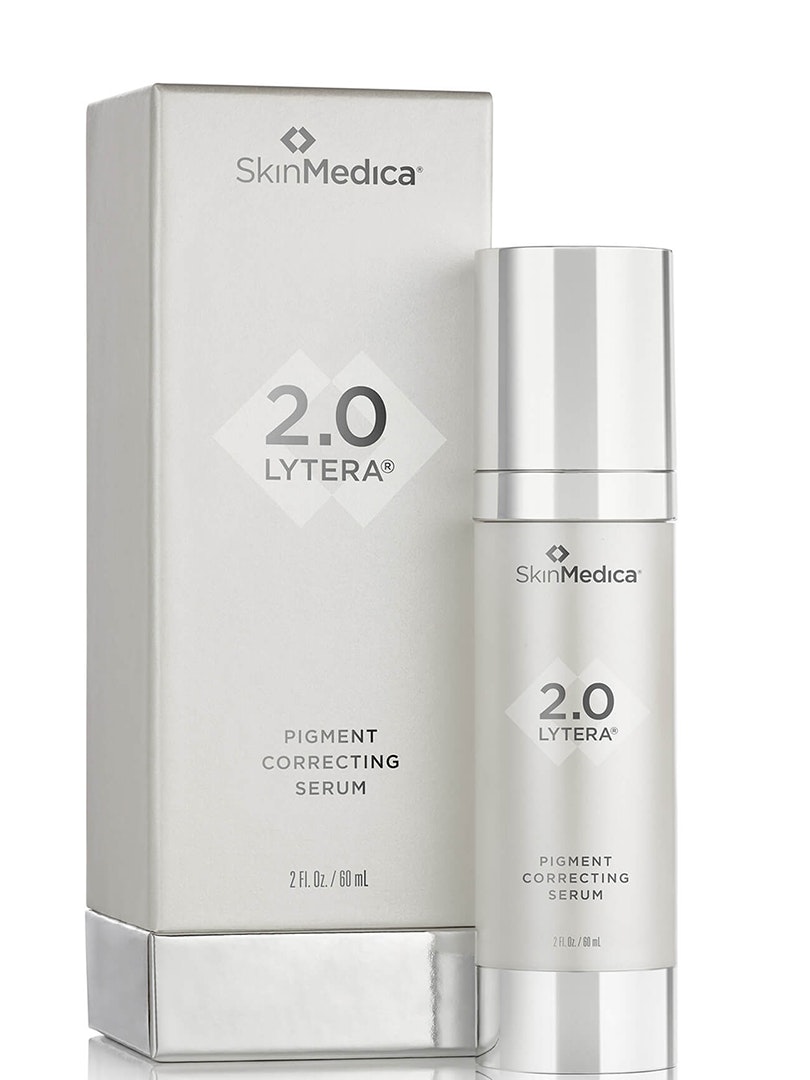 While reading up on the formula, a few aspects about the product really caught my eye. First, there's a powerful blend of ingredients — like tranexamic acid, phytic acid, and niacinamide — that helps address existing pigment and prevent the appearance of new discoloration from developing. But the impressive ingredient list isn't what really convinced me to try it. It was the fact that data has already proven that this product can provide noticeable results in a few weeks. According to clinical studies performed by the brand, Lytera 2.0 can improve skin discoloration in as early as four weeks, with a dramatic improvement in two to three months.
Naturally, all of this made me want to start working the serum into my routine right away. So, I began using Lytera 2.0 each night, massaging a dollop of product into my skin before bed. The formula feels super light — it borders on a gel texture —  and absorbs quickly, which I like. Since the product doesn't contain ingredients like retinol or hydroquinone (both of which can be irritating), my skin didn't experience any flakiness or sensitivity after use.
As claimed, it did take about two months for me to see the noteworthy results I was looking for. I've always had a sprinkling of freckles along my nose, and I used to think they were cute. But as I got older, those tiny dots seemed to join together into bigger splotches of unsightly dark spots. After using the serum for those few months, those spots faded to the point where they don't jump out at me when I look at myself in the mirror anymore (finally!). They haven't completely disappeared, but they certainly look a lot better. And with continued use, I'm expecting I'll see more results.
Now, it only takes a light application of BB cream or foundation to make my spots disappear completely. But since my skin tone looks so much more even, I've actually been choosing to go makeup-free a lot more often. And wearing no foundation in the summer means no sticky, melting makeup while out in the heat — which I think we can all agree is a really good feeling. 
SkinMedica® is an Allergan®-owned skincare line.
Complimentary product was provided to the author for the purpose of writing this article.
Product price may vary from the time this article was written.
IMPORTANT: SUNSCREEN IS REQUIRED TO OPTIMIZE AND MAINTAIN THE RESULTS OF USING THE LYTERA® 2.0 PIGMENT CORRECTING SERUM.