If you have curly hair, you know the following scenario all too well: after hours of precious time spent washing and styling, you step outside on a beautiful summer day . . . only to have your hair frizz out of control. Humidity in the air may seem like the culprit, but that's not quite accurate: frizz is your hair's way of crying out for help.
"Curly hair is more prone to frizz because it's a naturally drier texture," explains celebrity hairstylist Yessenia Reyes. The drier or coarser your strands, the faster it will frizz. So, in the case of humid weather, your strands are pulling all that excess moisture out of the environment in an attempt to rehydrate themselves. Other factors that can cause frizz include heat damage, not using enough (or the wrong) product, improper application of styling formulas, and not drying your hair correctly. That said, frizz doesn't have to be an unfortunate fact of life. We tapped two stylists to share seven tips that will help you beat this frustrating issue once and for all.
Frizz-Fighting Tip #1: Start Smoothing In the Shower
A simple temperature adjustment to your hair washing routine can go a long way toward fighting poofy curls. "Using hot water to rinse hair can cause frizziness," explains Vanessa Rosa, Coordinator at the Beleza Natural® Training Academy. "Adding any heat to your hair removes the moisture from the hair strand, leaving it more vulnerable and prone to frizz," says Rosa. 
When showering, try using lukewarm water instead of hot — it won't strip as many of your natural oils from the hair. You should also cleanse with a formula designed to tame any puffiness, like The One by Frederic Fekkai® The Tamed One® Anti-Frizz Shampoo ($28). It's infused with French sea lavender, moringa oil, and vitamin E to help block humidity and pollution.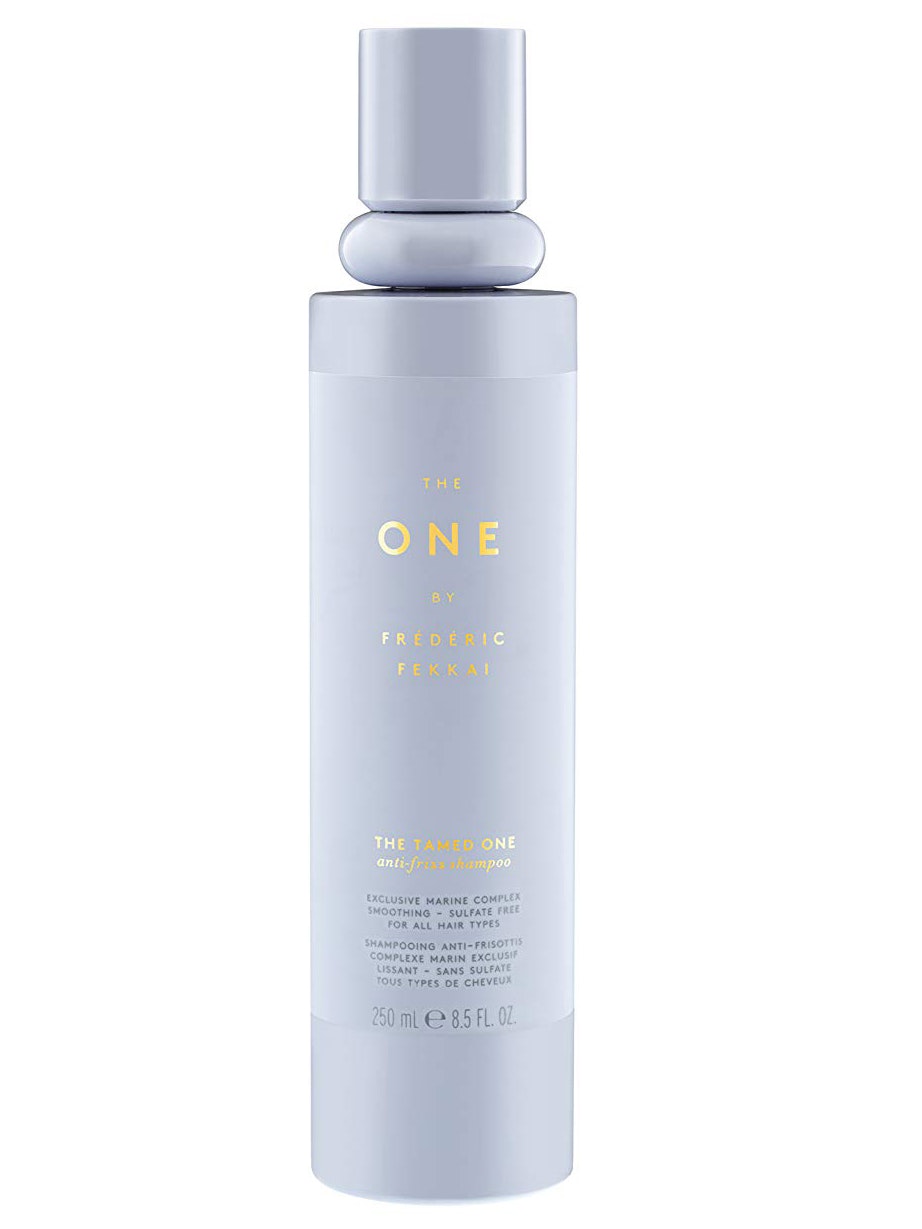 Frizz-Fighting Tip #2: Take Extra Care of Color-Treated Hair
If you color your curls, you may be setting the scene for even more dryness, damage and, ultimately, frizz. That's because highlights, balayage, and other color services tend to leave hair parched and brittle. To solve this, regular deep conditioning is key: weekly treatments can help curls retain what they need from your daily styling products instead of soaking up moisture from the air. 
Seek out deep conditioners loaded with nourishing natural oils, like babassu oil. You can find this lipid-rich ingredient in Beleza Natural Brazilian Babassu Oil Deep Moisturizer ($20), which is designed to repair breakage, rehydrate, and help with detangling.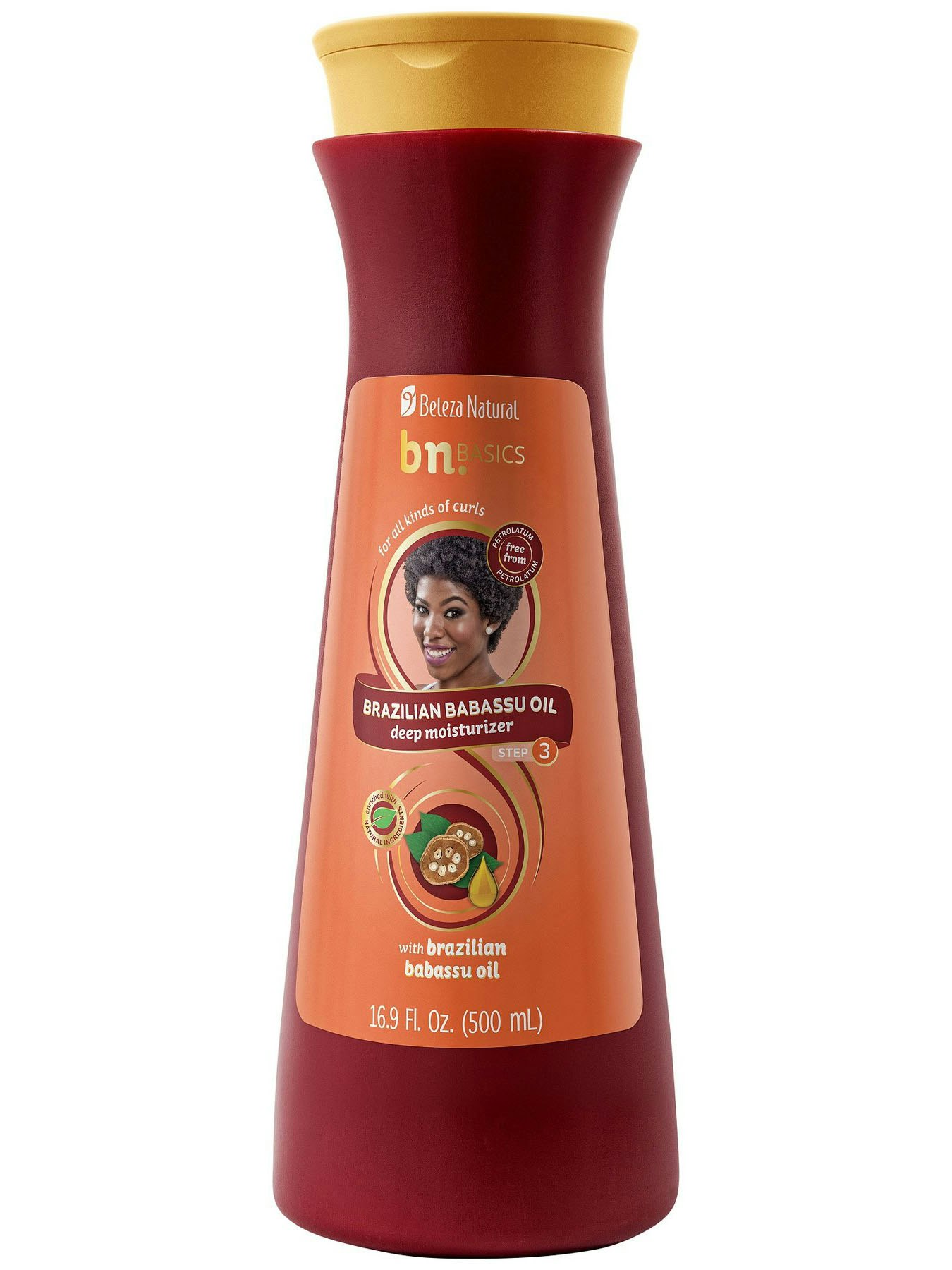 Frizz-Fighting Tip #3: Don't Detangle When Dry
Even if you've heard this tip, it bears repeating, because it's essential to fighting poofy curls: detangle your hair while it's still soaking wet. Dry combing can cause friction, which can cause frizz. Start detangling before you wash all of your conditioning treatment down the drain, using a wide-toothed comb (we like the Cricket® Ultra Smooth Detangler Comb, $6). The slip of the conditioner will help you bust through knots. Then, do a final rinse with cold water to seal in that moisture and smooth the cuticle.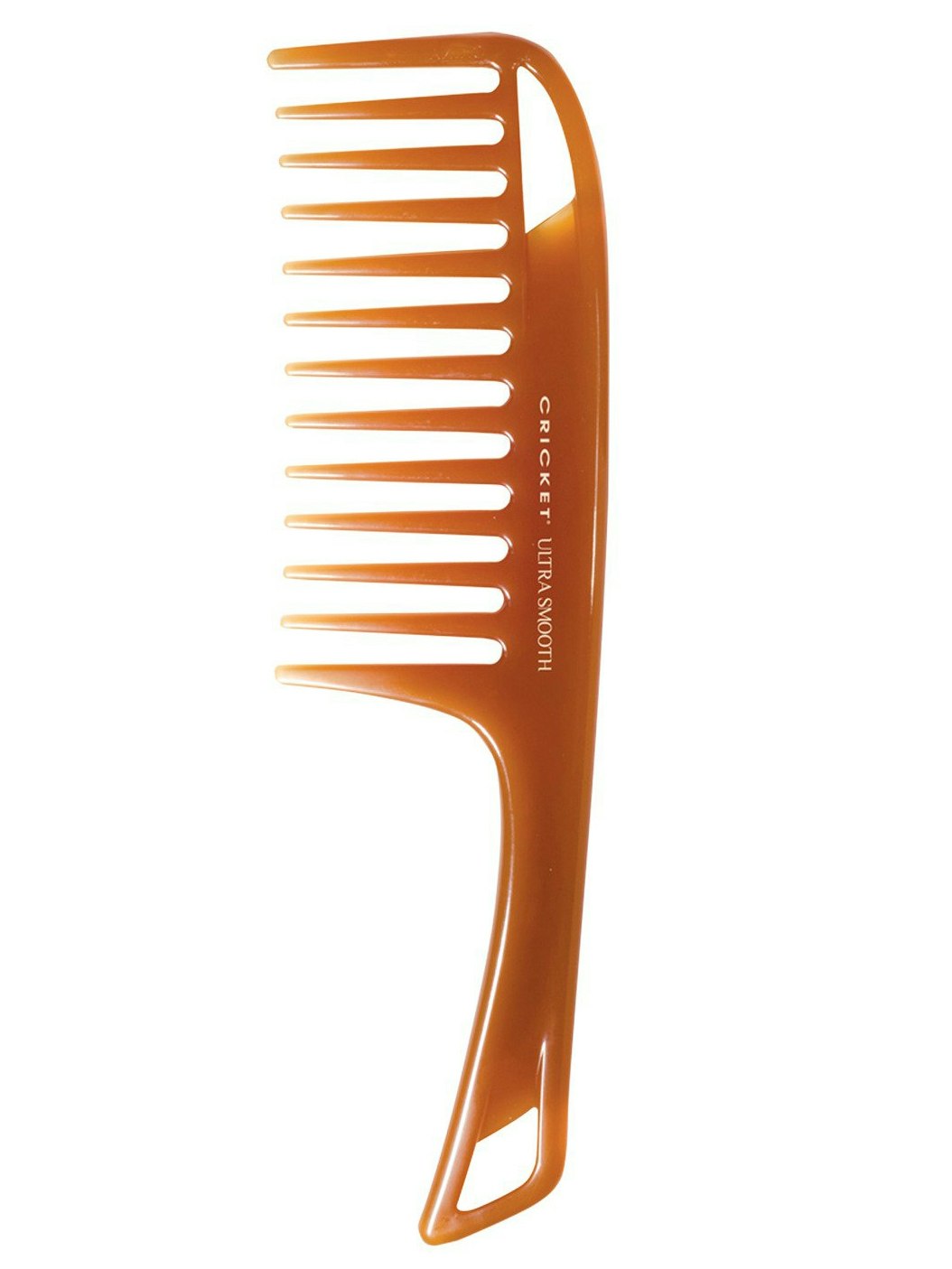 Frizz-Fighting Tip #4: Skip the Towel Dry
A quick towel dry might help you get out the door, but you could be sacrificing smoothness. Not only does the abrasive action suck away much needed moisture, but it will also rough up your hair's cuticle, letting moisture out. (Plus, towel drying can cause breakage and split ends, which both make strands look even frizzier.)  
Your hair should still be dripping wet when you step out of the shower, when you can apply a leave-in conditioner like SheaMoisture® Coconut & Hibiscus Frizz-Free Curl Mousse ($8). We're fond of this formula because it's light enough to use as a primer before heavier defining creams. Bonus tip: Add even more water to your hair after applying it to ensure an even distribution. Then, rake through your curls with your fingertips, which will further help prevent and control frizz.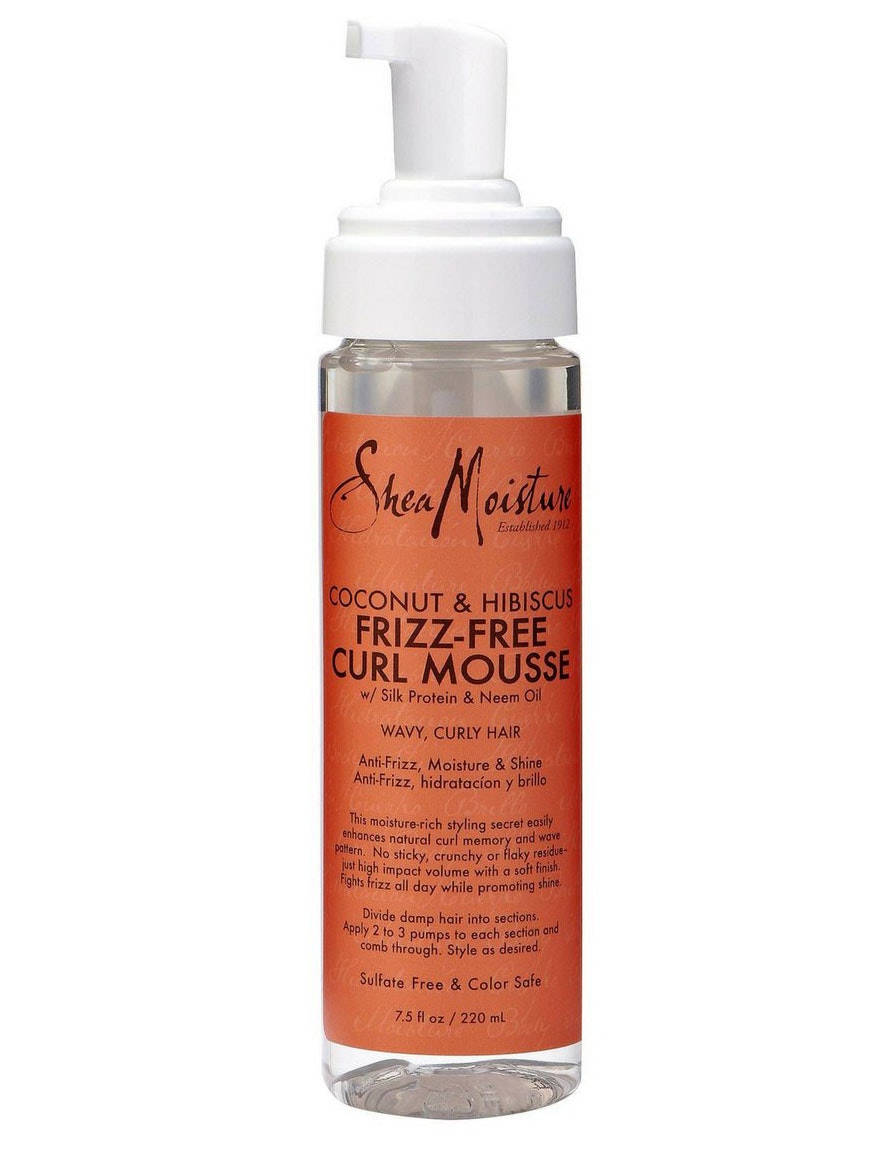 Frizz-Fighting Tip #5: Learn to Stack Your Stylers 
Once you've applied your leave-in, it's time to get your anti-frizz defensive lineup in order. The best approach to ensuring strands stay smooth is layering your products like a sandwich. (This works for skin, too — learn more about the retinol sandwich technique here.) After the leave-in, add a defining cream: all curls, even finer textures, can benefit from this rich next step. If your coils are fine to medium coarseness, R+Co® TurntableTM Curl Defining Creme ($29) will be nourishing enough to smooth, define, and shape curls without making them limp or crunchy.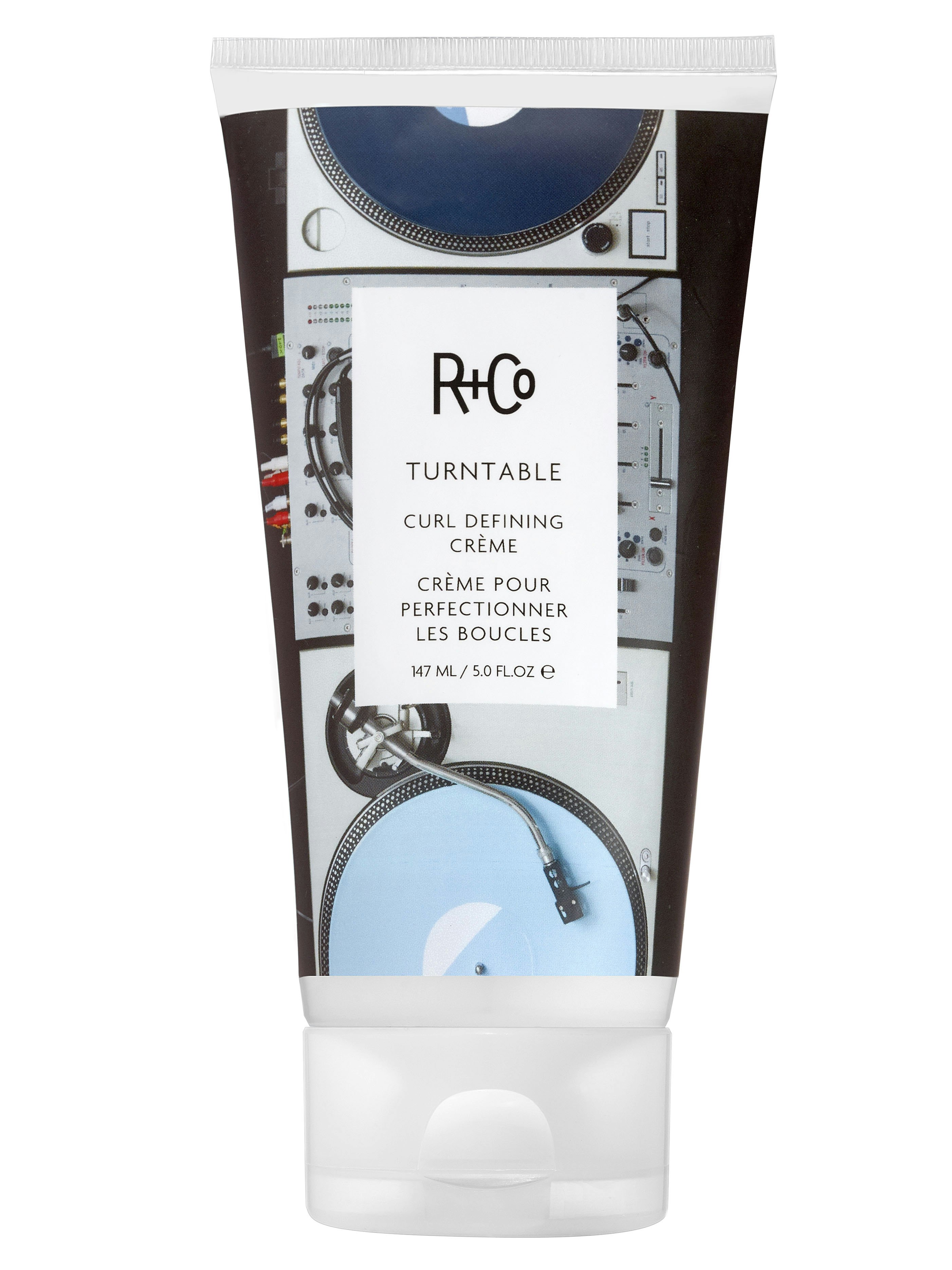 Thicker curls may need something a little heavier — we like Botánika BeautyTM The Hydrator ($12), which helps lock in hydration without too much added weight. Finally, seal all that moisture in with the final layer of your sandwich: a light spray or oil. Kenra Professional® Dry Oil Conditioning Mist ($17), an oil blended with dry conditioner, is a practically weightless option to lock in your creams. You can also use it in case of a frizz emergency to help refresh and smooth strands.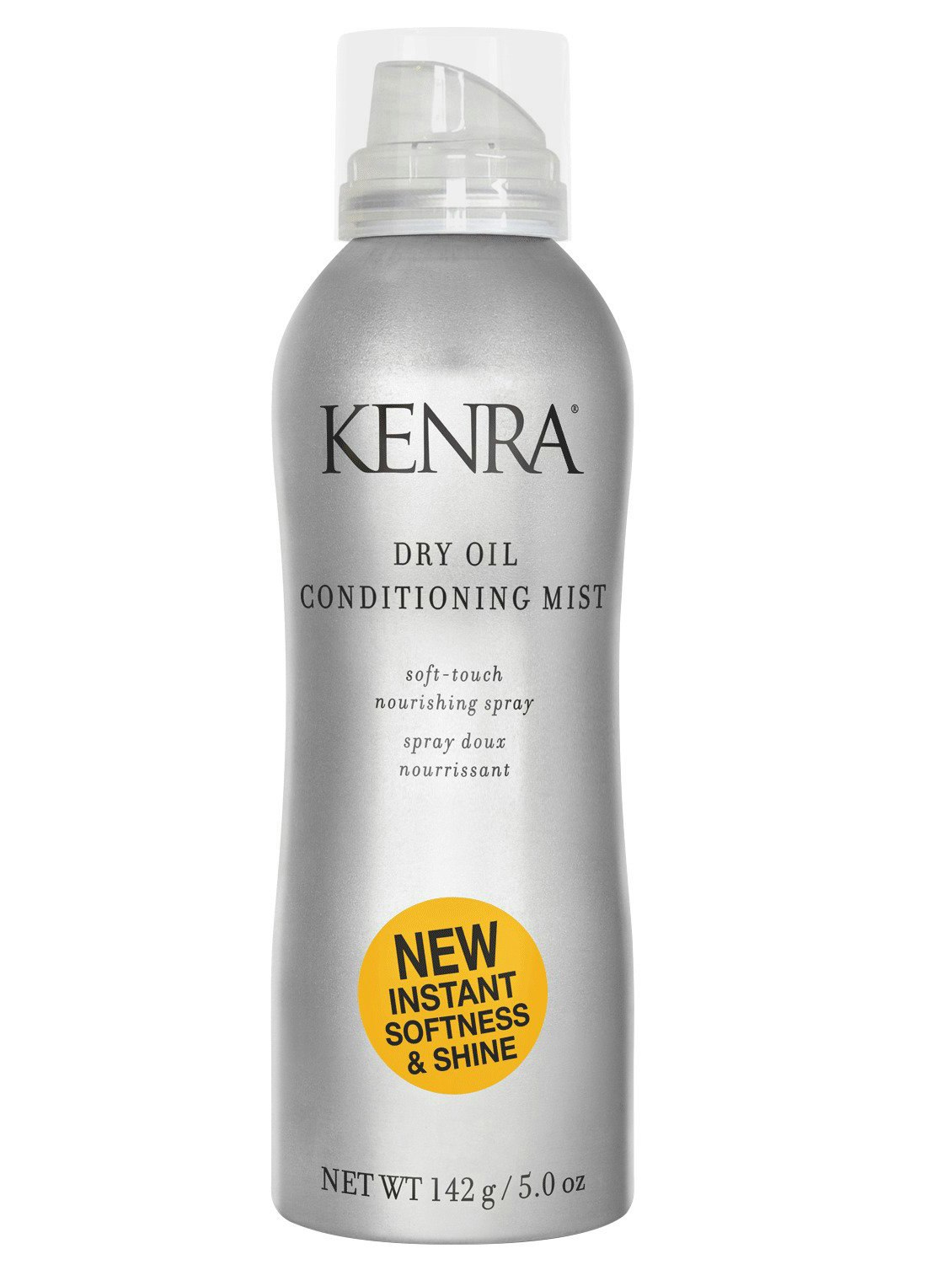 Frizz-Fighting Tip #6: Master the Proper Curl Drying Method 
Now that your hair has been fully moisturized, it's time to carefully dry it. Start by spritzing your strands with a heat protectant like the Conditioning Spray in the Hask® Watermelon Lemonade Anti-Frizz Set ($15), and then choose your hot tool. Reyes says that the best drying technique to minimize frizz is a hooded dryer. "It sets the hair quickly without disturbing the curl," she explains. While it's an investment to bring a salon-quality device like this into your home, those with heat-damaged hair may want to consider spending the money. That's because hooded dryers are considered a source of indirect heat.
Direct heat — which you'd get from a straightening iron, curling wand, hot comb, or traditional hair dryer — can wick the hydration out of hair, leading to damage and inevitable frizz. Indirect heat from a hooded dryer (or a hair dryer used with a diffuser) is more of an ambient heat, evenly circulating around your strands to seal in moisture as it dries. We like the Hot Tools® Professional Portable Salon Dryer ($165), which uses ionic technology to keep hair super silky and smooth.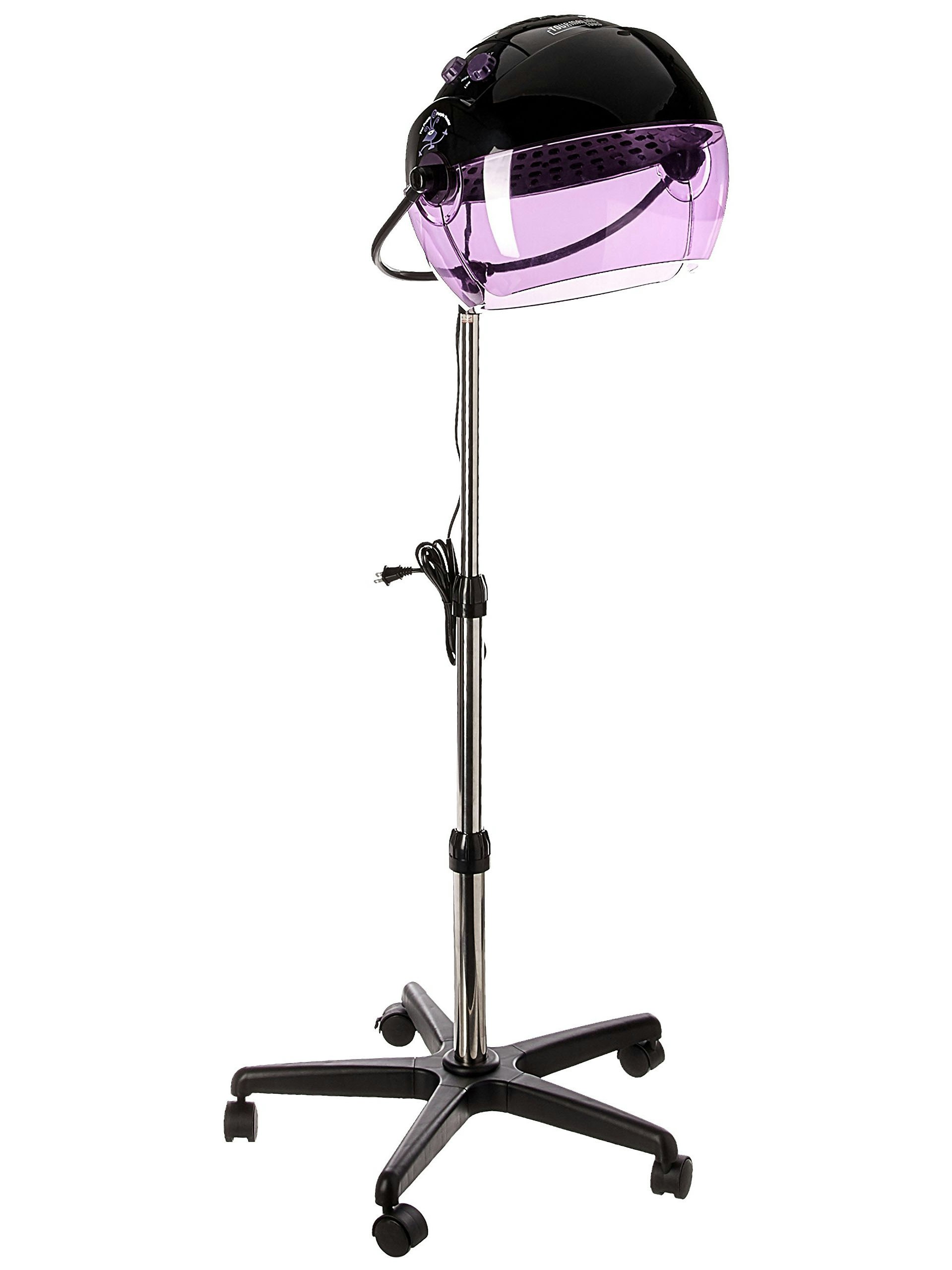 If you'd like to use a diffuser, be cautious. "Not diffusing properly will create lots of frizz," warns Reyes. "If you put your hair [directly] into the diffuser, it will blow the hair all over the place." Instead, angle the diffuser towards your strands, facing it downward. This positioning will keep the hot air from lifting up the cuticle, and will smooth it down instead. And while it's hard to not continuously scrunch, try not to touch your curls while drying: the friction from your fingertips can actually lead to frizz. 

If you'd prefer to not use heat at all (or a wash and go is more your speed) you'll be happy to hear that air-drying can actually control frizz. That's because you're not disturbing the curl pattern with any tools. As the last step of an air-dry routine, lock in moisture with a product like ColorWowTM Dream CoatTM for Curly Hair ($24). In addition to hydrating, it works like a raincoat to protect curls from humidity.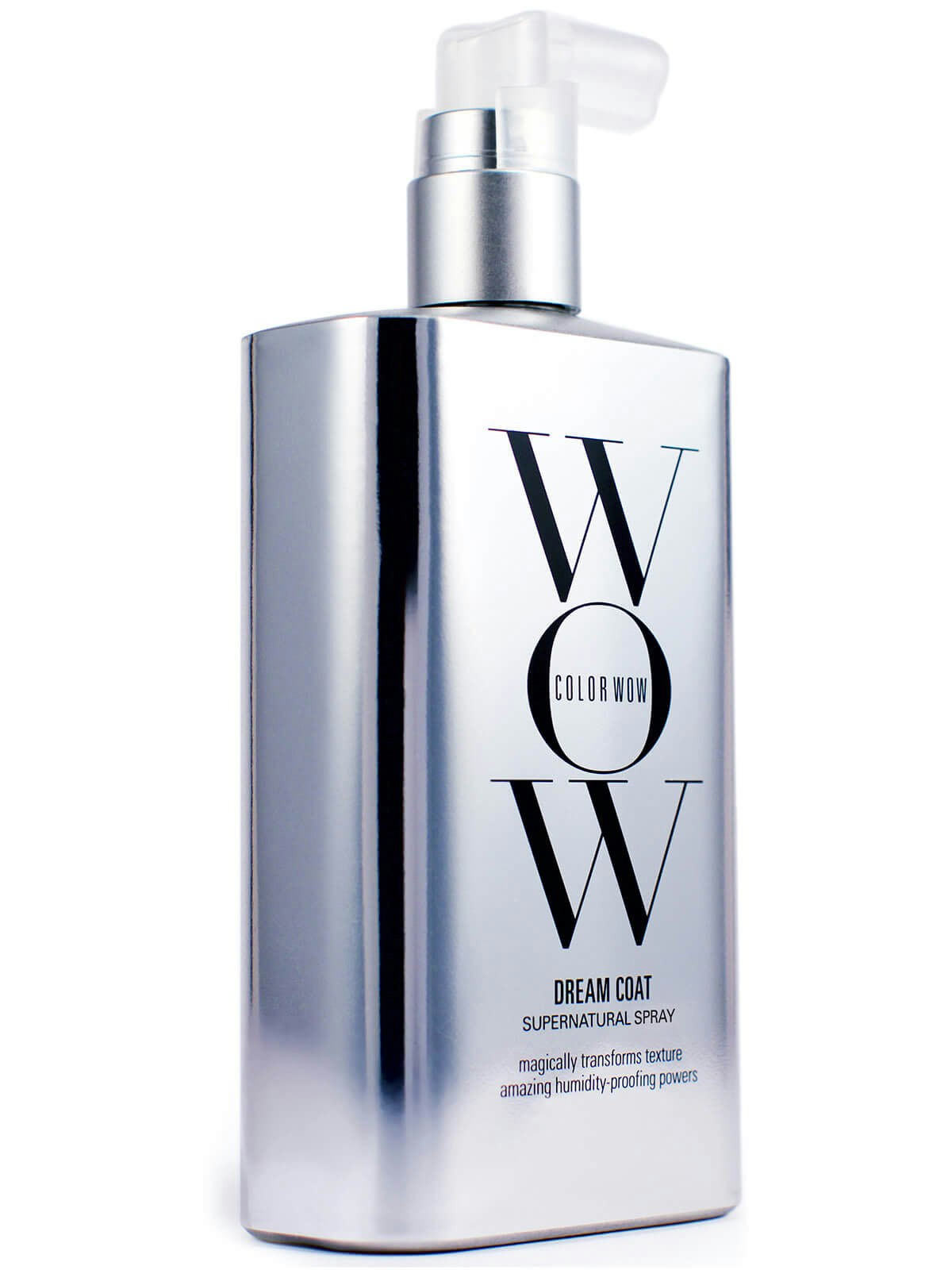 Frizz-Fighting Tip #7: Set Your Strands Up For Success While You Sleep
You likely know by now that your skin loses moisture overnight, which is why it's so important to pamper it before bed. The same thing goes for hair! After slicking on an overnight treatment like Mielle® Moisture Rx Hawaiian Ginger Moisturizing Overnight Conditioner ($10), consider tying your hair in a silk scarf or turban, such as the SILKETM London Sofia Silk Turban ($65). Unlike the cotton of your pillowcase, silk doesn't absorb moisture (or products) easily. Plus, when tucked into a turban, your curls are more likely to stay in place as you toss and turn, resulting in less frizz-causing friction. You'll wake up to gorgeous, glossy curls.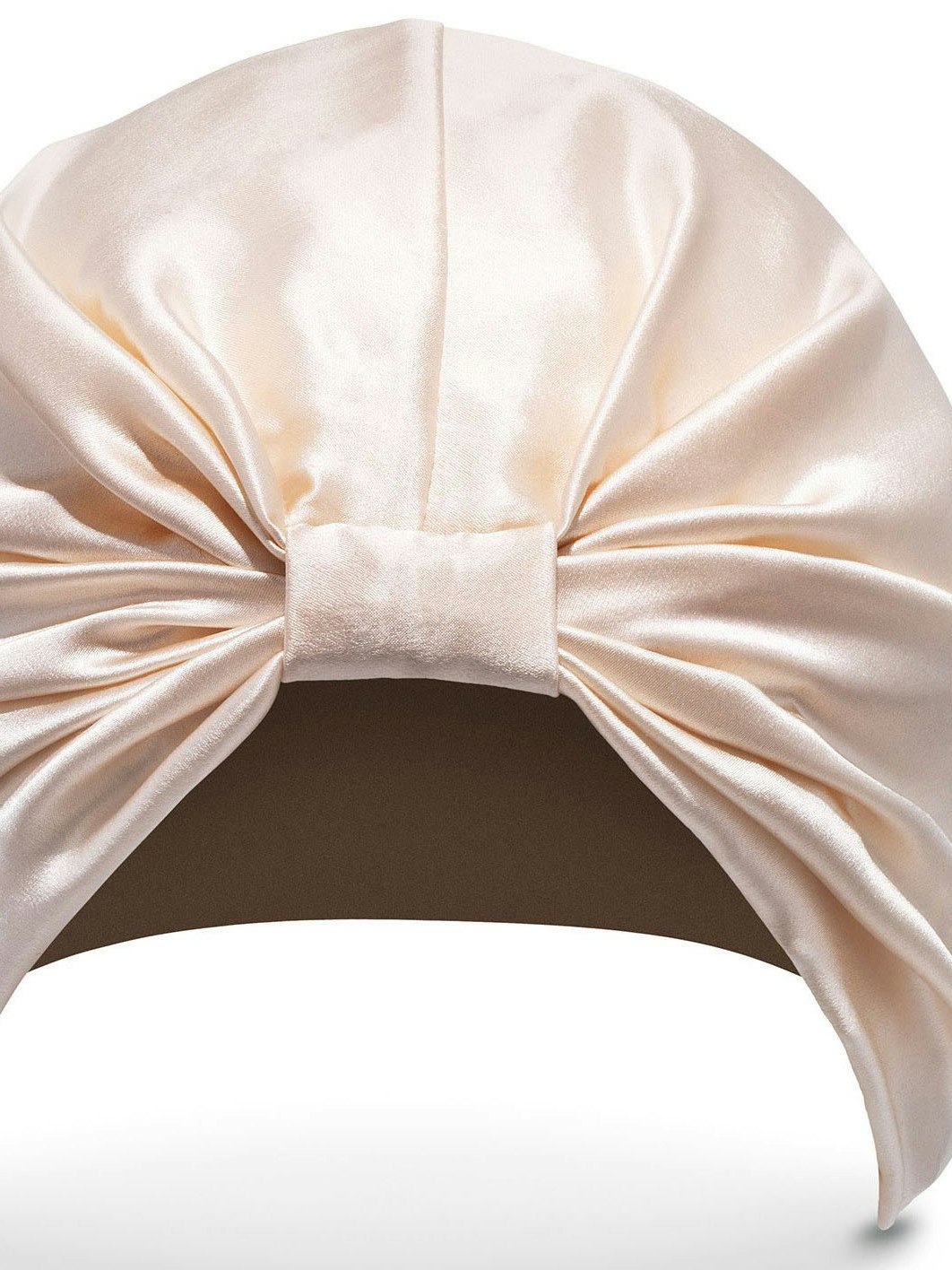 Product prices may vary from the time this article was written.
Allergan® may receive commissions for purchases made through links in this article.