"Wear sunscreen every day." We hear it from our board-certified dermatologists all the time, regardless of the season, to keep our skin healthy and protected from ultraviolet rays. The unfortunate reality, though, is that the majority of us don't even think about slathering on SPF until we're exposed to summer sun. According to a large-scale nationwide survey conducted by Allergan® in 2018, only 53 percent of women and 46 percent of men regularly use sunscreen.
We need to do better. Yes, along with other sun protection measures, using sunscreen can help prevent sunburn and stave off early signs of aging, but it can also help reduce the risk of getting skin cancer. Our failure to use SPF as a nation is extremely apparent: each year, more than five million people in the U.S. are diagnosed with skin cancer, many of which could have been prevented, according to the American Cancer Society®.
We hope that you've heard this message loud and clear, and now are prepared to carefully (and religiously) apply sunscreen every single day. In case you've forgotten, most adults need roughly one ounce of sunscreen to fully cover their bodies — and that includes easy-to-forget places like toes and the tips of ears! 
If your primary rationale for skipping SPF is because you've never found a pleasant formula, you can stop using that as an excuse. These days, there are plenty of different iterations to choose from, including lotions, oils, and powders in sticks, bottles, and tubes. To help you cover up all parts of your skin, all year, read on: we tapped 10 dermatologists to share their go-to sunscreens that they use daily.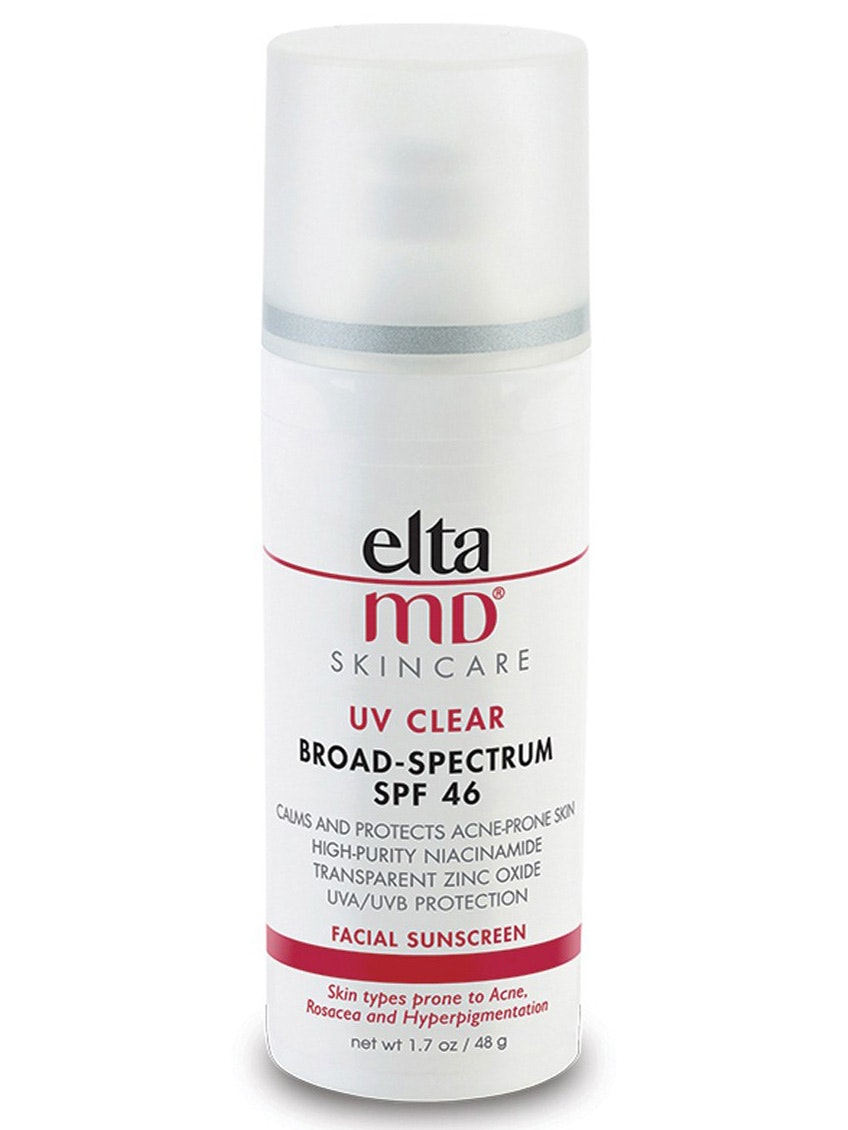 The Sunscreen: Elta MD® UV ClearTM Broad-Spectrum SPF 46 ($35)
The Dermatologist Superfan: Dr. Devika Icecreamwala of IcecreamwalaTM Dermatology in Berkeley, California
Why She Loves It: "Since I always recommend using sunscreen every day to help protect your skin, I believe the best sunscreen is one that is reasonably priced and doesn't leave your skin feeling overly greasy or heavy," says Dr. Icecreamwala, and she declares that this formula does just that. "At $35 a bottle, this sunscreen is lightweight, unscented, and oil-free, leaving your skin and wallet feeling protected." She adds, "My patients who end up buying their first bottle always end up coming back for more!"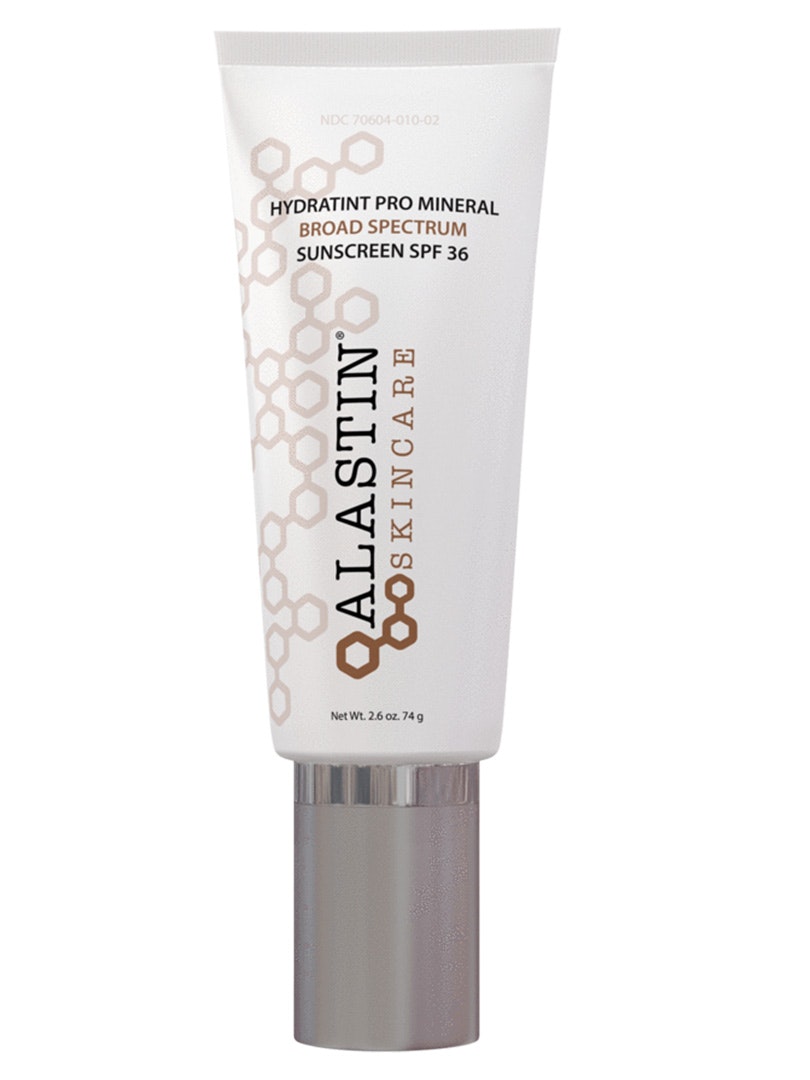 The Sunscreen: Alastin® HydraTint Pro Mineral Broad Spectrum Sunscreen 36 ($55)
The Dermatologist Superfan: Dr. Rachel Pritzker of Chicago Cosmetic Surgery and Dermatology® in Chicago, Illinois
Why She Loves It: "It truly is my all-in-one in the morning — especially on the weekends, when I do not wear makeup," says Dr. Pritzker. "The formulation makes skin glow and look radiant." She says that she gets compliments when she wears it. The product is also an entirely physical (mineral) sunscreen that provides broad spectrum protection, and it offers free radical defense thanks to antioxidants like green tea and algae.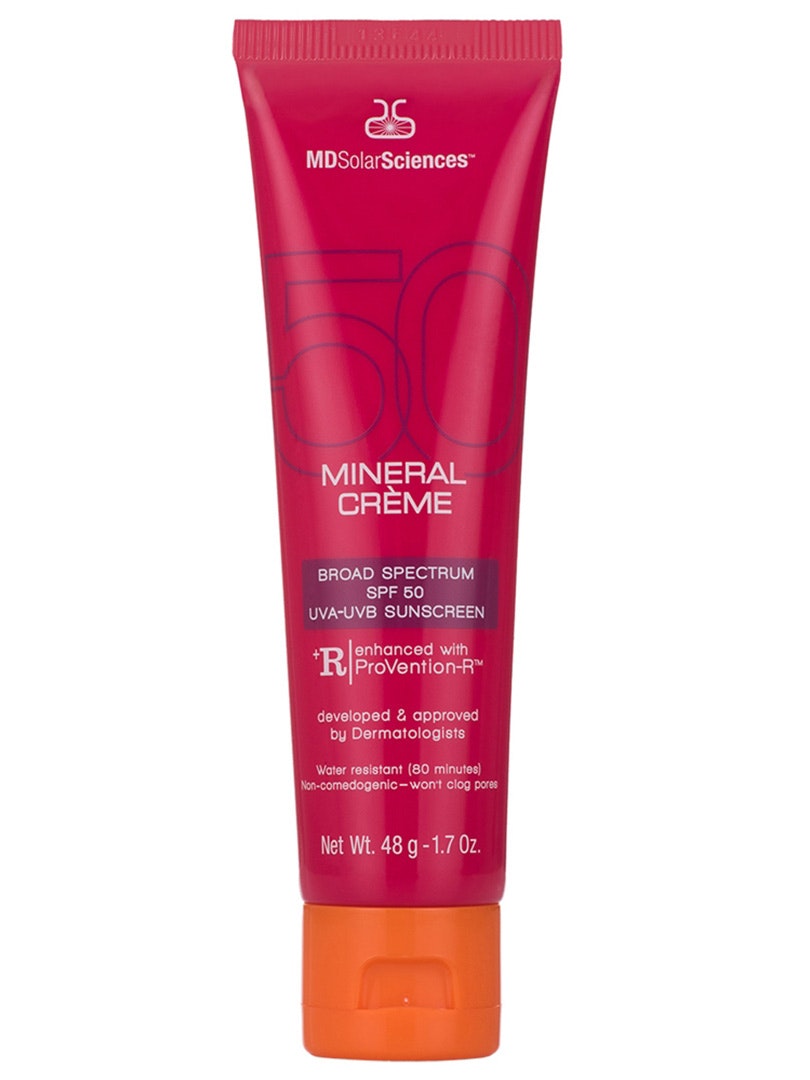 The Sunscreen: MD SolarSciences® Mineral Crème 50 ($30)
The Dermatologist Superfan: Dr. Arash Akhavan of The Dermatology & Laser GroupTM in New York City
Why He Loves It: "It is a physical sunscreen with zinc oxide and titanium dioxide, but it does not go on chalky and thick the way physical blocks sometimes can," says Dr. Akhavan, who notes that this may be the lightest and silkiest sunscreen he's ever used. Bonus points: it's rich in antioxidants vitamin C and green tea to help fight off sun damage caused by free radicals. "This formulation is safe enough to use on children ages 6 months and up, so it's great to share with the whole family," he adds.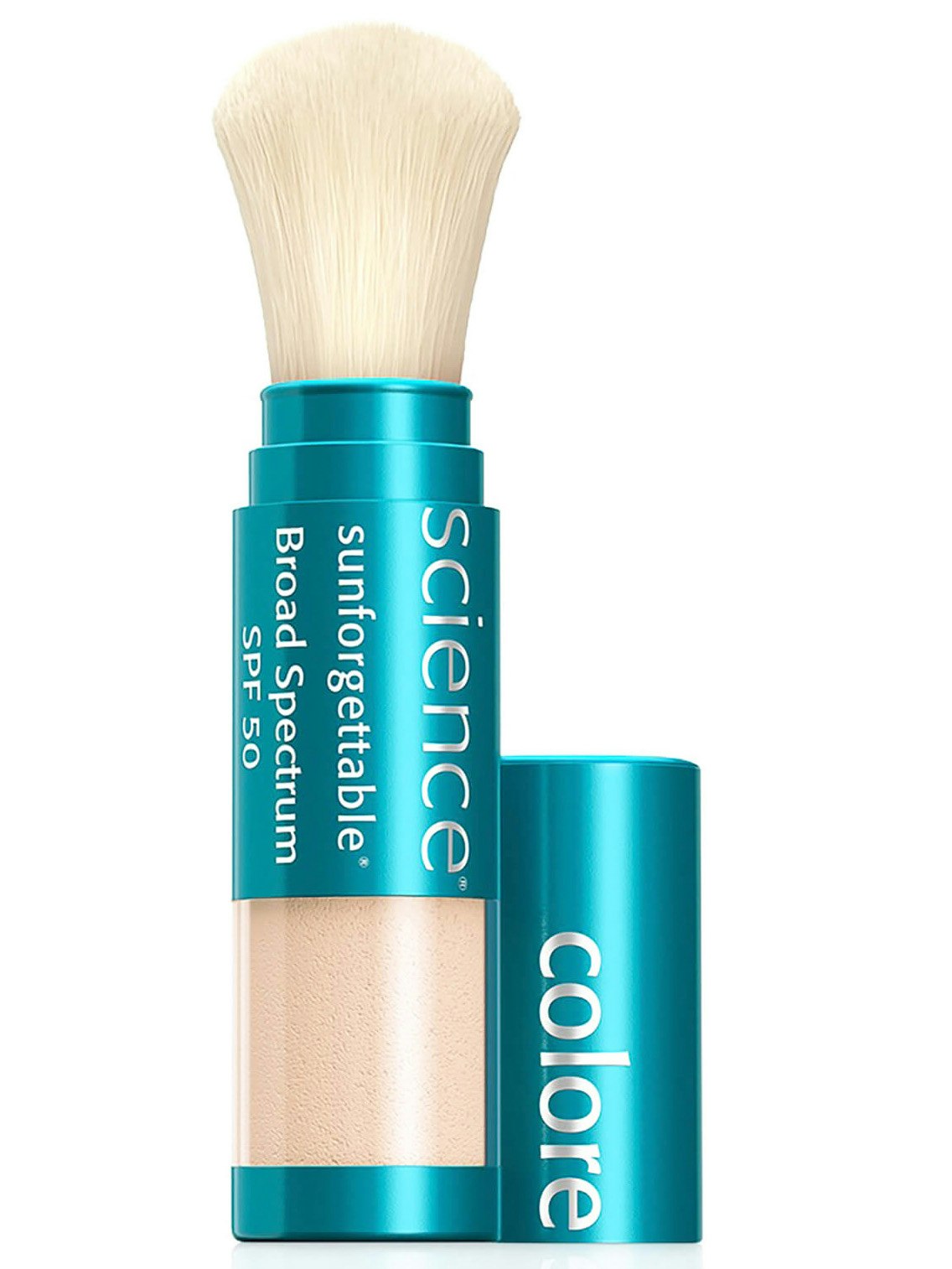 The Sunscreen: Colorescience® Sunforgettable® Total Protection Brush-on Shield SPF 50 ($65)
The Dermatologist Superfan: Dr. Susan Bard of Manhattan Dermatology SpecialistsTM in New York City
Why She Loves It: "It's my favorite because it's a completely mineral powder sunscreen that comes in a variety of shades," says Dr. Bard. "One of the main reasons people don't reapply their sunscreen throughout the day is because it's inconvenient. This is especially true for women who don't want to ruin their makeup." Just dust this one on top of your makeup — the powder will also help dull shine and keep your makeup in place.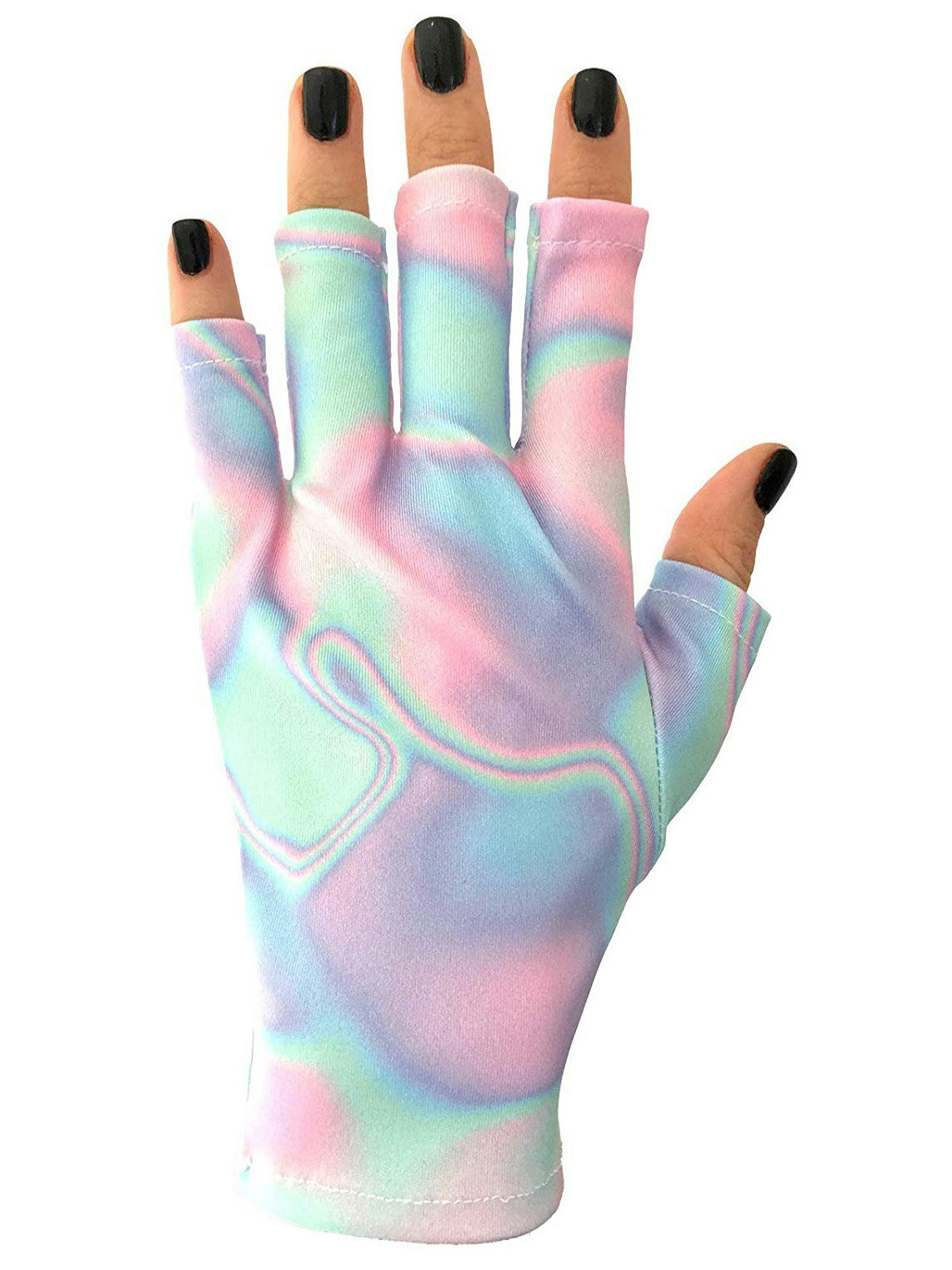 The Sunscreen: ManiGlovz® UPF 50 ($24)
The Dermatologist Superfan: Dr. Deanne Mraz Robinson of Modern Dermatology® of Connecticut, in Westport, Connecticut
Why She Loves It: Though these gloves aren't a traditional form of SPF, they still provide powerful protection against UV — which makes them a must for those of us hooked on gel manicures. "We know that UV radiation from the sun causes premature aging and skin cancer, but we can also receive UV radiation or high energy visible light from other sources, such as [some of] the lights used with gel manicures," explains Dr. Robinson. She notes that they're not only an excellent way to protect yourself at the salon, but are a great choice to pop on while driving, too.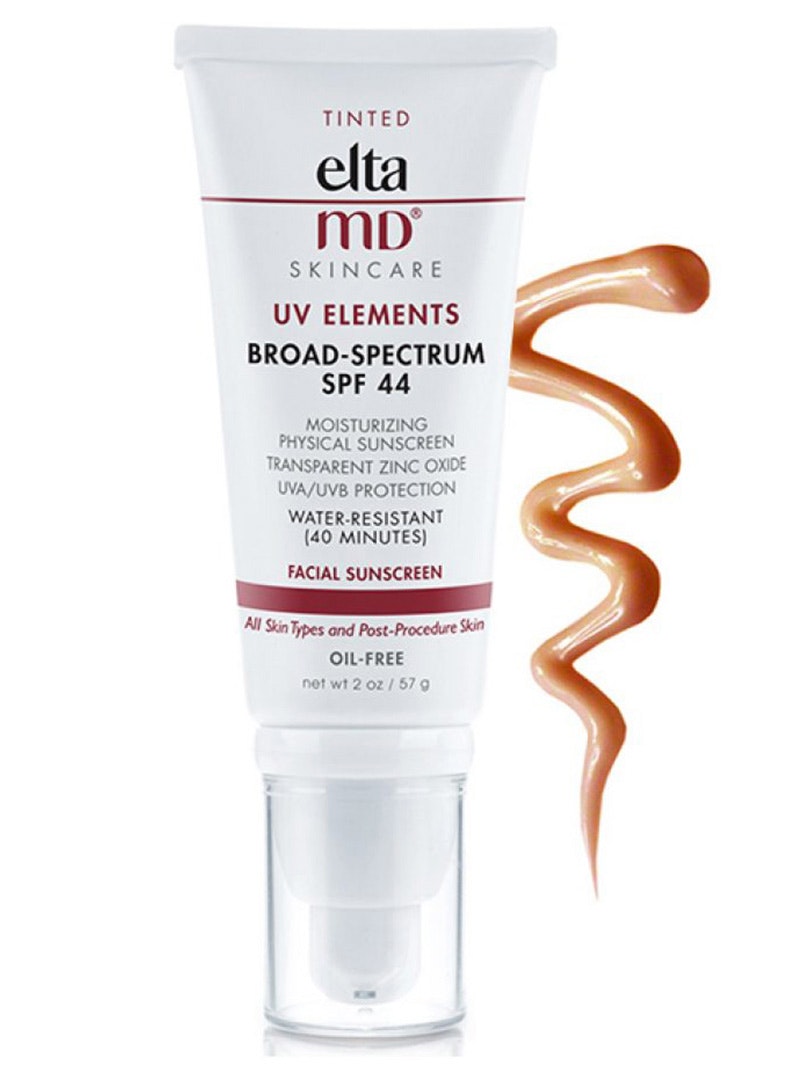 The Sunscreen: Elta MD UV ElementsTM Tinted Broad-Spectrum SPF 44 ($34)
The Dermatologist Superfan: Dr. Debra Jaliman, who practices in New York City
Why She Loves It: "It's a mineral sunscreen made with hyaluronic acid, which is super hydrating," says Dr. Jaliman of this oil-free, chemical-free, noncomedogenic formula. It has high concentrations of both zinc oxide and titanium dioxide for thorough mineral defense. The formula is also water-resistant for 40 minutes (great for those days spent poolside!) and it won't sweat off. "This sunscreen has a nice tint, so it gives you a little bit of coverage," she says. "It's good for all skin types — even those with sensitive skin."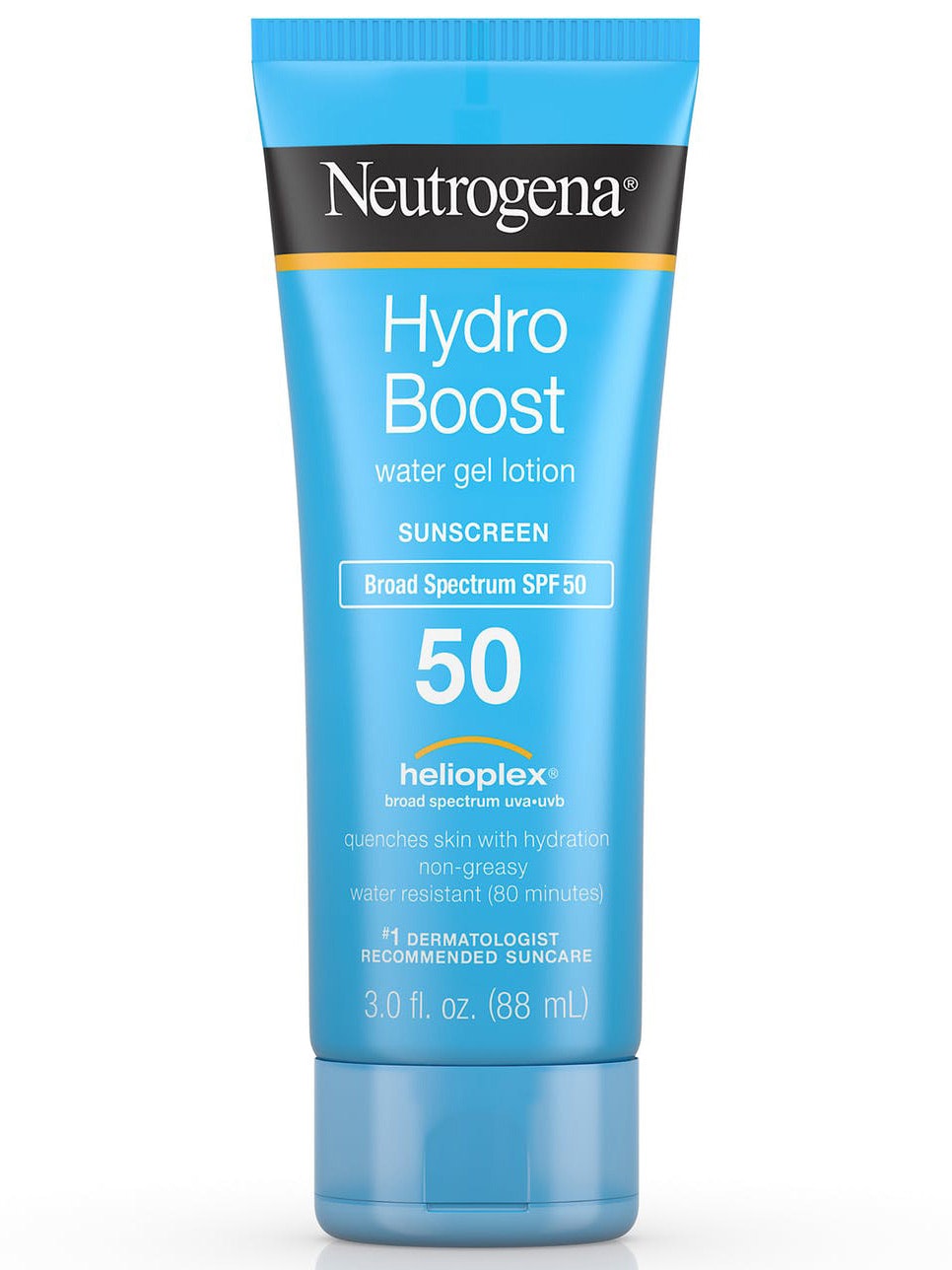 The Sunscreen: Neutrogena® Hydro BoostTM Gel Sunscreen Lotion SPF 50 ($9.99)
The Dermatologist Superfan: Dr. Dhaval Bhanusali of Hudson Dermatology & Laser SurgeryTM in New York City
Why He Loves It: "It blends in really well for daily use, days outside or at the beach — and the sport stick is great for little ones, or if you are active, playing sports outdoors!" says Dr. Bhanusali. This formula also has hyaluronic acid to help lock serious hydration into skin without leaving a white cast or greasy residue.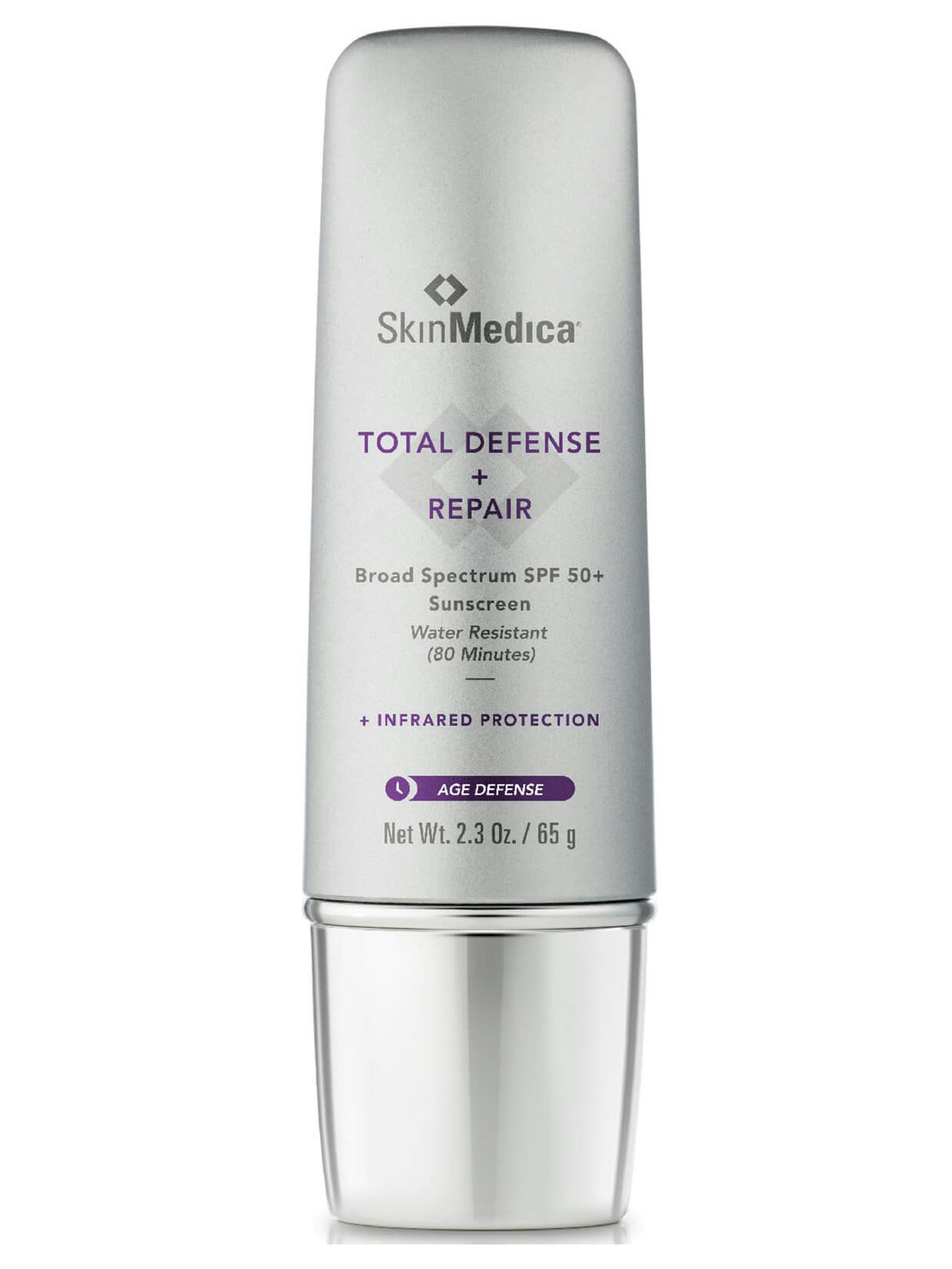 The Sunscreen: SkinMedica® Total Defense + Repair Broad Spectrum Sunscreen ($58)
The Dermatologist Superfan: Dr. Suneel Chilukuri of Refresh DermatologyTM in Bellaire, Texas
Why He Loves It: "It is more than just a sunscreen,'" says Dr. Chilukuri. "This particular product [also] shows protection against Infrared (IR) light in addition to the typical UVA and UVB protection." According to Dr. Chilukuri, IR light is known to cause mitochondrial damage (which causes accelerated cell aging and death) and photo-aging. In addition to sun protection, it provides powerful antioxidant protection.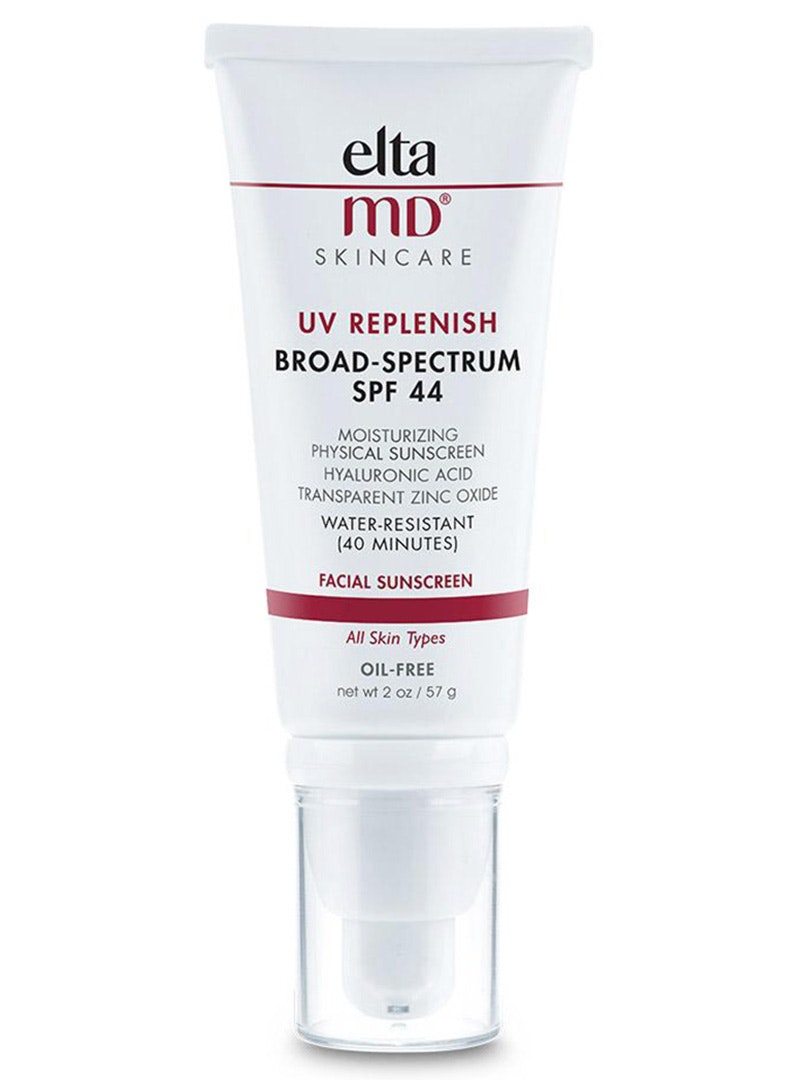 The Sunscreen: Elta MD UV ReplenishTM Broad Spectrum SPF 44 ($32)
The Dermatologist Superfan: Dr. Amelia K. Hausauer of AesthetxTM in Campbell, California
Why She Loves It: "I use it daily because it's a fully mineral sunscreen — no chemicals, only zinc and titanium — for broad spectrum coverage," says Dr. Hausauer. "It contains hyaluronic acid to boost skin moisture, and includes antioxidants that [help protect against] the damaging effects of not only ultraviolet light, but also infrared and visible light." She adds that more studies are being conducted on the damaging effects of these latter forms of light — especially for patients with pigmentation problems like melasma — so having a triple threat formula in your arsenal is key.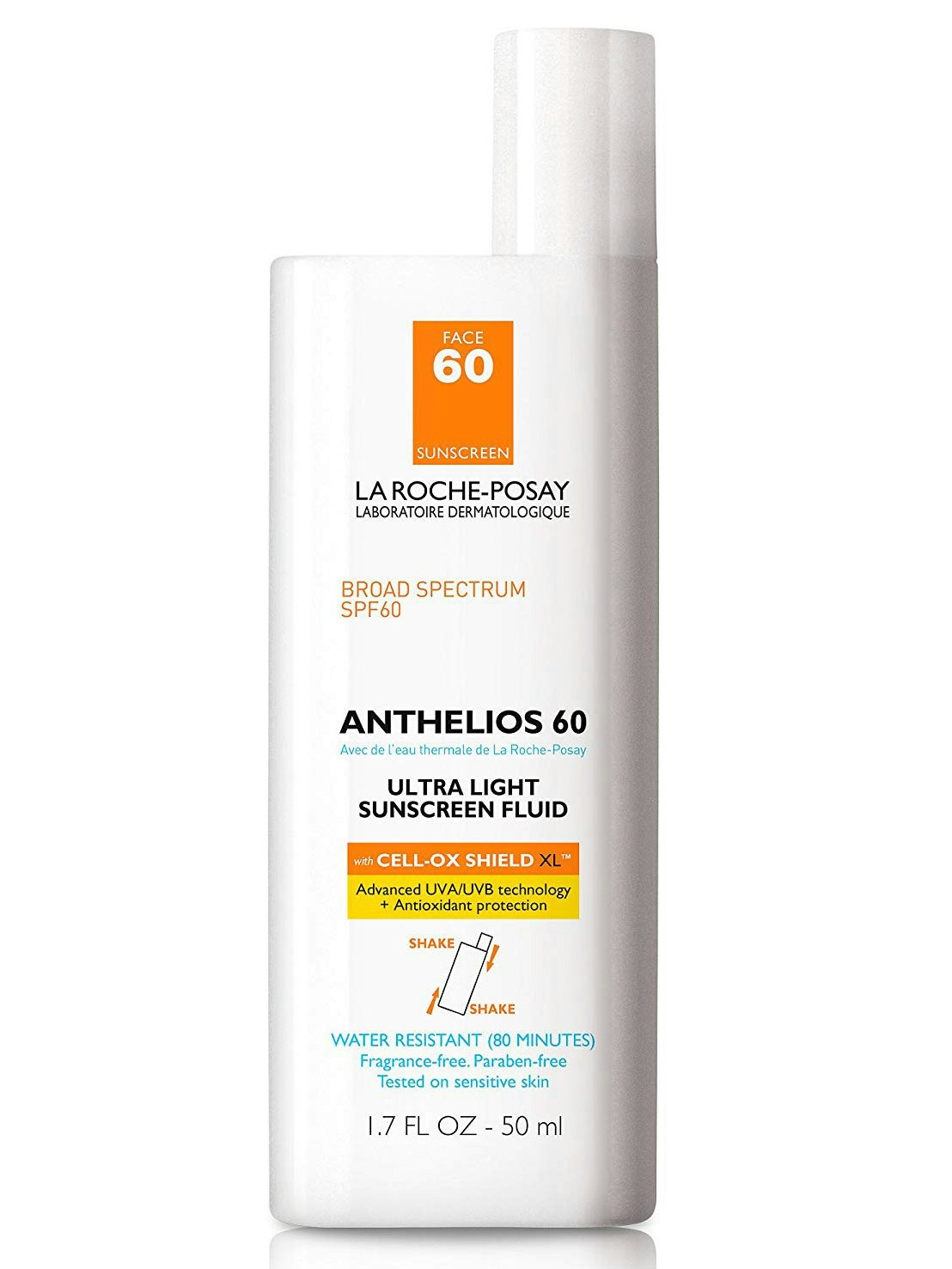 The Sunscreen: La Roche-Posay® Anthelios® SPF 60 Ultra-Light Sunscreen Fluid ($30)
The Dermatologist Superfan: Dr. Howard Sobel of Sobel SkinTM in New York City
Why He Loves It: "Unless you're really caking on the coverage, the sunscreen in your makeup isn't enough to protect your skin from the sun," warns Dr. Sobel. "It would require [much more than] the normal amount of foundation to provide enough coverage, so it's important to wear a separate moisturizer that offers SPF protection." He favors this formula for being ultra-lightweight, fragrance-free, oil-free, and noncomedogenic (making it ideal for sensitive and oily skin types). It's also enriched with antioxidants to provide extra protection from the sun's free radicals. Dr. Sobel suggests layering it under your makeup, then doubling up on protection with an SPF foundation or BB cream.
Dr. Deanne Mraz Robinson is a paid Allergan® consultant.
Product prices may vary from the time this article was written.
Allergan may receive commissions for purchases made through links in this article.
SkinMedica® is an Allergan-owned skincare line.