Ask any dermatologist for the step in their skincare routine that's non-negotiable, and they'll most likely tell you it's sunscreen. Other than the fact that, when used with other sun protection measures, it lowers the risk of skin cancer, it also helps protect against premature skin aging caused by the sun. But even if you're well-versed in the benefits of SPF, many people still choose to skip it — myself included. 
While I certainly try to be the sunscreen fanatic that I know I should be, there's a few major issues that hold me back from putting it on my skin each morning. Not only do the various options all seem to make my skin look oily and washed out, they also don't feel good. After I apply it, there's always a thick, impenetrable film left on my face. And for someone who battles blackheads regularly, sunscreens that are potential pore-cloggers are a huge no-no for me. But recently, an SPF crossed my desk that surprisingly changed my mind about the entire category: SkinMedica® Total Defense + Repair Broad Spectrum Sunscreen SPF 34 ($68).
Unlike other sunscreens I've tried, the texture of this formula is light and creamy, not sticky or greasy. I usually get oily along my forehead, nose, and chin when I use any sort of SPF, but I rarely get shiny after using this one. It is offered in two iterations — a traditional lotion and a tinted one — I use the latter as a substitute for foundation. I don't like to wear heavy complexion products in the warmer months, and the sheer pigment in the tinted formula gives me enough coverage that I can usually skip complexion-correcting makeup in the morning. 
As a skincare aficionado, I'd be remiss not to discuss the actual skin benefits it provides, as well. This sunscreen protects against UVA, UVB, and infrared rays, which are simply another form of light that's proven to prematurely age skin. Just like UVA and UVB rays, infrared rays are also emitted from the sun. And unsurprisingly, they've also been shown to cause early skin aging in the same way UV radiation does, which is why this added protection is a critical addition to SkinMedica's formula.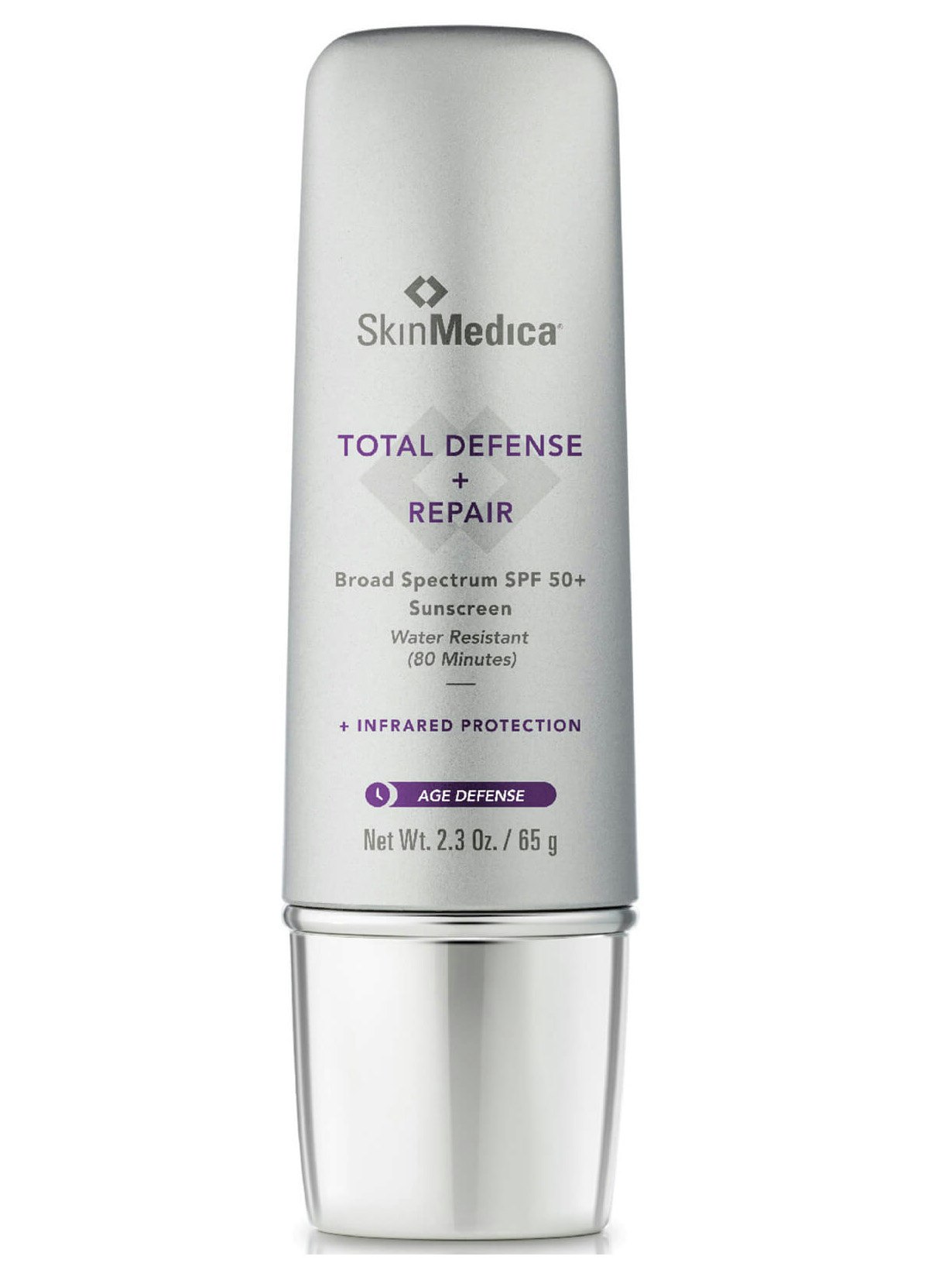 The product is also packed with antioxidants like green tea leaf extract, two forms of vitamin E, and niacinamide to add an extra layer of protection against environmental stressors — like pollution, which is linked to increased hyperpigmentation and more pronounced wrinkles. So, generally this sunscreen is designed to help support healthy-looking skin in addition to providing sun protection. 
Going further than its protective capabilities, this product also helps to improve your skin's appearance: it's clinically proven to reduce the appearance of wrinkles in just four weeks. Yup, with consistent use, the appearance of fine lines can be reduced. As a bonus, I've found that the moussey texture also blurs the appearance of my finer lines, almost acting like a built-in Instagram® filter. With this triple threat combination of skincare, suncare, and light makeup, it's obvious that I no longer have any excuses to skip SPF. 
Complimentary product was provided to the author for the purpose of writing this article.
SkinMedica® is an Allergan-owned skincare line.
SkinMedica®Total Defense + Repair Broad Spectrum Sunscreens are over-the-counter drug products that are formulated and marketed pursuant to the FDA's governing regulations set forth at 21 CFR § 352.