Recently, my roommate approached me with an age-old question: "Do I need to buy an expensive moisturizer, or can I get a good one at the drugstore?" Though she's a fellow beauty lover, she's still wary of overspending on skincare. I understand  — it can feel risky to splurge on a product that isn't guaranteed to work. And when you scrutinize products from mass and prestige brands side by side, the ingredients can appear comparable. However, things aren't always as they seem. 
According to board-certified dermatologist Dr. Joel Schlessinger, some pricey skincare products are worthy of a splurge — even if it doesn't seem so at first glance. "As with most things, quality counts," he says. "In skincare, it counts even more, because poor quality products can end up causing rashes that are irritating, potentially bad for your health, and expensive when doctor visits become necessary."
This certainly makes sense, but it's still confusing as to why luxe products cost more than their wallet-friendly counterparts in the first place. So, we tapped Dr. Schlessinger to answer more of our questions surrounding pricey products. Read on!
What are the benefits of buying costly skincare products?
Some brands claim to pluck rare ingredients from obscure locations (Moroccan rose oil, for example), saying that this expensive sourcing drives up the prices. While that makes sense, not all brands and ingredients have exotic marketing stories. Dr. Schlessinger notes that it's often the extra steps in their development and production process that increase the value. "Generally, with quality products, there has been testing and forethought about what ingredients work best and are most effective," says Dr. Schlessinger.
While cost doesn't always equal superiority and safety, Dr. Schlessinger claims his personal experience has taught him that it is still a commonly spot-on measure of quality. "In general, the more costly the product, the better the ingredients," he adds. "[I] worry when something is too inexpensive, as ingredients that are better do cost more. Low price points almost always signify the use of lesser ingredients." Of course, there are always exceptions: a selection of drugstore brands are supported by corporations with enormous laboratories, where extensive research and testing is done to prove the products' efficacy.   
Do you have any favorite prestige brands or products that you commonly recommend to patients?
As mentioned, not every luxury product is worth the extra money. However, Dr. Schlessinger has quite a few reliable favorites. "I am a huge fan of SkinMedica®," he says. "From eye creams to growth factor [serums], they have a phenomenal brand." One product from SkinMedica that he specifically enjoys is the TNS Essential Serum® ($281). It's packed with many powerful ingredients like growth factor, hyaluronic acid, and vitamin C, making it a favorite among experts.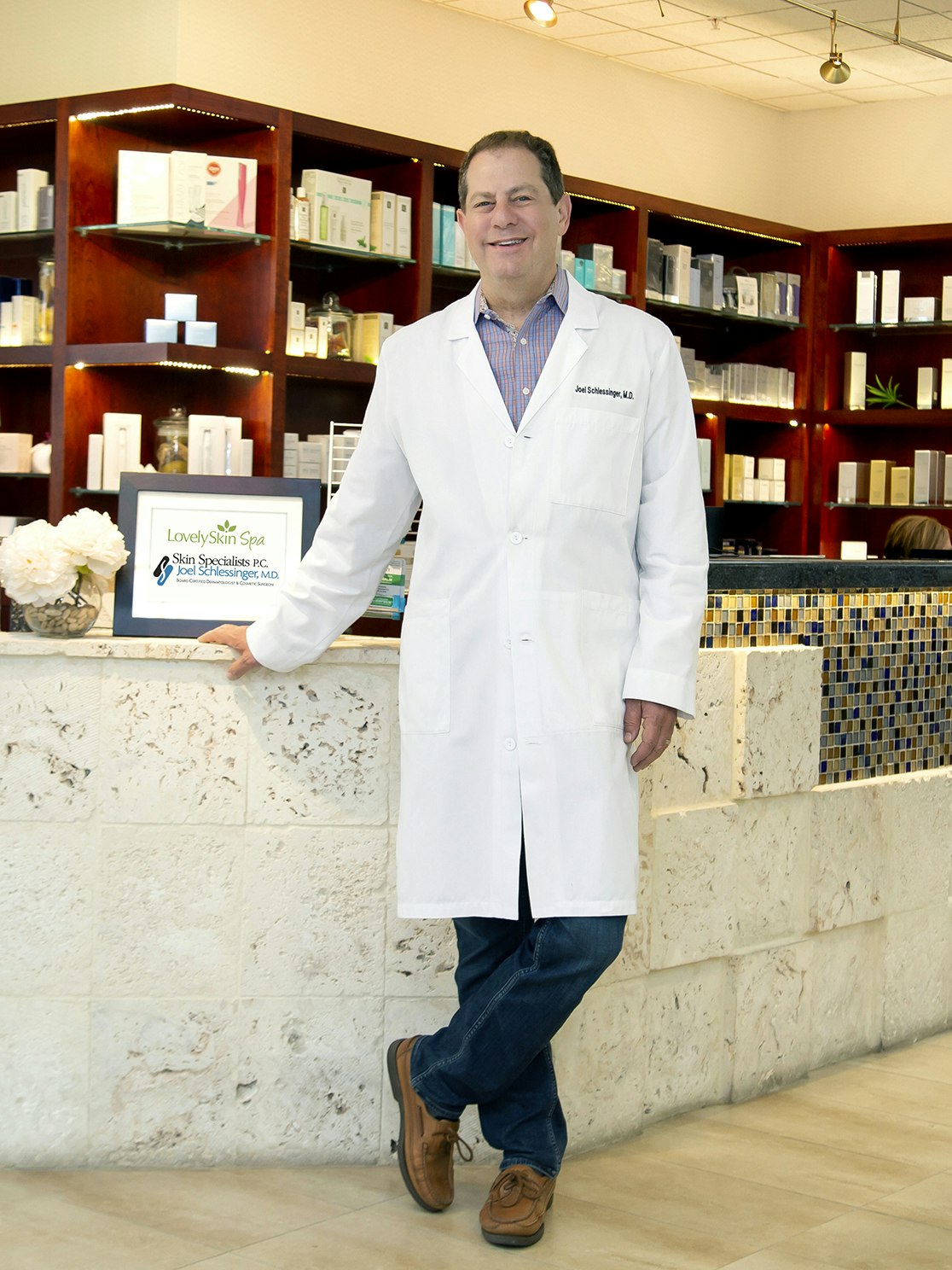 Other brands that Dr. Schlessinger recommends are Caudalie® and Elta MD®. "Caudalie is a natural skincare line formulated with grape extracts, such as resveratrol," says Dr. Schlessinger. "It's also free of common skin irritants such as parabens, phenoxyethanol, sodium laureth sulfate, and phthalates." If you're looking to give Caudalie a try yourself, start with one of their top sellers, the Beauty ElixirTM ($49). The revitalizing face mist helps tightens pores, reduces fine lines, and brightens the complexion while refreshing your skin (we love using it as a midday pick-me-up).
When it comes to Elta MD, Dr. Schlessinger swears by the UV Clear Broad-Spectrum SPF 46 Sunscreen Untinted ($35). "This is one of my favorite sunscreens as it goes on light and doesn't cause breakouts," he explains. Bonus: this SPF is oil-free and non-greasy, so skin won't be left looking shiny after use.
Pro Tip: For all of these professional and prestige skincare products, it's recommended to visit your dermatologist's office to discuss which are best for you. Click here to chat with our team of trained aesthetic specialists to find one near you.
Are there any inexpensive products that you recommend to patients looking for more budget-friendly options?
For those who'd still like to save a bit of money when shopping for skincare, there are a few lower-priced products Dr. Schlessinger recommends. His first pick: the Vanicream Moisturizing Skin Cream ($18) due to its dermatologist-tested formula that can be used for the face, hands and body. Speaking of skin along your body, Dr. Schlessinger also recommends Original Baby Foot® Peel ($25) for those with particularly dry feet. "Baby Foot is the original developer of the at-home foot peel, formulated with natural extracts and fruit acids to effectively exfoliate," says Dr. Schlessinger. "This is a unique solution for individuals with severely cracked feet since it works great and has a fantastic price point." 
When it comes to brands as a whole, Dr. Schlessinger is a big fan of the Vichy Laboratories and La Roche-Posay lines, both of which offer plenty of reliable products that address multiple skin concerns. Finally, he also has an affordable formula of his own, FixMySkin® 1% Hydrocortisone Healing Balm ($16). He and his son developed this product 12 years ago to help soothe the skin of patients with severe dry skin, eczema, and psoriasis.
Ultimately, should you always spend more on products?
While Dr. Schlessinger certainly recommends investing a bit more in your skincare products, he reminds us that a high price isn't always indicative of efficacy, pointing to celebrity-founded and Instagram®-famous products as examples. "High cost [doesn't] assure a good product, as many companies are great at marketing and poor at product design," he explains. These launches tend to be successful despite high costs, often due to luxury appeal and loyal fanbases.
That's not to say that all social media-viral brands are bad for your skin, but the advent of such well-marketed products makes it all the more important to do your research before buying. Take the time to carefully vet products and their ingredients before purchasing — regardless of their price. And, of course, if you're still stumped about what you should be using on your skin, consult with your dermatologist! They'll be able to thoroughly assess your complexion and work with you to tailor a regimen to your specific needs. 
Dr. Joel Schlessinger is a paid Allergan® consultant.
SkinMedica® is an Allergan-owned skincare line.
Product prices may vary from the time this article was written.
Allergan® may receive commissions for purchases made through links in this article.