You probably use copper on a daily basis without even realizing it. The metal finds its way into myriad products, from copper pipes and electrical wiring to cookware and jewelry. That's all thanks to its resistance to corrosion, electrical conductivity, and malleability. However, there is a more unexpected place you might not have noticed the metal cropping up: your skincare routine. Copper has been used regularly for years in a wide range of complexion products. It's typically included in the form of copper peptides, which offers anti-aging benefits.
Let's break down the science a bit! The metal is naturally found in the human body via copper peptides, which are comprised of amino acids (A.K.A. the "building blocks" of protein) and copper. They typically occur within the connective tissue and promote the production of collagen, elastin, proteoglycans, and glycosaminoglycans (like hyaluronic acid) — all of which help the skin look firm. Unfortunately, they become depleted with age. 
Because copper peptides are such powerful supporting players, it makes sense, then, that they're showing up in skincare formulas. "In theory, because copper supports collagen, elastin, and hyaluronic acid synthesis, it's helpful in thickening and plumping the skin," explains Beverly Hills board-certified dermatologist and dermatologic surgeon Dr. Jennifer Herrmann. (She also notes that the metal is rich in antibacterial and antifungal properties.)
Copper's ability to promote firmer-looking skin can help reduce the appearance of wrinkles, plus improve elasticity and tone, notes celebrity esthetician Emma Goodman from Skin Worship®. She uses copper-infused oxygen in her facials to help rejuvenate skin. "It also promotes detoxification and can help reduce the appearance of redness," she adds.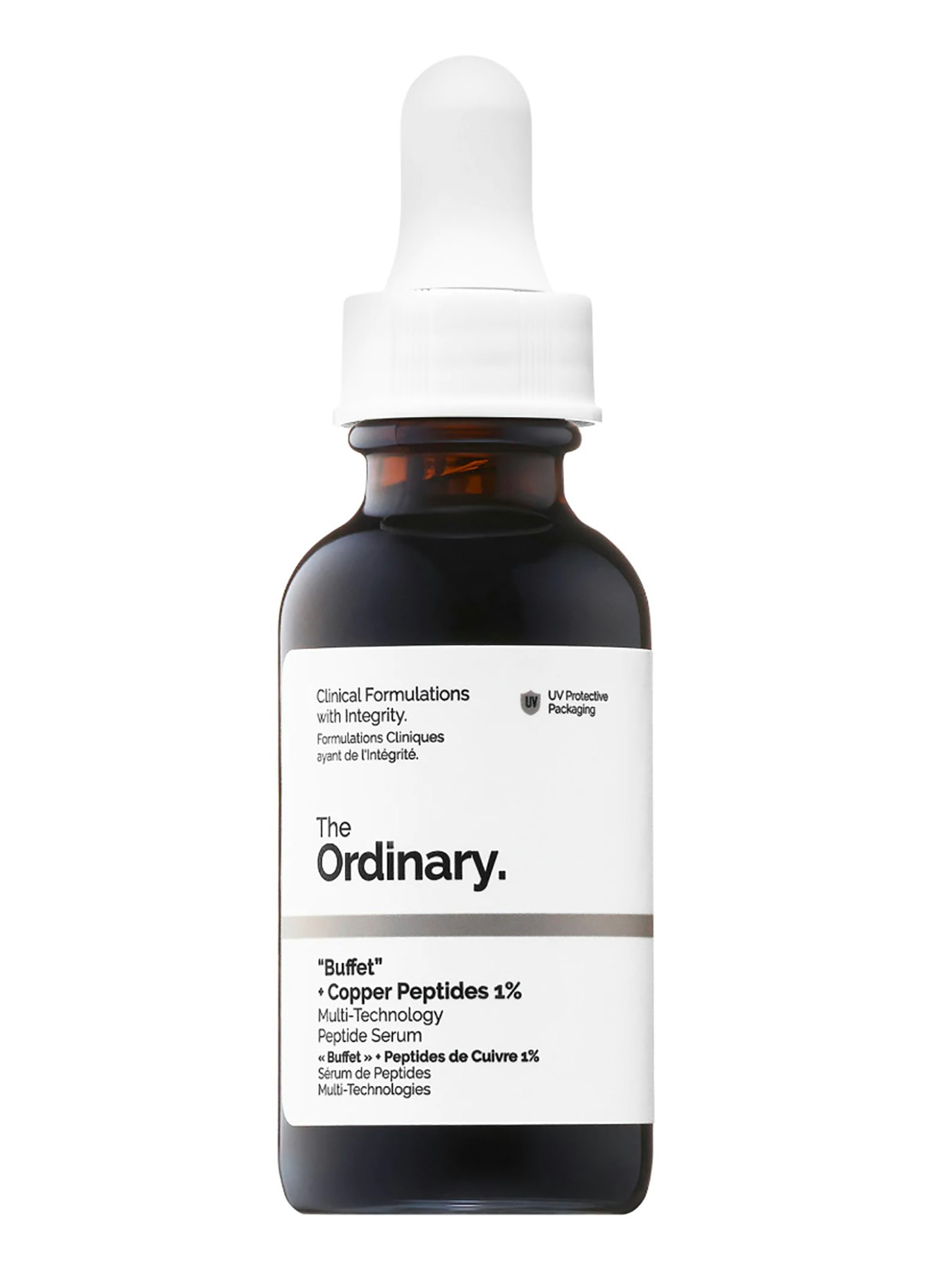 It's not just these qualities that make copper such a popular ingredient. It's also incredibly gentle and works well on most skin types, even sensitive skin (though those with a copper allergy should steer clear altogether). It's also known for playing well with other ingredients, particularly vitamin C and zinc, according to Dr. Herrmann. To best reap the metal's host of anti-aging benefits, seek out lightweight copper-infused formulas, such as The Ordinary® "Buffet"TM + Copper Peptides 1% ($29) and Korres® Golden Krocus Ageless Saffron Elixir Serum ($98), which both contain copper peptides. 
You can also consider switching your drinking vessels and imbibing your H2O from a copper cup. "Drinking water from a copper cup is an amazing way of getting your water intake with added benefits, which is very important for the skin and organs," Goodman explains. "For thousands of years in Asia and India, people have known the benefits of drinking water from copper vessels to encourage the absorption of copper, which is an essential trace mineral in the human body." Try this technique yourself with the leak-proof Kosdeg Copper Water Bottle ($35) — it makes it easy to get copper's benefits on the go.
Ultimately, as is the case with most skincare ingredients, it's important for you to do your own research and testing. "There are only a handful of studies that actually show the benefit [of copper] in skin," Dr. Herrmann explains, pointing out that many of the studies were sponsored by brands that make copper-infused products. She recommends experimenting with skincare made with the metal for a three-month period to see if it helps your complexion. Doing so may just bring you firmer, plumper-looking skin.
[Editor's note: As always, talk to your doctor before starting or stopping any new treatment.]
Product prices may vary from the time this article was written.
Allergan® may receive commissions for purchases made through links in this article.