"I'm turning 35 in two months and I'm tired of dealing with teenage problems," says Catrina Samonte, as she sits in a treatment room at Pulse Laser & Skincare CenterTM in Manhattan. "I'm ready to get rid of my acne." 
Samonte, who is an Executive Assistant & Office Operations Manager, Consumer Strategy & Innovation at Allergan®, has struggled with acne for most of her life. "It was bad when I was a teenager," she says, "And, as an adult, I learned how to manage it. But recently, it's started to get really bad again." She isn't sure what caused the more recent flareup. At first, she thought it was hormonal, since it showed up first on her chin and jaw, but as it crept onto other parts of her face, she realized it might be more serious. Recently, she surmised it could even be aggravated by travel; during a two week stint overseas this spring, her skin became painful to the touch. "It was irritated, red, oily, and shiny," she recalls. 
Samonte says her skin has cleared slightly since returning stateside, but her acne is still an unwelcome presence — one that she hopes SmoothbeamTM laser can diminish, once and for all. Interestingly, though, the 34-year-old says she became interested in trying lasers after she started to notice not only blemishes, but sun spots, as well. Samonte believes her Asian heritage makes her more prone to hyperpigmentation ("We don't get wrinkles at first — we get sun spots," she says). Because lasers can help fade both hyperpigmentation and acne, Samonte deduced that, with the right treatment, she might be able to treat both skin issues simultaneously.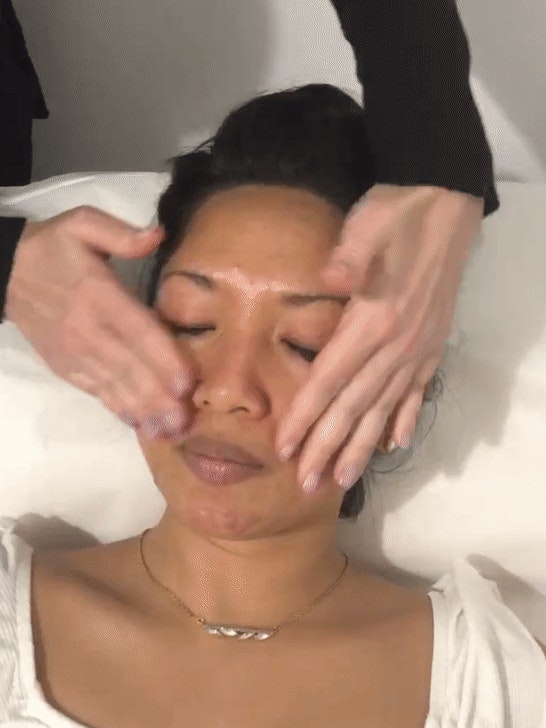 Samonte found Pulse through RegiTM, a new beauty-booking platform. (Read more about Regi here.) She didn't specifically ask for the Smoothbeam laser when making the appointment, but asked Pulse what they recommended for her specific skin concerns. She sent them a picture and her medical information at their request, and they said she was "definitely" a candidate for the treatment.
Smoothbeam is a diode laser, which means it uses heat to target the sebaceous glands in the skin. "The sebaceous glands produce oil, but are also where bacteria called p. acnes live," says Kimberly Schanzer, an aesthetician and owner of Pulse; they're what cause the cysts. Smoothbeam partially damages the sebaceous glands so they produce less oil, thereby shrinking the breeding ground for the bacteria. She also tells Samonte that the treatment will address her post-inflammatory hyperpigmentation.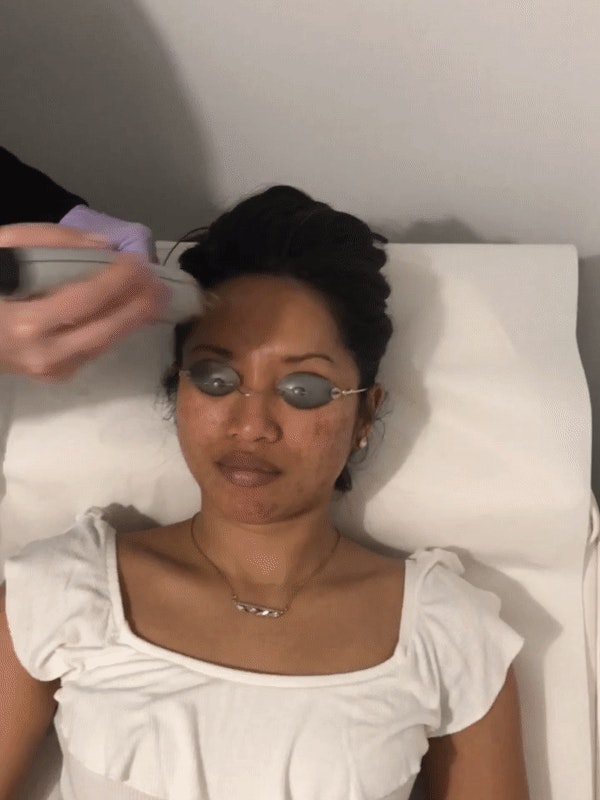 For Samonte's specific case, Schanzer recommends six treatments each spaced a month apart. "The first thing you'll notice is that you'll be less oily," she tells Samonte. "[The laser] starts [inflicting damage on] the sebaceous glands right away, but it's designed to work over time with three to four weeks between treatments." Slightly caught off guard, Samonte says, "I was hoping to wake up tomorrow with glass skin." 
Alas, the treatment doesn't work that quickly to clarify a complexion. "There's a lot going on underneath your skin, so it's going to take time," counters Schanzer. At Schanzer's direction, Samonte applies pharmaceutical-grade numbing cream to her face in an even layer, then covers it with plastic wrap to help it sink into the skin better. She sits tight for an hour so it can take full effect.
Once Samonte is sufficiently numb, Schanzer wipes the cream off and gives her goggles (to protect her eyes from the laser). Samonte reclines on the treatment bed. With a whir, the laser fires up and Schanzer goes to work, moving the laser over Samonte's face in a series of bright flashes. The whole session takes about 15 minutes total.
"I feel like I've just been slapped in the face," Samonte shares. "It wasn't painful, but it definitely felt like someone was flicking me over and over." (Her experience is common with these sorts of lasers; oftentimes, patients say they feel as if someone is snapping a rubber band on their skin.) "But you looked so serene," Schanzer notes. 
"Do I look different?" Samonte inquires. The answer is no, not really, but this sort of treatment isn't designed to show immediate results, after all. The heat from the laser has left her skin hot to the touch (though rapidly cooling) and slightly tighter-feeling. But alas — no visible change in her acne. That's the biggest lesson for any laser treatment beginner: While some lasers will show a slight immediate effect, most of them are cumulative and require multiple treatments and recovery time.
After the treatment is done, Schanzer offers aftercare advice: stay away from retinol and exfoliators (particularly scrubs) for a few days, don't use hot water when cleansing, and practice overall gentleness. "There [shouldn't] be any peeling or purging," she says, since this specific laser has minimal downtime that typically only manifests as redness. The ideal treatment plan consists of more Smoothbeam laser treatments (ideally six sessions spaced four weeks apart), products containing actives, and potentially exploring additional in-office treatments. 
[Editor's note: Retinol also shouldn't be used by those who are pregnant, considering getting pregnant, or nursing. Please consult with your doctor before use.]
Samonte found that while her acne wasn't immediately cleared up after the treatment, she felt like her pores were clearer for a week following, and redness was reduced. "After my appointment, when the cold air hit my face, I felt like every single pore was completely open and clear," she said excitedly. 
Ultimately, though, Samonte decided that regular Smoothbeam treatments weren't the right fit for her needs, particularly because the cost of the treatment was a bit prohibitive at $395 a session. However, the temporary results from her appointment at Pulse still inspired a change to her skincare routine: she was inspired to finally see a board-certified dermatologist for more advanced medical treatment for her acne, which is going well. "This laser gave me hope for clearer skin," she said. "I'm glad I tried it." 
Catrina Samonte is an Allergan® employee. 
Complimentary service was provided to Samonte for the purpose of this article. 
RegiTM is an Allergan®-owned venture.