There was a time in my life when I worried not a whiff about sunscreen. I spent school vacations at my grandparents' South Florida condo, basking in the sun by the pool, turning every 15 minutes like a rotisserie chicken for an even crisp. Bain de Soleil® Orange Gelée® was my jam, and the SPF 4 on the tube seemed sufficient. I cherished the few occasions when my deeply burnt skin converted to bronze before it peeled.
Fast forward to two Fraxel® laser sessions, one TCA peel, multiple zappings with a diode laser (same for Vbeam®), a few IPL treatments, years of retinoids, a tubful of glycolic acid, and one skin cancer removal surgery, and I am still undoing the damage. As the adage sort of goes, an ounce of sunscreen is worth a pound of cure.
[Editor's note: Retinol shouldn't be used by those who are pregnant, considering getting pregnant, or nursing. Please consult with your doctor before use. And, as always, talk to your doctor before starting any new treatment.]
Like any reformed sinner, I am now a fanatic: I wear a minimum of SPF 30 every day, rain or shine. But there's a lot more to know about sunscreen than just the number on the bottle (and what does that mean, really?). With the help of three sun-smart dermatologists, we're calling out the terms that you need to understand on the bottles of sunscreen you'll want to have on hand.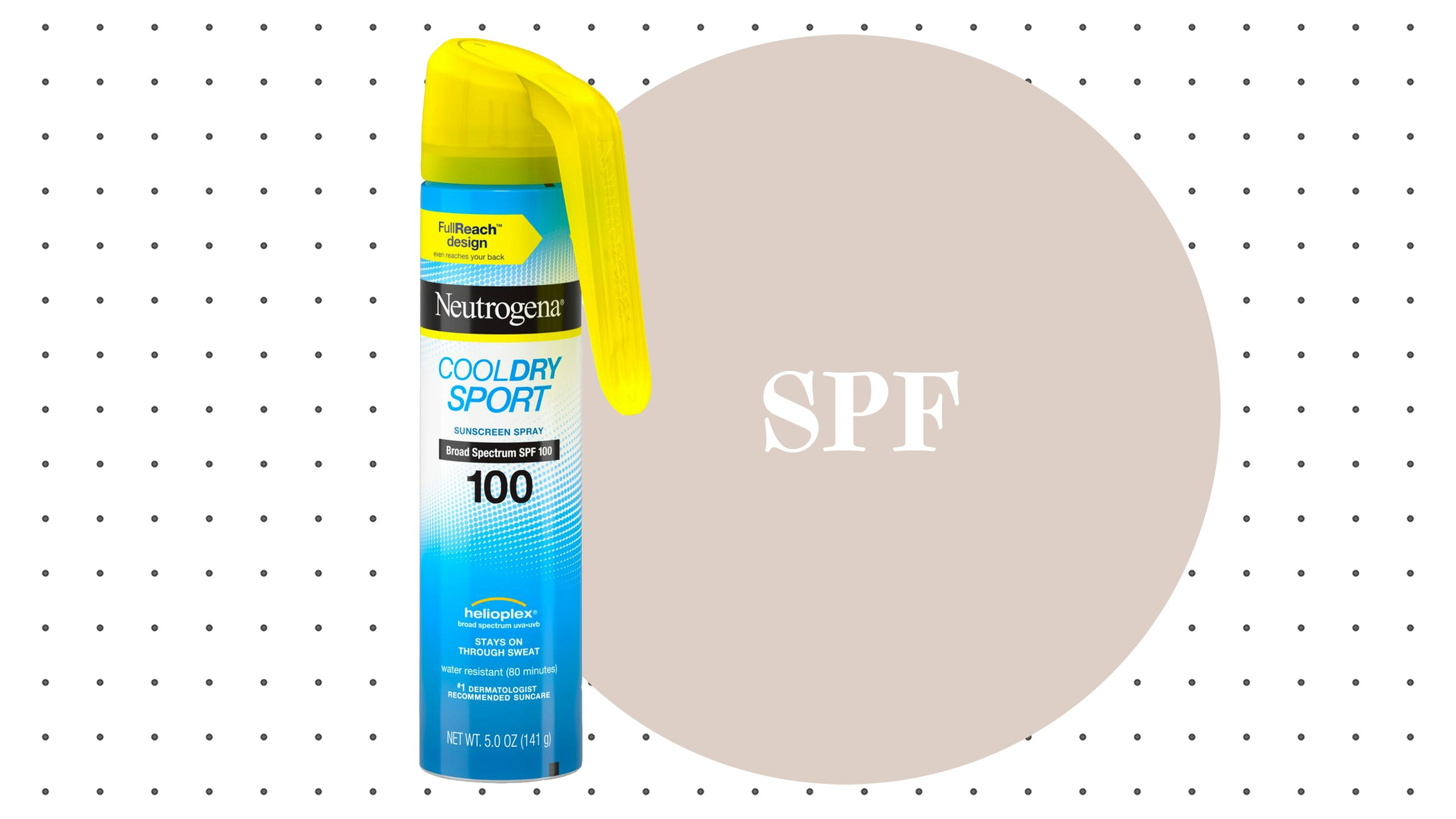 The product you'll find it on: Neutrogena® CoolDryTM Sport Sunscreen Spray Broad Spectrum SPF 100 ($11)
What it means: An SPF (Sun Protection Factor) number is a measure of time. Let's say, for easy math, it takes two minutes for your skin to burn without sunscreen. Then a sunscreen with SPF 30 will allow you to be in the sun for approximately 60 minutes before you burn. 
SPF can also be considered a measure of potency, and there is an incremental difference between an SPF 15, 30, 50, and 100. To break that down even more: SPF 15 blocks 93 percent of UVB rays, SPF 30 blocks 97 percent, SPF 50 blocks 98 percent, and SPF 100 blocks 99 percent. "I always suggest my patients choose the highest SPF they can find," says Dr. Joshua Zeichner, a dermatologist in NYC. "People don't always apply enough sunscreen, so they're getting less protection than the number on the bottle."  For people who are especially sun-sensitive, the little bit of extra protection of a higher SPF can make a big difference. Experience has probably shown you what SPF number you need. (I know I sometimes burn or freckle with an SPF 30, but never with an SPF of 50.)
An important note: Until about 20 years ago, it was believed that only UVB rays, the ones that fry skin, could cause skin cancer; UVA rays were not thought to cause significant damage. So, "SPF was developed as a measure of protection against UVB rays only," says Dr. Zeichner. Despite our modern awareness that UVA rays also cause cancer, SPF still only refers to UVB protection. That's why you always need to look for the next term on your bottle, as well.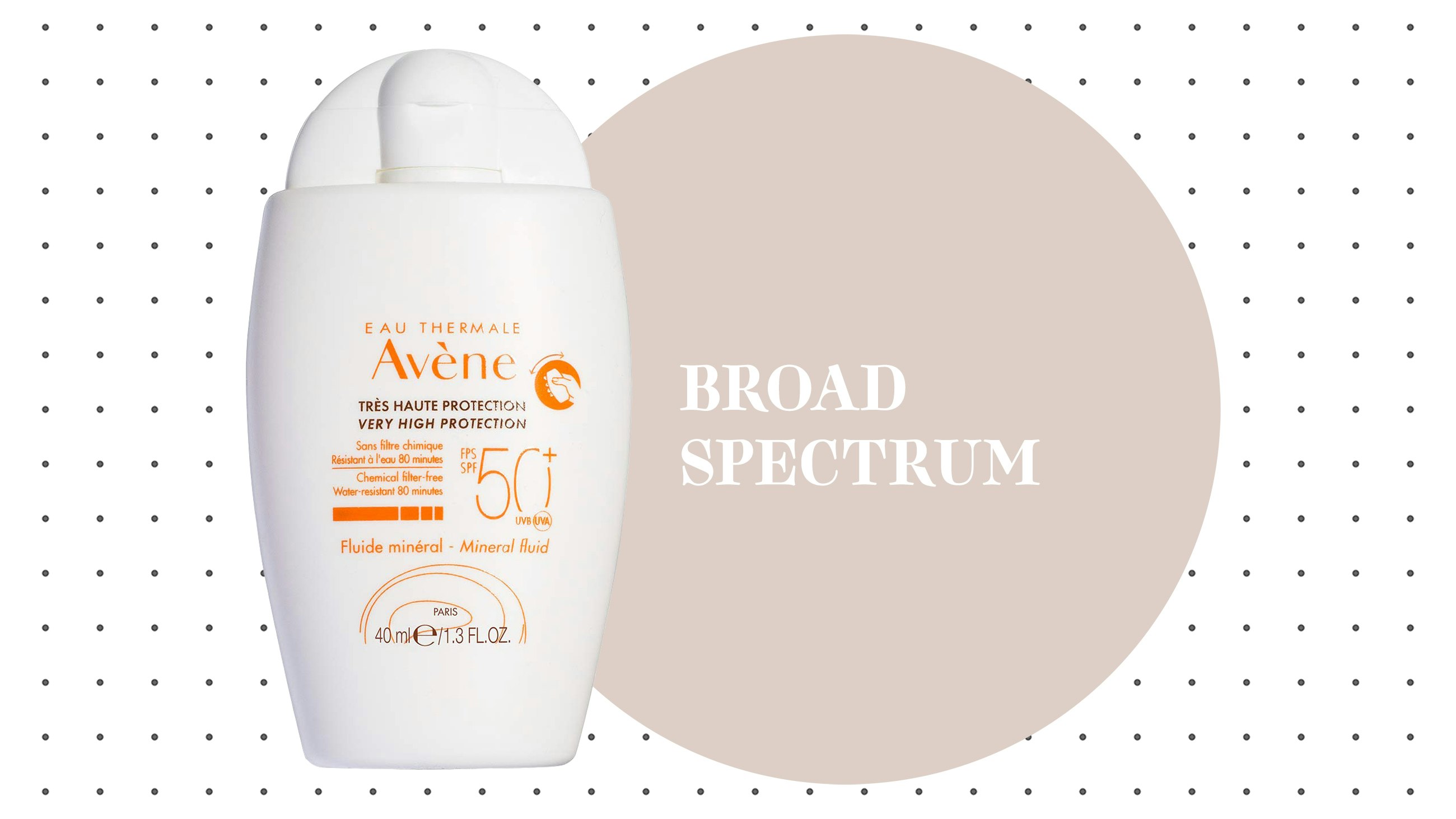 The term to look for: Broad Spectrum
The product you'll find it on: Eau Thermale Avène® Mineral Sunscreen Fluid SPF 50+ ($28)
What it means: "Light is a spectrum, and that spectrum is divided into different wavelengths," which are measured in nanometers [nm]," explains Dr. Kavita Mariwalla, a dermatologist in West Islip, New York. "Ultraviolet radiation, or UV, is the light that reaches the earth from the sun." UVA rays measure 320-400nm, and penetrate deeper into the skin; UVB rays measure 290-320 and primarily stay on the surface. However, according to Dr. Mariwalla, prolonged exposure to UVA or UVB rays can result in skin cancer. That's why you need a broad spectrum sunscreen, which protects against both UVA and UVB rays.
The term to look for: Active Ingredient(s)
The product you'll find it on: Olay Sun® Facial Sunscreen + Antioxidants SPF 35 ($20)
What it means: This must be listed on the back of the box or bottle, and it's where you'll find the specific sun filters — FDA-approved sunscreen ingredients — that are in the formula. There is only one ingredient approved in the US that protects against UVA-1, UVA-2, and UVB rays: zinc oxide. Every other filter must be combined with at least one or two different filters to give you full broad spectrum protection. 
There are two different types of sunscreen filters, explains Dr. Shari Marchbein, a dermatologist in NYC. "Mineral filters, which are physical blockers that reflect the sun's rays away from the skin, and chemical filters, which penetrate the top layer of the skin to absorb UV rays before they can damage the skin." Mineral filters include zinc oxide and titanium dioxide; common chemical filters include oxybenzone, octisalate, avobenzone, homosalate, and octinoxate.
You may have read that certain chemical sunscreen ingredients are harmful to your health — should you be worried about wearing sunscreen? We asked all three of our derms to weigh in. Dr. Marchbein prefers mineral over chemical sunscreens, as they are typically safe for even the most sensitive skin. Dr. Mariwalla believes chemical filters to be safe, but understands if a patient would prefer to use mineral filters. "But no cancers have ever been linked to any of these ingredients," she adds. "What has been linked to cancer is actual sun exposure." 

Dr. Zeichner agrees. "Sunscreens with chemical filters have been used for decades, and there have been no significant health detriments that have been reported," he says. "But, ultimately, the best sunscreen is the one you use, and if you don't want to use chemical sunscreens, there are great mineral blockers out there."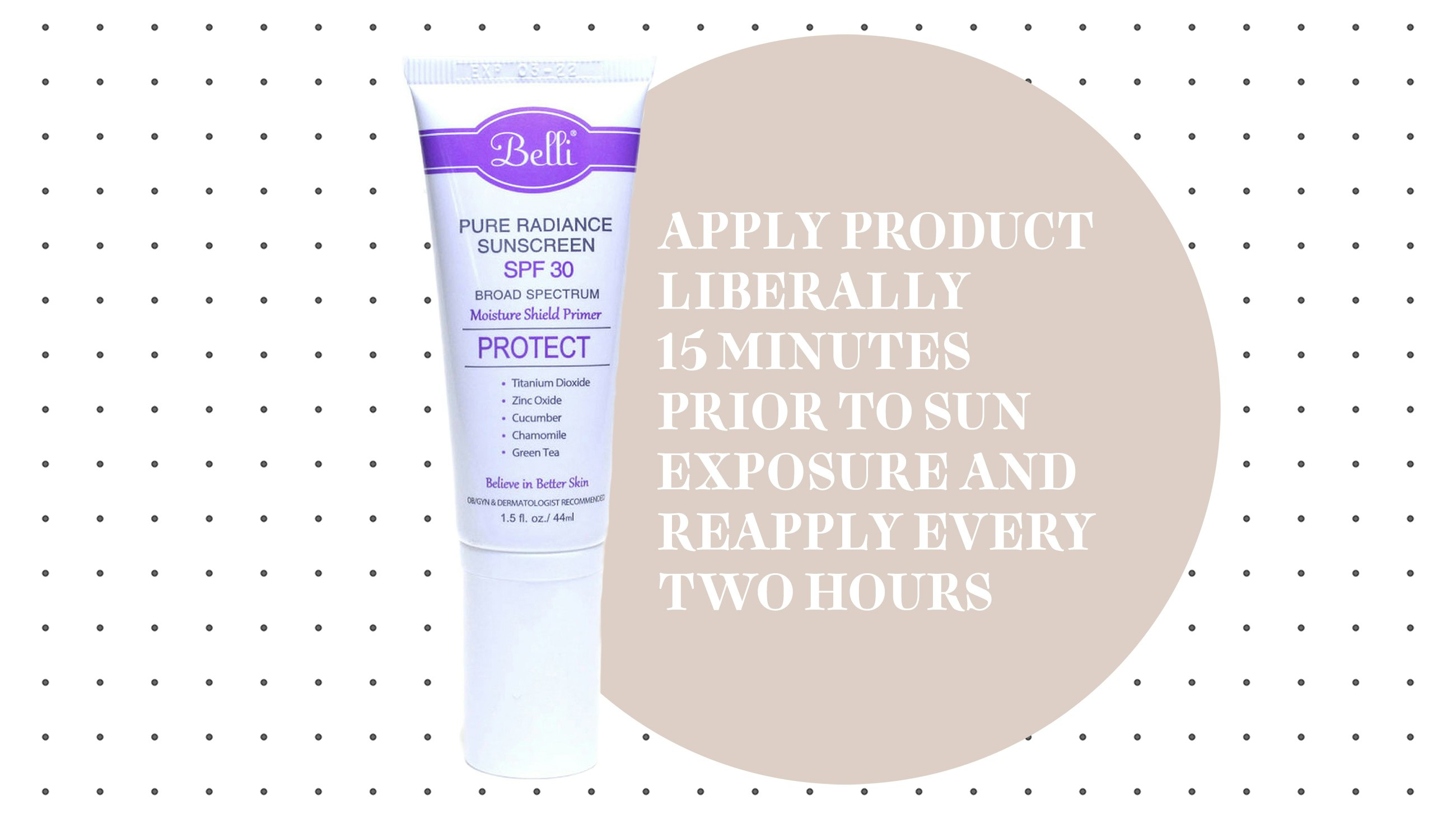 The term to look for: "Apply product liberally 15 minutes prior to sun exposure and reapply every two hours for prolonged exposure."
The product you'll find it on: Belli® Pure RadianceTM Sunscreen SPF 30 ($24)
What it means: We're going to break this down for you.
"Liberally" means put on a lot more than you think you need. "The sunscreen only works if it's on your skin," says Dr. Zeichner, who recommends the following "dosages." For a cream or lotion sunscreen, apply a quarter-sized dollop to your face, and a golf-ball size amount to the rest of your body. For a spray sunscreen, keep spritzing until your skin is glistening, then rub it into your skin. For a stick sunscreen, make four passes with the stick over each spot. 
As for "15 minutes prior to sun exposure," this is pretty much saying that you need to slather up indoors. According to Dr. Marchbein, if you apply your SPF when you're already outside, you're leaving yourself vulnerable to sun damage and burns. "Sunscreen needs be applied prior to sun exposure to allow it to set," she explains. "This is especially important for a chemical sunscreen because it needs time to absorb into the skin, but I also recommend applying any sunscreen liberally."  
Lastly, the biggest SPF sin we all make: failure to reapply every two hours. You may be wondering why you'd need to reapply, say, SPF 50, which theoretically should last exponentially longer than it would normally take for your skin to burn. "Chemical blockers become inactivated in their interaction with UV light," explains Dr. Zeichner. "Mineral blockers clump on the surface of the skin, making them less effective. 
We understand why you may have been reluctant to get on board — reapplying isn't always easy. "I like creams as a base coat, but they're hard to reapply when you're out." says Dr. Mariwalla. "For reapplication, I don't mind a spray as long as you're using enough of it." Luckily, if you're wearing a full face of makeup, you won't need to take it off and start from scratch to reapply your SPF thanks to innovative new formulas: "Brush-on powder sunscreens and setting mists with sunscreen are great for touch-ups," says Dr. Zeichner. We're particularly fond of Supergoop!® Defense RefreshTM Setting Mist ($28), which has SPF 50 and rosemary extract to help keep shine at bay, and Colorescience® Sunforgettable® Brush-On Sunscreen SPF 30 ($65), an easy-to-apply formula that comes in multiple shades.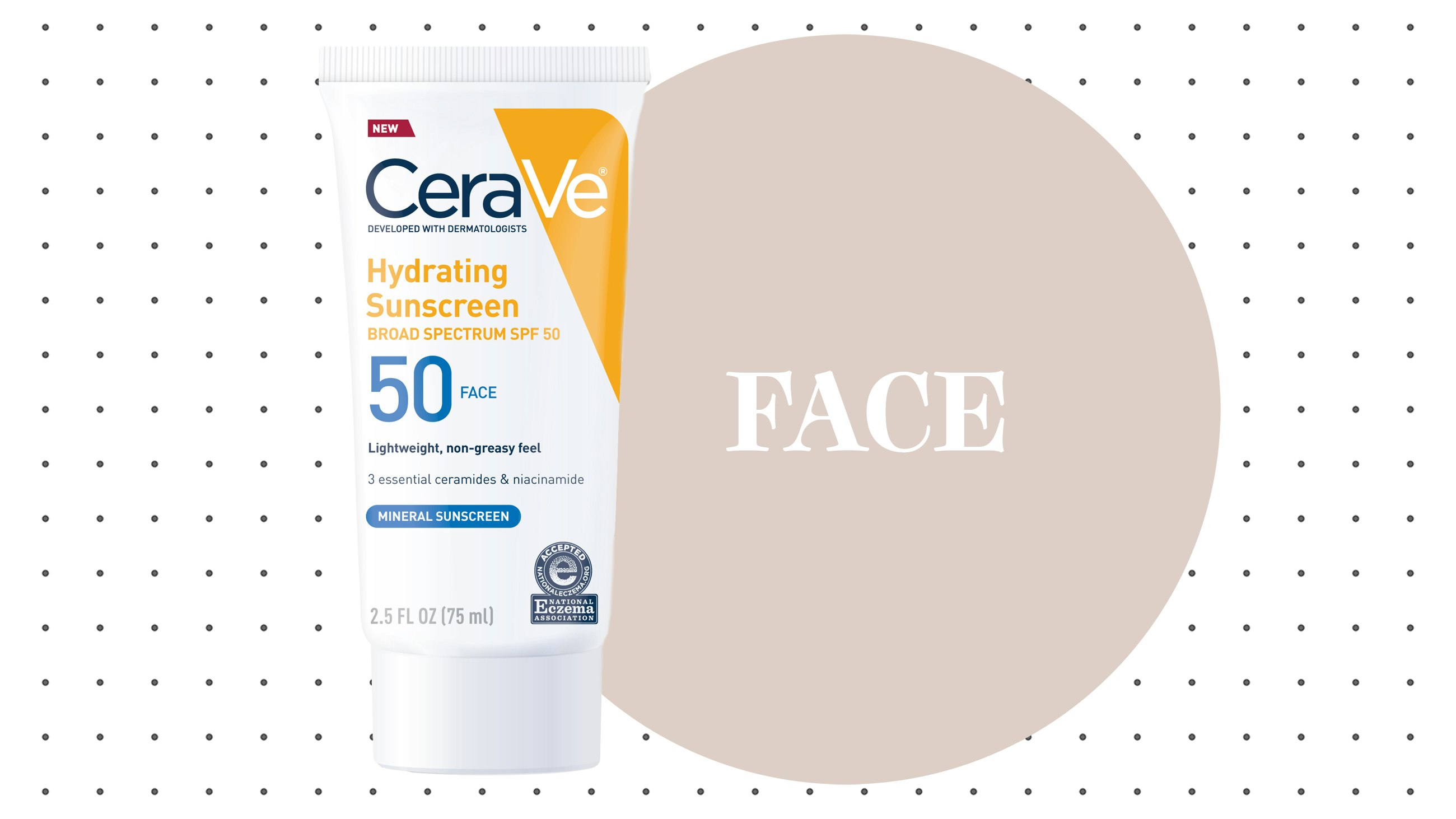 The term to look for: Face
The product you'll find it on: CeraVe® Hydrating Sunscreen 50 Face ($15)
What it means: "There's no reason you couldn't wear a 'face' sunscreen on your body, or the other way around," says Dr. Marchbein. "As a busy mom, I typically carry one sunscreen that can be used by me and my kids all over. That being said, certain face sunscreens will contain additional ingredients that are beneficial for facial skin." Two ingredients both Dr. Marchbein and Dr. Zeichner like: ceramides (molecules that help retain moisture) and niacinamide, a soothing form of vitamin B. "They help calm inflammation and maintain healthy skin barrier function, which is a benefit if the skin develops a sunburn leading to inflammation and dryness," says Dr. Zeichner.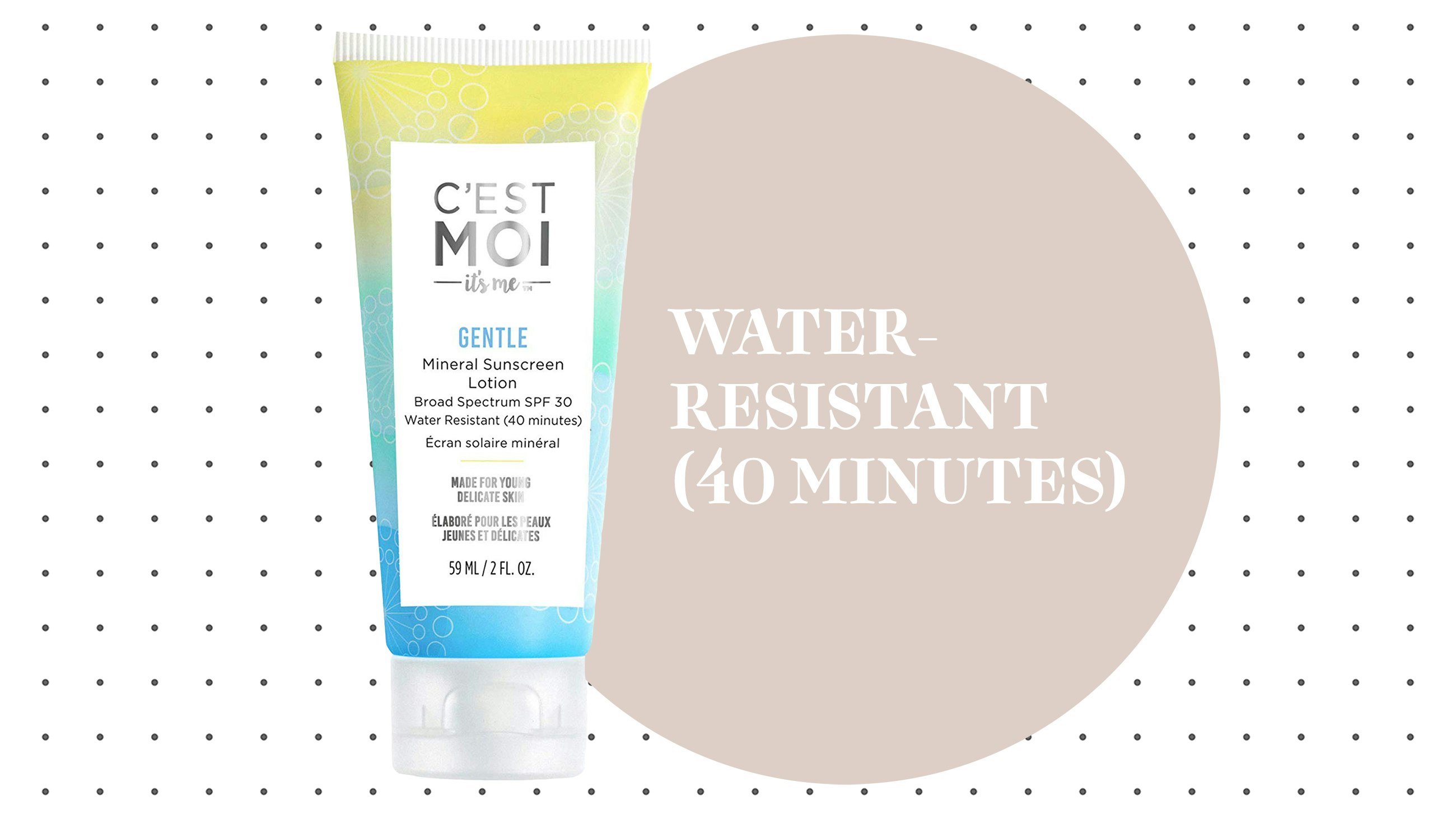 The term to look for: Water-Resistant (40 minutes)
The product you'll find it on: C'est Moi® Gentle Mineral Sunscreen Lotion ($15)
What it means: There's no such thing as a waterproof sunscreen. "Sunscreen can only protect from the sun for a limited time once exposed to water," says Dr. Marchbein, which is why sunscreens claim that they're "water-resistant" for 40 minutes or 80 minutes. But you should always reapply when you come out of the water, even if you were just bobbing around for a few minutes; same if you've been sweating.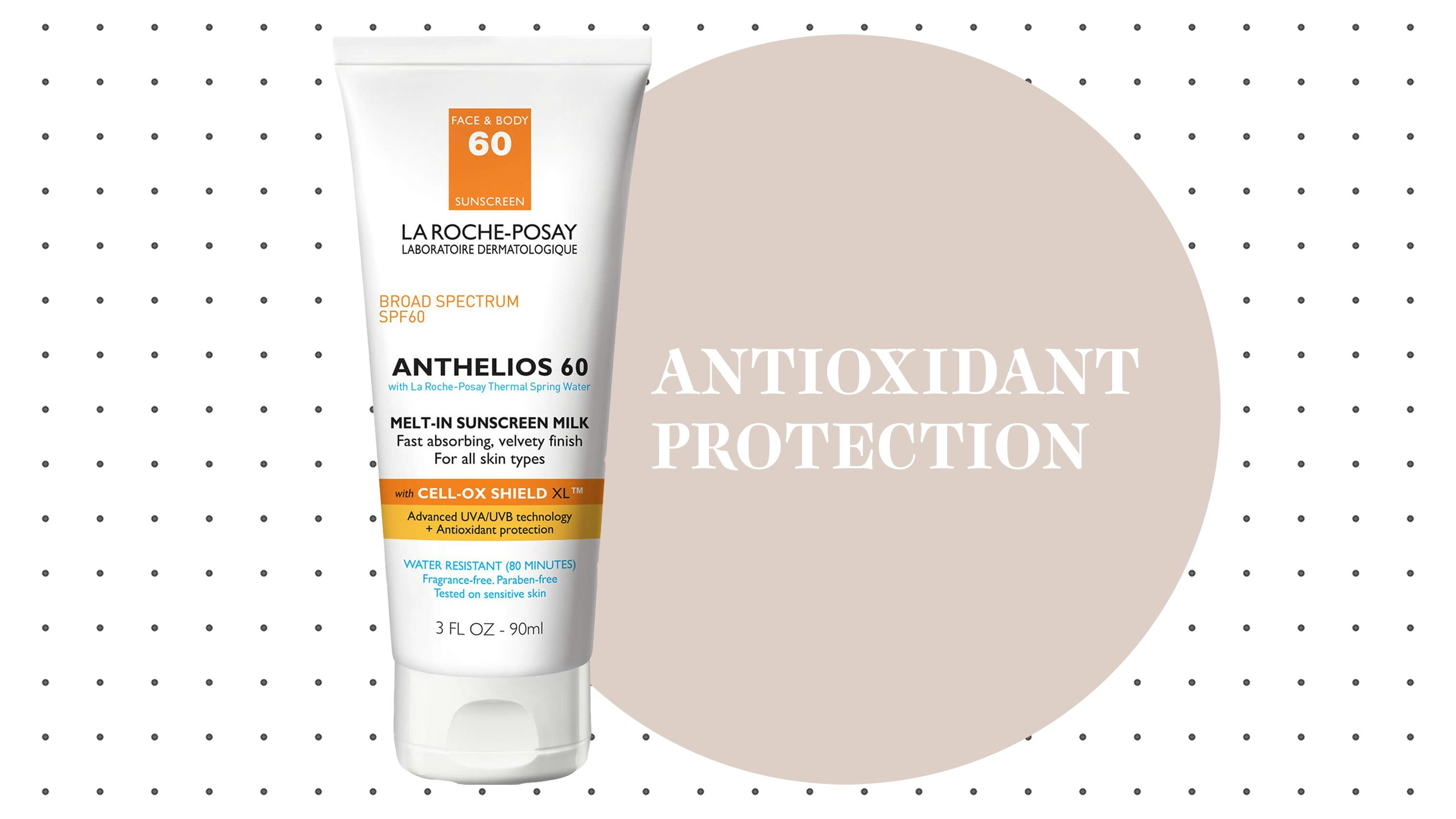 The term to look for: Antioxidant protection
The product you'll find it on: LaRoche-Posay® Anthelios® 60 Melt-in Sunscreen Milk ($36)
What it means: Hopefully you already know about the skin-saving (and free radical-fighting) powers of antioxidants. They have amazing skincare benefits, so it's especially efficacious when you find them in your SPF. "Antioxidants incorporated in sunscreen are fabulous, like a two-for-one option, and very helpful to patients," says Dr. Mariwalla. Think of it like this: If sunscreen ingredients play defense, then antioxidants are the goalie. When UV gets through the sunscreen and generates free radicals, the antioxidants can help squelch the free radicals before they can do damage. Of course, goalies do get scored upon, but better to have them than not.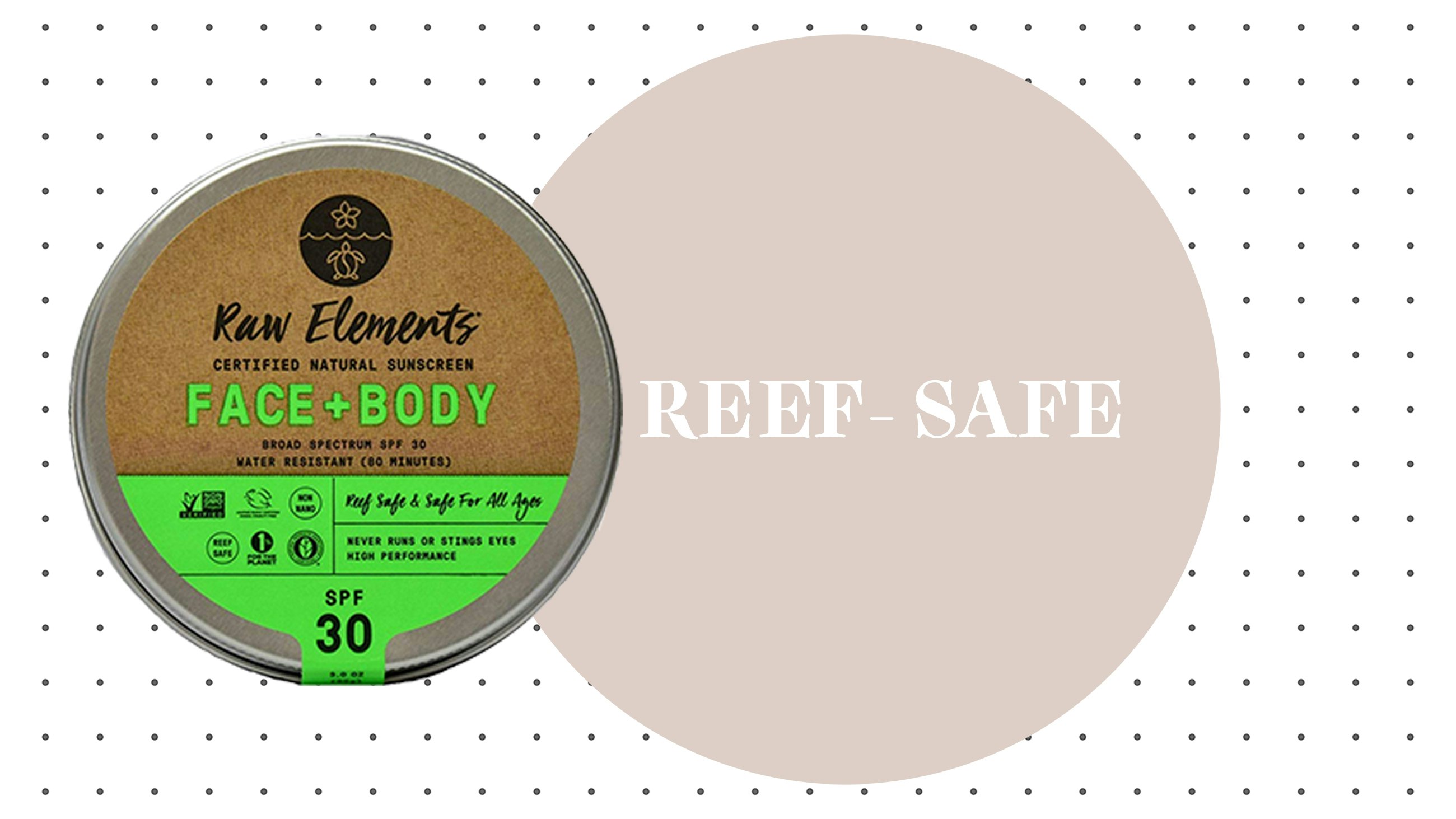 The term to look for: Reef-Safe
The product you'll find it on: Raw Elements® Face + Body SPF 30 ($17)
What it means: Who knew that sunscreen could be controversial? Two common chemical filters, oxybenzone and octinoxate, have been implicated in "reef bleaching," which means it causes damage to the coral reef. Hawaii has passed a law banning the sale of sunscreens with those filters, and the city of Key West, FL, has followed suit. 
At this point, the jury is still out as to whether these sunscreen ingredients are the cause or other factors may be to blame: "More studies need to be conducted in order to assess the full safety of many of the chemical filters and whether they, or other factors, are actually responsible for damaging the coral reef," says Dr. Marchbein. She recommends mineral-based sunscreens, not believed to cause harm to marine life, if you're concerned. Discover some of our favorite reef-safe SPF picks here.
Some complimentary products were provided to the author for the purpose of writing this article.
Product prices may vary from the time this article was written.
Allergan® may receive commissions for purchases made through links in this article.