Shoes and I have a fraught relationship. Don't get me wrong: I want to have a positive partnership with sandals, wedges, and all matters of footwear. Yet it seems that no matter what I do, I can't find anything that doesn't rip the backs of my heels to shreds, cause horrible blisters on my toes, or leave me in crippling pain. (Not even sneakers are safe.) Thus, my careful testing of shoes is mandatory, especially for a long night of dancing. I'll often attempt to break in whatever new heels I plan on sporting to a big event the week before, wearing them around my apartment as I cook and clean. And yet, for a recent wedding I attended, I did something very unlike me: I didn't test the shoes.
The shoes in question — a pair of cobalt blue suede, four-inch-heeled sandals with a clear plastic strap across the toes — were too cute to discount for a reason as silly as pain. Plus, they'd been comfortable enough for the 10 minutes I'd walked around wearing them in the store! Nope, instead, like any good beauty editor might, I opted to put all my faith into a combination of two beauty products specifically for the feet. 
Footcare has been a booming category within the industry as of late, with powders, mists, and sheet masks hitting the market all claiming to smooth, nourish, or otherwise beautify this typically neglected area. And, more interestingly to me, some tout freedom from the painful ravages of fabulous footwear. So, along with my beloved Beachwaver®, and several false lash options, I packed Barefoot ScientistTM PreHeels+® Blister Prevention Spray ($16) and Still Standing® Foot Spray ($40) in my carry-on for said wedding.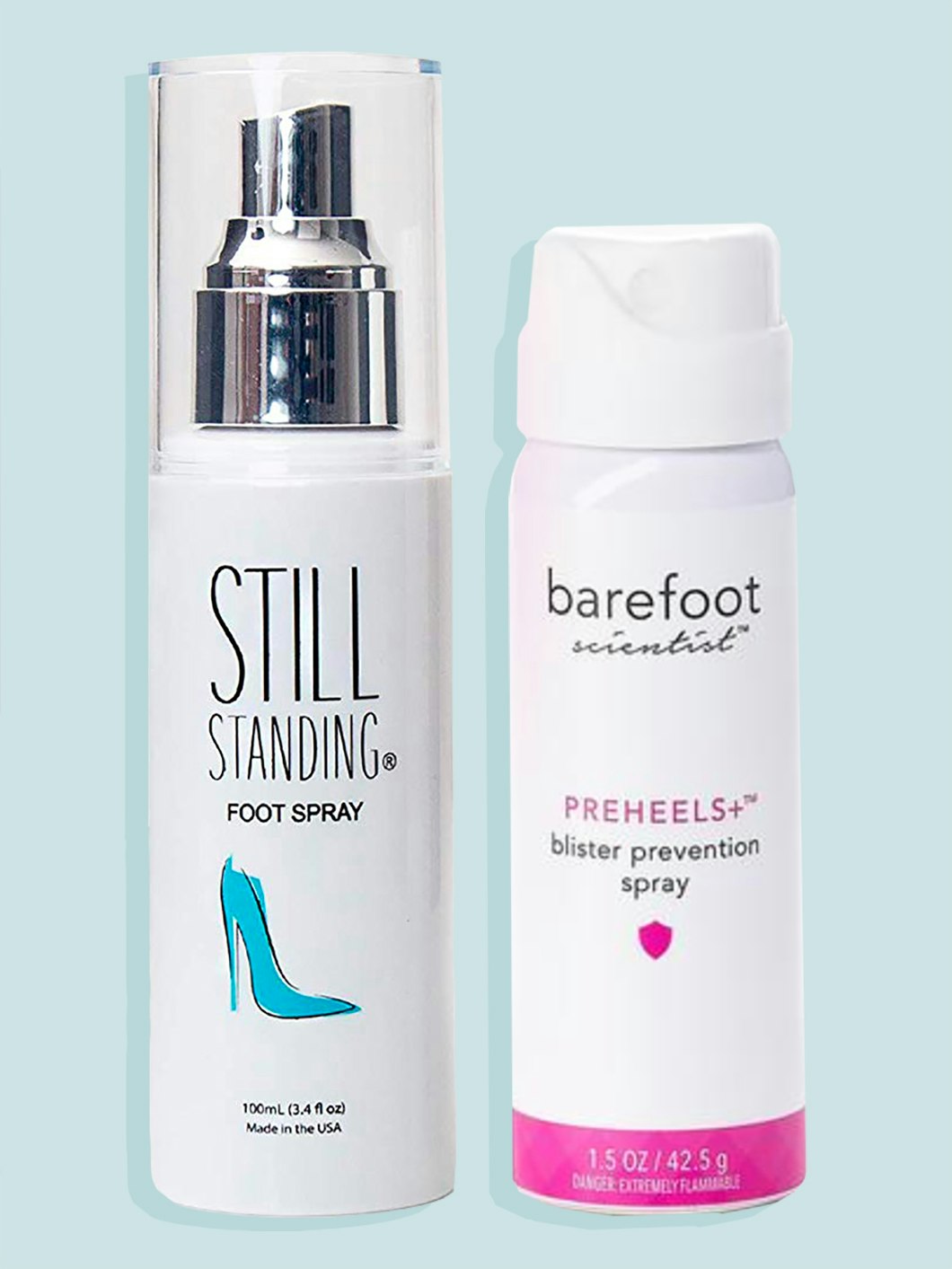 The products are similar in that they both work to prevent pain, but that's where the similarities end. My primary issue with shoes is rubbing and friction to the point of blisters, or more frequently, bleeding and inevitable scarring. I'd previously sworn by the Band-Aid® Friction BlockTM Stick to fight back against this, but it was discontinued, and I had since been (poorly) making do with adhesive bandages.
I was particularly fascinated by PreHeels+ because the packaging claimed an approximate six hours of efficacy against blisters — and the product was an entirely clear aerosol spray. Anyone who tries to use a bandage to prevent blisters knows that they move around and are hideous. This formula blends polymers and silicones to create an invisible shield on the skin. 
I followed the directions and made sure my feet were clean and dry, then shook the bottle and liberally misted the product on my typical trouble spots: my toes, ankles, heels, and the sides of the balls of my foot. After letting it dry for the advised 90 seconds, I took a closer look. The product had created a clear, slightly shiny film where I'd misted it on, and it was super smooth to the touch.
Then, I layered on Still Standing. Unlike PreHeels, which creates a barrier, this formula is an active one, with cooling menthol, discomfort-relieving arnica, and soothing aloe and ilex (also known as holly). Still Standing is not meant to help prevent rubbing or pinching, but rather, is designed to reduce pain and that "hot" feeling your feet get after standing in heels for extended periods of time. I sprayed it all over my feet and packed the included travel-size bottle in my clutch for touch-ups, which the brand recommended after two to four hours.
To my total surprise, I didn't need a touch-up. In fact, short of my enhanced height, I barely noticed I was wearing my new shoes at all — of course, except when someone complimented me on them. After a few hours of realizing that the typical pain was not about to set in, I threw caution to the wind: I danced all night and stood around talking to other guests (instead of having seated conversations).
At one point, my friend, the bride, mentioned that she had to take her heels off due to pain, and I had her extend her bare feet to me so that I could spray them down with Still Standing. Later, she told me that she wished she'd had it before she put her shoes on for the night as a preventative measure, but found that the product's powers were still strong enough to get her through another two hours on her feet. 
While I'm thrilled with the results of this product combination, it isn't necessarily perfect. I will admit that I found the tiniest blister at the end of the night of my friend's wedding, but it was so small and painless that it didn't interfere with any of my other shoes as it healed. (As someone who has had enormous blisters on the balls of her feet from bad shoes, I can totally deal with a small one in an out-of-the-way spot like my "ring toe.") 
It's also possible that I wasn't thorough when misting on my PreHeels+ in that area — the packaging says to avoid freshly pedicured toes, as the product could dull the shine of nail polish. Furthermore, I'm not sure that Still Standing would have kept me upright had I been wearing a stiletto heel. The block heel of my sandal more comfortably distributed my weight than most heels, and if I had been pitched forward more, I might have been in more pain.
However, neither of these small setbacks would convince me to skip using these two sprays. This product combination is going to be my new go-to when breaking in new shoes, regardless of heel height. I've already reused them both individually with success, but combining them makes me feel like my feet are indestructible. And if you have battle scars on your feet and ankles from painful shoes like I do, that feeling — plus the confidence only a new pair of shoes can bring — is invaluable. 
Some complimentary products were provided to the author for the purpose of writing this article.
Product prices may vary from the time this article was written.
Allergan® may receive commissions for purchases made through links in this article.