In our series Behind the CurtainTM, we get the scoop on the routines, careers, and more of those working so hard behind the scenes to make celebrities look stunning.
Live your eyeliner, breathe your lipstick. These six little words hold big meaning for makeup artist Sarah Tanno. Tanno is the global artistry ambassador for Marc Jacobs Beauty and newly crowned global artistry director for Lady Gaga's Haus Laboratories, but you may better know her as Lady Gaga's go-to makeup artist. The mantra, which is inscribed on Tanno's arm, was actually lifted from her first-ever meeting with Gaga, who she would eventually spend over 200 days a year glamming for the world's most prestigious red carpets (ranging from the Academy Awards® to The Met GalaTM), magazine covers, music videos, and more. "Today, [my tattoo] reminds me of many things, but the most important is to trust my first instinct with makeup," she explains.
Going from working three jobs in Cleveland to gaining notoriety around the globe as Gaga's go-to girl wasn't exactly a straight shot. Before she began churning out awe-inspiring looks on the ultimate beauty muse (like that mind-blowing makeup quick change that happened mid-performance at the 2017 Super Bowl), Tanno worked behind a bar and a makeup counter, as well as backstage at a strip club. "To be honest, working at a 'gentlemen's club' taught me so much," she says. "This is where I learned how important a little glitter and some false lashes are for stage makeup!"
Tanno also took a few blows before hitting it big. Prior to Lady Gaga, there was Fergie. In the early 2000s, she was part of the pop star's glam squad, but had to return home to Ohio after her career was temporarily derailed by a robbery and a major breakup. "I've had to suck it up and start over many times in my career, and if it ended tomorrow, I would do it all over again," Tanno says. 
Here, the makeup guru explains why she treats every job like the "most important makeup" she's ever done in her career and how she made her childhood fib of joining a traveling circus — albeit one with Lady Gaga as the ringleader — come true.
Spotlyte: You juggled at least three jobs at a time in the beginning of your makeup career. What were some of the most interesting positions that you held during that time and what did you learn?
Sarah Tanno: During that time, I was working as a bartender at a local Cleveland sports bar. I was also working at a MAC® counter and at Christie'sTM [Cabaret], which was a strip club in the Flats where I was doing makeup for the dancers. Most of the time, I would work all three in one day. To be honest, working at the "gentlemen's club" taught me so much. This is where I learned how important a little glitter and some false lashes are for stage makeup! I also had to work extremely fast and with some really interesting women. I've heard it all. 
Spotlyte: Growing up in Cleveland, where did you find beauty inspiration?
ST: I always had big dreams of getting out of Cleveland and traveling the world. My cousin tells me this story: When I was about eight years old, I convinced her I was part of a traveling circus, and she believed me. Not that this was inspiration, but I knew I wanted to do more than my hometown could offer. I used to watch Runway TV® in the '90s, which is where I first learned about Kevyn Aucoin. I knew this was something I would love to do in my life. I always had the pages of Vogue® all over the walls in my room and dreamed that one day I would have my work on the cover. 
Spotlyte: What was your first official job in beauty?
ST: The first place I could get a job was at Sephora® when I was 16. I worked the register. From there, I worked at Prescriptives® for years, and then went to work at MAC before I started my real freelance career. 
Spotlyte: When did you get your "big break"?
ST: My first big break was when I had the chance to work with Fergie in the early 2000s. Almost immediately after, I had a major breakup, was robbed, and had to move back to Cleveland and start over. I've had to suck it up and start over many times in my career, and if it ended tomorrow, I would do it all over again.
Spotlyte: You weren't immediately Gaga's go-to when you first started working together, but you continued to work hard and develop your style. How did you get over that initial blow and earn her trust to become her new #1?
ST: It was not an easy time for me. Fergie's manager went on to become Gaga's manager. This manager remembered my portfolio from way back and called me for Gaga in 2009. It was then that I officially met Gaga and worked as her day-to-day artist for over a month. When she was getting ready for her big tour, she decided to go with her main artist at the time and asked me to come on to do the makeup for her dancers. I took the hit and worked my ass off. I kept my head low and did my homework.
She is so brilliant with her references and knowledge of fashion. It was meant to be because I just wasn't ready for her then. I needed to learn much more. I studied runway shows, books, films, other artists she loved, and tested out new looks non-stop. Five years later, I had a chance to fill in. I asked Gaga if I could try something I wanted to do after the show, since I didn't create the show look. She ended up loving the way she looked, and the rest is history. To this day, I still feel like that nervous artist. I treat every job as if it were the most important makeup I've ever done in my life. I think that's why I'm still here. That's what every woman I work with deserves.  
Spotlyte: When working with a beauty chameleon like Lady Gaga, where do you find constant inspiration for new looks? What is the most unconventional material you've ever used to do her makeup?
ST: My inspiration always starts with her or the woman I'm working with. As far as materials, I've used metal, studs, stickers, wax, and foil. I've hung chains off her eyebrows — anything you can think of! You should see my makeup room of strange matter. 
Spotlyte: What is the biggest risk you've taken as a makeup artist? Was the look worth it in the end?
ST: One of the biggest risks I've taken in my career was creating The Countess in American Horror Story: HotelTM. Instead of one classic makeup the whole season, we wanted [Lady Gaga's character] to evolve with every love interest. I decided to bleach her brows and approach the makeup like an editorial. I've never really seen major fashion makeup on television, so it was a huge risk. The team and I created 68 looks in one season of television and I earned a Creative Arts Emmy for the work. Yes, worth it! 
Spotlyte: You have a tattoo of something Lady Gaga told you during your first meeting: "Live your eyeliner, breathe your lipstick." What does that mean to you? 
ST: In our first meeting, I didn't have much time and when she said it, I totally understood what she meant. Today, it reminds me of many things, but the most important is to trust my first instinct with makeup. Not to overthink it. I live my eyeliner and breathe my lipstick every day. Always will. Especially because it's on my arm forever!
Spotlyte: You've evolved Lady Gaga's look and played up her natural beauty of late. Why did you decide to pare back a bit when it came to makeup?
ST: It wasn't a calculated move like people would think. I try to make everything organic in a way that made sense. This past year, we were busy promoting [A Star Is Born], a movie she worked so hard on. It made sense for her talent to take center stage and not her glam. There is plenty of time for that. 
Spotlyte: You can often be found behind the camera, but you made a cameo in A Star Is Born. What was that like? How did you prepare for your big screen debut?
ST: It was terrifying! I am so awkward. I have a new appreciation for extras — [acting] is so not for me. Prepare? I didn't. I was still working on her, so I really didn't focus on myself at all. I was blown away when Bradley [Cooper] asked us to do it. It's an amazing thing to look back on. I'm really grateful for all the experiences I've had because of who I work with.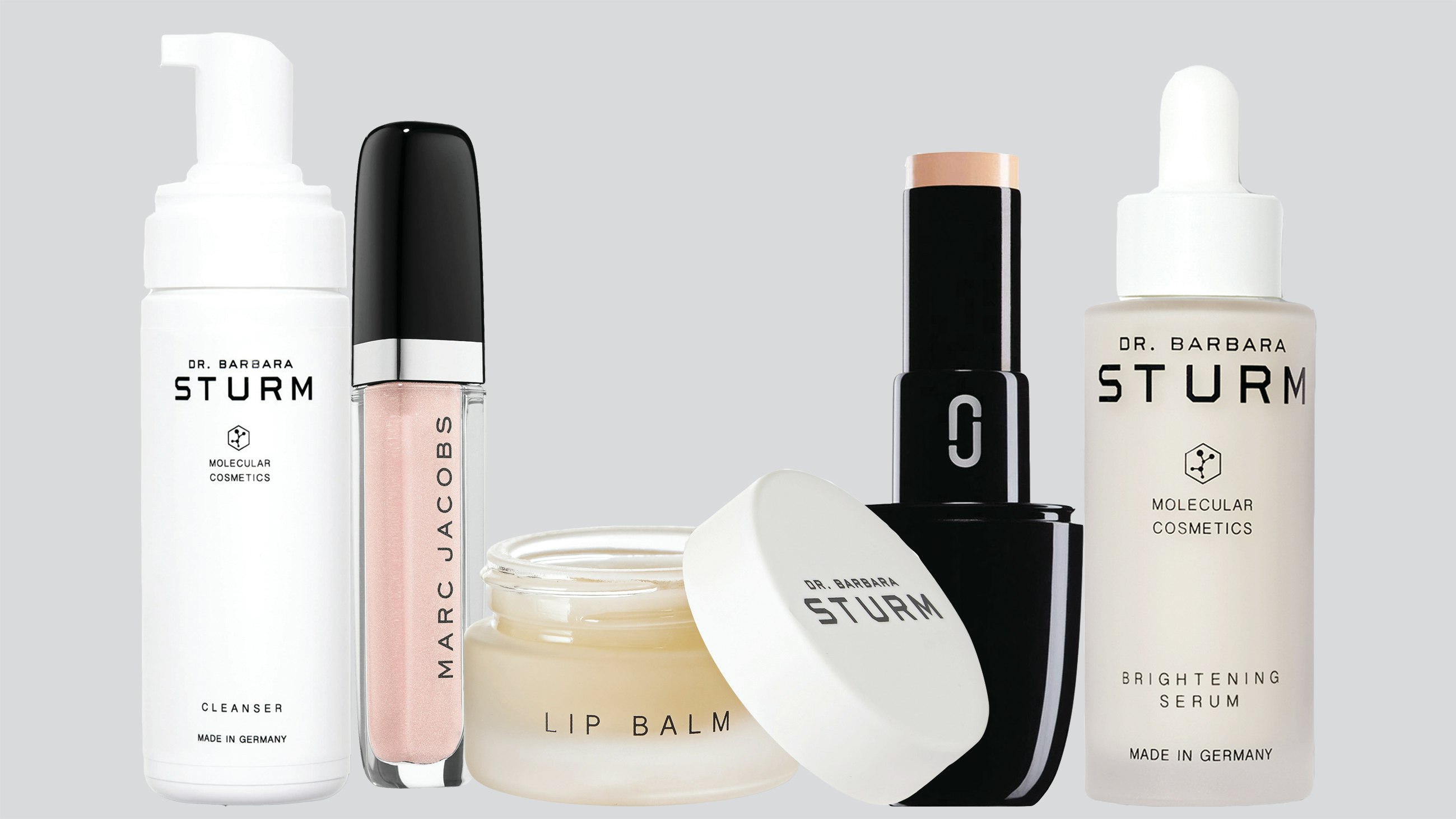 Spotlyte: What does your daily hair, makeup, and skincare routine look like? What are your must-have products?
ST: I take really good care of my skin. I use all Dr. Barbara Sturm® products. I use the Hyaluronic Serum, Brightening Serum, Cleanser, Lip Balm, and — of course — the blood cream. In terms of makeup, I can't live without my Marc Jacobs® Beauty Velvet NoirTM Mascara. I have one in every bag. I use the new AccompliceTM Concealer & Touch-Up Stick under my eyes and where I get red around the nose. Then I use PoutlinerTM Lip Liner in Prim(rose)TM and either the New NudesTM Sheer Gel Lipstick in UnderstudyTM or the EnamoredTM Hydrating Lip Gloss Sticks. They are so hydrating and look beautiful. 
For hair, I recently went really blonde. Since many of my friends are blonde, they taught me how to take great care of it. I sleep in Olaplex® once a week. For products, I love this Joico® oil that [Lady Gaga's hairstylist and wig designer] Frederic Aspiras gave me. I also love OUAI® Finishing Crème and dry shampoo. 
Spotlyte: What is your best drugstore discovery?
ST: I actually love the ChapStick® Moisturizer and Moisture + Tint. They have a very natural tint. I used these on Ally in A Star Is Born.
Spotlyte: Approximately how many days are you on the road doing makeup? What do you bring with you to make hotel rooms feel like home?
ST: It used to be over 200 days a year, if not more. Now that Gaga is in Vegas, it's a lot less travel, which I'm thankful for. I still fly quite a bit though. I always bring my skincare and usually my favorite candles. Right now, it's LITTM by GetLitByCharTM. It is amazing how a smell can remind you of home. 
Spotlyte: Can you share the must-have products/tools you always keep in your kit? What makes them so great?
ST: My must-have product is the Marc Jacobs Beauty Velvet Noir Mascara. It gives incredible volume and length. I carry a new one on almost every job because if it's a new client, they will steal it from me for sure! I also love my ReFaTM roller, which helps with inflammation and toning the face. It's also great for TMJ relief.  
Spotlyte: How do you unwind? Does beauty ever play a role?
ST: My favorite thing to do is take a lavender Epsom salt bath and put on a mask. Right now, some favorites are Talika®, Tatcha®, AdoreTM, and Dr. Jart+®. Of course, I need some mind-numbing TV, which is usually Vanderpump Rules or old episodes of Friday Night Lights.
Spotlyte: You are the ultimate makeup guru, but who are the beauty pros that inspire you?
ST: Wow, thank you! My favorite artists are Stephane Marias, Val Garland, Peter Philips, Erin Parsons, Pat McGrath, Kevyn Aucoin, James Kaliardos, Tom Pecheux, and many more. For hair, I love Laurent Philippon, Frederic Aspiras, Peter Grey, Guido, Luigi, and Jimmy Paul. 
Spotlyte: You have an incredible roster of A-list clients already, but if you could do anyone's makeup, past or present, who would it be and why? 
ST: I would have loved to work on Ava Gardner, Grace Kelly, Kim Novak, Natalie Wood, Brigitte Bardot, Edie Sedgwick, and Jerry Hall. As far as the present is concerned, I think I already have the greatest girls in the world.
Product prices may vary from the time this article was written.
Allergan® may receive commissions for purchases made through links in this article.