At this point in your life, you shouldn't need an "excuse" to slather on sunscreen. You already know that the sun's rays are harmful: too much exposure can dramatically increase your risk of skin cancer. But if you need more cosmetic reasons to convince yourself of the importance of SPF, remember that sun damage can also cause wrinkles and skin laxity. Another frustrating problem that sun exposure causes is dark spots on skin. 
"Dark spots develop when UV light puts our pigment-producing cells into overdrive," explains Joshua Zeichner, MD, Director of Cosmetic and Clinical Research in Dermatology at Mount Sinai® Hospital in New York. Of course, you can help prevent further dark spots on skin by wearing sunscreen, which will work to block the production of new pigment. 
Keep reading: we consulted with a handful of dermatologists that shared some of the best products to improve the appearance of dark spots on skin, diminish the look of extra pigment from your sunbathing days (they're over, right?), and help safeguard yourself against future dark spots.
Retinol creams contain retinoids, which are vitamin A analogues that can help to reduce pigmentation, explains Ariel Ostad, MD, PC, a board-certified dermatologist in New York. "Retinol creams work by peeling skin, so by picking one with a higher concentration of retinoids, you will experience more peeling, helping to promote additional skin cell turnover," he explains. Faster cell turnover should help expedite the fading of dark spots. "The Sunday Riley® A+ High Dose Retinol Serum ($85) has a high concentration (6.5% stabilized retinoid), along with botanical extracts for soothing the skin." 
[Editor's note: Retinol shouldn't be used by those who are pregnant, considering getting pregnant, or nursing. Please consult with your doctor before use.]
"The Neutrogena® Rapid Tone RepairTM Dark Spot Corrector ($18) contains a stabilized version of vitamin C to prevent free radical damage, along with retinol for enhancing cell turnover," says Dr. Zeichner. If you've never used retinol before, we suggest you start by applying it once to twice a week, working your way up to daily use. Bonus: it acts well as a primer under makeup.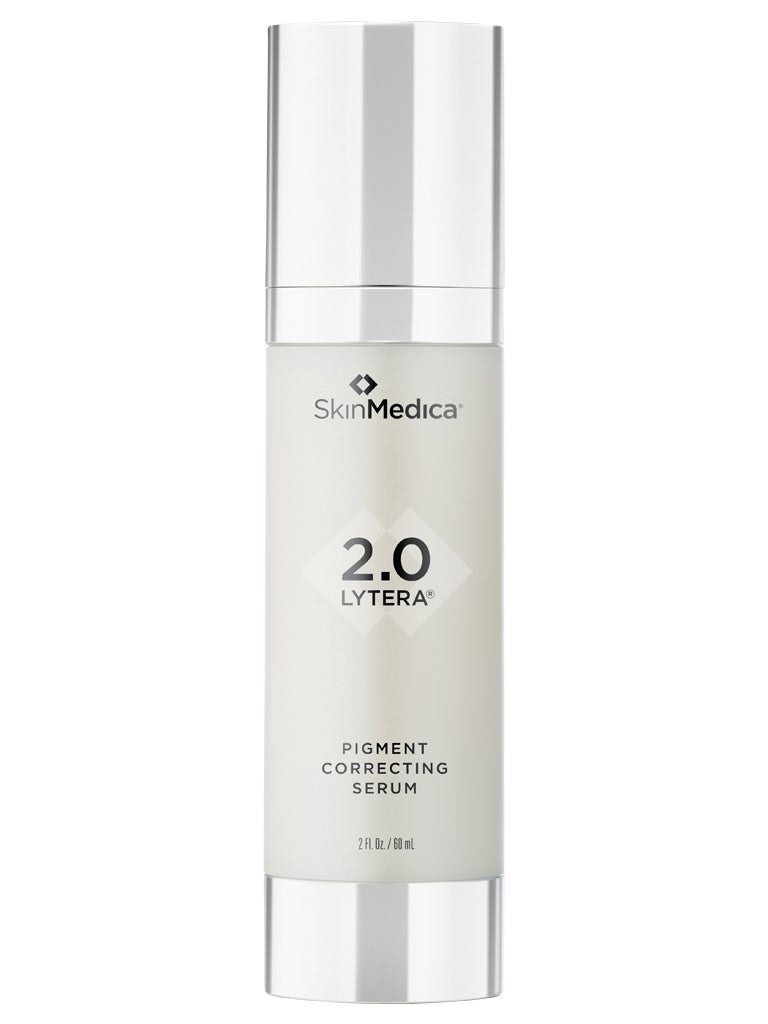 The SkinCeuticals® Phloretin CF® ($166) is a go-to for Shari Marchbein, MD, FAAD, a board-certified dermatologist in New York, for repairing and protecting against free radical damage, which she says is a key step in a daily skincare routine. "Formulated with phloretin, 10 percent L-ascorbic acid (vitamin C), and ferulic acid, this serum is meant to be used every morning under moisturizer with sunscreen, and is good for all skin types," she says. "I especially love using this for oily, combination, and acne-prone skin, since this formula won't make you breakout."
The Tatcha® Violet-CTM Brightening Serum ($88) is another one of Dr. Zeichner's spot-treating staples. "It combines vitamin C with alpha hydroxy acids to brighten, improve radiance, and enhance skin tone," he says. He also notes the lightweight formula is great for layering under other products — like sunscreen. Plus, you have to admit that the bottle will look stunning on your vanity.
Dr. Marchbein also reinforces proper SPF protection for keeping dark spots at bay, and suggests a formula that not only defends against future dark spots, but helps improve the appearance of existing ones. "The Pond's Clarant B3 Even Skin Tone Daily Moisturizer with SPF 30 ($8) is a broad-spectrum SPF 30 moisturizer with sunscreen that also contains niacinamide, a B vitamin that acts as an antioxidant and helps with inflammation in the skin, along with improving skin pigmentation," she explains. Don't forget to reapply every two hours for continuous protection against free radicals and damaging rays.
SkinMedica® is an Allergan®-owned skincare line.
Some complimentary products were provided to the author for the purpose of writing this article.
Product prices may vary from the time this article was written.
Allergan® may receive commissions for purchases made through links in this article.