In your mind's eye, if you were to imagine a beauty editor's bathroom, you might picture a delicate vanity, with products pleasantly arranged by color, size, and shape. Any errant jars or tubes would be placed lovingly on a mirrored tray. There might be a white floral candle burning somewhere, to add ambience and a sophisticated aroma.
My beauty setup is closer to that of a battlefield, even when I'm at my most organized. Truthfully, after more than 10 years in the beauty industry, I have far too many different formulas to organize them in a precious way. There are no product casualties in the way of leaking, spilling, or oozing, but there are casualties. Often, I straight-up abandon things I don't love. Of the hundreds of products I test annually, I leave hundreds of jars, tubes, pots, and palettes (anywhere from 75 to 99 percent unused) in my wake. So, when I do keep a product — or even more unprecedented, finish one before getting bored by it — I tell everyone I know. And, when I finish more than one, I write about it.
IT Cosmetics® Confidence in a Cream® ($48) is one such rare product in my rotation. The moisturizer launched in 2016, marking the brand's first foray into true skincare (rather than skincare-infused cosmetics). I'd already been a longtime fan of the company's makeup products, and was wary when it announced Confidence in a Cream's debut, but I needn't have worried: this formula was created with both the skincare and beauty consumer in mind.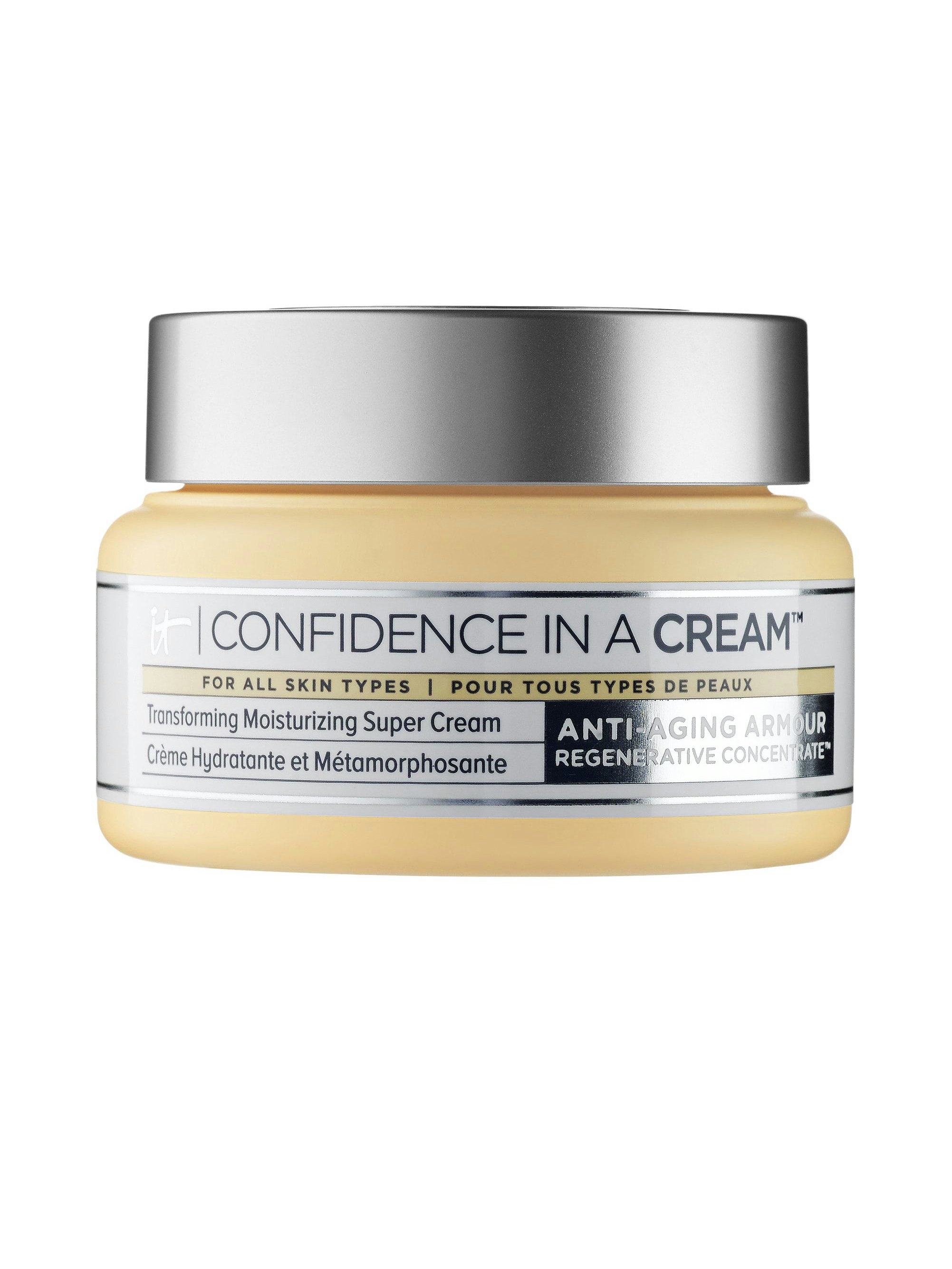 As a makeup junkie, the benefits for cosmetic wearers were what attracted me to Confidence in a Cream for my first few wears. Makeup aficionados need a moisturizer that plays well under all the other products they're layering on top, whether that's a full face or just a bit of CC cream. While I admittedly tend to use this formula at night, I've found that the creamy texture absorbs so seamlessly into skin that it can actually function as a priming moisturizer. The cream is rich without being greasy, thick yet absorbs quickly, and never leaves any weird, pilly residue. (These characteristics also appeal to another category of consumers: moisturizer-averse men.) 
After a few weeks of experimenting with Confidence in a Cream, I found that its skincare benefits were what got me to come back to this yellow jar again and again. It's packed with ingredients to keep skin ultra-hydrated, supple, and smooth. These include hyaluronic acid (which can attract and hold up to 1,000 times its weight in water), ceramides (to seal all that moisture into your skin), firming peptides, brightening niacin, nourishing shea butter, and antioxidant vitamin E. 
You might notice that there aren't any particularly active ingredients in the formula, such as glycolic acid. As passionate as I am about regular chemical peels and other forms of exfoliation, I actually love that Confidence in a Cream doesn't boast anything that could sensitize my skin. In fact, it allows me to experiment with harsher products because it is such a gentle product: it is the moisturizer equivalent of a cozy weighted blanket. After I've peeled, scrubbed, picked, or gotten too much sun, I can reliably slick this product on before bed without causing any further irritation — and, more often than not, expect to wake up to perfectly calm, smooth, and "happy" skin. That's why I use it so frequently — enough for this skincare warrior to successfully finish two whole jars.
Product may have been gifted to the author for the purpose of writing this article.
Allergan® may receive commissions for purchases made through links in this article.