Six months before my wedding, I was in desperate need of a skin refresh. My adult acne was at an all time high, my texture was rough, and I was no stranger to occasional puffiness. Even as a beauty writer, I didn't have a plan for achieving the glowing, de-puffed skin I hoped to walk down the aisle with — until a friend gave me a suggestion.
"Look, I know you try a ton of beauty treatments, but I'll let you in on a secret," my friend, Jill, had texted me. "Nadia's Needle-Free Transformationsm Facial will give you the best skin of your life." The treatment certainly sounded intriguing. Upon looking it up, I discovered that it involves a series of lymphatic drainage and massage, and is performed by a Nadia Dehkanova at Tribeca Beauty Spa. Apparently, the facial imparts an instant lifting and smoothing effect. 
Jill's skin is enviably radiant, so I heeded her advice and booked an appointment (90 minutes, starting at $350). Below, a step-by-step breakdown of the treatment. 
[Editor's note: As always, talk to your doctor before starting any new treatment.]
The Spa
When I entered Tribeca Beauty Spa℠, I felt as if I'd discovered a hidden skin oasis. Russian nesting dolls decorated the interior and unfamiliar beauty products lined the shelves. (I ended up falling in love with one of the lines, Ultraluxe®.) I was greeted by Dehkanova herself, whose warmth immediately made me feel at ease. "You have beautiful skin," she said. "Let's just make it more beautiful." Despite the good vibes, she was unafraid to dole out a blunt skin assessment. She took a realistic, no-nonsense approach to my treatment, acknowledging my breakouts and clogged pores. She even told me to cut dairy from my diet to mitigate my breakouts.
The Treatment
After Dehkanova double cleansed my skin, she started the treatment by applying an earthy mud cleanser from the top of my forehead down to my chest. She used a quick flicking technique to get blood circulation going. She moved on to an ultrasonic face spatula — a device that essentially functions as a power washer for your pores. The device, Dehkanova explained, helps remove the outermost layer of dead skin on the face. It felt similar to the machine that sprays water in your mouth at the dentist, but instead, this one works on skin. The power washer was followed by a custom mushroom peel. As with most peels, it felt slightly tingly — though it in no way smelled like a portobello!
After the aforementioned prep steps, Dehkanova launched into a 30 minute blood-circulating facial massage. The technique targeted specific facial muscles and also moved excess fluid around — a combination for a face to look sculpted and less puffy. She pushed pressure points and targeted specific places I was holding tension, like my jaw. Next, she used a European massage technique that felt lovely and rhythmic, and finished with a final lymphatic drainage. It slowly drained the fluid out of my face and (as gross as this sounds), I actually felt my springtime allergies physically trickle down my throat. 
However, every rose has its thorn. After the blissful massage, Dehkanova got down and dirty to clean my pores. I don't mind extractions, because I genuinely see a difference in my skin after they are done. That being said, there were a lot, especially because my face was so clogged from engagement celebrations and the stress of a move. After Dehkanova's thorough extractions, she applied a soothing mud mask on my face to calm redness and massaged my neck and shoulders with deep pressure. In this moment, I felt incredibly relaxed, almost as if I was floating.
As the final step, Dehkanova pushed serums into my skin with a "supersonic" microcurrent machine. The device felt like a slightly hot metal spoon and was the grand finale of the lifting effect. After she finished the microcurrent on one side of my face, she showed me the difference between the treated and untreated sides. The treated eyebrow looked significantly more lifted than its counterpart.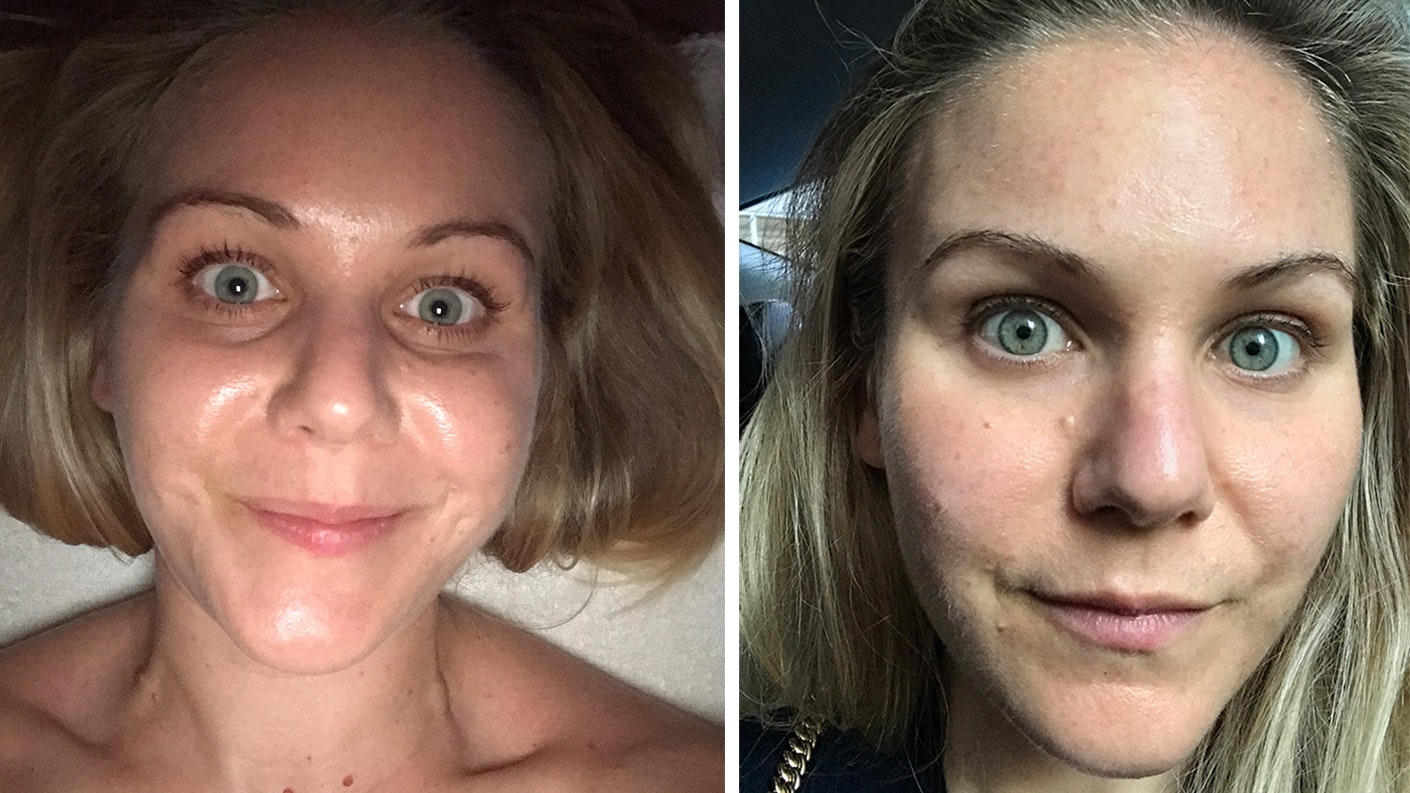 The Results
My overall skin texture went from sandpaper-like and bumpy to smooth, with significantly less congestion and a surprising lack of ruddiness, despite all the extractions. Most impressively, my face looked genuinely less bloated, and my cheekbones were more prominent. The massage and microcurrent machine had done some serious sculpting. The final word: I think I need the needle-free transformation every week before my wedding. 
Complimentary service was provided to the author for the purpose of writing this article.
Price may vary from the time this article was written.