Justin Timberlake may have coined the phrase in 2006, but I was hellbent on bringing sexy back at my 2019 wedding in Cancun, Mexico. In lieu of a rather demure dress with a dramatic cape and cutesy bow, I was convinced by two friends who can only be described as "extra" to opt for a gown with a thigh-high slit and a barely-there back that spilled into a cascading train. "You want to look like a woman at your wedding — not a little girl," they told me as I debated for days over the dress. Little did I know that the breakouts I luckily escaped as a teen would catch up to me just in time for my big day. 
While most mothers cry upon seeing their daughters in a wedding gown, mine pointed out my bacne. (It's cool, I've got thick — albeit unpredictable — skin.) "Well, you'll have to do something about that," she said, as I stood awkwardly on a pedestal while staring into a mirror that magnified every angle. These weren't exactly the encouraging words I wanted to hear: I'd spent countless hours sculpting the hard-to-define muscles showcased by my strapless dress. 
That said, sweaty spandex, along with stress, were the likely culprits behind the constellation of breakouts that spanned the area between my shoulder blades. So, I promptly booked the Clarity Back Treatmentsm ($185 for 50 minutes) with Madie Ramser at the OleHenriksen® Face/Body Spa in Los Angeles, California — a spot frequented by the likes of Lisa Kudrow, Katy Perry, and Madonna — to guarantee that clear, radiant, and sexy skin would be seen by all upon saying "I do."
After I stripped down and snapped a few before pics for posterity, Ramser went to work by double cleansing my skin with OleHenriksen Find Your BalanceTM Oil Control Cleanser ($26). Then, she "got things moving" by massaging Nurturing Lavender Body Oil ($22) into tense muscles that were seemingly tied in knots — the result of multiple arguments with Momzilla over ribbons and gift bags. (Note for brides to be: Pretend to feign interest even if you couldn't care less about trivial details.) 
To help remove toxins from my body — of which I'm sure there were a lot, seeing as a stiff drink was necessary following one of those aforementioned fights with my mother — Ramser performed lymphatic drainage using "bio drainers," or tiny suction cups that I liked to believe drew out bad bridal juju. She followed this step with some much-needed Novasonic® therapy, which uses sound waves to relieve pain and promote healing.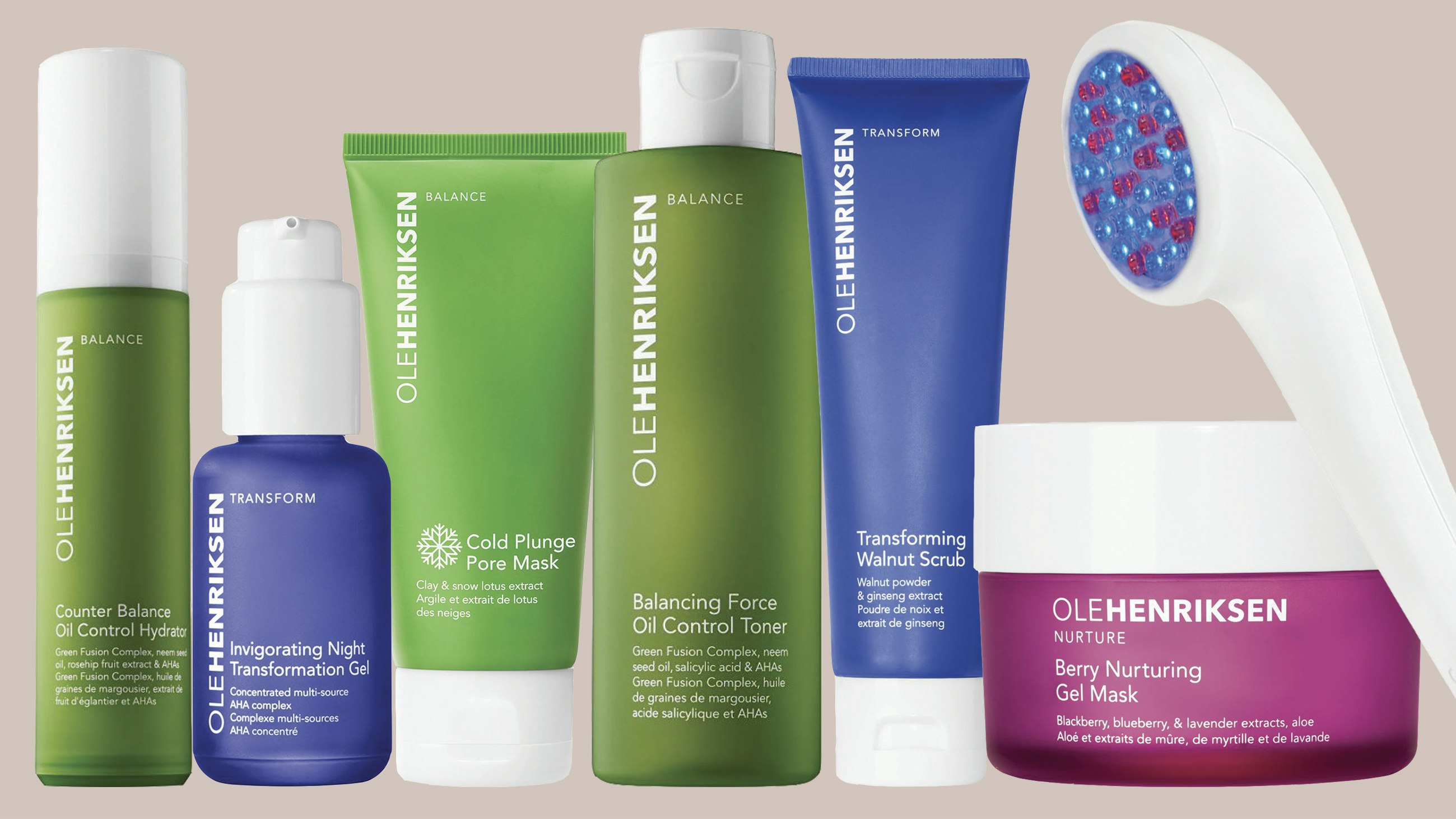 Now that my back was sufficiently soothed, Ramser revved up radiance while simultaneously purifying pores with the Transforming Walnut Scrub ($28). After swiping skin with Balancing Force Oil Control Toner ($28) and performing a few extractions, she used a high-frequency device (which feels like a gentle-but-continuous static shock passing across the surface of skin) to target acne-causing bacteria. Once she mixed the Cold PlungeTM Pore Mask ($36) and Berry NurturingTM Gel Mask ($22), and slathered the turquoise-colored combo across my entire back, she passed over it with a hot hammer facial tool to help ingredients penetrate, followed by a cold one to combat redness and inflammation. 
Ramser rounded out the treatment with the MistralTM LHE (Light and Heat Energy) system to battle cystic breakouts buried deep underneath the skin. Any remaining residue was swept away with more toner, while a layer of Counter BalanceTM Oil Control Hydrator ($36) sealed the deal. The 50-minute process not only rid my back of sweat- and stress-induced pimples, but it also abolished any frustration I previously felt surrounding ribbons and gift bags.
 A few days later, my bikini-clad back was out and about on the beaches of Cancun. Much to my mother's delight, it was also bacne-free when I walked down the aisle. The only thing the back facial couldn't solve was the sunburn left behind by my now-husband's sloppy sunscreen application. Thankfully, the thigh-high slit in front served as a significant distraction. That said, my man did promise to have my back till death do us part. I expect nothing but sexy from here on out. 
Not everyone has the time or budget to resolve their bacne with a professional treatment. If you want to "get your sexy on" but can't get to the spa, you still have options to achieve clear skin on your back. Ramser suggests dry brushing or sloughing skin regularly with a Stimulite® Bath Mitt ($34) and a salt-free scrub that doesn't disintegrate while you're exfoliating. (For this, we like the Juara® Invigorating Coffee Scrub ($38), which features coarsely-ground Indonesian coffee beans and smells like a cappuccino.) She also recommends hitting the showers ASAP after a workout, and frequently changing out your bra and bedsheets. 
Another way to help combat acne — lay off the vitamin C during a breakout. Ramser finds the brightening ingredient has a tendency to aggravate acne due to its drying effect. Instead, look for formulas containing alpha hydroxy acids (AHAs) that promote cell turnover, like OleHenriksen Invigorating Night Transformation Gel. An at-home blue light therapy device, such as LightStim® for Acne ($169), can also be beneficial, but should be added to your routine well in advance of a big event. "It's great for acne, but you need to have patience and do it every day," Ramser explained. 
You'll also need to enlist a second set of hands in order to treat your entire back. For more of a quick fix, reach for the SLMD Body Acne System. Created by Dr. Sandra Lee (a.k.a. Dr. Pimple Popper®), the body wash and spray use salicylic acid to treat existing pimples and prevent new ones from forming. You can also try swapping out your standard hair products — which can leave behind a pore-clogging residue on your face, neck, chest, and back — for SEENTM Shampoo and Conditioner ($50), a brand developed by a Harvard-trained dermatologist. "Sometimes, less is more when you have a breakout," says Ramser. "Go a few nights with nothing on your skin, and you'll be pleasantly surprised with the results." 
Complimentary service was provided to the author for the purpose of writing this article.
Product prices may vary from the time this article was written.
Allergan® may receive commissions for purchases made through links in this article.