After months of planning, you finally went on vacation and got that much-needed R&R. But in addition to photos, a commemorative coffee mug, and a boost in frequent flier miles, you might have brought back some other less-than-desirable souvenirs: hyperpigmentation, dryness, and more beauty woes. Time spent roughing it poolside, on the slopes, or elsewhere can all wreak havoc on your complexion. Yet if the damage is already done, you don't have to resign yourself to a slow skin recovery. Keep reading: we asked experts to share their advice to soothe, hydrate, nourish, and restore post-getaway.
The Dermatologist's Advice on: Hyperpigmentation and Dark Spots
One of the things that bedevils people after a vacation — especially one that involves any time in the sun — is dark spots or melasma. Papri Sarkar, MD, a board-certified dermatologist based in Boston, likes to prescribe a cream of hydroquinone, kojic acid, retinol, or glutathione to help fade hyperpigmentation. "Sometimes, I will recommend we do an in-office peel, either using some combination of trichloroacetic acid, lactic acid, glycolic acid, and mandelic acid," she adds. "For patients who also have acne, I add in some salicylic acid, as well."
[Editor's note: Hydroquinone has not been FDA-approved. Talk to your doctor before starting any treatment with it.]
[Editor's note: Retinol shouldn't be used by women who are pregnant, considering getting pregnant, or nursing. Please consult with your doctor before use.]
Fractional lasers like Clear + Brilliant® and Fraxel® can also lighten spots — often in one or two sessions — although if you want something even more gentle (and with less downtime than Fraxel), Dr. Sarkar often suggests trying a session or two of Intense Pulsed Light (IPL). That said, Dr. Sarkar notes that it's important to have your board-certified dermatologist examine your dark spots, too. You want to make sure what you believe to be hyperpigmentation is not, in fact, a form of skin cancer, such as a melanoma.
[Editor's note: As always, talk to your doctor before starting or stopping any new treatment, medication, or supplement.]
To help undo sun damage at home, Dr. Sarkar recommends diligent use of vitamin C products. That's because this ingredient is known to help reduce the production of melanin by inhibiting melanocytes (the cells responsible for skin pigment) and their ability to darken. "For a lot of my patients, [vitamin C-infused formulas] brighten more quickly than other things," she shares. She is fond of COSRX® Triple CTM Lightning Liquid ($27), which contains an ultra-concentrated dose of 20 percent vitamin C, and Mad Hippie® Vitamin C Serum ($34), a natural and vegan formula that features fellow antioxidants ferulic acid and vitamin E. 
Of course, it's also important to get back on a strict, daily sunscreen regimen, especially if you've fallen off the wagon while you were on the road. Sarkar loves Alastin Skincare HydraTint SPF 36. "It's a mineral-based sunscreen that gives you great sun protection and evens out your skin tone in one universal tint," she notes. We're also fond of SkinMedica® Total Defense + Repair Broad Spectrum Sunscreen SPF 34, which contains free radical fighters like green tea, vitamin E, and niacinamide.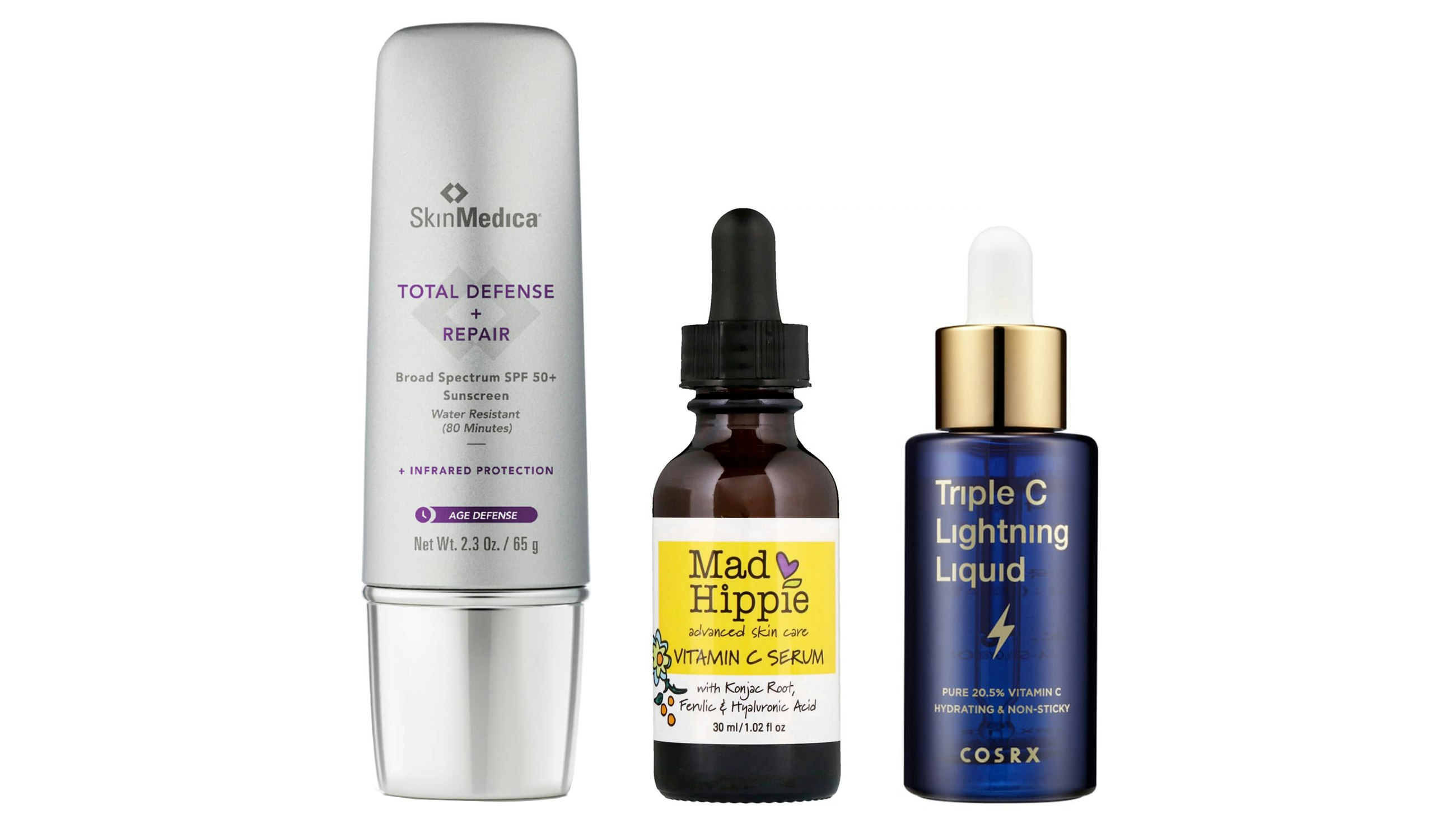 The Dermatologist's Advice on: Dull, Lifeless Skin
Maybe your exhausted complexion comes courtesy of a long flight (plane humidity usually hovers around 12 percent, which is akin to desert air). Perhaps it's simply a change to your skincare routine while you were away. Either way, you have options to get your glow back quickly. Dr. Sarkar's top pick is a microneedling infusion treatment called Microgoldsm. 
"This involves a small device that I fill with a serum, personalized to the patient based on their needs," she explains. "It can include the patient's own platelet-rich plasma, other growth factors, vitamins, and/or pigment reducing ingredients. Once the sterile chamber is full of all of that customized good stuff, we stamp the ingredients into the top layer of the skin with gold-plated needles that are finer than a strand of human hair." She notes that because the needles used in this treatment are so fine, there is typically very little downtime. Plus, the skin is numbed beforehand to reduce discomfort.  
At home, you can get your radiance back by sloughing away the (dead, dull) top layer of skin. We like chemical exfoliators like Go-To Exfoliating Swipeys® ($35), which have lactic acid to gently buff skin, and aloe vera to nourish the fresh skin underneath. (You can also check out our editors' favorite chemical peels here.)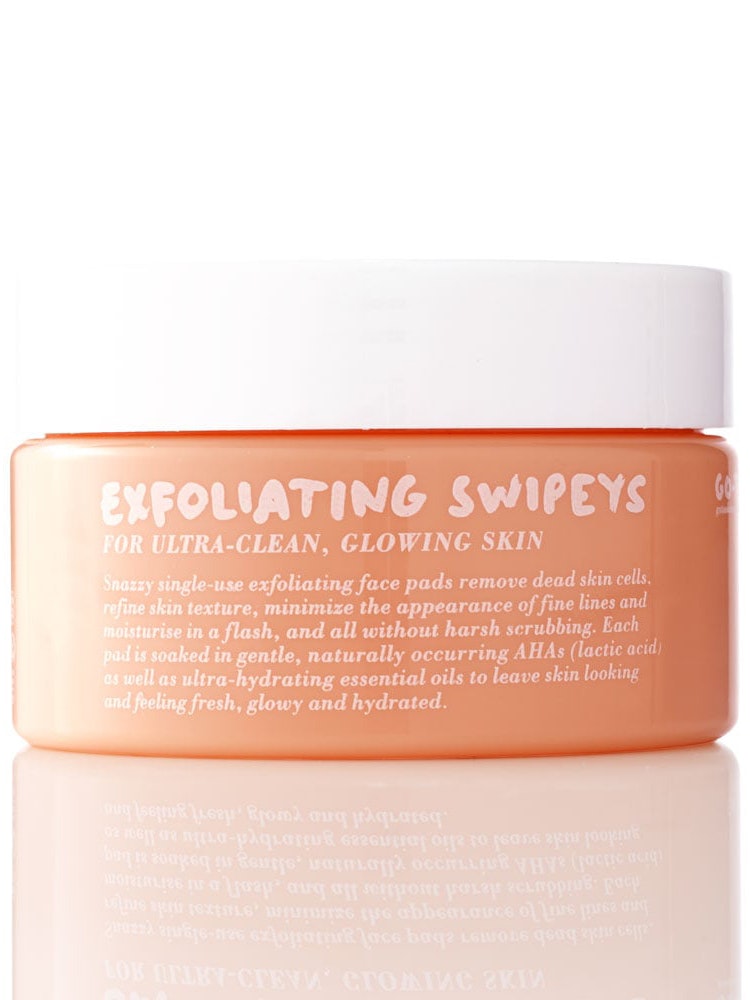 The Dermatologist's Advice on: Cracked Hands and Feet
If you've been to a cold-weather destination, you might find that if you weren't religious about wearing gloves and hand cream, you've come back with dry, cracked hands. Cold wind and frigid temperatures can whip exposed areas, and our hands are second only to our faces in terms of exposure to the elements. Dr. Sarkar recommends soaking hands in tepid water for 10 minutes, then applying a rich, nourishing cream (we like the marzipan-scented L'Occitane® Almond DeliciousTM Hand and Nail Cream, $12). To seriously lock in hydration, slip on a pair of moisturizing gloves like this pair from NatraCure ($15) before bed. They're lined with a hydrating gel infused with olive, jojoba, and grapeseed oils to really pamper your hands while you sleep.
You should also give the easily-parched skin around your nails some extra TLC. Try the fast-absorbing, avocado oil- and cactus flower-infused Olive & June® Cuticle Serum ($16); the little foam applicator ensures it doesn't drip all over the place and it gets right where you need it. Next time you travel, tuck the shea and cocoa butter-powered Shiffa® Healing Balm ($106) into your bag and keep it on hand to dab on your cuticles (or other rough spots) a few times a day. 
If your feet have walked over one too many cobblestone streets — or spent too much time on hot, sandy beaches — they may need a serious reset. To remove calluses caused by flip-flops and other tough skin, Dr. Sarkar recommends Patchology® PoshPeelTM Pedi Cure ($35), which contains alpha and beta hydroxy acids to soften and remove dead skin. (Shop our favorite picks for pampering your feet.)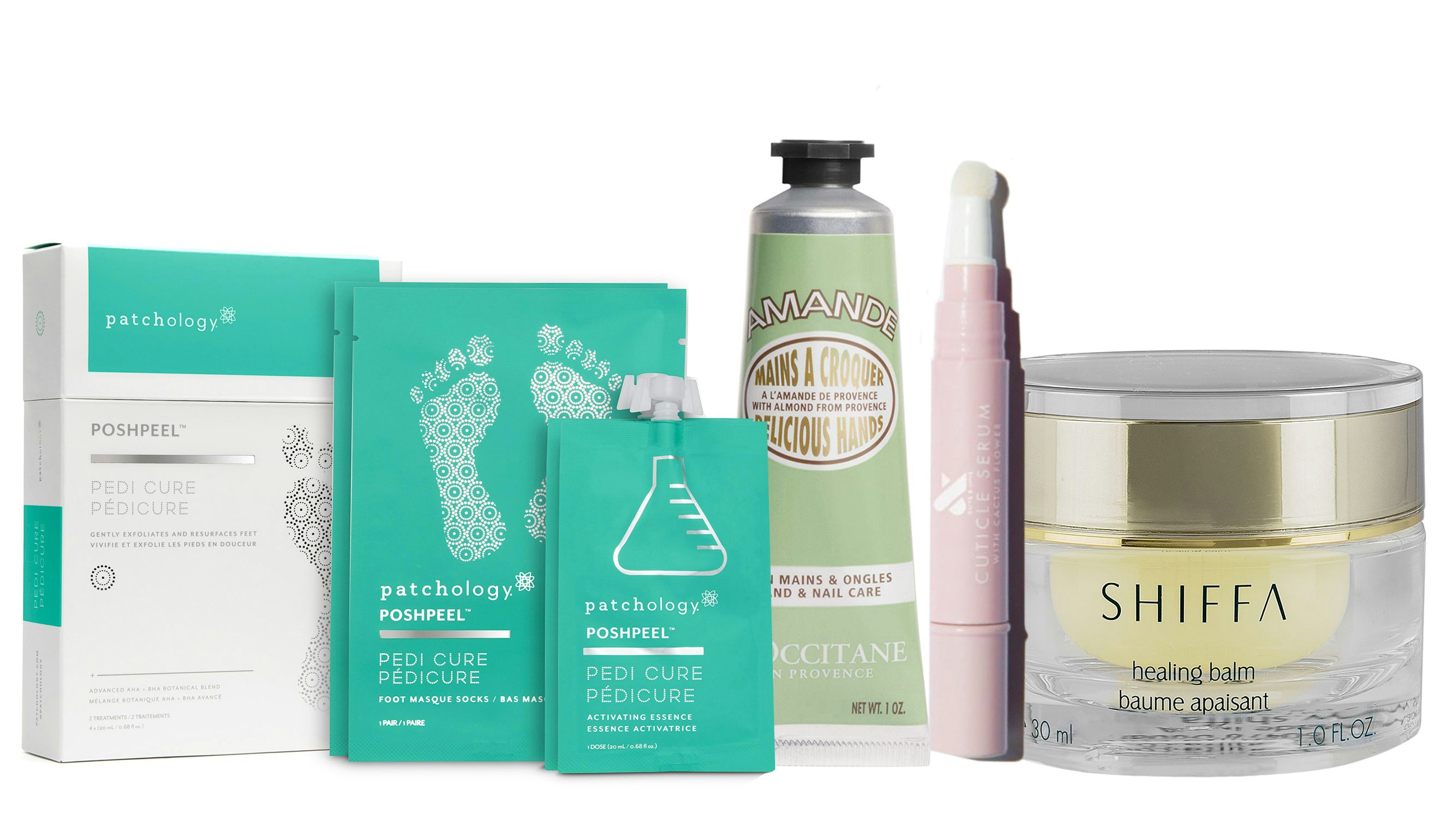 The Esthetician's Advice on: Dry Facial Skin
When you take a long flight — or even spend a lot of time in the water — your skin quickly loses water, which can exacerbate the look of fine lines, says Andrew Kelly, an aesthetician with Paul Labrecque Salon and Spa in New York City. As a result, your skin may feel tighter and can start to look dull or dry. "You'll want a facial that will rehydrate your skin, lock in moisture and fortify your skin barrier." 
For post-travel clients, Kelly offers the Second Skin 3D Facialsm ($325) with Biologique Recherche's professional Féerie Collagen Mask added on. This treatment uses a serum containing 80 percent hyaluronic acid to instantly hydrate and plump up lines caused by dehydration. A 20 percent marine collagen mask intensely locks in the serum, while delivering more moisture into the skin to plump it up and give you your glow back.  For an at-home quick fix, we love another mask: the Tula® Kefir Ultimate Recovery Mask ($56). It uses the probiotics found in kefir (a fermented yogurt beverage) to help comfort and hydrate irritated, stripped skin. 
That said, if your skin feels super-dry, don't just grab the thickest, richest cream you can find, says Jordana Mattioli, an esthetician at CompleteSkinMDsm in New York City. For some people's complexions, a heavy cream can be overkill, especially during warmer months. Instead, she suggests layering on hyaluronic acid-rich serum before putting on your usual moisturizer. Try the Allies of Skin® Triple Hyaluronic Acid Serum ($75), which has three different types of hyaluronic acid, to hydrate skin, plus a huge dose of powerful antioxidants and peptides to rebuild and firm the skin.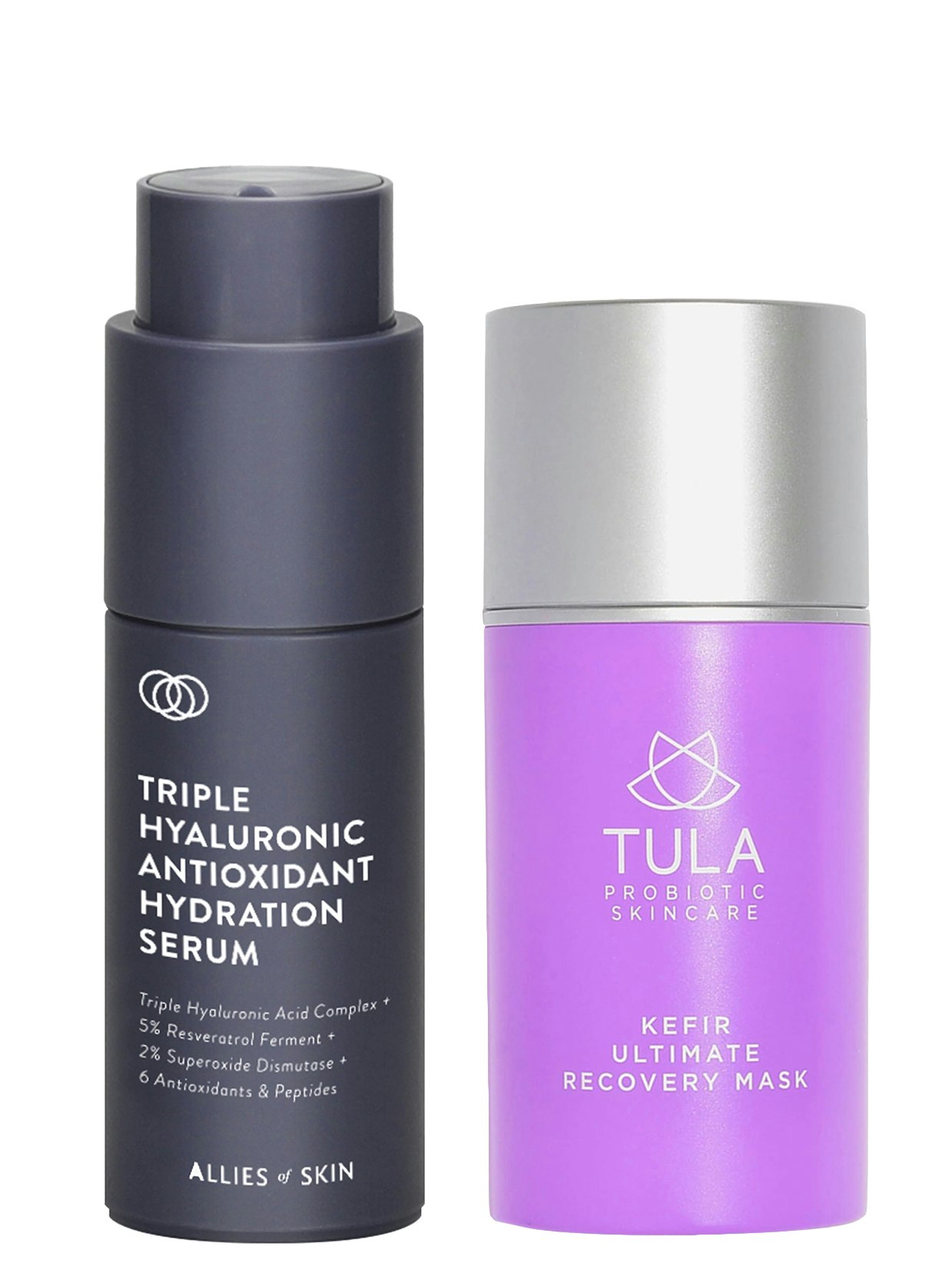 The Esthetician's Advice on: Tired Eyes
Whether due to dramatic time differences, an uncomfortable bed, or just having too much fun, poor sleep during and after vacation is incredibly common, so don't be surprised if your undereyes have more bags than the airport baggage carousel. To depuff tired eyes due to lack of circulation, you have a few simple fixes. First off, try simply sleeping with your head elevated. It'll help drain all that water retention, which in turn will improve the look of undereye bags. You can go a step further by trying a light lymphatic massage, which will also help the appearance of darkness. Just apply your favorite eye cream (see the top retinol-infused eye creams here), then gently massage your ring fingers under your peepers in a gentle circular motion from the inner corners outward.
You can also turn to skincare products, such as a patch-like eye mask. We like Clé De Peau Beaute Vitality Enhancing Eye Mask Supreme® ($150), which Kelly declares the best eye mask he's ever tried. "It covers your entire eye area as well as your forehead, so you are getting a complete treatment with this mask," he says. "Not only does it intensely hydrate, but it helps with sagging loose skin, fine lines, discoloration and dark circles." We're also fond of Klorane® Smoothing and Relaxing Eye Patches ($24). They contain soothing cornflower to help pamper this delicate area, and the cooling sensation of the gel patch helps quell bags even further. Discover other ways to improve the appearance of the eye area here.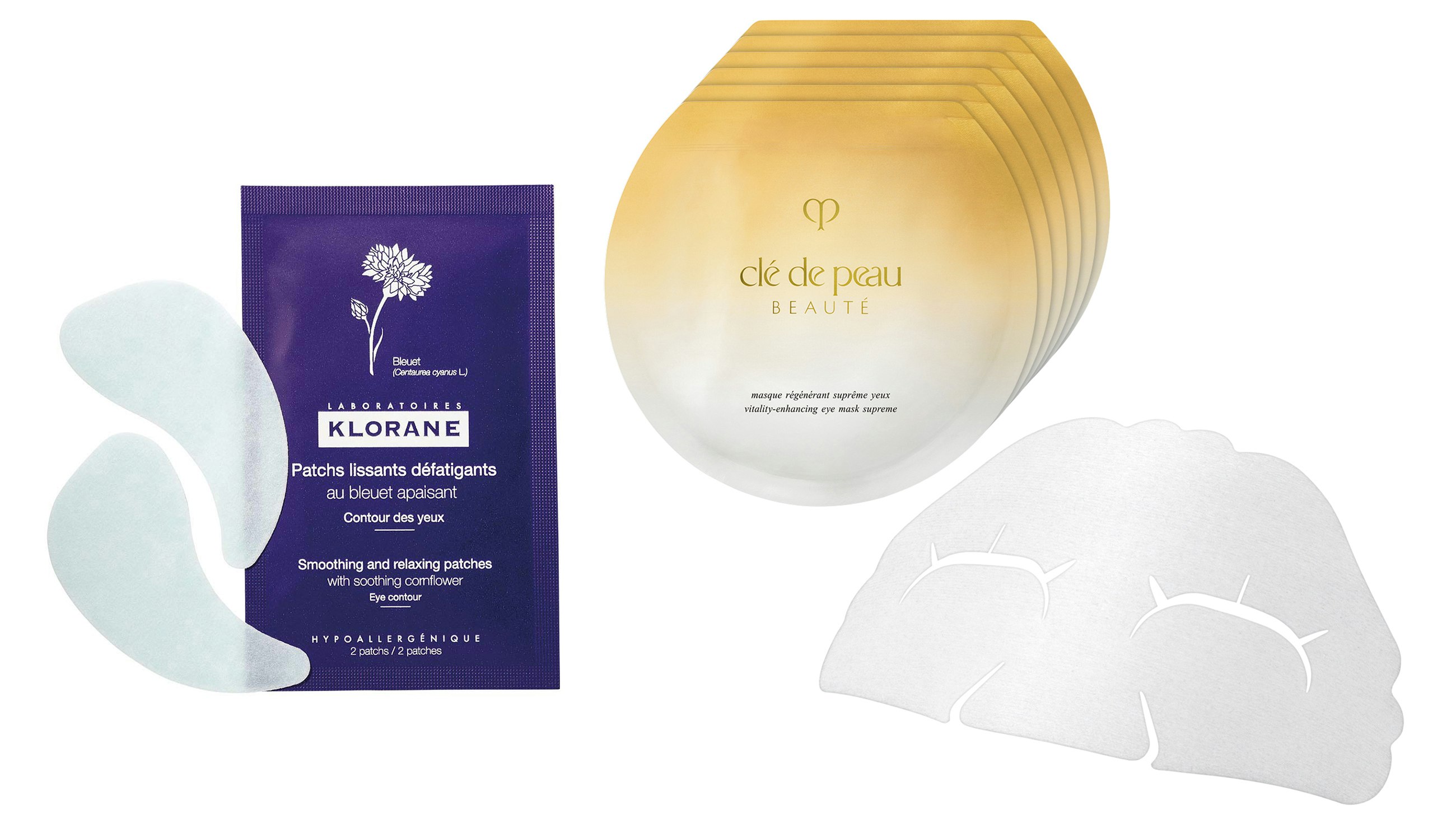 The Esthetician's Advice on: Post-Travel Breakouts and Inflammation
We've all dealt with those annoying, post-trip blemishes: they're never particularly serious, yet could be caused by any number of factors. Switch-ups to your skincare routine, the stress of planning or taking the trip, a change in climate, and overindulging on sugar and carbs (another round of margaritas, anyone?) can all take a toll on your skin. Mattioli handles clients' breakouts with a facial that incorporates salicylic acid, blue LED light (to reduce bacteria), calming masks, and medical-grade oxygen to reduce inflammation. 
To continue your post-vacation skin-clearing efforts at home, Mattioli suggests a salicylic acid-enriched treatment to keep your pores clear. She likes  Paula's Choice® CLEAR Anti-Redness Exfoliating Solution ($30), which has soothing properties for calming the skin and taking the redness out of breakouts. For any stubborn, larger pimples, Mattioli likes the Glossier® Zit Stick ($14), with five percent benzoyl peroxide. 
If your skin has simply seen too much sun or chlorine, try tamping down inflammation with a soothing face mask like Biologique Recherche® Masque Vivant ($71). "This yeast-based masks clears out your pores, balances sebum production, hydrates and smoothes the texture of your skin," says Kelly. Additionally, the Dr. Dennis Gross® Hyaluronic Modeling Mask ($48) offers a refreshing cooldown to soothe and moisturize. "Apply your favorite facial serum beforehand — preferably something hydrating with hyaluronic acid — and then apply the mask to lock in the hydration," says Kelly. "Make sure to keep it in the fridge so the ingredients are extra cold." 
Below the neck, comfort dry, sun-stressed body skin with a uniquely targeted treatment like the Ouai® After Sun Body Soother ($25). It's a cooling, crackling foam that works to instantly calm and hydrate skin with cooling coconut water and cucumber extract. Bonus: the lightly tropical scent will either remind you of your getaway or get you excited for the next one. 
Some complimentary products were provided to the author for the purpose of writing this article.
Product prices may vary from the time this article was written.
Allergan® may receive commissions for purchases made through links in this article.
SkinMedica® is an Allergan®-owned product line