There's no denying that while skincare has gotten more sophisticated over time, it's also become more complicated. From the array of ingredients and textures to different functionalities, it can be hard to determine what product goes where and when. By now, you've most likely heard the "lightest to heaviest" refrain — meaning you should be applying your formulas based on the viscosity of the texture (i.e. toner, essence, serum, oil, cream, balm). 
That said, not every product follows this rule. Things start getting complicated when you factor in active ingredients like retinol and vitamin C, or even something as crucial as sunscreen. It can get a little confusing and, in some cases, applying products incorrectly can lead to decreased effectiveness, or sometimes even harm to your skin.
[Editor's note: Retinol shouldn't be used by those who are pregnant, considering getting pregnant, or nursing. Please consult with your doctor before use.]
With that in mind, we spoke to an array of dermatologists, scientists, and aestheticians to learn how to use products to make sure you get the most out of them. Read on to learn their surprising advice. (Apparently, we've been applying our deodorant wrong all these years!)
Vitamin C
Adding vitamin C to your skincare routine is quite possibly one of the best moves you can make to both protect and repair your skin. This mega-antioxidant is known to fight off free radicals, smooth fine lines, and fade the appearance of (as well as prevent!) hyperpigmentation. It's also considered by some to be a highly unstable ingredient that shouldn't be used with other actives like alpha-hydroxy acid and retinol — or so we've been told. And others wonder if vitamin C can be used with sunscreen.
Shereene Idriss, MD, board-certified dermatologist in New York City, argues that's total BS. "Combining these ingredients actually makes them more effective," she clarifies. Ted Lain, MD, board-certified dermatologist and Chief Medical Officer of Sanova Dermatology® in Austin, Texas agrees, noting that one of the absolute best pairings with vitamin C is actually broad-spectrum sunscreen. 
"Vitamins C, E, and ferulic acid are all excellent antioxidants that provide additional sun protective characteristics," Dr. Lain explains. "These work at the cellular level to prevent the effects of sun exposure on the DNA and collagen." A 2013 study showed that vitamin C actually neutralizes the sun's free radicals — something SPF can't do. Application of 10 percent topical vitamin C showed that a reduction of sunburn cell formation by a whopping 40 to 60 percent. 
But, don't go thinking you can ditch the SPF. Vitamin C does not block or absorb UV rays — it only deals with the aging free radicals that come with sun exposure. It won't protect you from skin cancers, which is kind of the whole point of sunscreen. That said, "Vitamin C should be included as a part of your everyday skincare routine and can be used twice a day," advises Dr. Idriss.
Look for products made with the purest form of vitamin C, l-ascorbic acid (it can be natural or synthetic — Dr. Idriss says there is no proven difference in biological activity between those two forms). In the a.m., consider using a hybrid sunscreen-vitamin C, like Rodial® Vitamin C SPF 30 Moisturizer ($95). For the evening, we like combining a few shakes of True Botanicals® Vitamin C Booster powder ($90) with a luxurious moisturizer that's brimming with natural plant extracts and the added antioxidant power of vitamin E. We're addicted to the silky feel and glow-bestowing powers of M.S SkincareTM IllumeTM Radiance Enhancing Moisturizer ($88).
Sunscreen
There's no argument as to the necessity of sunscreen in everyone's daily skin routine. There is, however, some debate as to when to apply it in said regimen. According to Dr. Lain, there's not yet a concrete answer as to when SPF is most effective. "Data on this topic is extremely limited," he says. "Applying it first under makeup or moisturizer may alter or dilute the sunscreen properties and protection. Applying it [as the last step] may do the same thing." 
That said, from his personal experience, there is an order that he prefers and advises that his patients follow. "I have come to the conclusion that perhaps the most logical order of application is to apply sunscreen first, wait five to 10 minutes for it to absorb, and then apply other skincare or makeup."
The exception to that rule, he says, is serums. "These would need to be applied before, but allowed to absorb for at least five minutes prior to applying the sunscreen." This holds especially true for a vitamin C serum, which needs to be the first thing on the skin in order to aid in fighting DNA damage from the sun. Our current favorite is Skin Design LondonTM Vitamin C The Superstar Serum Antioxidant Glow ($125). The lightweight, silky, and powerful liquid lives up its name with two forms of vitamin C, plus ferulic acid, brightening Indian gooseberry, and hydrating ginseng root extract.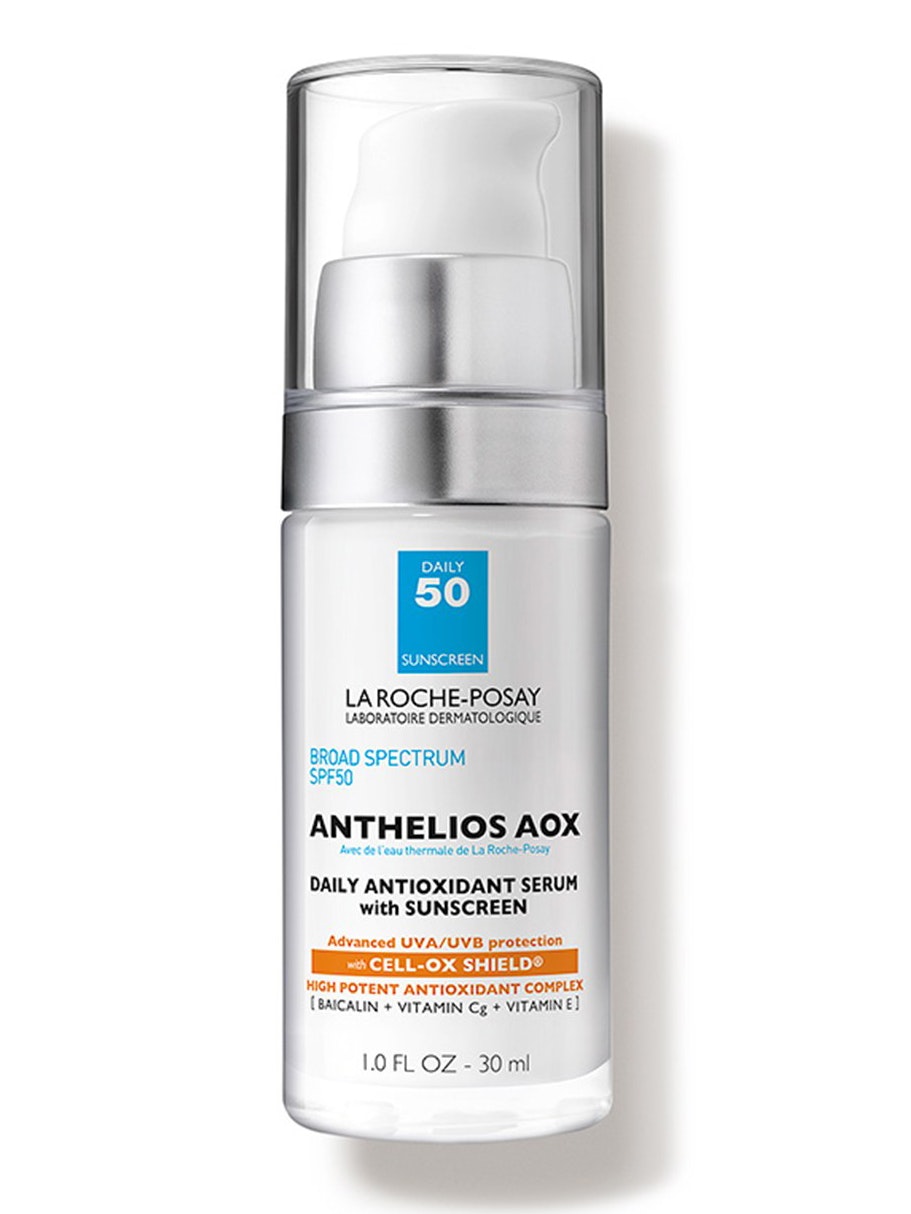 If piling on the products seems overwhelming, an easy way to get your SPF and skincare benefits is to simply choose a hybrid product. Dr. Lain recommends La Roche-Posay® Anthelios® AOX Antioxidant Serum SPF 50 ($43), a lightweight non-greasy serum enriched with an antioxidant complex that features vitamins C and E. 
Regardless of when you apply, there is one major thing to keep in mind: make sure you are applying enough. Many people tend to use too little, which can lead to inadequate protection. Says Dr. Lain, "I often need to remind my patients that in order to experience the protection listed on the sunscreen bottle, an average adult needs to apply an ounce, or shot glass-full amount, to exposed skin." For the face, you should be applying a nickel-sized squirt of SPF for adequate UVA/UVB defense
Deodorant
Ready to have your mind totally blown? According to pros, applying your antiperspirant in the morning is not the most effective way to use it. "For best efficacy, we recommend applying antiperspirants at the driest point in the day," says Laurie Coyle, R&D Director for Deodorants at UnileverTM North America (is it weird that we want that job title?). "For most, that's at night, when the body temperature drops and sweat ducts are less active. Nighttime application allows the active ingredients to absorb into skin and form a sweat barrier overnight." And don't worry if you're a morning showerer — antiperspirant's active ingredients are typically effective 24 hours or more, even through a wash.
Maiysha Jones, Scientific Communications Manager at Procter & GambleTM, notes that you should be applying deodorant 15 to 30 minutes before bedtime, when your body temperature is most stable. That's a rough estimate and it varies from person to person, but you get the gist. According to Jones, who cited a study done by Procter and Gamble, "There's clinical data comparing the effectiveness that shows that p.m. application is ten percent more effective than a.m." That might seem like a negligible amount, but for anyone who battles those dreaded midday pit stains, a 10 percent reduction is worth switching up those habits.
For that reason, Secret® (a P&G brand), created the Clinical Strength Night Treatment ($8) with a calming, bedtime-appropriate lavender scent. Jones does note that, technically, you can use any antiperspirant and get the same effect. Or, for you super-sweaters out there, try the new Dr. SweatTM Clinical Strength Antiperspirant pads ($19). These contain the highest concentration of aluminum chloride (the main sweat-stopping ingredient in most antiperspirants) that you can get without a prescription — 15 percent. Apply it overnight (it will tingle a bit, but that goes away, promise) to help control sweat and odor for seven days.  
Retinol
As one of the most potent skin resurfacers around, it would make sense to include this bad boy in any product you can get your hands on. And, while we're all for retinol in our routines, you can subject yourself to too much of a good thing. Depending on your skin type, it's all too easy to overdo it and cause your skin to turn red, irritated, and scaly. Celebrity aesthetician Shani Darden is a strong believer in retinol — her signature line features not one, but two retinol serums. She also understands that many are wary of the ingredient due to its propensity to irritate.
"Retinol should only ever be applied at night, as it can cause your skin to become more sensitive to the sun," she notes. She suggests applying it after cleansing — but before toning — to ensure the potent ingredient goes directly into skin. If you find your skin is super reactive to retinol, start with the gentler Texture ReformTM Gentle Resurfacing Serum ($95), using it every other night to build up your tolerance.
"If my skin needs a little extra hydration, I will follow up with a hyaluronic acid serum," she says. Her current fave is the Dr. NigmaTM No 1 Serum ($205), which also contains plant stem cells and marine peptides to help hydrate, smooth, and firm skin.
There are few things more annoying than spending money on a product, only to have it under-deliver. But, as we now know, it's not always the product's fault. Eliminate user error with these tips and you can ensure you're getting the most out of your beauty buys.
Product prices may vary from the time this article was written.
Allergan® may receive commissions for purchases made through links in this article.