The most frequently-asked question of most first-time aesthetics injectable patients is, "What will the results look like?" To get an in-depth understanding of the entire experience — and the effects — of a medical aesthetics appointment, we bring you Under the NeedleTM: A look at an individual's journey from beginning to end.

"I am an avid news consumer," says Sonia, a 45-year-old marketing and media professional living in NYC. "I get it on my mobile device, from good ol' newspapers, and TV — you can find Dateline®, 20/20TM, and 60 Minutes® on my DVR." Lately, the newscycle has been particularly brow raising — perhaps literally so for Sonia, whose forehead lines seem to have deepened within the past year. (Lines in this area are often caused by repeated muscle movements, including brow raising and furrowing.)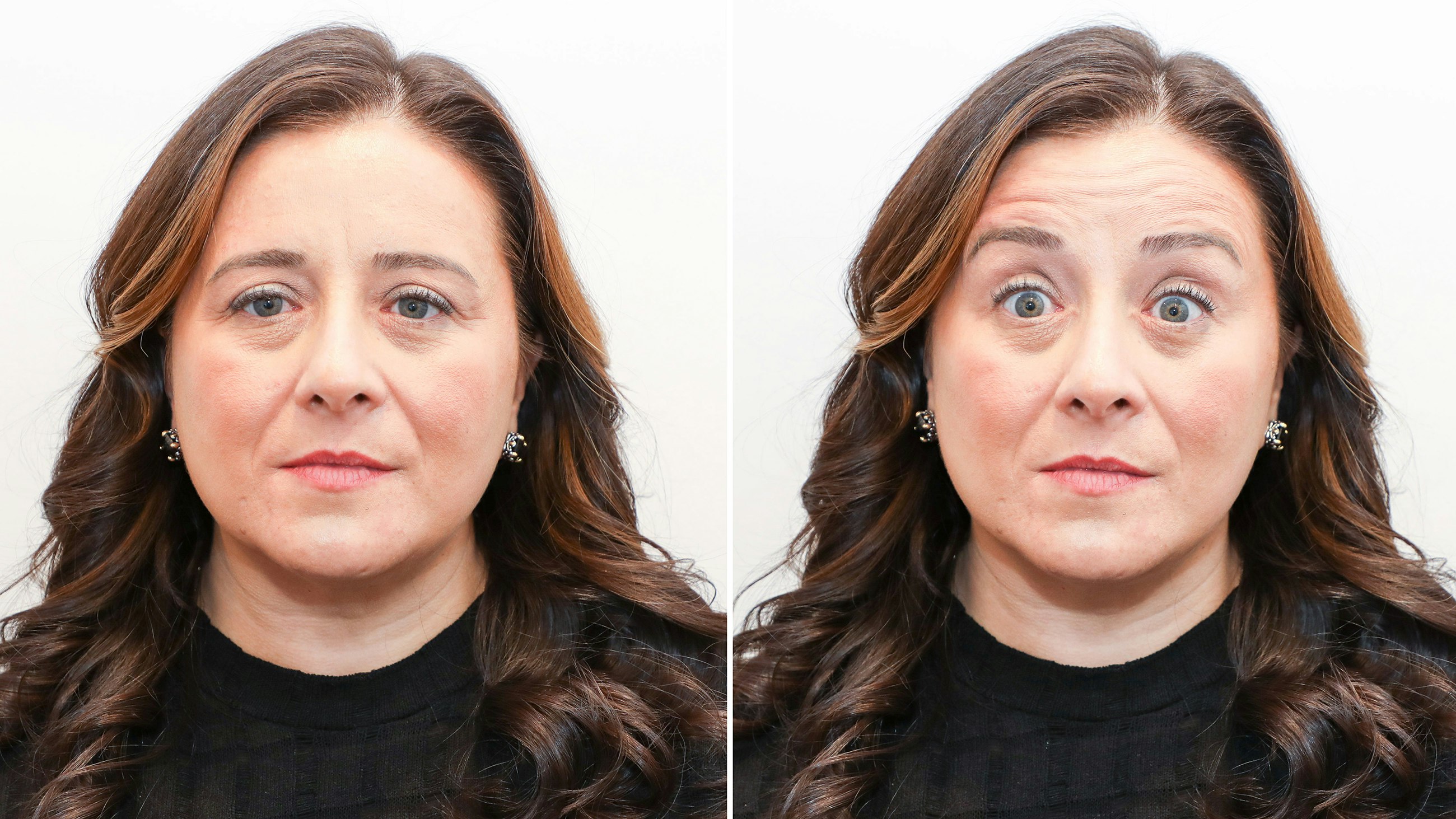 Sonia had pondered injectables in the past, particularly after a friend of hers got injectable wrinkle reducer and loved the results. But for Sonia, the idea never came to fruition. "I didn't know where to go or where to start," she says. "I just didn't know enough about the process." And so, the half-baked figment of an idea was tabled . . . until it resurfaced via a bothersome passport photo. In it, Sonia's forehead lines seemed to take center stage. After seeing the picture, Sonia decided it was time to pursue injectable treatments. 

Below, Sonia gives us a front row seat to her journey with injectables — from her consultation, the injections themselves, and exactly how she felt about the results. Keep reading for Sonia's experience going under the needle with SpotlyteTM.
Editor's Note
Injectable wrinkle reducers are used to temporarily smooth the look of moderate to severe wrinkles in certain areas of the face such as the forehead, frown lines, and crow's feet. They should not be used more frequently than every three months. Like any medical treatment, they have potential risks and side effects. Be sure to talk to a licensed provider to see if they're right for you. 
The Consultation
Sonia schlepped from her home in Westchester to visit NYC-based doctor (and sister!) duo, Lesley Rabach, MD, a double board-certified plastic surgeon, and Morgan Rabach, MD, a board-certified dermatologist at LM Medical℠. Before she saw any inkling of a syringe, she sat down for a consultation. (Read about the importance of a consultation — plus five questions to ask during yours.) Consultations are an open forum for any lingering questions the patient may have for the injector, as well as a time to discuss risks. They're also the time to discuss the specific aesthetic concerns. In Sonia's case, there were quite a few.  

"My number one [concern] is what they call the elevens," she explained, gesturing to the space between her brows. (Read more about the elevens, including how they form.) "I definitely have seen them grow deeper." She also cited her bothersome forehead lines, as well as burgeoning crow's feet. 

After listening to Sonia's concerns and assessing the 45-year-old's face for lines, expression, and movement, both doctors concluded that she was, in fact, a candidate for injectable wrinkle reducers.
Sonia was excited by the prospect of smoothing the appearance of her lines, but there was one more lingering question she wanted to ask before transitioning to the treatment room. Her query: whether she could fade deep laugh lines (also known as nasolabial folds).

The doctors explained that injectable filler, a volumizing substance made of hyaluronic acid, could help smooth the appearance of Sonia's nasolabial folds — but perhaps not in the way one might imagine. In addition to filling the nasolabial lines themselves, the doctors would inject the filler into Sonia's cheek area, too. 
Editor's Note
Injectable filler is a temporary treatment that adds volume to areas of the face such as the lips, cheeks, and laugh lines. Like any medical treatment, it has potential risks and side effects. Be sure to talk to a licensed provider to see if they're right for you. 
The Procedure
While many first-timers worry that the procedure will hurt, the potential for discomfort did not quell Sonia's excitement. "I am not scared of injections [or needles]," she proclaimed. "I've done acupuncture before!" Nevertheless, she was concerned that the procedure would render her unrecognizable (her concerns would be calmed shortly thereafter). 

Once Sonia was nestled comfortably into the reclining chair, the doctors began injecting. First, with filler — in the cheek area and smile lines. Sonia's eyes were closed, her expression relaxed, and her hands wrapped peacefully around a stress ball. Yet, almost as soon as it started, the filler injections were over.

With the filler injections behind her, Sonia was more than prepared to sit through another round of needle pricks. The doctors began injecting in the forehead, glabellar lines, and crow's feet. Similar to the first round, this one took no more than 10 minutes. 
Immediately After Treatment
Post-treatment, Sonia appeared as bubbly and relaxed as she had when she'd arrived. "I was surprised at how easy and [relatively] painless it was," she admitted. "I've had facials that were more painful!" One interesting sensation, she says, was a slight crackling sound as the needle punctured the skin. "I [had been warned] that sometimes you can hear a crackling with injectable filler," she noted, "and I heard it once on one side of my face."

If you were to look at Sonia immediately post-injection, you might have noticed her subtly plumper cheeks and lack of prominent laugh lines around her mouth. The forehead lines, frown lines, and crow's feet, however, remained identical to the ones she'd walked in with. This is because the results from injectable wrinkle reducer are gradual, and can take anywhere from a few days to weeks to take effect. 

So, Sonia departed with a plumper cheek area, and an excited anticipation for the smoother forehead that was still to come...
Results After 1 Month
One month post-injection, Sonia returned for her follow-up appointment, beaming. Now, if you were to snap her passport photo, her forehead would hardly warrant a glance.  

Like a consultation, a followup appointment consists of a conversation between patient and injector. But this time, Sonia's queries were replaced with accolades. 

"The minute I walked out I saw a difference in my cheeks and laugh lines," she told the doctors. "A few days later, I definitely noticed how my forehead [lines started to look smoother]." 

The downside, Sonia noted, was some bruising at the injection sites. However, she said that it was a small price to pay for the results. "It wasn't anything I couldn't cover up," she added.

Most importantly, Sonia's fear of looking unlike herself proved to be unfounded. "No one really noticed!," she admitted. But, the people who were aware (namely, her sister and boyfriend), were "really impressed" with the results. 

Of all of the injected areas, Sonia said she was most pleased with the way her crow's feet and laugh lines diminished.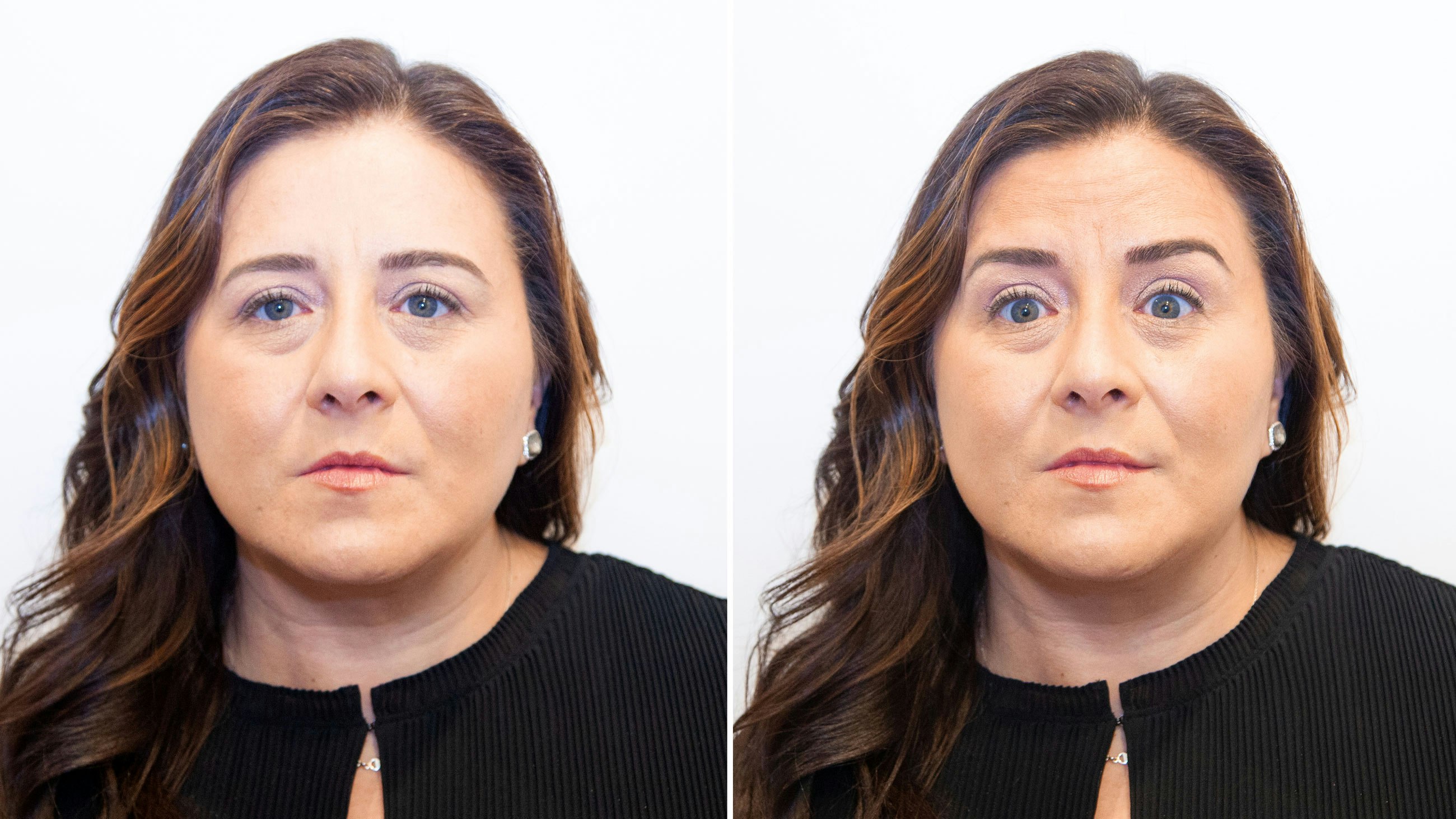 "It's been a great experience overall, I definitely would try it again," she gushed. "In retrospect, I honestly would've done this much sooner."

Sonia's only follow-up question: "When will I be due back?"


Complimentary treatment was provided for the purpose of writing this article.