Vitamin C seems to be the decade's shining skincare hero; the favorite child among antioxidants, if you will. Nevertheless, it's not the only skin-loving vitamin worth pursuing: its alphabetical neighbor, vitamin B, is also worthy of accolades. Like vitamin C, vitamin B is a potent antioxidant, says Deanne Mraz Robinson, MD, dermatologist and president and co-founder of Modern Dermatology®. In addition to defending against free radicals, B vitamins can also deliver a bevy of benefits for virtually any skin type, including acneic skin, sensitive skin, and aging skin, Robinson notes.
Vitamin B refers to a group of nutrients that are necessary for cellular function. These vitamins are essential for enzyme reactions, and can impact numerous bodily functions. There are eight different types of vitamin B: thiamine (B1), riboflavin (B2), niacin (B3), pantothenic acid (B5), pyridoxine (B6), biotin (B7), folate (B9), and cobalamin (B12). Collectively, these are known as the B complex.
Chances are, you consume multiple forms of vitamin B on a daily basis. Perhaps you pop a supplement, or you eat meat, legumes, and nuts — all of which contain high levels of the stuff. That's good news for your overall health as well as your beauty routine: ingesting vitamin B supports various bodily functions and is also essential for glowing skin and shiny hair. Even better, some types of vitamin B have benefits when applied topically. Below, five forms of the vitamin to seek out in your beauty products. 
[Editor's note: As always, talk to your doctor before starting or stopping any new treatment, medication, or supplement.]
The B vitamin: B3, niacinamide
What it's best for: Brightening, calming, reducing inflammation
How it works: B3, also known as niacin, is arguably the most salient B vitamin in the skincare lexicon — and for good reason. "Niacin can reduce dark spots, age-related skin yellowing, and redness," Dr. Robinson says. It can also calm inflammation, making it a go-to for inflammatory skin conditions like acne and rosacea. That said, niacin can cause skin to flush, so most skincare products use niacinamide, a physiologically active form of the vitamin. 
Products to try: If you're prone to oiliness, slather on a serum like the Niacinamide 10% from The OrdinaryTM ($6), which also contains zinc to balance excess sebum production. Robinson loves the PCA Skin® Vitamin B3 Brightening Serum ($115) for its powerhouse pigmentation fighting duo of six percent niacinamide and plankton extract, both of which can reduce the appearance of dark spots and uneven tone, while strengthening the skin barrier over time. Alternatively, try the Toleriane® Double RepairTM Facial Moisturizer from La Roche-Posay® ($20), which delivers B3 with a side of glycerin and prebiotic water.
The B vitamin: B5, pantothenic acid
What it's best for: Hydrating, repairing the skin barrier
How it works: B5, also known as pantothenic acid (often listed as dexpanthenol in ingredient lists), can increase moisture retention and consequently quench dry skin. For this reason, Dr. Robinson says it's one of the key B vitamins to scout out on skincare labels. "B5 demonstrates occlusive properties," Robinson explains, "which helps reduce trans epidermal water loss to improves skin's barrier function and hydration." For this reason, B5 is often added to moisturizers. 
Products to try: Find it in the M-61TM HydraboostTM Cream ($84), which also contains plumping hyaluronic acid and peptides.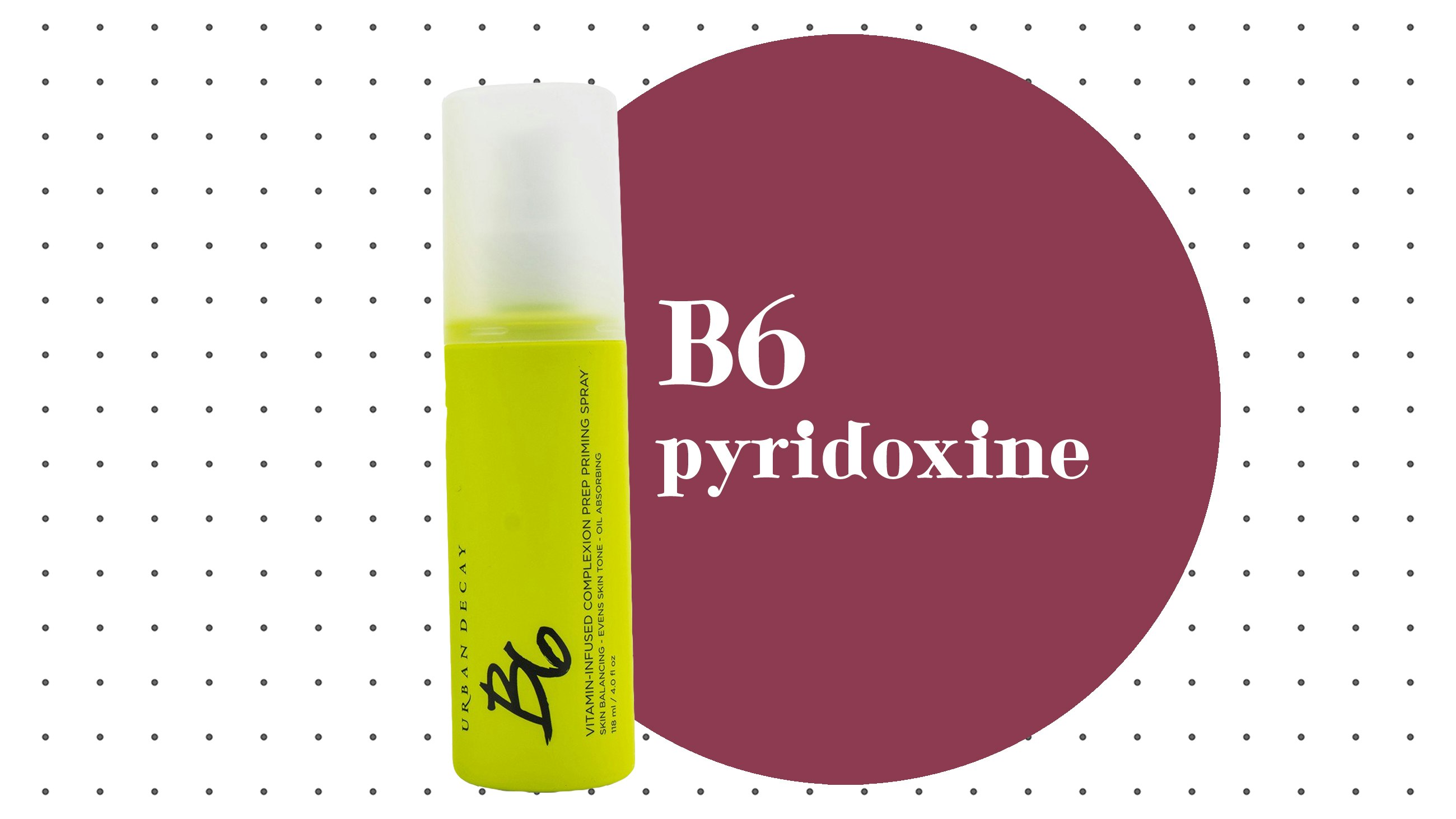 The B vitamin: B6, pyridoxine
What it's best for: Antioxidant protection
How it works: There isn't much information available about this ingredient yet as it pertains to beauty, but preliminary research suggests that pyridoxine acts as a topical antioxidant. For this reason, it could be an ideal ingredient for city dwellers exposed to smog, pollution, and other sources of free radicals.
Product to try: After cleansing, mist on the Urban Decay® B6 Vitamin-infused Complexion Priming Spray ($32) which also contains vitamin E to thwart free radicals.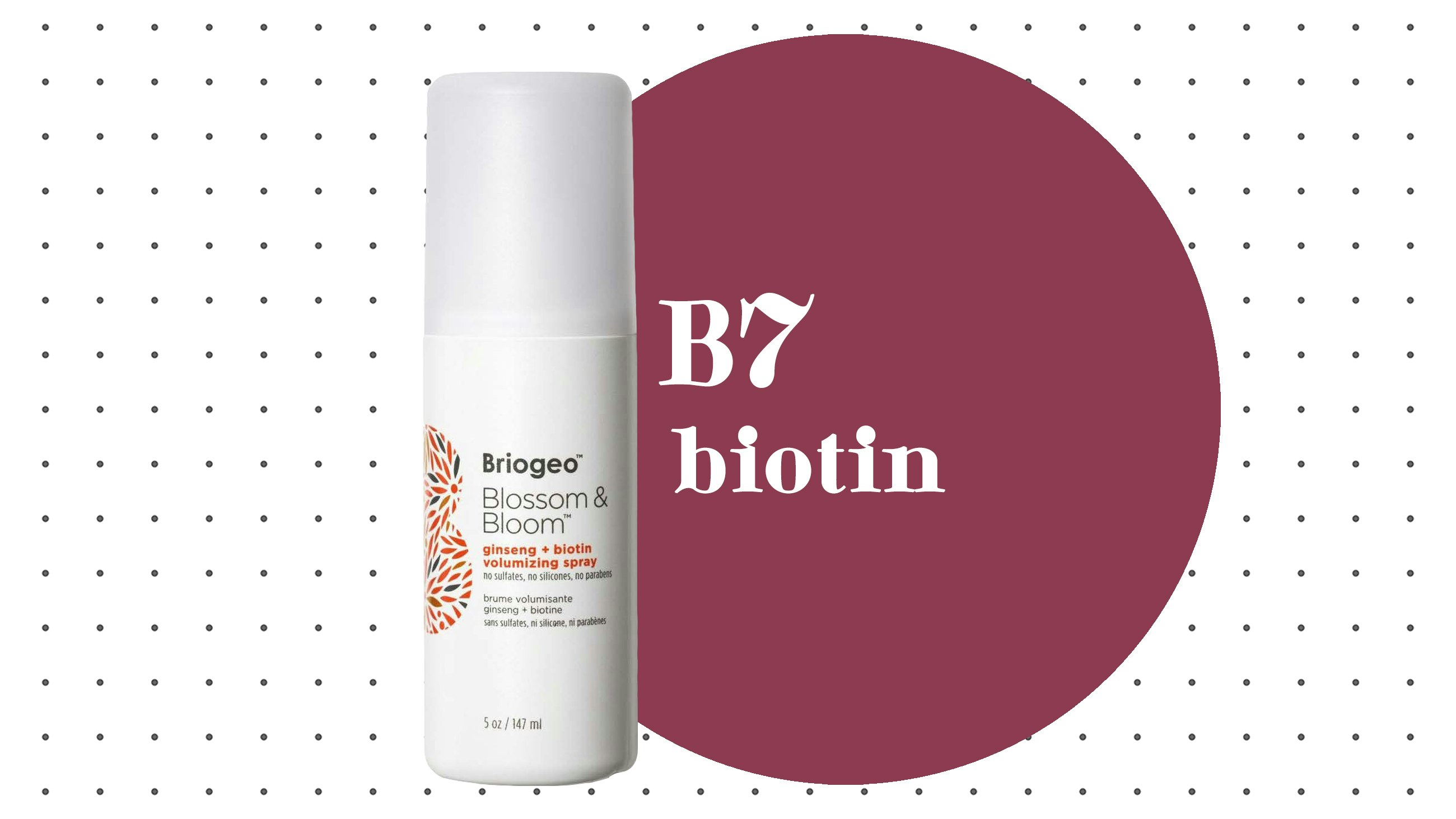 The B vitamin: B7, biotin
What it's best for: Hair strength
How it works: You've probably heard murmurings that biotin is a miracle for healthy hair growth. According to Dr. Papri Sarkar, MD, a dermatologist based in Boston, the rumors are true — but only to a point. First, biotin doesn't actually speed hair growth. Rather, it strengthens the strand — which is a necessary precursor to hair that grows at a healthy pace.
Second, not everyone reaps benefits from taking biotin. People who already have healthy B7 levels — which, according to Dr. Sarkar, describes most of her patients — are much less likely to benefit. "Oral supplementation hasn't been shown to help [in these cases]," she says. On the other hand, she adds, "people who have poor hair growth and low baseline levels of biotin [can benefit] from oral supplementation." 
Given biotin's reputation for promoting healthy strands, it's unsurprising that haircare brands have incorporated the ingredient into topical products. However, Dr. Sarkar says topical biotin is decidedly less studied, and she hypothesizes that using biotin-infused shampoo will not necessarily yield a mermaid-worthy mane. 
Products to try: If you want to give it a go anyway, try the Briogeo® Blossom & Bloom® Biotin Spray ($20). In addition to vitamin B7, the formula contains witch hazel to absorb excess oil, plus sugar starches to create the illusion of fuller hair in an instant.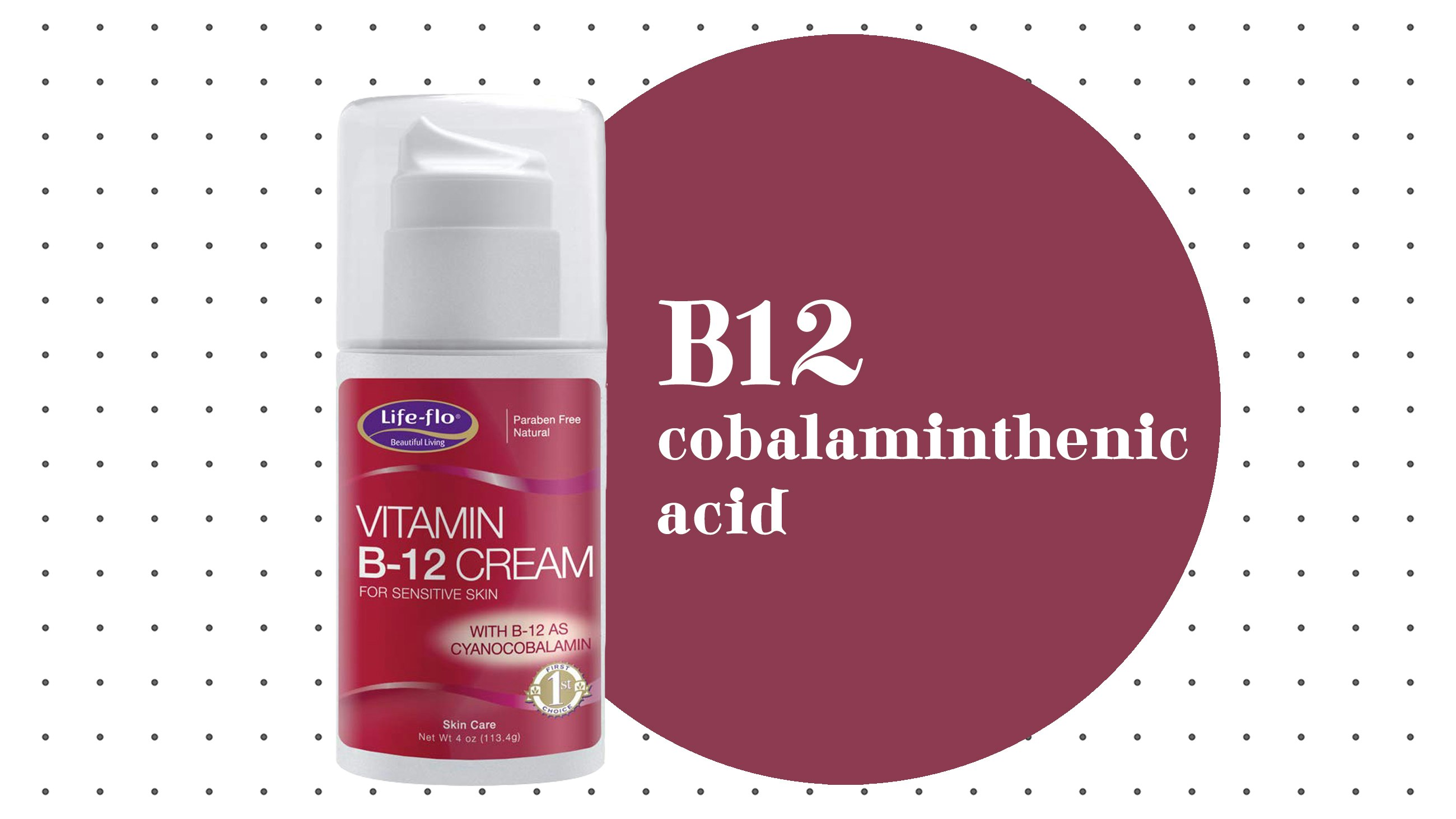 The B vitamin: B12, Cobalamin 
What it's best for: Calming inflammation, soothing dry skin
How it works: This lesser-known member of the B complex family shows solid potential for skin soothing: creams that contain vitamin B12 may help calm inflamed skin, as well as work to heal a damaged skin barrier. "A study done in patients with mild eczema — dry, slightly inflamed skin — found that their skin health significantly improved with a vitamin B12 barrier cream," Dr. Sarkar notes. 
Product to try: Try Life-Flo® Vitamin B-12 Cream for Sensitive Skin, ($12). In addition to cobalamin, this cream also contains fatty acid rich avocado oil. Plus, it's free from fragrance and other ingredients commonly linked to skin irritation in sensitive types. 
Dr. Deanne Mraz Robinson is a paid Allergan® consultant.
Some complimentary products were provided to the author for the purpose of writing this article.
Product prices may vary from the time this article was written.
Allergan® may receive commissions for purchases made through links in this article.