In The PathTM, we spotlight different women making a difference in the fashion, beauty, wellness, medical aesthetics, and more industries. Here, mane master and product mastermind, Sarah Potempa, shares her road to success. 
Leap and the net will appear.
This is the mantra that Sarah Potempa — hairstylist to stars like Lea Michele and Emily Blunt — lives by. It's also how she founded a female-run company that started with one revolutionary tool: the Beachwaver®, a self-rotating curling wand that allows anyone to create red carpet-level waves at the push of a button. Like a trapeze artist who trusts they'll make the catch every time they leave the platform, she believes in taking the plunge. She's a middle child of five, and she credits her family, especially her sisters/colleagues, Erin and Emily, with giving her the courage to take risks by forming a figurative safety net beneath her in the off chance that she falls. 
"My sister also took a massive leap," says Potempa of big sister Erin. "She had a very good life set up at a corporate law firm in Chicago. For her to quit and say, 'I'm going to dedicate my life to working together and creating this company,' is amazing. It's important to recognize what other people do to help your dreams become a reality." Her best advice for entrepreneurs or anyone interested in taking a leap of their own: "Utilize your resources, and know that it's OK to ask for help."
While Potempa never quite ran off to join the circus, the Midwestern girl did leave the little village of Libertyville, Illinois to tackle the mean streets of New York City. Before she decided hair was her calling, the NYU® grad got a job as an international economic reporter. "Everyone was interviewing in a business suit, save for me and one other guy. Both of us had big, fun, flamboyant personalities, and we both got the job because we were different," she explains.
Potempa spent a year overseas interviewing prime ministers and other government officials in far-flung locales like Singapore and Cambodia. "It was a really cool job, but I missed doing hair," she says. "I loved being in new cultures and seeing new places, but doing something creative with my hands was my idea of the perfect occupation." So, Potempa leapt again in order to explore her "real passion." This time, it was back to NYC and into cosmetology school. It was then that her remarkable journey to the top of the beauty world truly began.
Today, the 38-year-old runs not just a successful hot tool business (the Beachwaver is sold all over the world!), but also maintains an impressive portfolio of celebrity clients — and she's a mom of two! Here, Potempa explains how she paved her own unique path, and why it's always a good idea to make waves.
Spotlyte: When did you first become interested beauty?
Sarah Potempa: I actually played tons of sports growing up in the Midwest, including volleyball, basketball, softball, and tennis. I was always the girl braiding hair. I don't know how I learned, but I must have been 12 or 13 when I really got into it. Every time we were on the bus going to a tournament, I'd be the one doing braids on every single girl. 
Spotlyte: When did you get your big break?
SP: There are many different moments that have created opportunities for me. I went to NYU, so I was already in New York City. I was in the right location at the right time. The real turning point was when I met an agent in New York and she said, "What are you doing tomorrow?" I said, "Well, nothing." I worked at Privé Salon℠ in Soho, so I took the day off. 
Right off the bat, I started working for one of the most iconic hairdressers in the world: Bob Recine. He [was friends with] Andy Warhol. He did 30 fashion shows a season. He was working with Kate Moss on Calvin Klein® campaigns. I got the opportunity to be his assistant. That day, I was so invested in the hair and so naïve that I didn't actually know who any of the supermodels or photographers were. I was just really into the hair. Bob asked me what I was doing that weekend because he was working on the Donna Karan® campaign. Again, I said, "Nothing. I'll take off." 
Spotlyte: How did you make the transition from assistant to superstar hairstylist?
SP: Working with Bob led to my big break. We were doing an Italian VogueTM photoshoot with Daria [Werbowy]. There were reptiles, and the set was built to look like she was in a jungle. The team wanted her hair to look like ram's horns, and we were struggling to figure it out. I had been working with Bob for three years, but I was very quiet, and focused on him and on the hair. I rarely talked. 
We had a moment and I said, "Well, have you ever seen a Dutch fishtail [braid]? It kind of looks like a ram. Do you want me to show you?" I did two super long Dutch fishtails on Daria, and we rolled the braids up around her ears Princess Leia-style. It literally looked like ram's horns. Everyone, even Mario Sorrenti, the photographer, was blown away. It was just a phenomenal moment for me. A day or two later, I got a phone call from [Bob's] agent at The Wall Group℠, who said, "Bob called up, and he said you just love what you do so much, and you have all this talent. We want to represent you." When I was in my early twenties, they signed me as an artist. I'm still with the same agent today.
Spotlyte: How did you rack up your roster of celebrity clients?
SP: While I was working with Bob, I also started working with another hairstylist named Danilo. His clients were very editorial and artistic, so it was so cool to be around that.  At the time, he was working with Gwen Stefani, but [previously] he had worked with Madonna. I wanted to make sculptures with hair. I wasn't really set on becoming a celebrity hairdresser. 
When The Wall Group signed me, they knew I was a Midwestern girl who really got along with people. My agent said, "You are a celebrity hairdresser." I was like, "No, I want to do fashion. I'm super editorial." She said, "Well, we just know you're going to be successful — we can see it." 
One of my first clients was Cyndi Lauper. I did a cover shoot with her, and she had really short hair. They wanted her to look like a Greek goddess, so I added long hair and did all of these braids. I found styling celebrities to be an opportunity for me to be super creative. Once I realized I could collaborate with them to create looks, I thought, "OK, I could get into this." After that shoot, I started meeting all the [celebrity] publicists and getting booked on all of these jobs. It came easily to me in a sense, because I had a broader vision of doing hair. Celebrity hairstyling is actually very similar to high fashion in that you're working with a team to achieve a goal — it's just on a different scale.
Spotlyte: What is your favorite part about working with celebrities?
SP: The creativity and collaboration. I love being able to surprise [a client] with an idea. Musicians and actresses love to play dress-up! When I was with Camila Cabello, and we did all these shows last year during the Taylor Swift tour, I would say, "What if we added blue to your hair today, since you're in New York and wearing a Giants® jersey?" It's about bringing color into their life or adding new things. [Celebrities] are very receptive, because most of them are super-talented and they love that aspect of the red carpet.
Spotlyte: Are there any downsides to working with celebrities?
SP: The one downside is that it can be very last minute. I have two kids. I'm married to a dentist. I was with my husband before I was signed to The Wall Group, so he definitely knows and understands how hard I've worked to get to this point. I remember when he was in dental school, he flew to New York and he was so excited for spring break. He was going to hang out for a week. I got a job in Alaska. I was like, "What do I do? Do I take this job for Vogue® in Alaska? Or do I stay here and hang out with you?" You have to be willing to adjust, say yes to everything, and be available if someone asks you to fly to Dubai tomorrow! It's hard for a lot of people not to have structure in their lives or not know when and where they're going to be.
Spotlyte: So, did you fly to Alaska for Vogue or hang out in New York with your husband?
SP: I went to Alaska! It was unreal because we went to untouched mountains and glaciers. After that trip to Alaska, Vogue called again and said, "We were thinking of doing four days in Costa Rica for an eight-page story. Are you cool to come down to the beach for a week?" So, that opportunity turned into another one. I had never seen a sloth before, and there were all these crazy monkeys. It was such a phenomenal experience.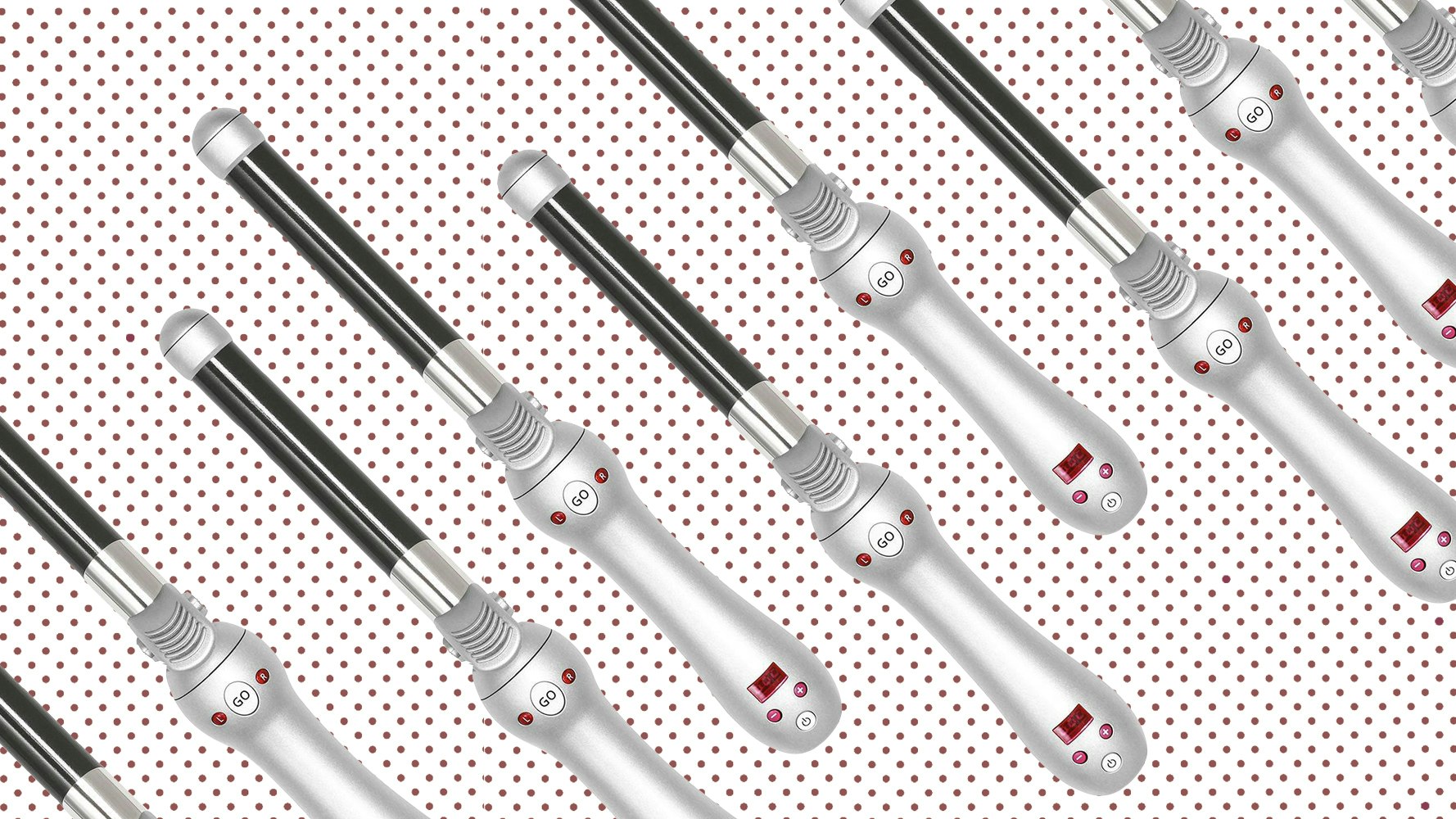 Spotlyte: How did you parlay your experience as an editorial and celebrity hairstylist into the Beachwaver?
SP: Danilo worked with Procter & GambleTM on Pantene®. He did the Beautiful Lengths® campaign, and I was heavily involved. Early in my career, I worked as a consultant and spokesperson for P&G® for 10 years. My main tasks were to consult on product development and talk to beauty editors about how to create different looks using the products. After four or five years of doing tutorials, I was amazed at how many beauty editors had such a hard time curling their own hair. It became my mission to teach them. I said, "It's really not that hard. You wear gloves, hold the curling iron upside down, and wrap the hair backwards." Some people got it, but a good amount would say, "It's so much work," and "I don't understand." 
One day, a beauty editor was asking me how to get the waves she'd seen on Lea Michele on the red carpet. I was trying to walk her through it over the phone, but she was having a hard time because I was telling her to hold the curling upside down and wrap the hair backwards. She said, "Whoa, you do realize you're telling me to hold a curling iron upside down and wrap hair backwards, right? It sounds terrible. I wish there was an easier way." I was like, "Me too!" Curling your own hair is really hard, so I got off the phone with her and sketched an idea for the Beachwaver in my apartment. Instead of being upside down and backwards, I asked myself, "What if the curling iron was upright?" I thought about how little clamps could replace your fingers and wrap the hair around [the barrel].
Spotlyte: Your sister helped you get the Beachwaver off the ground. Tell us about that.
SP: My older sister Erin, who was a corporate lawyer in Chicago at the time, was having a difficult time being a woman in a legal setting. She felt like she was being treated like a secretary. I was constantly raving about how awesome the beauty industry was and how much I loved working with editors and clients. We were on the phone one day and I said, "I have this great idea for a curling iron." No joke, a few days later, she was like, "I quit my job. Let's start this business together." It was such a crazy commitment on her part. She gave up everything to go on a new path with me and start a business together. 
We've done everything ourselves. We own the entire business together. We cut the steel for the molds in order to mass produce the Beachwaver. She applied for every patent and we successfully got the utility patent, as well as multiple design patents and trademarks. My sister applied for that utility patent, which is the internal electronics of a product, and it took us six years to get it. It's very difficult to achieve in the U.S. We were up against a refrigerator cooling system! But she stuck it out for six years without getting paid. She worked so hard to achieve that goal for us. I was always busy with clients; I don't think I would've had the stamina. 
Spotlyte: What is the best part about working with family? 
SP: A big company or another partner wouldn't have the same dedication or spend that much time to achieve a goal. It's phenomenal and something I'm really proud of. My sister has an unending loyalty to the vision. My younger sister Emily is our creative director, and she has such a great aesthetic. She balances us out really well. She does all of our packaging and all of our web design. We all have unique things that we bring to the table. We also love working together because we trust each other. We don't argue that much, because we each have a different role, but we're all focused on one vision.
Spotlyte: What is the most challenging aspect of working with family?
SP: The most challenging thing is separating work from being friends and sisters. That's really tough. Erin has four children. I have two kids. For the three of us, whenever we are at a family function, it's pretty challenging for us to relax and have a good time. We're constantly [saying things] like, "Hey, do you have that thing for QVC®?" 
There are five of us and I have one of every kind of sibling: an older sister, an older brother, a younger sister, and a younger brother. I'm right in the middle! Our older brother is a high school football coach, and he is married to a hairdresser who loves the Beachwaver and sells it at her salon. We're trying to get our younger brother to join the business. He has a master's degree in business and he's fluent in Spanish. We sell in Mexico, so sometimes, we ask him to translate or give us advice.
Spotlyte: Growing up with two sisters, did you ever practice your hairstyling skills on them? Or, were you their beauty guinea pig? 
SP: I don't think I ever let them do my hair and makeup, but Emily was my doll. Literally. Emily is my number one guinea pig, my muse, my everything. When she was 12, I gave her highlights and tested every single beauty thing on her. I trimmed her bangs. I practiced all my braids. Emily was even the first person to ever use Beachwaver. Recently, I said, "Lets test blue hair." So, I threw blue hair dye on her. 
She's a photographer, so as kids, we would use all the lamps in the basement for a photoshoot! It's always been our dream to work together. Emily previously worked in reality television. She did the casting for Top Chef® and Project Runway®, so she was very heavily involved in production. We had to convince her to leave that job and join the Beachwaver.
Spotlyte: What is the biggest lesson you've learned about business over the years?
SP: People ask me all the time, "How are you sold in all of these retailers? How do you have these relationships with A-listers like Lea Michele and Camila Cabello?" The biggest lesson I've learned about business, and life in general, is that a lot comes down to real relationships and actually taking the time to get to know somebody and be a good friend. The same is true about business and learning who your buyers are and getting to know them really well. Beauty editors are also a big part of our story. It's not about casting things off and having someone else do it for you. We've learned that sometimes it's best when you go directly, make a relationship, and nurture that relationship. 
Spotlyte: What challenges did you face when building business relationships?
SP: Initially, Erin and I physically went everywhere together and we talked to everyone to pitch the Beachwaver — Target®, Nordstrom®, Bed Bath & Beyond®, QVC. We told them our story and showed them why we invented it. When someone hears your story from you directly and you create that relationship, they're willing to support you. 
When they find out that we're a self-funded, female-run business, people say, "Really? But who actually owns the Beachwaver? Who makes it?" I'm like, "We do. My sister and I." People are surprised and shocked by that. Even Erin, who works in logistics, has so many people say to her, "Is there a man I can talk to? Who runs this company?" There have definitely been challenges in getting to the point where people understand who we are and want to support us, but that all starts with building a relationship. I truly believe that you can create a business out of nothing like we did. We don't come from money. We were able to do this entirely based on forming those important relationships individually.
Spotlyte: Who inspires you professionally at the moment?
SP: Being backstage at QVC, I've made a lot of great relationships with people and met so many phenomenal business women — from Laura Geller who gave me great advice about having kids and running a business to Maureen Kelly who started tarte®. Maureen is my mentor at QVC. She gave me great insight into how to speak to the customer and talk them through your product. 
Listening to people's stories is super inspiring. For example, I was backstage with Jamie [Kern Lima] who started IT Cosmetics®, and I watched her and her husband analyze and evaluate every single time they sold a product. Seeing her sell to L'Oréal® for over a billion dollars is phenomenal. I love Vicky [Tsai], who started Tatcha®. She also just sold her company for $500 million dollars. It's so inspiring. It's fun to see friends and other brands in the industry experience success. 
Spotlyte: Who inspires you personally?
SP: Personally, I'm inspired by so many things, but my family is very motivating. My dad was a successful athlete. He was on the cover of Sports Illustrated® when he won the National Championship as an undefeated football player at Notre Dame®. As kids we were pushed into working as a team and trying to win. There's an element to sports and family that has definitely taught me a lot. It's also super inspiring to see my kids achieve their goals. 
Spotlyte: What is the best beauty advice you've ever received and who gave it to you?
SP: My mom and my grandma were very into beauty. My grandma once gave me a card that said, "The challenge is to be yourself in a world that's trying to make you like everyone else." I love that because beauty allows you to reinvent yourself. You can have pink hair. You can wear cool lipstick. I love beauty because it makes you unique.
Spotlyte: Speaking of pink hair, you recently went from pink back to blonde. How do you keep your hair healthy and maintain your color?
SP: I actually love the blonde, but last night, my nephew said, "I miss the pink. Where's pink? I like it better pink." It was so cute. His dad said, "Tell her you like it blonde, too!" There was something about the pink that really made me stand out and made me recognizable. 
I have a great hairdresser who assists me. We work together to bleach the roots properly and make the blonde really cool. We also just launched a purple shampoo and conditioner called The Beachwaver Co.® BRB Blonde Purple Shampoo and ConditionerTM. I worked with the chemist to formulate them with HiXTM, a hydrogen and ionic alpha bond multiplier that actively strengthens your hair. Your colorist may use Olaplex®, which is a great product that goes into your color to help bring out the bonds. HiXTM helps you maintain strong, beautiful hair at home.
Spotlyte: What does your daily skincare routine look like?
SP: It's actually pretty simple. I love makeup, so one thing I do is wash my face really well at night. I've been using Krave® Matcha Hemp Cleanser. I recently did a panel with the founder, Liah [Yoo], and I love it. PeterThomasRoth® is another person that I met backstage at QVC, and I really love his products, especially the Power K Eye Rescue® Treatment, because it has little beads in it. Then, I use a moisturizer from Snow Fox® or Bliss®. I'm pretty basic as far as skincare and prep goes — I don't overdo it. 
Spotlyte: What are your must-have makeup products?
SP: There are so many brands that I'm obsessed with after meeting different people. I love Surratt® Beauty's clickable foundation that comes with a brush. Troy'sTM eyelash curlers are also amazing. Just like the Beachwaver, he had the steel mold cut. It's a totally new shape that is made to fit your lashes. I recently learned how to use Shape Tape® from Tarte. A little bit does a really great job of getting rid of dark circles and creating a clean palette. Right now, I'm wearing Stila® Stay All Day® Liquid Lipstick, because I can put it on and it literally lasts all day. They make a great red and pink. For highlighter, I'm still obsessed with the double-sided highlighter from Tarte because it makes you look glowy and beautiful in two seconds. Anastasia's® Brow Wiz® is great. Since I'm always on the go, Simple® wipes are a quick way to remove my makeup.
Spotlyte: How do you unwind?
SP: Yard work is something I actually love. We have two acres and an amazing vegetable garden that my two kids, my husband, and I put together. We're obsessed with it! We have different types of mint that we cook with or put in our drinks. Then, we have tomatoes, corn, Brussels sprouts, cauliflower, peas, and mini pumpkins. We also have an old record player, and we play a lot of board games. Sparkling rosé might be my favorite way to unwind. Just pour me a glass! In the winter, sitting by the fireplace is also super relaxing. 
Spotlyte: Do you ever treat yourself to spa treatments?
SP: Since launching the Beachwaver on QVC seven years ago, I've religiously gotten a gel manicure. I've only [not worn gel] twice in seven years! I also recently started using the RegiTM app. While I'm not great about going to the same place every time, I am good about doing [treatments]. I need to get a manicure every two weeks, so it's been really great for finding places in New York City. I just went to Sundays℠ where they do vegan, toxic-free gel manicures. I also love Paintbox®. 
I'm really into hot yoga, so I try to do that whenever I get the chance. I also love a massage. I recently booked a CBD massage on Regi. Being a hairdresser who travels a lot, I'm always lugging a suitcase, so I need that relaxation. I'll also use it to book makeup at Blushington®. I like to do my own makeup, but sometimes for events, it's nice to have someone else do it because it gives me a new perspective on [my look].
Spotlyte: You are the master of beachy waves, but who are your go-to beauty pros?
SP: I've always cut my own hair and I often color my own hair. For a while, it was my daughter who was applying the pink dye. She just turned six. She did a great job! She's super meticulous.
Spotlyte: Maybe she'll follow in your footsteps and take over the Beachwaver business one day.
SP: She makes slime all day long, so she definitely wants to be a scientist that develops products. She just made slime out of our purple shampoo the other day.
Spotlyte: Your mantra is "Leap and the net will appear." What is the biggest leap you've ever taken?
SP: I lived in Illinois in a small town. My first job was in a small salon. When I was in high school, I took a big leap. I had a vision of moving to New York. Obviously, I ended up going to NYU and doing lots of other things, but as a high schooler, my family didn't really fly anywhere. We traveled for sports, but we drove to all of our vacations. I applied for an art program at Pratt® in Brooklyn, and I got in. My parents reluctantly drove me and dropped me off for a summer. 
Moving away from home as a young high school student was a big leap. I pierced my eyebrow in a Soho tattoo parlor, and my dad said I couldn't come home unless I took it out! I'm actually really glad that he made me take it out, because I have a tiny scar — if I had left it in for longer, it would have been bigger. Taking those risks as a kid sets you up and gives you the ability to know that anything is possible. 
RegiTM is an Allergan®-owned booking platform.
Sarah Potempa is a paid Regi influencer. 
Allergan® may receive commissions for purchases made through links in this article.