I used to judge lip plumping glosses by the severity of the sting. For years, I believed that the more discomfort a formula caused, the bigger my lips would look once the irritating ingredients kicked in — and my theory seems to hold mostly true. Recently, however, I discovered an outlier in the lip plumping category: The Milani® Keep it FullTM Nourishing Lip Plumper ($9).
Yup: this gloss maximizes my pout — yet it does so without burning or irritating my lips. This is because it's devoid of capsicum or similarly spicy irritants that are commonly used in lip plumping glosses. In fact, the formula imparts a cooling effect that can be attributed to menthol. Though less intense than the spicy additives that give many lip plumpers their clout, menthol works similarly: the ingredient promotes blood flow to the lips via (mild) irritation. Incidentally, I've also found that the menthol gives the illusion of minty fresh breath. (This realization is particularly helpful for someone like myself, who has constant coffee breath.) 
In the same vein of comfort, it's worth applauding this gloss's super fluffy doe foot applicator, which proves both functional and sensorial. First, it picks up just the right amount of product; and, because of its bulky stature, a single swipe is all you need to coat both lips. That said, I often find myself swiping superfluously simply because it feels so yummy. Plus, even if I do get overzealous with the amount of product I apply, the finish still looks sleek: The consistency of the formula isn't gooey, clumpy, or tacky. Instead, it boasts a creamy smoothness; one that's characteristic of formulas three times its price. 
I also find that the shades are incredibly chic. My favorite is LuminosoTM, the perfect dusty rose flecked with glimmers of gold; I'm also partial to MoonlightTM, a trendy holographic hue that resembles one of my favorite prestige glosses. While these are my personal favorites, you might fancy yourself one of the 14(!) additional shades. 
Regardless of the shade you select, expect semi-sheer color payoff. Personally, I prefer my glosses this way; not only does it feel like less of a commitment than applying a super-opaque color, but the sheerness plays well over other lipstick hues. As for the plumping power, my lips always look like a juicier, healthier version of themselves.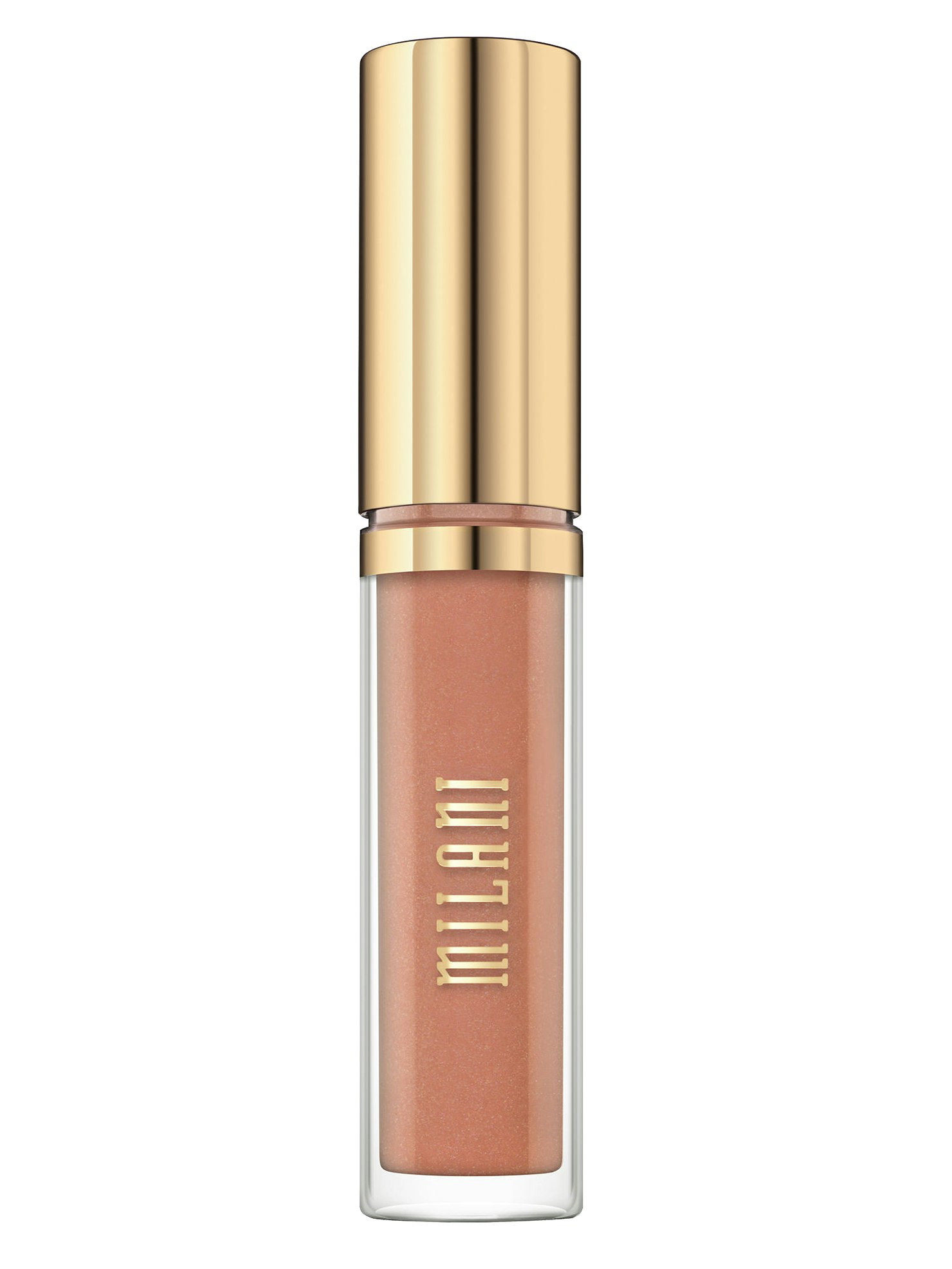 Moreover, this non-irritating formula goes as far as to actively soothe your lips, both instantly and over time. One hero ingredient is hyaluronic acid (HA), a sugar molecule that serves two primary functions: hydrating and plumping. HA is lauded for its ability to attract and maintain moisture almost instantly. Infuse it into a gloss, and it can give chapped, thirsty lips a new lease on life. (Read about why you should look for hyaluronic acid in your lip products.) 
In fact, HA is so deeply hydrating, it can actually make deflated lips (and skin) appear plumper. Imagine a dry sponge vs. one engorged with water — HA imparts a similar effect to skin and lips. Glycerin, another hydrating superstar found in the Milani plumper, acts as a humectant. Humectants draw moisture from the surrounding air and help maintain hydration — both factors that can boost deflated-looking lips and leave them feeling smoother, too. Another ingredient worth noting — albeit not for any kind of plumping power — is castor oil. This fatty-acid rich ingredient works to heal dry, irritated skin. 
This gloss's nourishing factors are particularly appealing, considering that chapped lip season is rapidly approaching. In the wintertime, I do generally take a break from my "stingy" lip plumping formulas, as their intense irritants can potentially dry lips over time. But thanks to the Milani Keep it Full Nourishing Gloss, I needn't worry about choosing between keeping my lips hydrated and keeping them looking plump. Plus, I think my boyfriend is happy that I've found an alternative to irritating glosses — at least for the inevitable mistletoe and New Year's Eve activities transpiring in the near future. 
Complimentary product was provided to the author for the purpose of writing this article.
Product prices may vary from the time this article was written.
Allergan® may receive commissions for purchases made through links in this article.