Toner seems to be the one skincare step that no one can seem to agree on. Some dermatologists will tell you this astringent yet hydrating step is an imperative part of any routine, while others would say it's a scam worth skipping. But, in the realm of K-Beauty, toner is not only a must, but it's worthy of applying seven times over. 
Allow us to explain: In Korea, a popular skincare method called the "7 Skin Method" involves applying seven consecutive layers of hydrating toner to a clean face. Yes, this concept may sound superfluous, but keep in mind that this technique is from the home of the 10-step skincare routine. Still, there are definite benefits associated with going above and beyond in your toning regimen. According to Sarah Lee, Glow Recipe® co-founder and co-CEO, "The purpose of this method is to infuse the skin with moisture after cleansing so that skin is plump, bouncy, and ready for the next skincare steps."
These multiple layers of toner work to keep skin plump and hydrated while you apply the rest of your products, which are able to absorb more efficiently on damp skin. "We like to use the analogy that a damp sponge absorbs water more effectively than a dry sponge, and the same concept applies here," says Christine Chang, Co-Founder & Co-CEO of Glow Recipe. "When skin is properly moisturized with layers of hydration, it is better able to maximize the benefits of other products, because they can penetrate the skin easier." 
Every skin type can benefit from layering toner, but it's particularly great for anyone feeling extra dry. "We are huge proponents of listening to your skin and feeding it what it needs," says Lee. To actually perform the skincare technique, simply sprinkle your toner of choice onto your hands and press it into your bare skin (or use a clean cotton pad if you prefer). You don't have to wait too long between layers — your face will be damp after each step, but shouldn't be dripping when you apply the next coat of toner. If you're wary of overdoing it, Lee notes that you can also adapt this method by using a "3 Skin Method" instead, layering just three consecutive layers.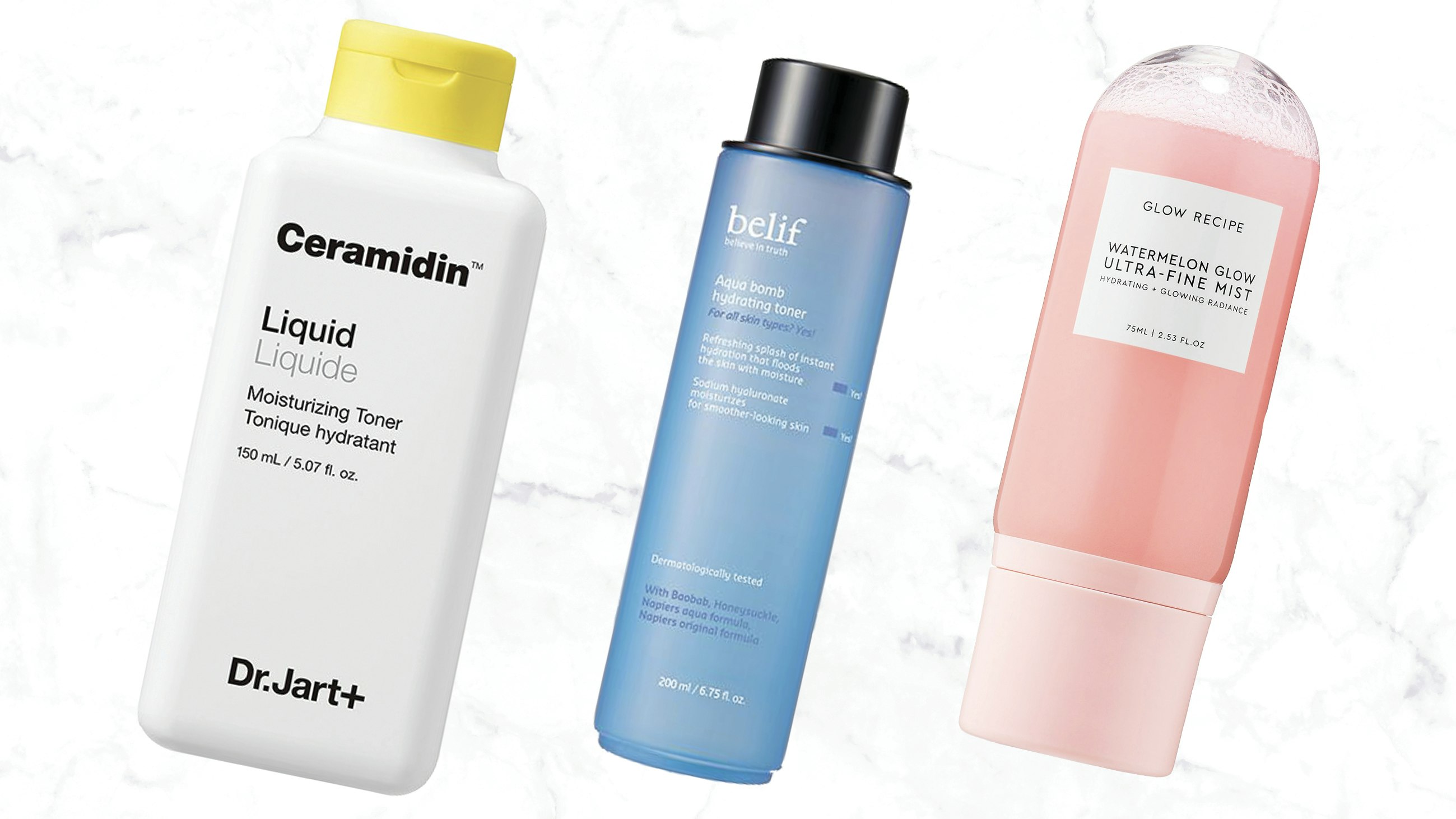 As for what formula you should use, look for hydrating toners — particularly those that are made with the holy grail hydrator, hyaluronic acid — and avoid anything alcohol based to ensure that you're giving your skin moisture instead of stripping the surface. You should also apply the same product for all of your layers, which will ensure your skin is getting the maximum amount of hydrating goodness. We like the Belif® Aqua BombTM Hydrating Toner ($28) and Dr. Jart+® Ceramidin® Liquid ($39), which both contain hyaluronic acid and a bevy of plant extracts to help boost moisture levels. 
Chang's favorite way to integrate the 7 Skin Method into her routine is by spritzing on the Glow Recipe Watermelon Glow® Ultra-Fine Mist ($28), and patting it into her skin after each layer. "[Patting] helps drive the product deeper in skin's layers so that skin is plumped with hydration from within," she says. Another pro tip of hers: After you've put on your seven layers of toner, Chang suggests also putting a layer of toner between every other step (serums, moisturizers, etc.), which she swears will lock in even more moisture. So get ready — you're going to want to invest in a whole lot of toner to have on hand. Your well-hydrated skin will thank you. 
Some complimentary products were provided to the author for the purpose of writing this article.
Product prices may vary from the time this article was written.
Allergan® may receive commissions for purchases made through links in this article.