A smattering of spots. A dusting of discoloration. No matter how charming you try to make them sound, dark spots are pernicious — and one of the most common skin concerns across all complexions. You can blame pregnancy (they can be caused by the hormone surge), unprotected sun exposure, or simply aging, but dark spots are hard to avoid, and can be even harder to treat.
Before you reach for that heavy concealer — which, sure, will hide the problem, but won't treat it — read on. We've consulted dermatologists and plastic surgeons nationwide, who broke down some of their go-to solutions for reducing the appearance of dark spots, evening out your skin tone, and preventing more discoloration from cropping up down the road.
Ambi® Skincare Fade Cream ($5) contains two percent hydroquinone and alpha hydroxy acid for skin lightening, vitamin E for nourishment, and sunscreen for added protection against discoloration. "It works really well at reducing the appearance of dark circles and spots, and it's easy to find in drugstores," says Sapna Palep, MD, board-certified dermatologist of New York City's Spring Street Dermatology℠, who recommends it to her patients. "It also goes on smoothly and can be used under additional sunscreen and makeup," she adds. Bonus: There's also a version formulated specifically for those with oily skin.
[Editor's note: Hydroquinone has not been FDA-approved. Talk to your doctor before starting any treatment with it.]
Dr. Palep says Isdinceutics® MelaclearTM ($82) is not only potent when it comes to improving pigmentation, but also preventing it. "The powerful brightening serum is formulated with vitamin C and phytic acid, and can be applied all year round," she notes. "All of my patients that try it are very satisfied with the results." 
Anthony Youn, MD, a board-certified plastic surgeon in Troy, Michigan, recommends the AnnmarieTM Citrus Stem Cell Serum ($64) for those looking for a natural option to help fade away dark spots. "The organic formula contains licorice root extract, a well-known ingredient for lightening dark spots and brightening the skin," he says, adding that the formula feels smooth and lightweight once applied. 
Another go-to for Dr. Youn is the ZO® Skin Health Retinol Skin Brightener ($120), which uses the iconic vitamin A derivative to help lighten up dark spots. "This powerful skin serum combines the brightening and exfoliating properties of retinol with the lightening abilities of glutathione and n-acetyl glucosamine for a potent anti-aging punch," he explains. "It can be tough for those with more sensitive skin, but it's a great option for those who would like an aggressive, but safe skin lightener." 
[Editor's note: Retinol shouldn't be used by women who are pregnant, considering getting pregnant, or nursing. Please consult with your doctor before use.]
Joshua Zeichner, MD, Director of Cosmetics and Clinical Research in Dermatology at Mount Sinai Hospital® in New York City, considers vitamin C the gold standard when it comes to calming inflammation and blocking the production of abnormal pigmentation. He's particularly fond of the Ghost DemocracyTM LightbulbTM Vitamin C Serum ($34). "This water-free serum is formulated with clean ingredients and uses a potent, stabilized form of vitamin C to brighten and even skin tone," he says. It also contains bakuchiol, a plant-derived ingredient that mimics the effects of retinol to help exfoliate skin.
Jennifer Herrmann, MD, FAAD, a board-certified dermatologic surgeon in Beverly Hills, seconds Dr. Zeichner when it comes to the powers of vitamin C. "The problem with most products containing vitamin C is that this vitamin is very reactive, unstable, and easily loses its antioxidant properties," she explains. "Certain alkaline environments, high temperatures, and the presence of oxygen and metal elements can render it ineffective in seconds." She recommends the Caviar & CashmereTM Regenerating Serum ($98) since it contains vitamin E and ferulic acid. Dr. Hermann notes that these ingredients help stabilize vitamin C so the formula stays active longer.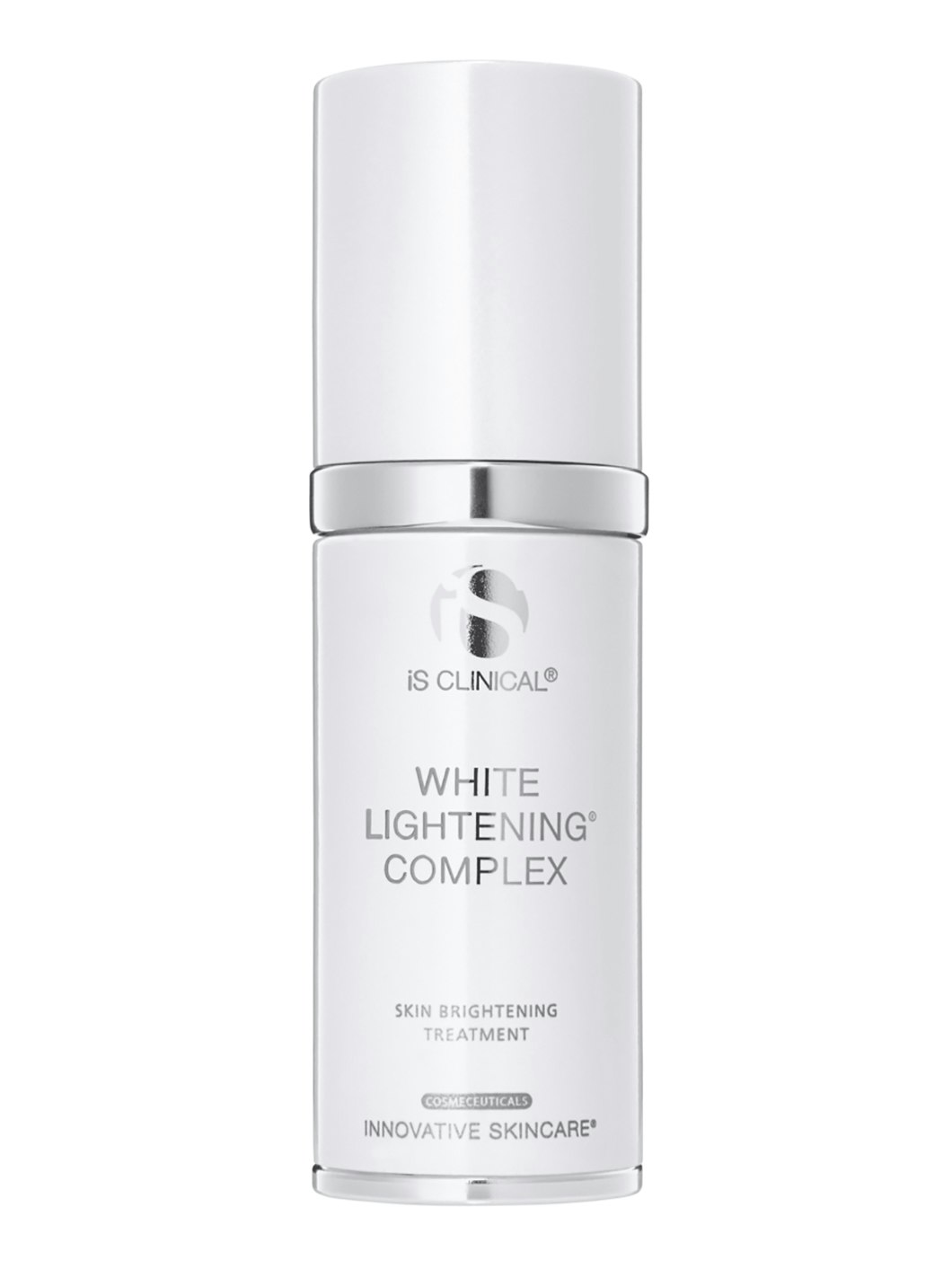 The iS Clinical® White Lightening® Complex ($140) is a favorite solution of Tania Peters, MD, board-certified dermatologist of Washington, DC's Capital Laser and Skincare℠, for targeting uneven skin tones. "The hydroquinone-free treatment contains Norwegian kelp and bearberry extracts for lightening and evening pigmentation, along with botanicals like licorice and mushroom," she says. It also promises to plump skin and smooth the appearance of fine lines for a refined, radiant surface.
Retinol is the hero ingredient in the SkinMedica® Retinol Complex 0.25 ($62). "Retinols induce exfoliation, leading to [an improved appearance of] hyperpigmented spots," explains Zain Husain, MD, FAAD of the Dermatology and Skin Surgery Center of Princeton, LLC. "It also helps to fight against [the appearance of fine lines]." Be sure to regularly wear SPF when using this formula; it could make your skin more sensitive to sun exposure, which could lead to more dark spots.
There's a reason that Drunk Elephant® C-Firma® Vitamin C Day Serum ($80) has over 1,000 reviews and 160,000 likes from fans on Sephora.com — it works. "It contains an effective concentration of vitamin C, which blocks the formation of melanin, along with other powerful antioxidants and extracts that help reduce the appearance of sun damage, reduce signs of aging and create an even glow," says Jenny Liu, MD, board-certified dermatologist in Minneapolis. The formula also contains hyaluronic acid to keep skin hydrated and soft.
Ronald Moy, MD, a triple board-certified cosmetic and facial plastic surgeon in Los Angeles, is a big fan of Rodan + Fields® ReverseTM Skin Lightening Treatment ($102) when it comes to correcting dark spots. "This treatment contains a small dose of hydroquinone (a bleaching agent) to help lighten, along with kojic acid to help brighten," Dr. Moy explains. "Especially great for oily types, it also includes salicylic acid to help unclog pores for a clear canvas." The brand is so confident that you'll be satisfied with your results that it offers a 60-day money back guarantee.
Dr. Anthony Youn is a paid Allergan consultant.
SkinMedica® is an Allergan®-owned skincare line.
Product prices may vary from the time this article was written.
Allergan® may receive commissions for purchases made through links in this article.