I'm in a different plastic surgeon's office every week. As a Social Media Editor for SpotlyteTM, it's part of my job to capture content and learn about the latest professional treatments and procedures available on the market. Until this past year, however, I'd never actually been to a plastic surgeon to get a medical-grade skin treatment myself. I was overwhelmed by the sheer variety of treatments I'd learned about — including dermaplaning, EMS microcurrent, and microneedling — and wasn't sure which one was right for me. That changed as soon as I learned about the High Gloss Microlaser Peel®.
Editor's Note
As always, talk to your doctor before starting any new treatment.
The High Gloss Microlaser Peel is the signature, minimally-invasive treatment offered by board-certified plastic surgeon David Cangello, MD at his private practice on the Upper East Side of Manhattan. I was immediately intrigued because the treatment combines two elements — PRP (platelet-rich plasma) and a fractional laser — that I had read so much about on Spotlyte, and had been dying to try for myself.
I have never had particularly bad skin, but it's never been great. I have some hyperpigmentation marks left over from teenage acne, a few indented scars on my jawline from childhood chicken pox, and dilated pores around my nose and chin. If you've seen before-and-after photos from any fractional laser treatment, you know that laser skin resurfacing treats all of these skin concerns (and then some) in one fell swoop.

According to Dr. Cangello, it's this pairing of the two elements that makes for such an effective treatment — and such glowy, gorgeous, skin-smoothing results. "We combine the effects of a CO₂ fractional laser with the rejuvenative effects of PRP," Dr. Cangello explained. "The CO₂ fractional laser bores little columns of light into the skin, which allow the PRP to penetrate [deeper]," he said. This is important because it's the PRP that helps the micro-injuries in the skin repair themselves quicker. "PRP has many growth factors in it that we know are good for the skin and for the healing process," he told me.

In addition to helping the skin heal quicker after the treatment, Dr. Cangello explained, the PRP does double-duty by also stimulating a boost in collagen production. "What's really fantastic about this treatment is that collagen formation will continue to occur over the next couple of months," he told me. This means that the full effects of the treatment might not be seen for several months afterwards — and that the glow just keeps on going from there. (As someone who is now six months post-procedure, I can attest.)

Watch the video below for a behind-the-scenes look at my second appointment with Dr. Cangello, then read on to discover six things that I learned before, during, and after the two treatments I've tried
Lesson #1:
Laser treatments are surprisingly customizable.
Laser resurfacing treatments had always interested me, but I wasn't sure if I was a candidate. I wanted to treat some fine lines around my eyes, dilated pores around my nose, and a handful of freckles splashed across my cheeks, but nothing so dire that I felt I needed a serious skin resurfacing treatment. Interestingly enough, the High Gloss Microlaser Peel is completely personalized for each patient and their individual skin concerns.
Dr. Cangello explained to me that the laser settings could be adjusted in two different ways: for one, the depth that the laser would bore into the skin; and, also the concentration of the number of light beams per square inch. The deeper and more concentrated the laser beams, the more surface area would be micro-injured, thus, the more cell turnover would result from the treatment.

We decided to keep my laser to the standard depth, but space the beams further apart than average — covering about 40 percent of my skin's surface — since I didn't have any deep wrinkles to treat. Dr. Cangello demonstrated how our chosen settings would look on the skin by testing the laser on a tongue depressor. The laser zap on wood smelled like sawdust (a favorite scent of mine), and filled me with excitement. This was happening!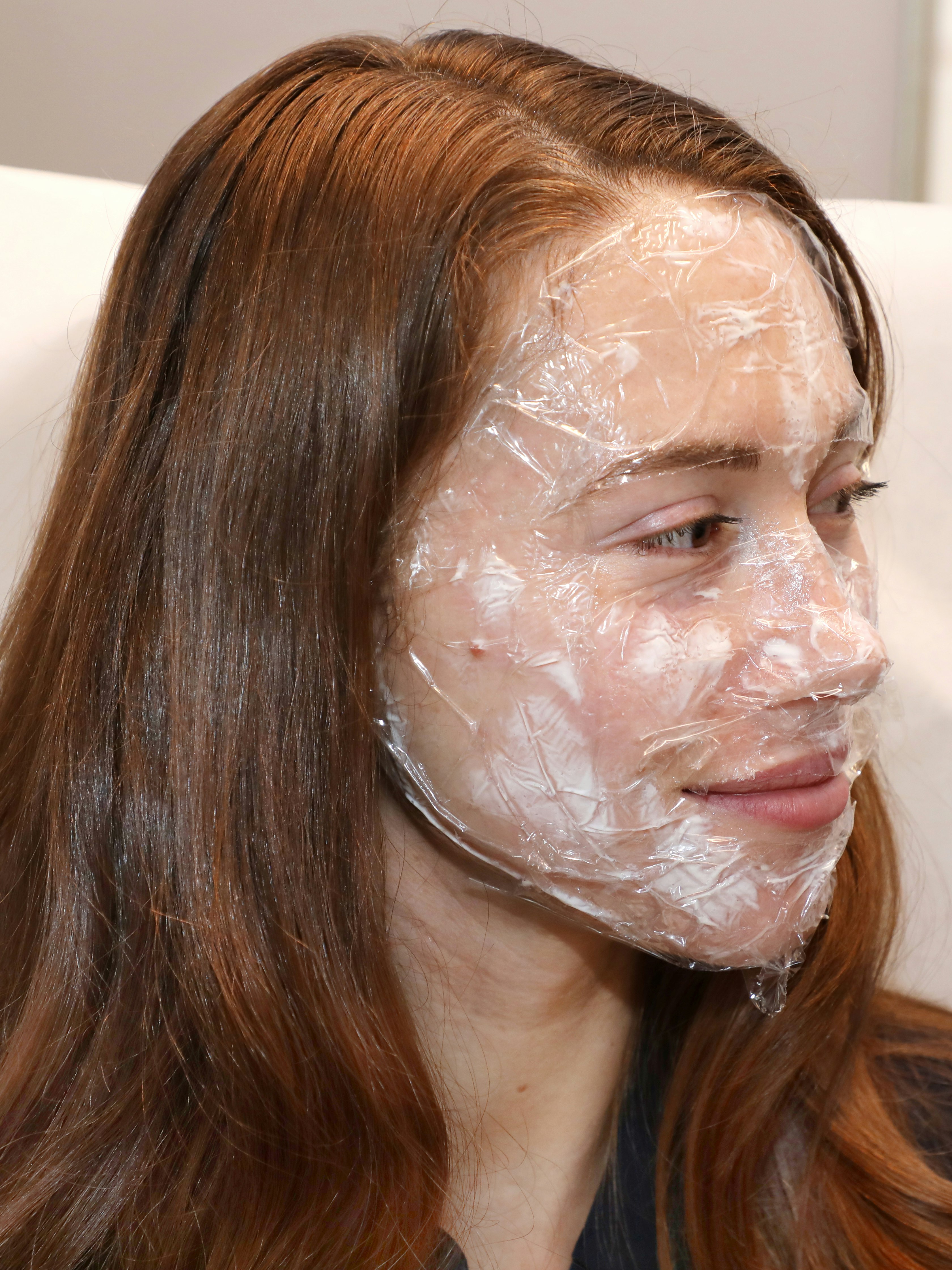 Lesson #2:
Numbing cream is weird. 
Since this was my first medical-grade skin treatment, it was also my first time using topical numbing cream. If you've never had your entire face slathered in a thick layer of cream cheese-like spackle that temporarily nullifies your nerve-endings, let me tell you: it is a strange experience.

The first time I did the High Gloss Microlaser Peel, the numbing cream was left on for an entire hour; the second time, it was left on for 45 minutes. During both experiences, my face felt cool, completely numb, and almost like it didn't belong to me. I poked and prodded my own face before each laser treatment (before the skin was sterilized, of course), and could not feel a damn thing either time.

In my experience, leaving the cream on for one hour versus 45 minutes didn't make a difference. The treatment itself is so fast (less than 10 minutes) that even if my numbing cream wasn't at peak performance at the beginning of the second session, it was over so quickly that I barely had time to notice a difference.

Lesson #3:
Discomfort is relative.
That said, I was surprised to discover that I found the second element of the High Gloss Microlaser Peel — the PRP injections — to be more uncomfortable than the zaps from the laser. This is not because I dislike needles. In fact, I didn't mind having my blood drawn to collect the PRP at all (I find the whole process fascinating). I believe the discomfort stemmed from the fact that I had never had a needle in my face before, and didn't know what it would be like. Now that I've done the High Gloss Microlaser Peel twice, and have also since tried injectable wrinkle reducers, I know what to expect and will be more mentally prepared next time I do PRP.
Editor's Note
Injectable wrinkle reducers are used to temporarily smooth the look of moderate to severe wrinkles in certain areas of the face such as the forehead, frown lines, and crow's feet. They should not be used more frequently than every three months. Like any medical treatment, they have potential risks and side effects. Be sure to talk to a licensed provider to see if they're right for you. 
Having the PRP injected around my eyes and into my laugh lines felt like a little pinch. My eyes welled up a little from the injections near my crow's feet, but any minor discomfort I was feeling was not noticeable to anyone else watching. (In fact, in the videos of the process, I look rather serene!)

Dr. Cangello was very understanding and gentle throughout the whole treatment. He asked if I felt uncomfortable, and after I said yes, he switched from injecting the PRP to applying it topically on the skin. The effects of topically-applied PRP aren't as concentrated as those from injections, but my skin was still unbelievably radiant afterwards, and healed completely within a week.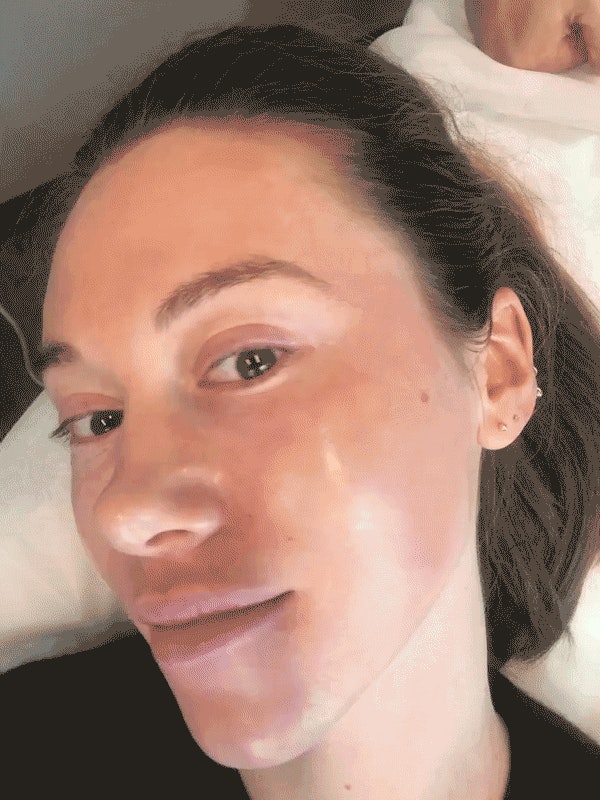 Lesson #4:
Downtime is different for everyone — and every treatment.
I read a lot about what I could expect my skin to look like after being treated with a fractional laser, but no amount of research could prepare me for the surprising reality of my experience: that it really wasn't that bad at all. After my first treatment, all of the sandpaper-textured skin that was left in the wake of the laser had fully sloughed off on its own in seven days. After the second treatment — in which we did no PRP injections at all, only a bit of topical application — it took only five days for my skin to be completely renewed.

I did each treatment on a Friday, which I would definitely recommend to anyone nervous about looking red in public post-treatment. Timing the procedure this way gives you two days to totally hunker down and heal in the privacy of your own home. (And, it gives you an excuse to order takeout and watch Netflix®, if you're anything like me.)

While my skin was quite red immediately after the treatment, it did not deter me from my usual activities. In fact, I worked at an event with my Spotlyte team exactly 24 hours after my second treatment — completely sans makeup — and nobody batted an eyelash. In the days that followed, no one noticed the changing texture of my skin or darkening of the laser "dots" that covered my entire face from red to brown. Only I did. In reality, the only comments made about my skin were compliments once the new, fresh skin was revealed on days five through seven.
Lesson #5:
Unexpected blackheads may surface. 
Plus, unexpected blackheads may appear. It sounds confusing, but hear me out: As my skin was healing in the week post-treatment, I noticed that a pair of blackheads on my temple appeared more visible, like a scab had grown over them. I posit that they must have come to the surface as the laser-dotted skin above contracted and healed, eventually being pushed up by the cellular turnover. After my treated skin had completely sloughed off post-treatment, I was surprised to discover that the pair of once deeply-embedded blackheads were no longer there. They were completely gone. 

I would have written this off as an odd, but not unwelcome, one-time occurrence, but it happened again after the second treatment (with a blackhead on the side of my nose.) Each time, it appeared at first as though the blemishes were inflamed and larger than they originally were. Then, as soon as the old skin treated by the laser was shedded, so was the blackhead that it once concealed.

This side effect may have just been unique to me, as Dr. Cangello was surprised to learn it happened after both treatments. But it goes to show one thing about the recovery process: expect the unexpected.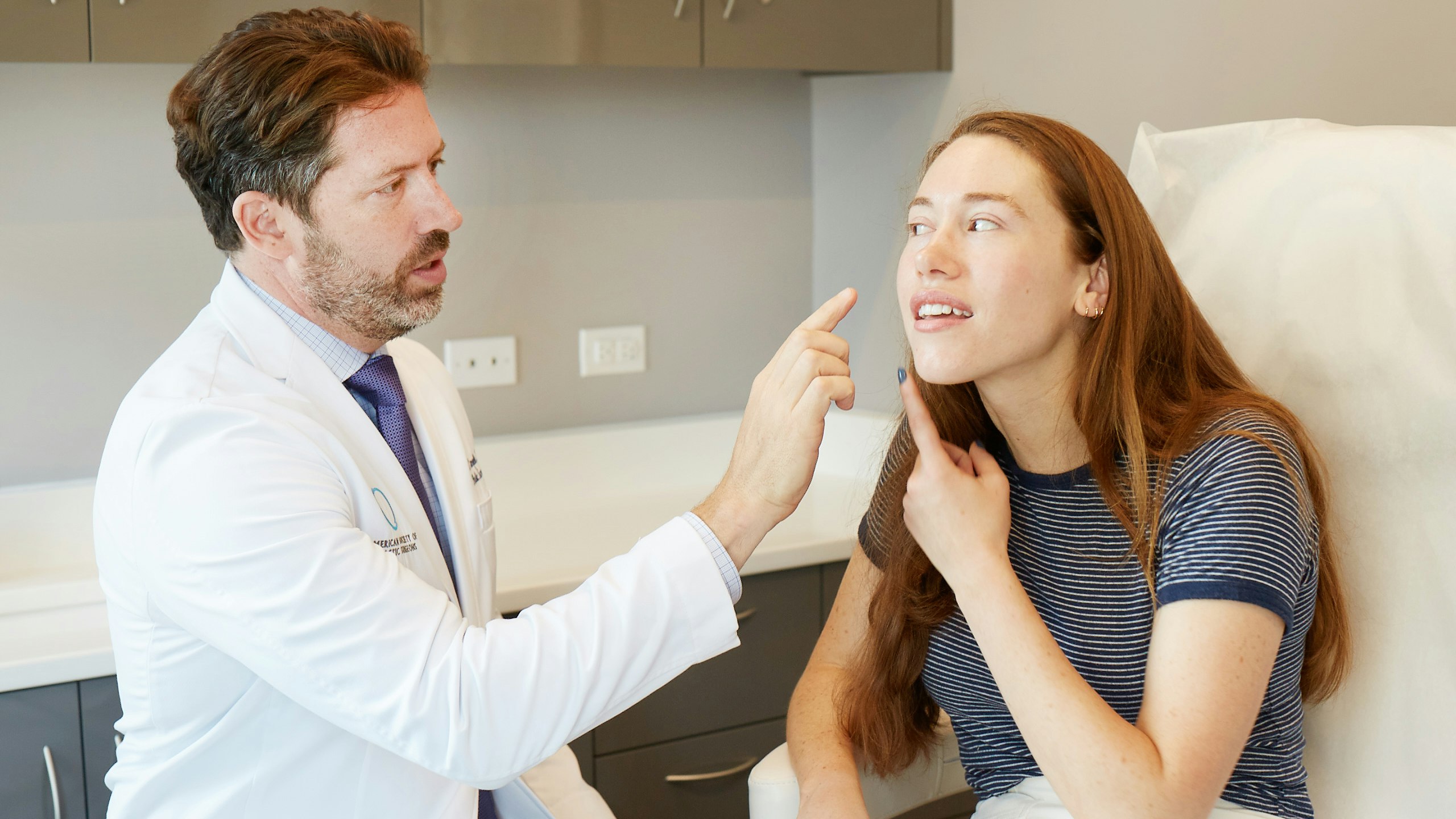 Lesson #6:
Prepare to have your patience tested.
The most challenging part of the entire treatment? Not picking afterwards! I'm naturally inclined to slough off any flake of dead skin I find on my face and body, so this was extremely challenging for me. Every day of my weeklong recovery was a personal battle against my anxious instincts. Luckily, my discipline — and Dr. Cangello's good advice — prevailed.

After a week of gently washing my face with CeraVe® Hydrating Facial Cleanser, and applying only Alastin® Regenerating Skin Nectar and COSRX® BalanciumTM Comfort Ceramide Cream (no retinol, chemical exfoliants, or other potentially irritating actives!), my skin was reborn. Upon walking into the office on Friday morning, exactly seven days after my treatment, my boss declared that my forehead looked "glossy." (A pretty adept description for one's skin post-High Gloss Microlaser Peel, if you ask me.) And, I must say, it was — and still is six months later.
Editor's Note
Retinol shouldn't be used by women who are pregnant, considering getting pregnant, or nursing. Please consult with your doctor before use.
Thia Laurain is an Allergan® employee.
Complimentary treatment was provided to the author for the purpose of writing this article.
Product prices may vary from the time this article was written.
Allergan may receive commissions for purchases made through links in this article.