Holiday season is almost here — I can smell it. In fact, so can anyone who walks by my desk or into my apartment during the next few weeks (or opens a gift from me). Obviously, that's because they'll find a scented candle. These votives are both my weakness and joy: I have a drawer of at least a dozen candles in various stages of melt at all times, some of which date back years. I burn one every evening once the leaves turn gold, and have been known to rotate through several throughout the day and night once the doldrums of winter are upon us New York City dwellers. (Lucky for me, my long-term, live-in partner is accommodating to my ever-changing whims — olfactory and otherwise.)
Scented candles are essential: they're the soft jazz to my cocktail party, the foundation primer to my full-faced holiday glam. In my opinion, they're also the most perfect holiday gift to give and receive — a little indulgent, merry, and bright (literally). And, thanks to the power of olfactory memory, they make memories whenever you light them up. Read on to discover 12 days' worth of gloriously-scented holiday candles, with notes ranging from classic and crisp to warm and cozy to downright delicious. Think: a surprising and delightful mix of evergreens, sensual ambers, and ouds, and even a few gourmands (hazelnut-cremino accord, anyone?) for good measure.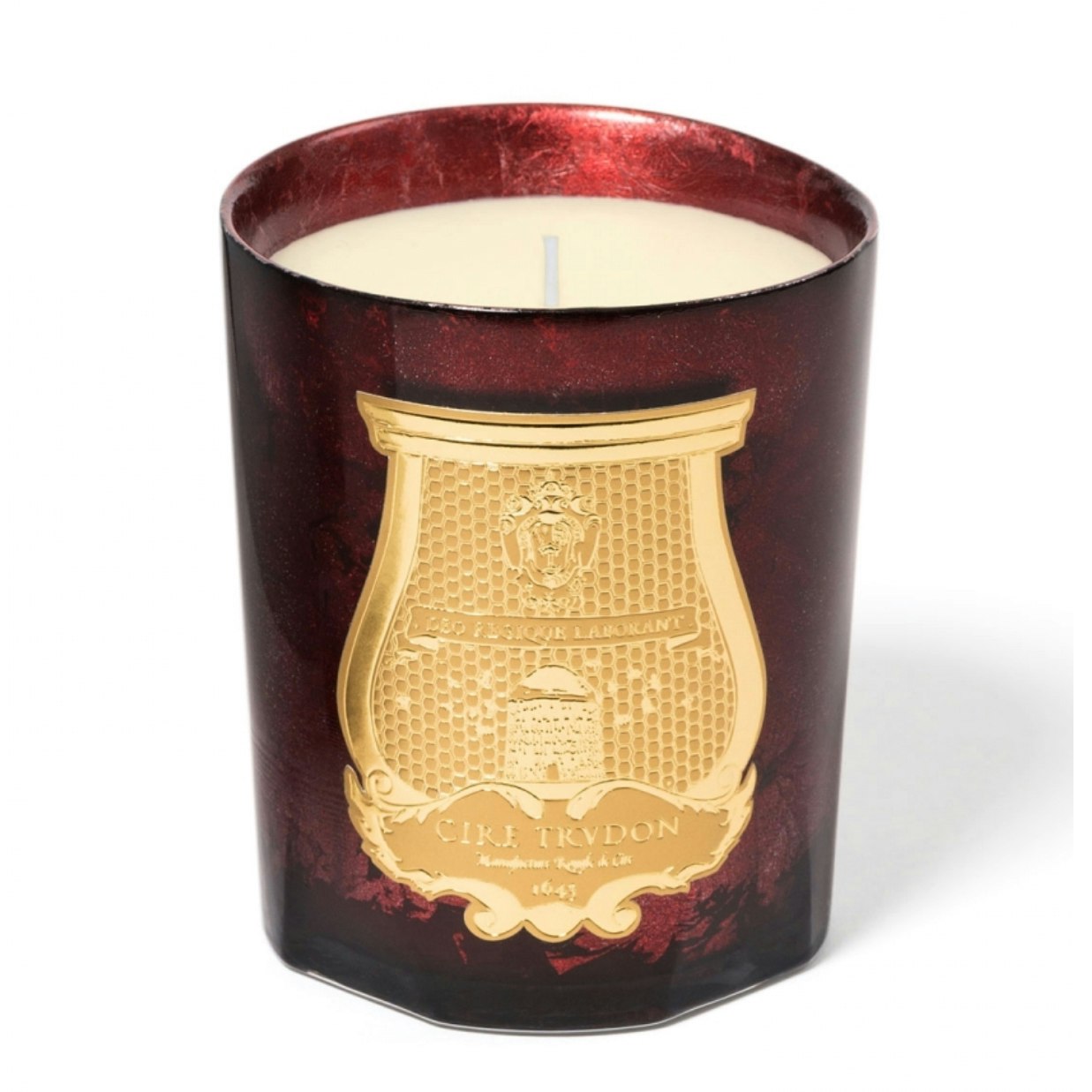 1/12
Cire Trudon Nazareth Candle
For many, Cire Trudon is the gold standard for home fragrances. This stunning, sterling-swathed Cire Trudon Nazareth Candle ($125) — one of the heritage brand's signature Christmastime scents — takes home the silver and gold in my book. In it, opening notes of bitter orange and grapefruit dance atop a richly spiced heart of cardamom, cinnamon, and clove, while bourbon vanilla, musk, and myrrh round out a smooth, rich base. Factor in the handcrafted silver leaf-lined glass vessel (perfect for reflecting back the flickering flames inside), and you have a holiday gift of biblical proportions.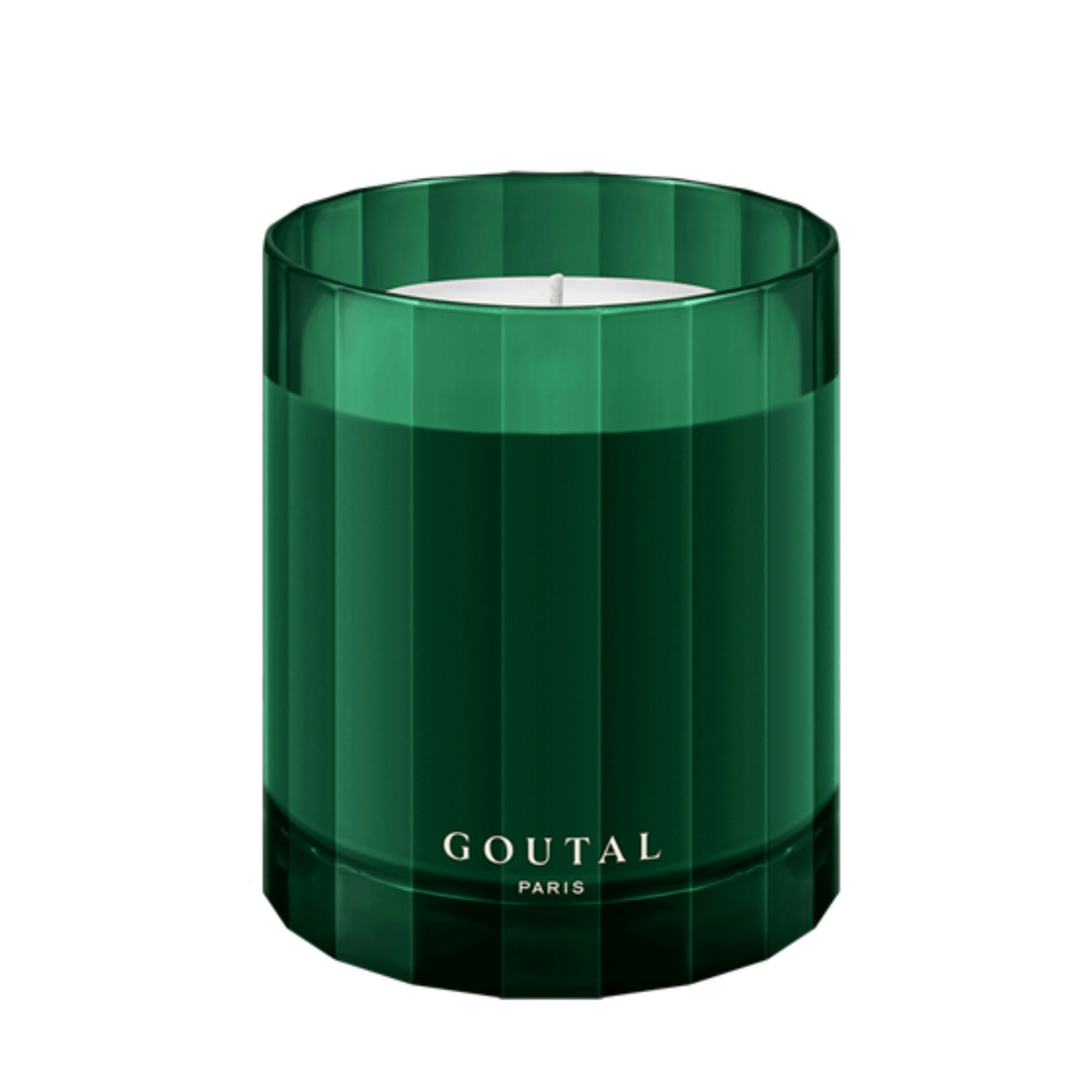 2/12
Goutal Une Forêt d'Or Candle
The crisp Goutal Une Forêt d'Or Candle ($72) combines two of the season's most timeless flora — pine and citrus — into one fragrance that's both fresh and familiar. For a limited time, the brand's signature holiday scent is housed in a gilded vessel embossed in holly branches, chestnuts, and nutcrackers to make it even more festive. It's a candle that both looks and smells like Christmas.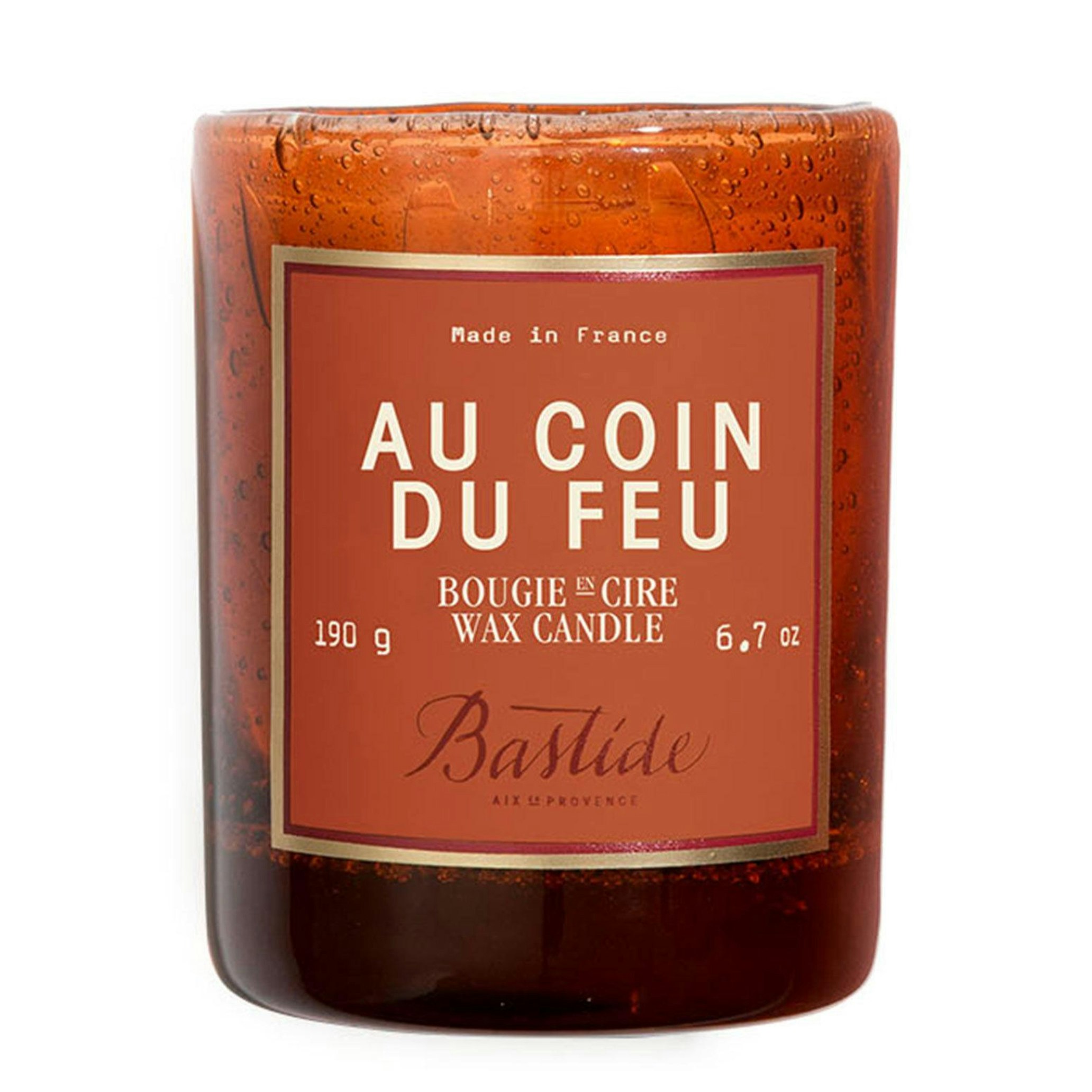 3/12
Bastide Au Coin du Feu Candle
If you live in a big city, the chances of you having an accessible working fireplace are slim to none. Instead of streaming crackling logs on YouTube® for 10 hours straight, I recommend channeling the comforting feeling of a cozy fire with the Bastide Au Coin du Feu Candle ($65) instead. With top notes of clove bud and cade (a variety of Mediterranean juniper), and base notes of cedar, cashmere wood, and vanilla, this smoky scent will have you feeling fireside-snuggly in no time. (Note: warm cup of cocoa and wool blanket not included.)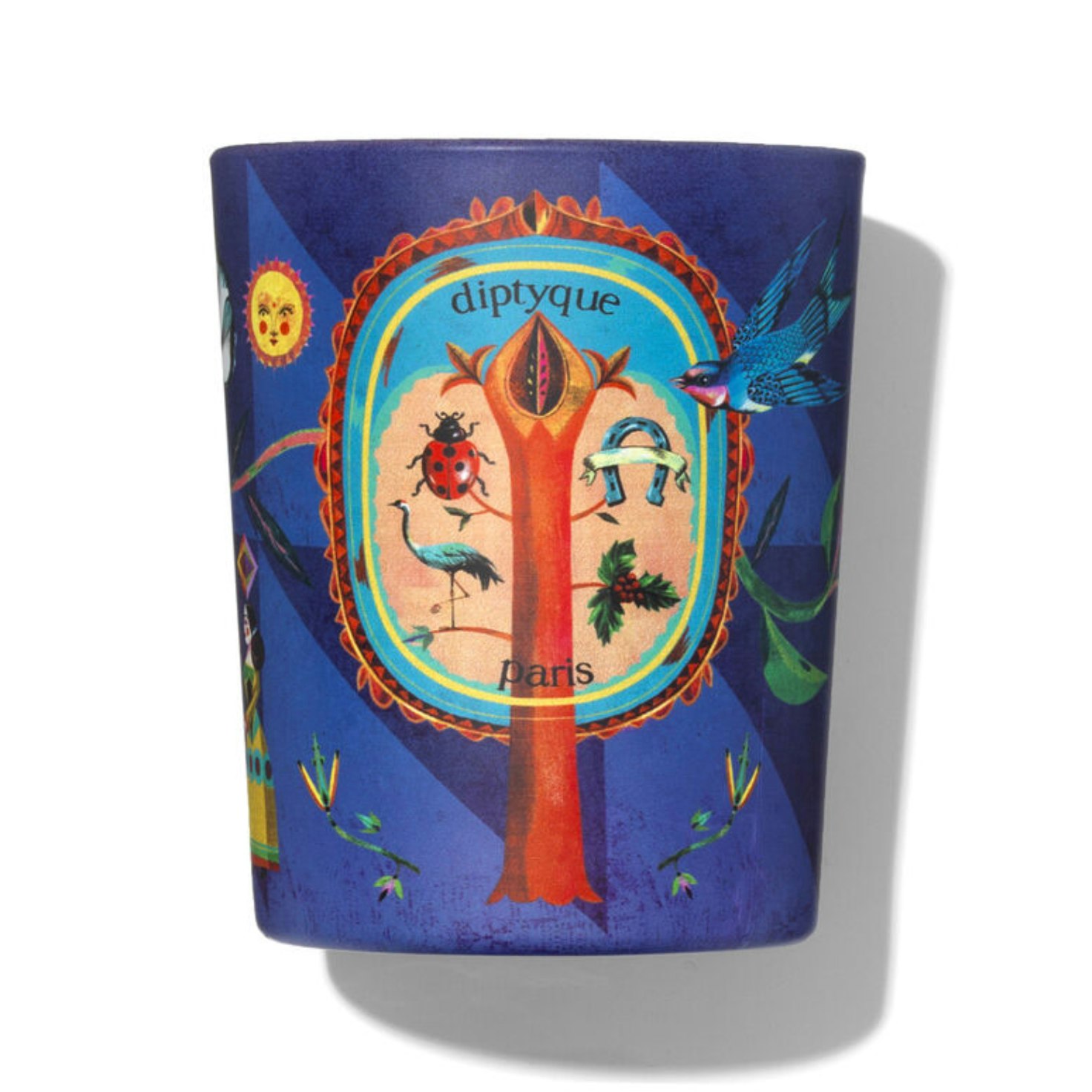 4/12
Diptyque Blissful Amber Candle
Every year, I await the drop of the Diptyque holiday collection like a kid on Christmas morning. Fans of last year's festive fête of fragrances will be thrilled to know that the Diptyque Blissful Amber Candle ($72) — a perfectly-balanced blend of amber, geranium, lavender, and musk — is back for an encore. Due to the votive's darling illustrations of lucky charms, including a ladybug, horseshoe, and holly branch, it's a gift worth displaying on any mantle, vanity, or desk.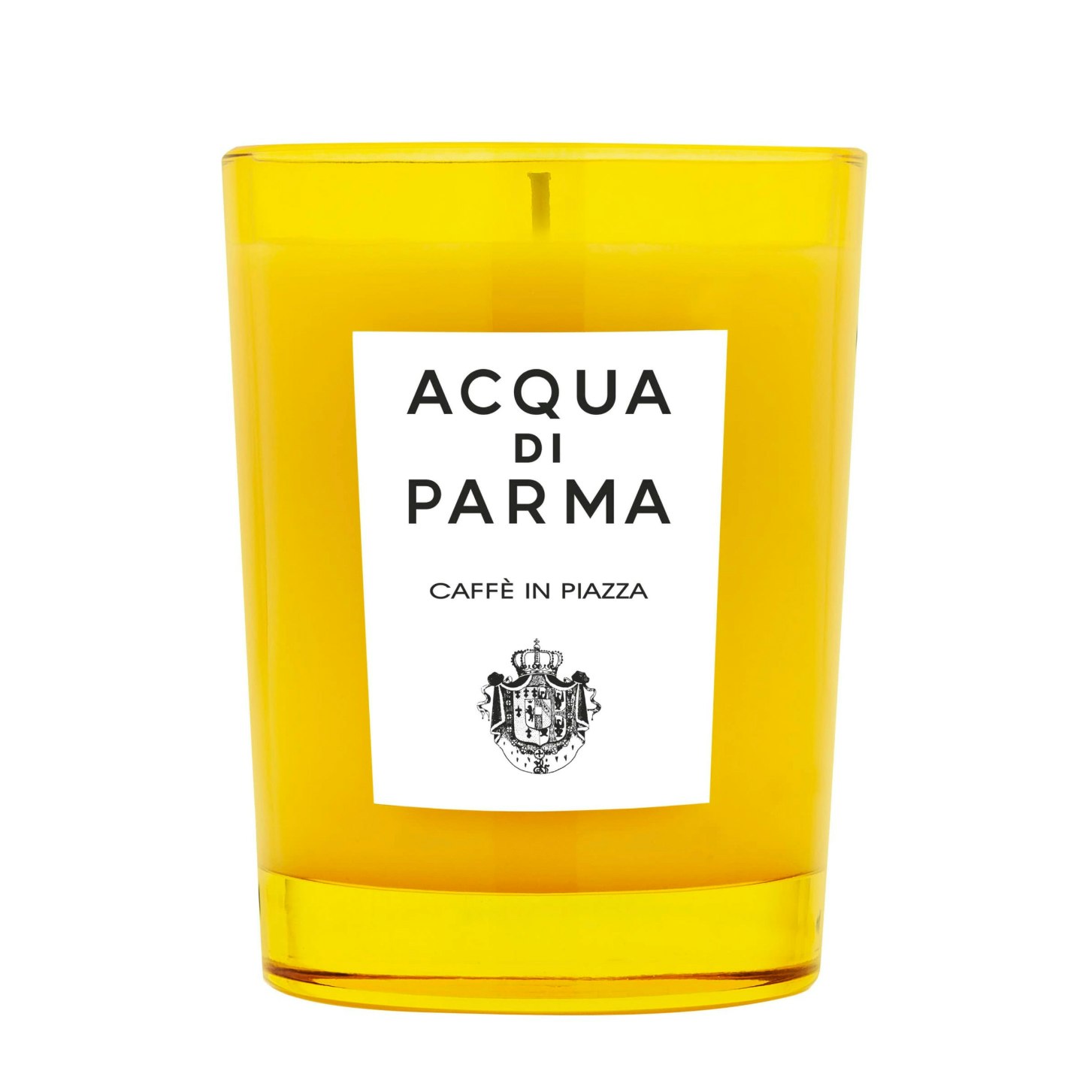 5/12
Acqua di Parma Caffè in Piazza Candle
Consider this the perfect gift for your friend who's still talking about her summer vacation down the Amalfi Coast . . . six years later. This sweet and subtly spiced Acqua di Parma Caffè in Piazza Candle ($69) brings together delectable notes of cardamom, vanilla, and cappuccino foam with a gourmand base of hazelnut-cremino accord (yum!) to evoke the spirit of a time-honored Italian tradition: the leisurely afternoon pausa caffè. Light this candle up to bring the spirit of an Italian coffee break to your holiday brunch, and your guests will be singing "La Dolce Vita" before the espresso is served.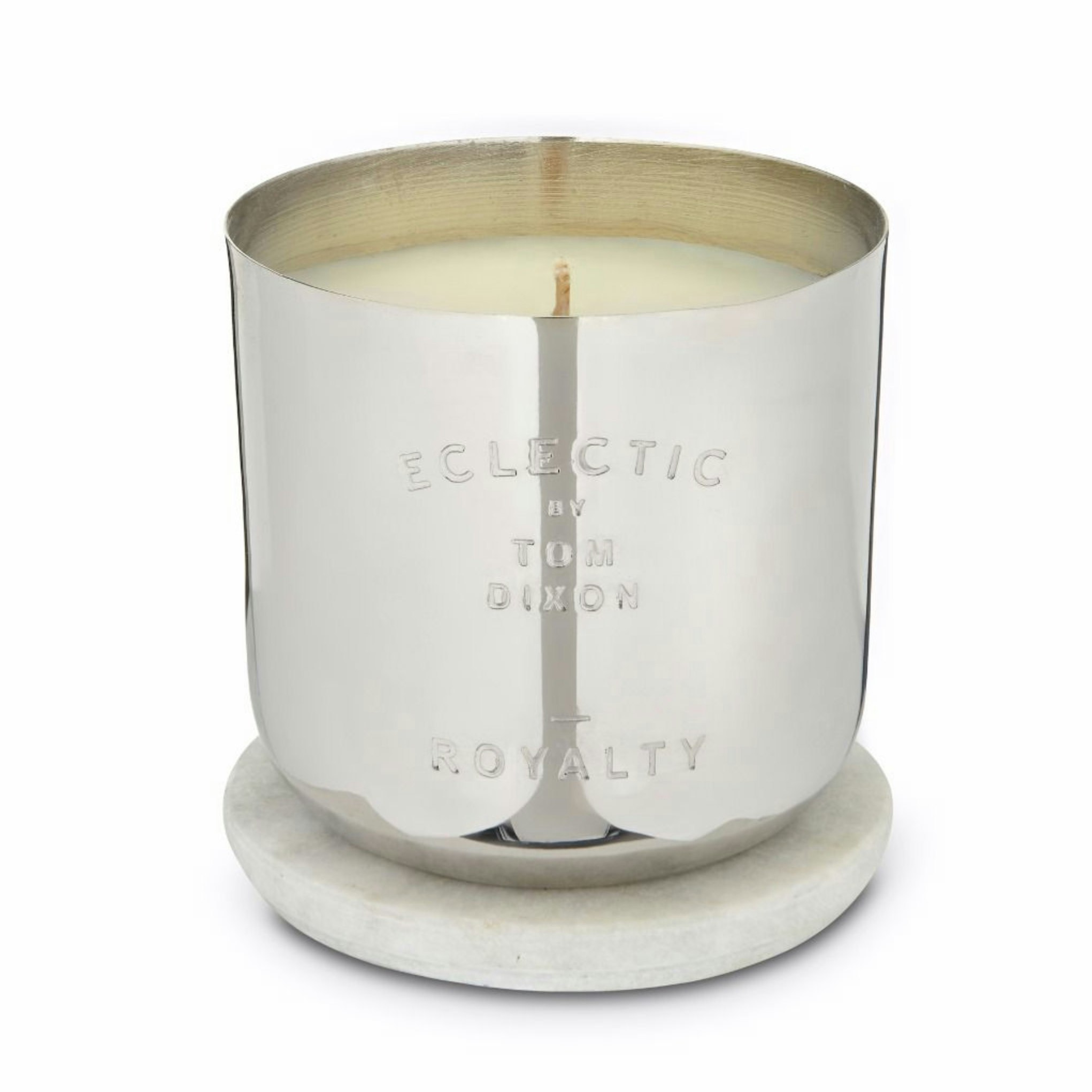 6/12
Tom Dixon Eclectic Royalty Candle
This Earl Grey's® tea-, verbena-, and cedar-infused candle is another fragrance evocative of leisurely afternoon delights. But instead of caffè in the piazza, the Tom Dixon Eclectic Royalty Candle ($90) captures the essence of a Royal Family-worthy tea time — strawberry jam, scones, and all. Top notes of cologne, bergamot, and lemon make this sparkling scent especially apropos for the gentlemen on your gift list, and the sleek, embossed nickel cup ensures it will satisfy even the most discerning of design aficionados.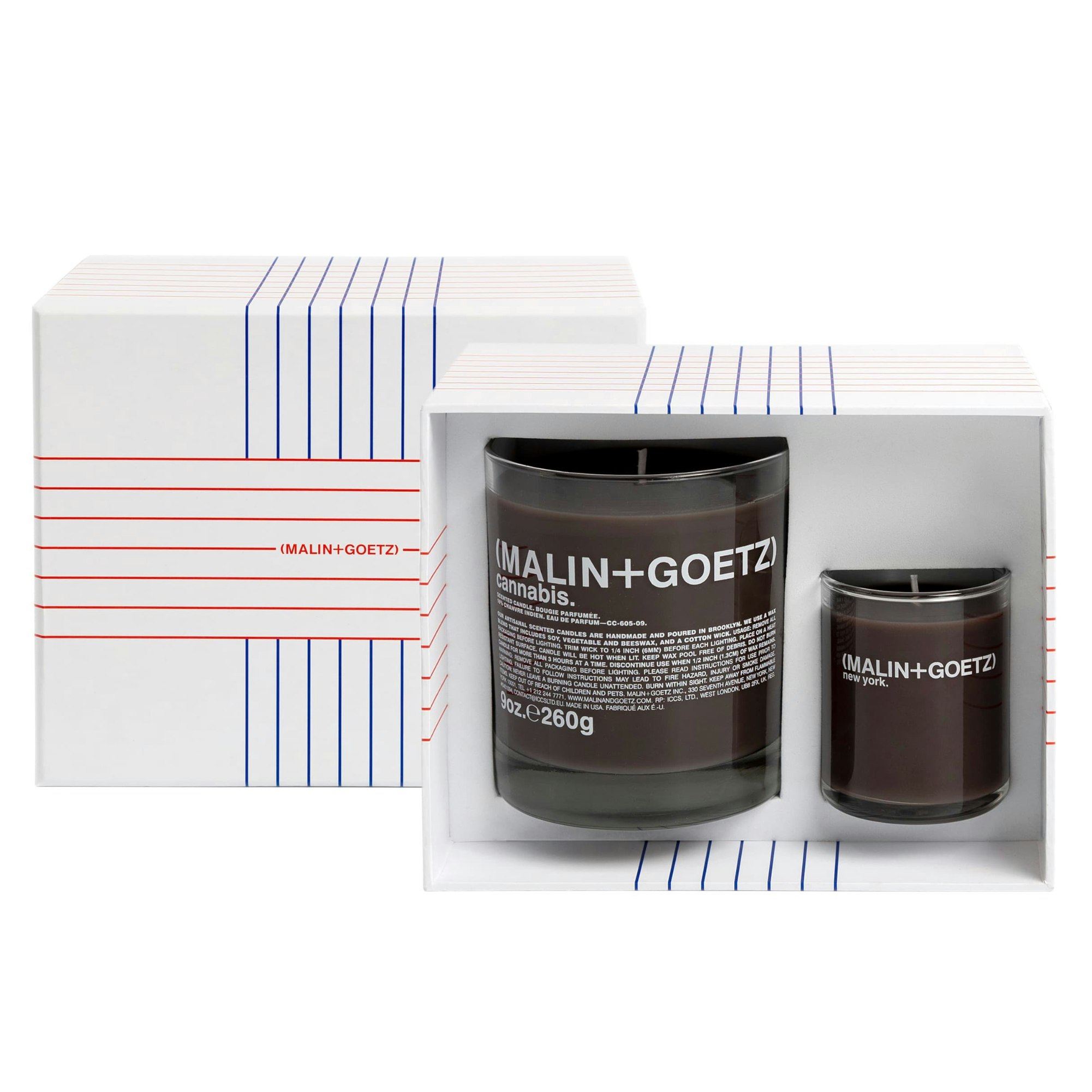 7/12
(Malin + Goetz) Get Lit Cannabis Candle Set
The handsome (Malin + Goetz) Get Lit Cannabis Candle Set ($55) features generously-sized 9-ounce and mini 2.5-ounce votive candles in (Malin + Goetz)'s most provocative scent. The candles are sheathed in sleek, glass vessels with the brand's signature minimalist branding — perfect for the guy in your life who seems hesitant to welcome fragrance into his home. Trust us: he won't be doubtful anymore after he gets a whiff of the heady lemon, fig, pepper, oakmoss, and amber patchouli notes in this sensual-meets-spicy scent.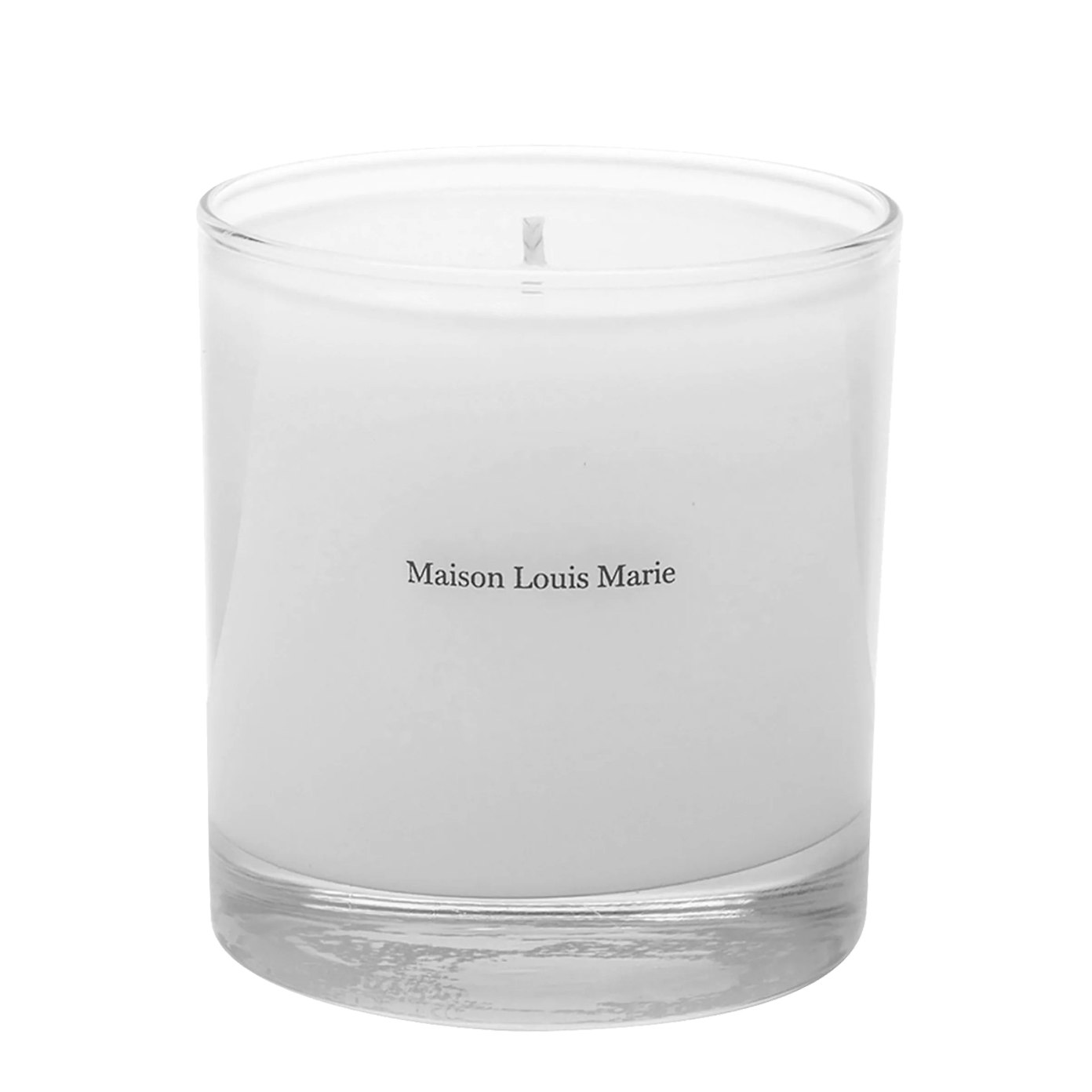 8/12
Maison Louis Marie No.04 Bois de Balincourt Candle
If you could only get one candle for everyone on your list, Maison Louis Marie No.04 Bois de Balincourt Candle ($34) should be it. I've been wearing this warm, woody scent as a perfume for years, and still get stopped by strangers asking for its origin every time I wear it. The delicate wafts of sandalwood, amber, and vetiver from this candle will bring that same indescribably alluring aura to your home — or the abode of anyone on your list lucky enough to receive one as a gift. I recommend stocking up.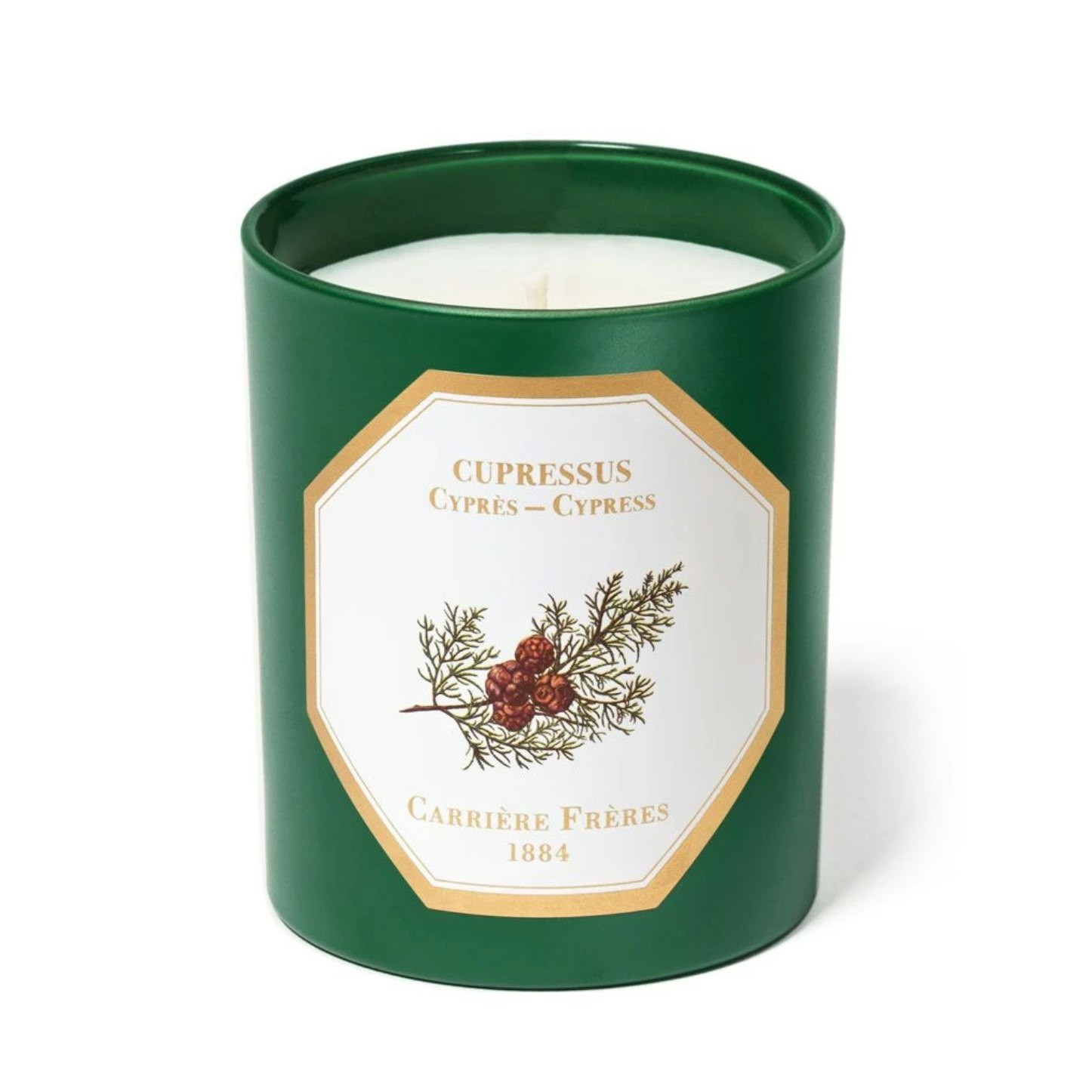 9/12
Carrière Frères Cypress Candle
A crisp evergreen scent is always in style for the holiday season. For a twist on a classic conifer-forward fragrance, I'm partial to this fresh Carrière Frères Cypress Candle ($55). (Move over, pine!) The candle is housed in a coordinating forest green vessel dressed with a charming botanical print of its namesake, making it a great gift for budding botanists and committed classicists alike.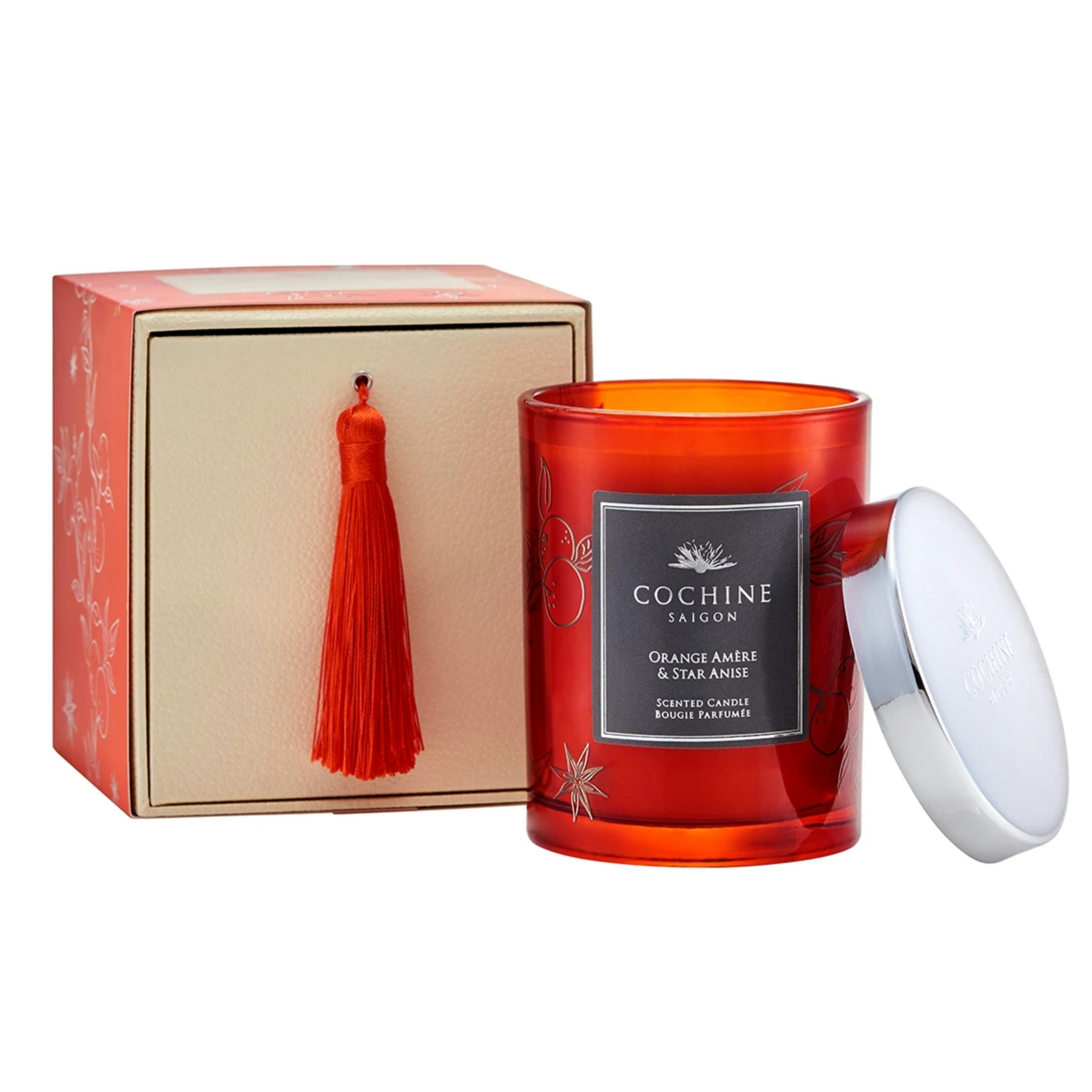 10/12
Cochine Orange Amère and Star Anise Candle
Another modern take on a timeless fragrance story is this Cochine Orange Amère and Star Anise Candle ($65). The scent inside this glowing, decorative glass vessel was inspired by both the brand founder's visits to the richly-fragrant spice markets in Saigon, as well as cozy Christmas evenings back home in England. In it, top notes of bitter orange and star anise give way to a trio of classic Christmas spices (clove, nutmeg, cinnamon) pooling atop warm, smoky base notes of vanilla and guaiac wood, creating a scent that's evocative of the holiday spirit the world over.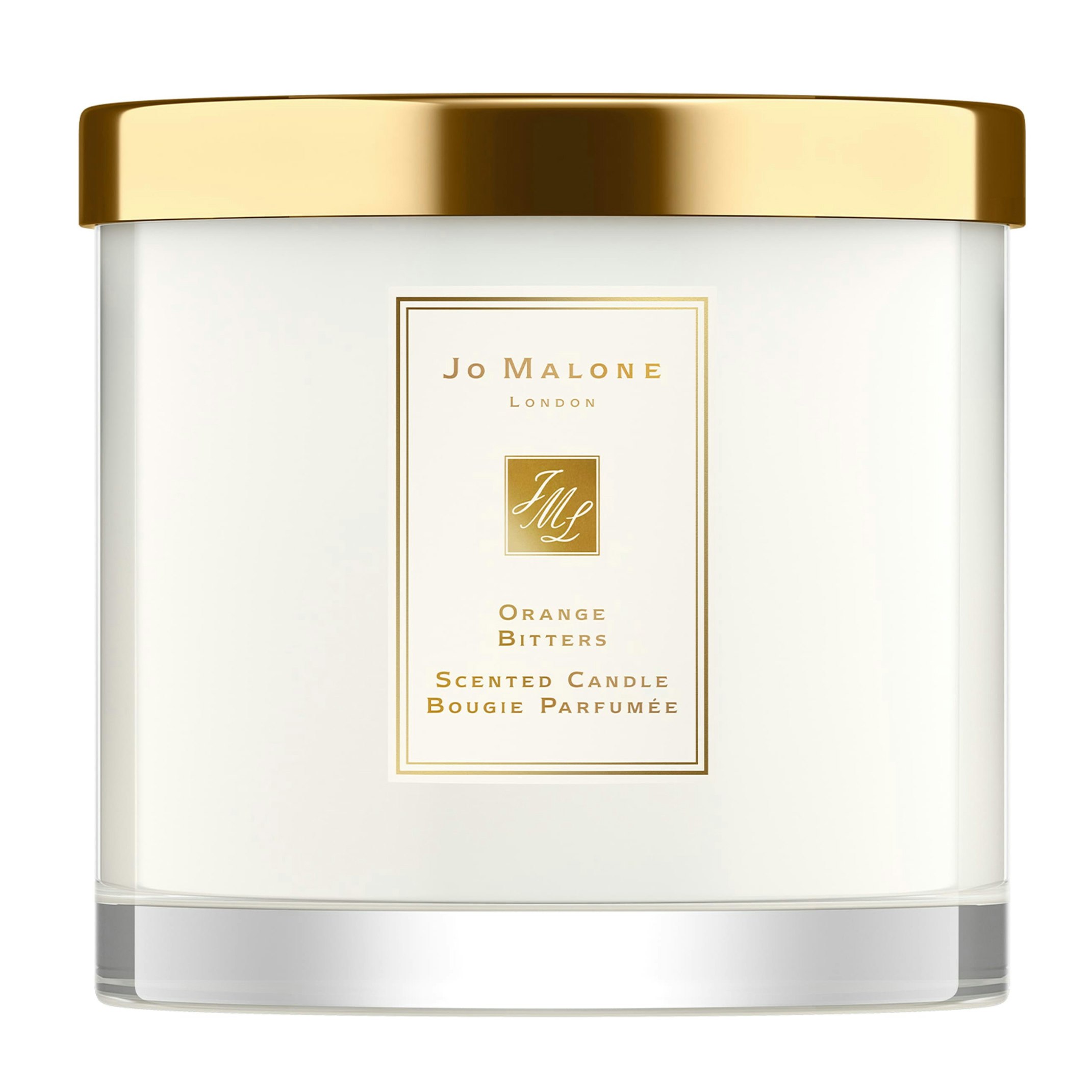 11/12
Jo Malone London Orange Bitters Deluxe Candle
This best-selling candle is one of my go-to gifts year after year (as evidenced by the 2018 holiday candle guide). Previously, I'd only seen it in the classic or travel size, but this luxuriously-oversized, four-wick Jo Malone London Orange Bitters Deluxe Candle ($220) is now a dream gift for those at the tippy top of the "good" list (including myself). With four 100 percent cotton wicks and 40+ hours of burn time on this generous 21-ounce votive, you'll have many evenings ahead to enjoy this warm, wintry cocktail of orange, amber, and sandalwood notes.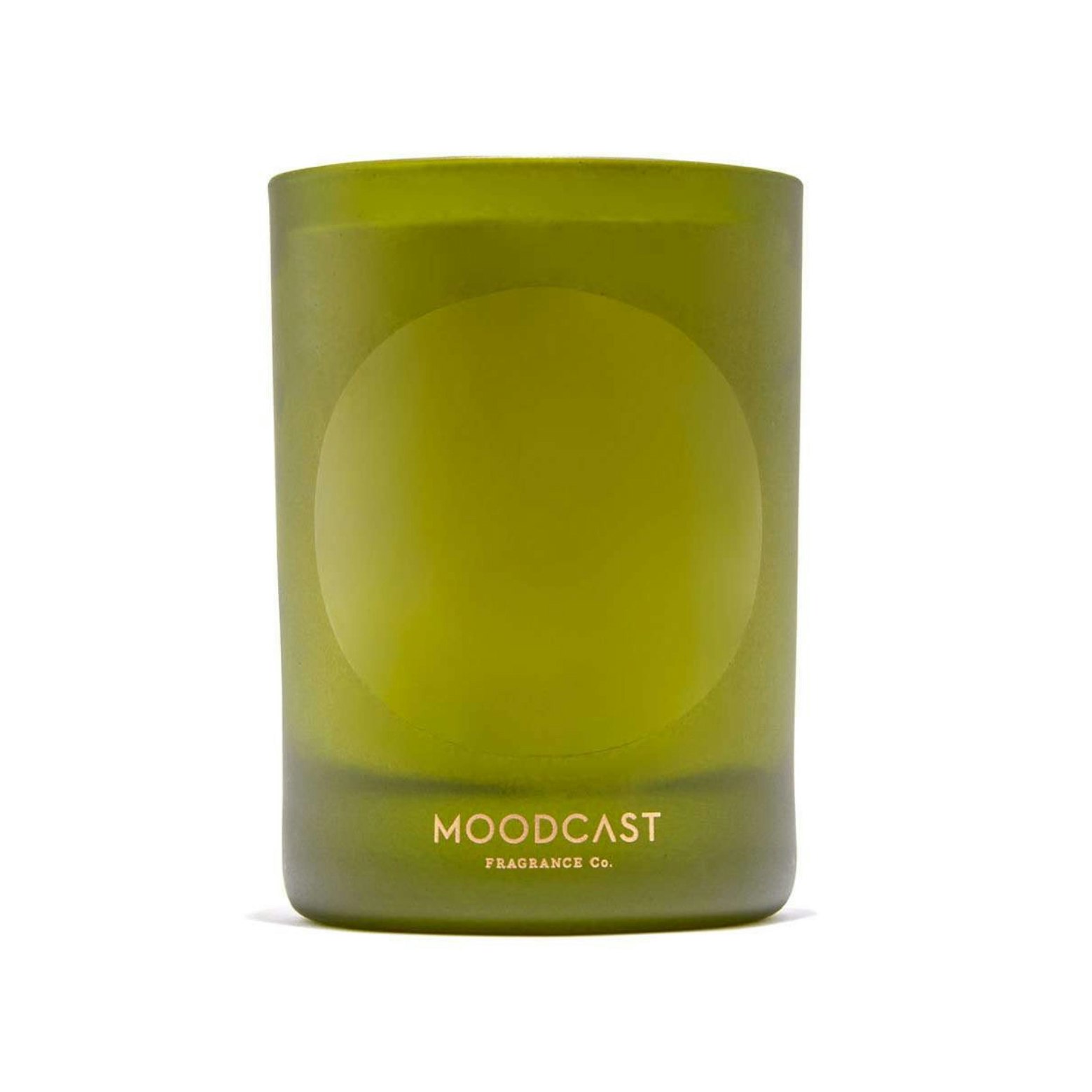 12/12
Moodcast Fragrance Co. Reveler Candle
The Moodcast Fragrance Co. Reveler Candle ($42) is a dazzling take on the classic evergreen aroma. With notes of fresh-cut pine, earthy cedar, and vibrant fir balsam (the most fragrant of all Christmas tree varieties), it's truly a scent that captures the spirit of the season. If you're in the mood for a different scent, look no further — there are eight other scented candles from the brand, each designed to create and capture distinctly different moods. (Like a mood ring, but candles!) Bonus: The fun, flip-top box the candle is housed in means there's no reason to bring out the wrapping paper — simply pop a bow on top and forget about gift wrapping until 2020.
Some complimentary products were provided to the author for the purpose of writing this article.
Product prices may vary from the time this article was written.
Allergan® may receive commissions for purchases made through links in this article.