Brisk winter air is detrimental to more than enjoying dinners al fresco and avoiding hat hair — it's also waging a war on your skin. "During the winter, the humidity in the air decreases," explains Sheel Desai Solomon, MD, a board-certified dermatologist in Raleigh/Durham, North Carolina. "The air becomes drier and colder, and this affects the efficiency with which your skin retains moisture." Without proper attention — and the right ingredients — your skin will quickly become flaky and dull.
For that reason, it's important to optimize your skincare routine in the winter months. This means skipping products known to dry out skin (including certain alcohol-based toners), adding moisture back into the air with humidifiers, and drinking lots of water. Above all, you should be incorporating key, dermatologist-recommended ingredients that combat dry winter skin into your routine. Keep reading to discover five of the best, plus product recommendations, application tips, and more.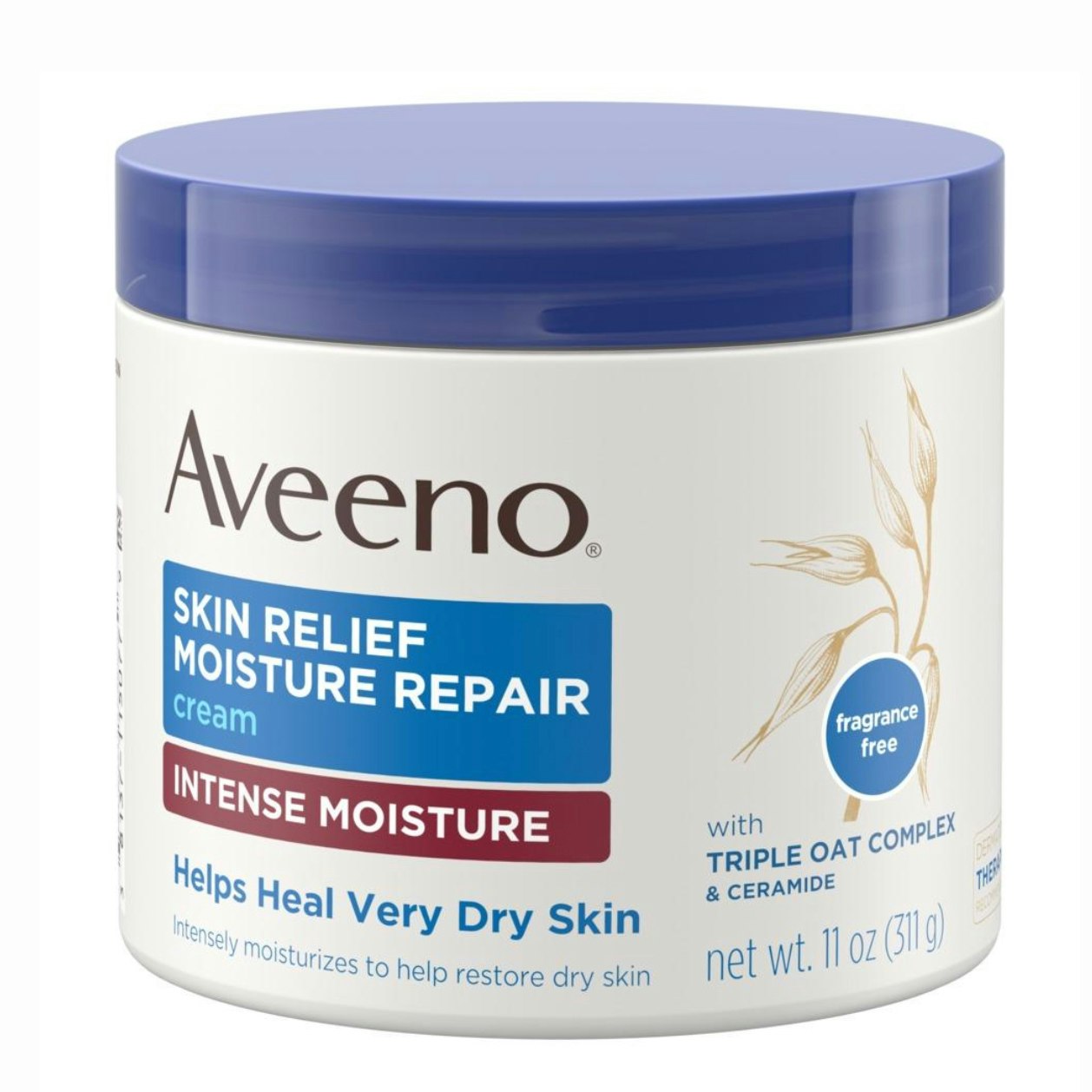 The dry skin-saving ingredient: Ceramides
What they are: Ceramides are lipids that occur naturally in the skin — in fact, 50 percent of your skin's outer layers are made up of ceramides. They're crucial to maintaining a strong moisture barrier.
Why your skin needs them: They have anti-aging and skin-protecting properties, but above all, ceramides seal in hydration. "Ceramides help safeguard the skin from everyday pollutants and irritants, and help lock-in moisture, which is useful during the dry winter," agrees Dr. Solomon. "They are crucial in helping your skin remain hydrated."
The skincare product pick: Aveeno® Skin Relief Moisture Repair Cream ($11). "Aveeno has an incredibly affordable ceramide-infused moisturizer that is great for everyday use," notes Dr. Solomon. "It also includes emollients and a triple-oats complex that help nourish the skin throughout the day." Additionally, the moisturizer is fragrance-free, which makes it particularly ideal for those with sensitive skin.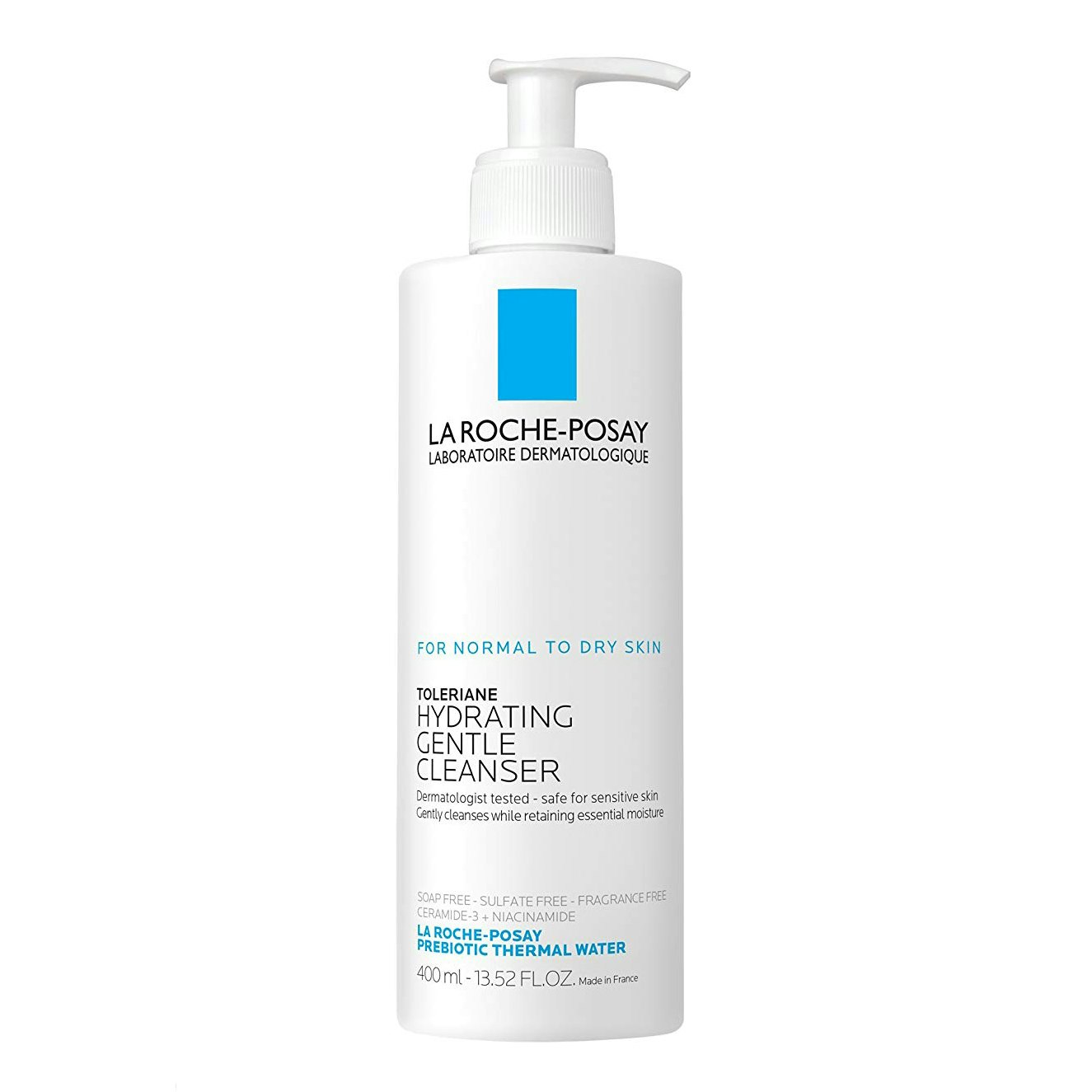 The dry skin-saving ingredient: Glycerin
What it is: It's not the sexiest ingredient, but glycerin is a powerful humectant that has long been used in skincare. (In fact, it's the third most-frequently reported ingredient in beauty products.) Humectants draw moisture from the air and bring it into the skin.
Why your skin needs it: This non-comedogenic ingredient helps improve the skin barrier and provides protection from irritants. "It also supports the movement of aquaporins — [important proteins that channel water transfer] — to the skin's surface to plump the skin," says Deanne Mraz Robinson, MD, a board-certified dermatologist at Modern Dermatology® of Connecticut.
The skincare product pick: La Roche-Posay® Toleriane® Hydrating Gentle Face Cleanser ($15). This face wash features a creamy formula that carefully removes makeup, dirt, and impurities, while leaving skin soft and hydrated. "This product effectively cleanses without stripping the skin," adds Dr. Robinson.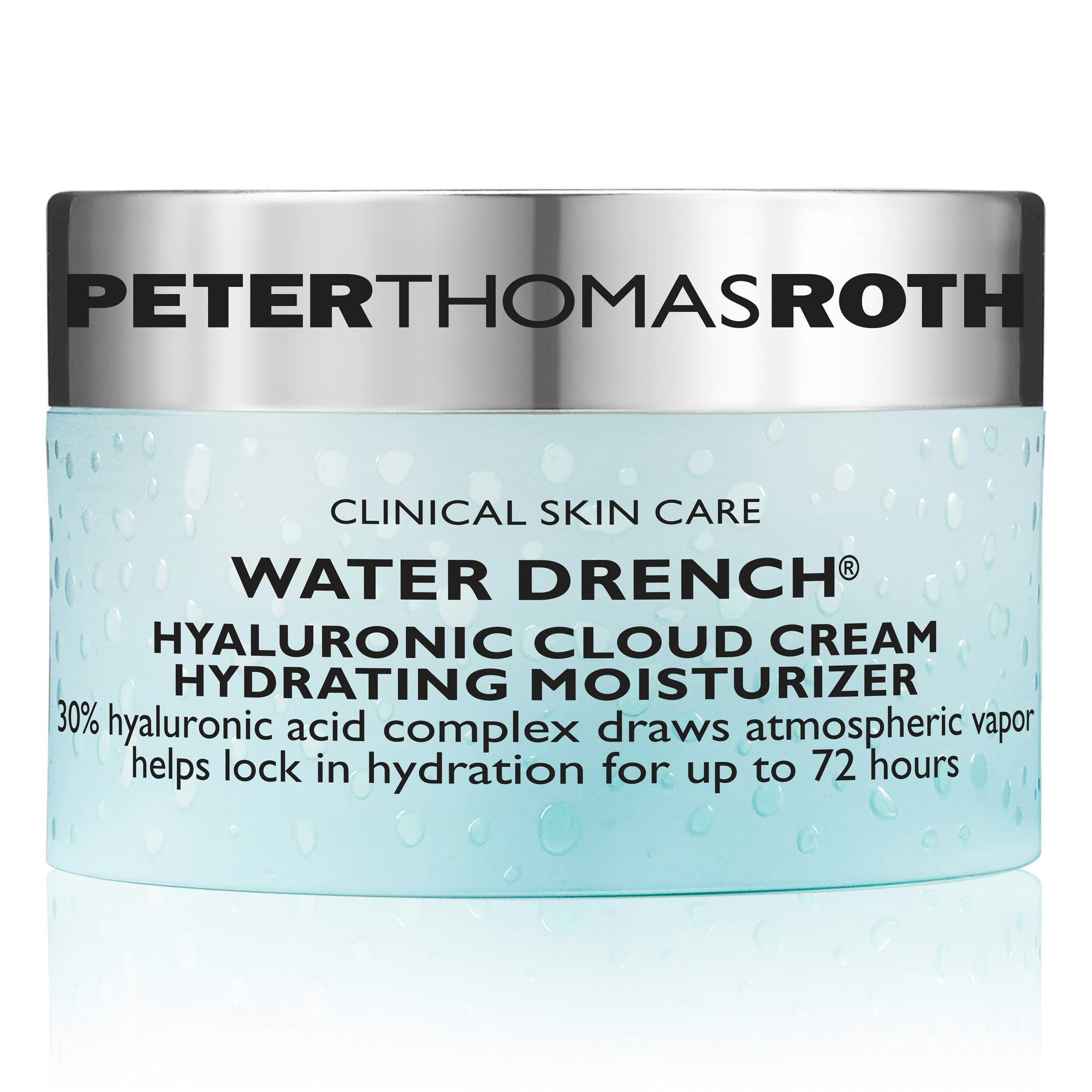 The dry skin-saving ingredient: Hyaluronic Acid
What it is: This iconic hydrating ingredient is a molecule naturally found in the body. It can draw in and hold up to 1,000 times its weight in water. 
Why your skin needs it: Hyaluronic acid is an excellent choice to incorporate into your regimen all year long, but how you apply it in winter can make all the difference. "The way hyaluronic acid works is by attracting water to the skin," explains Dr. Solomon. "This can get tricky, because if it is dry and cold outside, there isn't a lot of moisture to draw into the epidermis." To circumvent this issue, she recommends applying your hyaluronic acid-infused formula of choice directly after you shower — yes, even if your skin is wet — to seal in the moisture. 
The skincare product pick: PeterThomasRoth® Water Drench® Hyaluronic Cloud Cream ($52). This formula features a concentrated dose of 30 percent hyaluronic acid to infuse moisture. "What I like about this particular formulation is that it works for all skin types, and it incorporates ceramides as well," says Dr. Solomon. "It also infuses a nice dose of antioxidants into the outer layer of the skin that are derived from elderberries."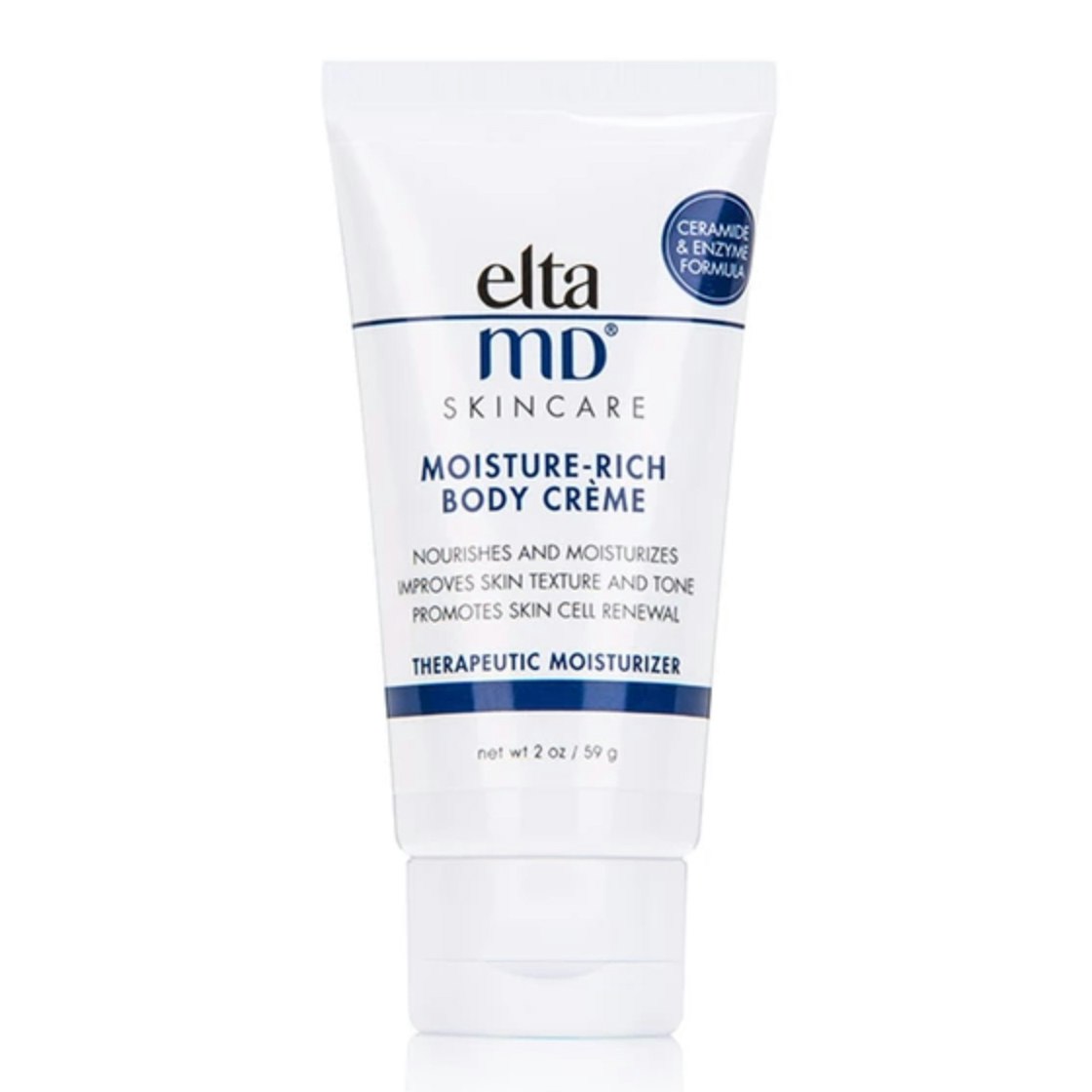 The dry skin-saving ingredient: Niacinamide
What it is: Niacinamide, also known as vitamin B3, is one of the most popular forms of vitamin B for beauty formulations. It's an anti-inflammatory ingredient that fights free radical damage, soothes skin, and fosters production of your body's own ceramides.  
Why your skin needs it: Think of it as a supporting player when it comes to hydration. "Since skin tends to run dry in the winter months, skincare routines often need to include heavier moisturizers to help prevent and treat dry skin," says Jeanette M. Black, MD, a board-certified dermatologist at Skin Care and Laser Physicians of Beverly Hills. "In addition to ceramides, I also recommend incorporating niacinamide into your skincare regimen." Because niacinamide helps bolster your existing ceramides, using it will help promote a healthier skin barrier that will keep your complexion hydrated.
The skincare product pick: Elta MD® Moisture-Rich Body Crème ($27). In addition to niacinamide, this powerhouse formula is packed with hyaluronic acid, ceramides, and mango seed butter to nourish skin. "It's very hydrating and well-tolerated on dry, sensitive skin," adds Dr. Black.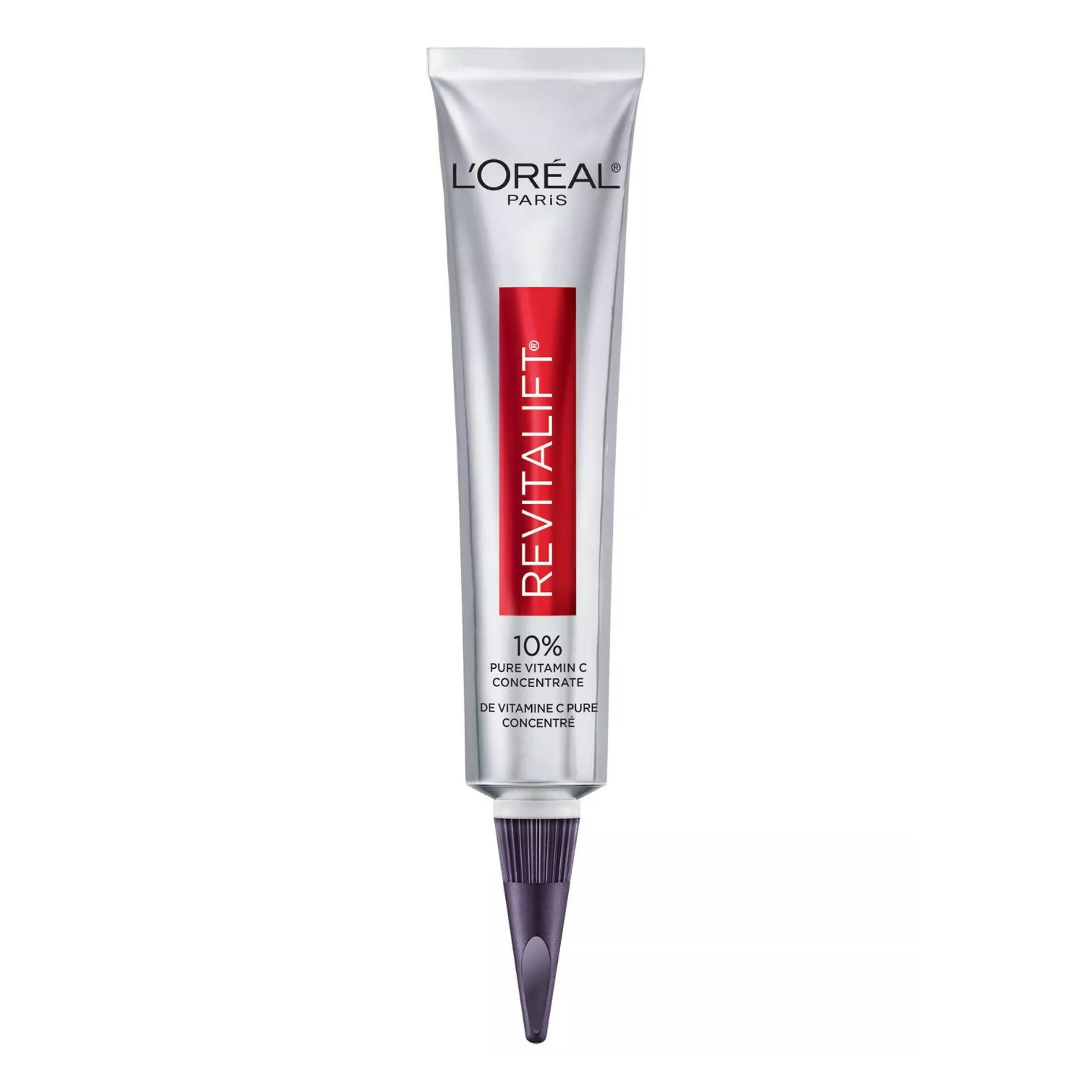 The dry skin-saving ingredient: Vitamin C
What it is: Vitamin C is one of the most beneficial antioxidants you can incorporate into your skincare routine. It's best known for brightening the complexion and warding off free radicals, but it can also help with parched skin.
Why your skin needs it: "Along with a humectant, you are going to want to use a soothing agent in the winter that can stimulate collagen synthesis, like vitamin C," says Dr. Solomon. "When skin goes dry, it can often crack and become flaky over time, which affects the skin's look and can possibly contribute to the emergence of fine lines." Vitamin C is clinically-proven to help reduce these concerns. 
The skincare product pick: L'Oréal® Revitalift Derm Intensives® Vitamin C Serum ($30). All you need is a little dab of this serum to help protect your skin and hydrate it — and it plays well with your favorite moisturizers. "This product provides the hydrating benefits of hyaluronic acid, plus the soothing capabilities of vitamin C," points out Dr. Solomon. 
Doctors Deanne Mraz Robinson and Jeanette M. Black are paid Allergan® consultants.
Product prices may vary from the time this article was written.

Allergan® may receive commissions for purchases made through links in this article.