The start of a new year is always exciting, but the beginning of a new decade is infinitely more intriguing. Think about how far you've come in the past 10 years — after all that growth, what's next? It's time to set big goals, challenge yourself, and consider what you really want to have accomplished by the end of this next decade. Maybe it's changing careers, or you want to see the world. Perhaps your objectives are a little more personal, like wanting to forge a stronger, more loving relationship with yourself. Regardless, we believe that to fully feel ready to kick off a new adventure like 2020, a hefty dose of self-care is in order. Here, our editors share the products that are boosting their confidence (and their moisture barrier) in anticipation of this next decade. Keep reading to discover luxurious facial rollers, nourishing body creams, and more.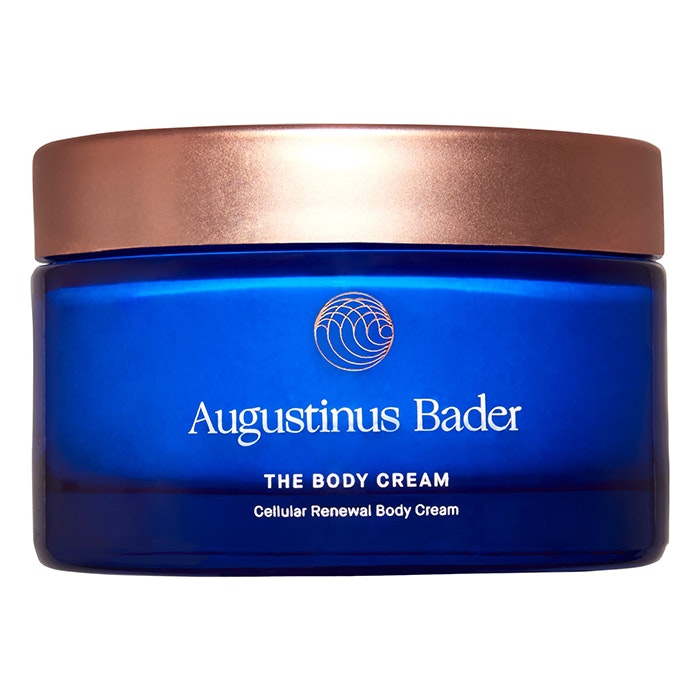 1/16
Augustinus BaderTM The Body Cream
Who: Lauren Levinson, Editorial Director
What: Augustinus Bader The Body Cream
Why: As I prepare to deal with dry, postpartum skin (stretch marks, cellulite, etc), this is my go-to body cream. No doubt it's incredibly luxurious — with a price point to match — but it feels justified. The texture is thick and buttery, much like a high-end night cream for your face. And it has the benefits to back up the splurge. It combats the appearance of cellulite, stretch marks, dehydrated skin, sagging skin, and pigmentation (89 percent or higher of testers confirmed these results). So far, my skin is firmer, smoother, and happier to combat the harsh NYC winter after a few weeks of testing it.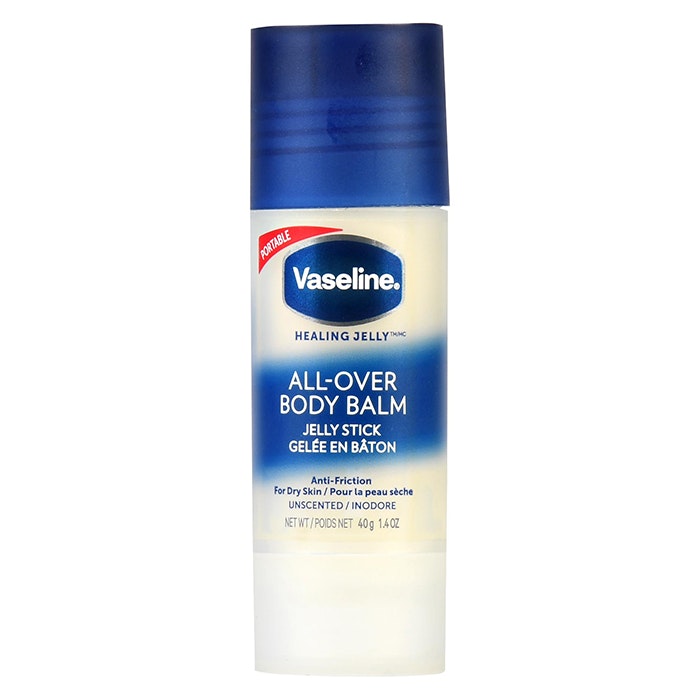 2/16
Vaseline® All-Over Body Balm Jelly Stick
Who: Lauren 
What: Vaseline All-Over Body Balm Jelly Stick
Why: In January, everything is chapped: my lips, the skin around my nails, the area under my nose. I blame the cold NYC climate and needing to walk everywhere. This petrolatum-infused, portable stick is my savior. It literally feels like soothing Vaseline, but in balm form. Simple, and it does the job. Bonus is that it can be used for thigh-chafing (which came in helpful when mine filled out during the end of pregnancy).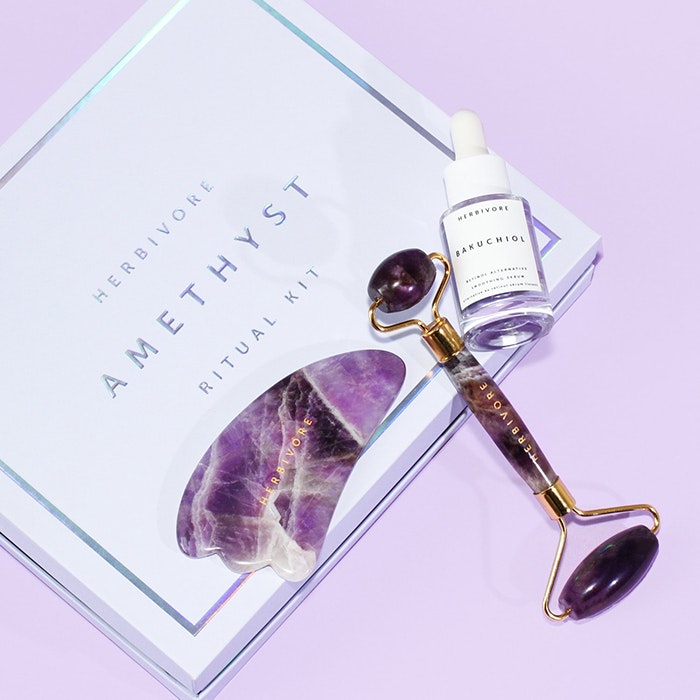 3/16
Herbivore® Amethyst Ritual Kit
Who: Joslyn Winkfield, Senior Visuals Editor
What: Herbivore Amethyst Ritual Kit
Why: I'll admit, sometimes I am drawn to products just because they're pretty. But when they look great and work wonders, too, it's a win-win. Herbivore now has five "ritual kits": lapis, amethyst, classic rose quartz, self-love body, and self-love facial. Included in the amythest kit is a mini one of my faves — the bakuchiol serum — as well as a beautifully color-coordinated facial roller and gua sha tool. It's the perfect little package for when I want to treat myself to some luxe self care.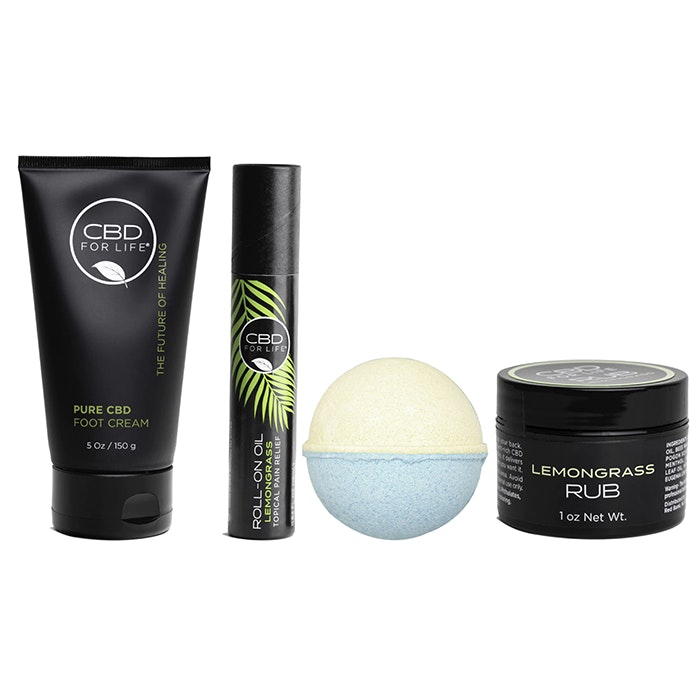 4/16
CBD For Life® All The FeelsTM Lemongrass Soothing Set
Who: Joslyn 
What: CBD For Life All The Feels Lemongrass Soothing Set 
Why: For me, cold weather and lack of sunlight in the winter means body aches and soreness, so I'm always looking for products that can give my muscles a little extra love. This soothing set from CBD for Life comes with all the goodies I need — a body rub, bath bomb, oil roller, and foot cream — all in a fresh lemongrass scent.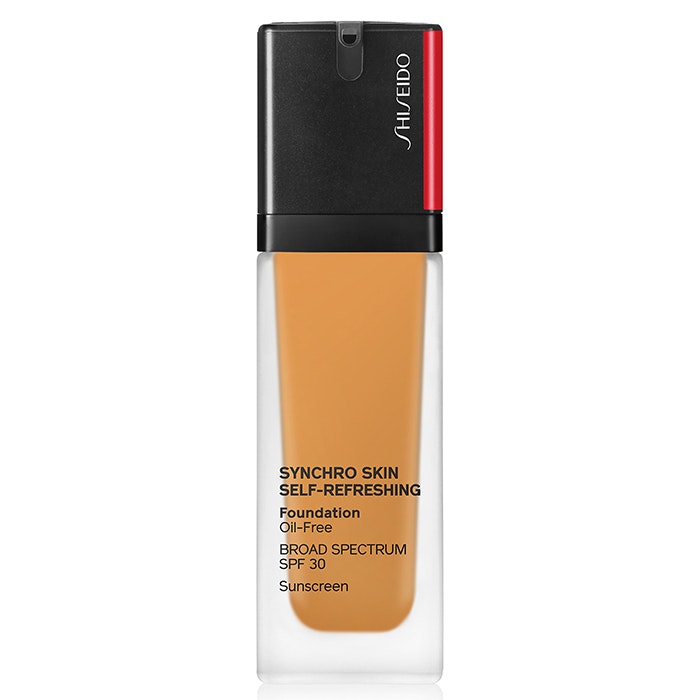 5/16
Shiseido® Synchro Skin Self-Refreshing® Foundation
Who: Joslyn 
What: Shiseido Synchro Skin Self-Refreshing Foundation 
Why: There's always a point in my day when I look in the mirror and wonder what happened to half the foundation I put on that morning. My oily skin starts a landslide of product, which always has me doing touch-ups after lunch. When this new launch from Shiseido landed on my desk, I was impressed right away by the range of shades for brown and tan skin. Just looking at their shade Cedar in the bottle, I knew it was going to be the right match for my neutral complexion. 
I must report that when I applied it with the brand's Hanatsubaki HakeTM brush, it glided on seamlessly in just a few strokes. I then put the ActiveForce® technology to the test, which claims to synchronize with skin and help resist heat, humidity, oil, and facial movement — in essence, "self-refresh" my makeup throughout the day. The result? I definitely don't need to powder unless I'm going for a more matte look. It feels super light and moisturizing, and is indeed waterproof.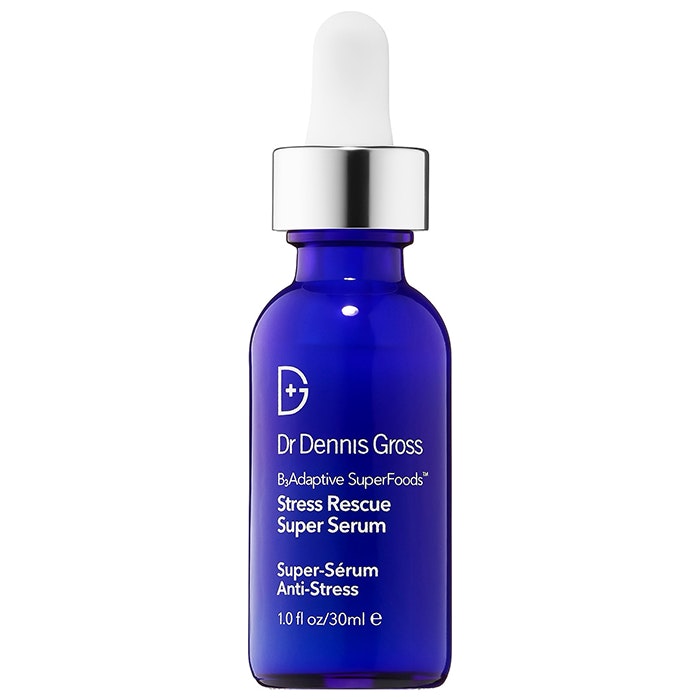 6/16
Dr. Dennis Gross® Skincare B3Adaptive SuperFoodsTM Stress Rescue Super Serum
Who: Emily Orofino, Senior Beauty Editor
What: Dr. Dennis Gross Skincare B3Adaptive SuperFoods Stress Rescue Super Serum
Why: We all know that stress is bad for our bodies — it can do everything from raise blood pressure to cause hair loss — and that includes our complexions. Fine lines and wrinkles, skin laxity, and a damaged moisture barrier are all characteristics of stress wreaking havoc, and I've got all of those issues. I'm not alone: Manhattan derm Dennis Gross, MD, told me that he's seeing these concerns across his patient base, and he decided to do something about it. 
Enter his new collection, which is designed to combat stress with a bevy of superfoods and adaptogens. This lightweight, fast-absorbing serum is loaded with potent ingredients like niacinamide, avocado, ashwagandha, goji berry, and a bevy of mushrooms to counteract redness and restore balance to skin. Even better, the ingredients are all encapsulated and esterified, meaning they "time-release" into your skin for more powerful results.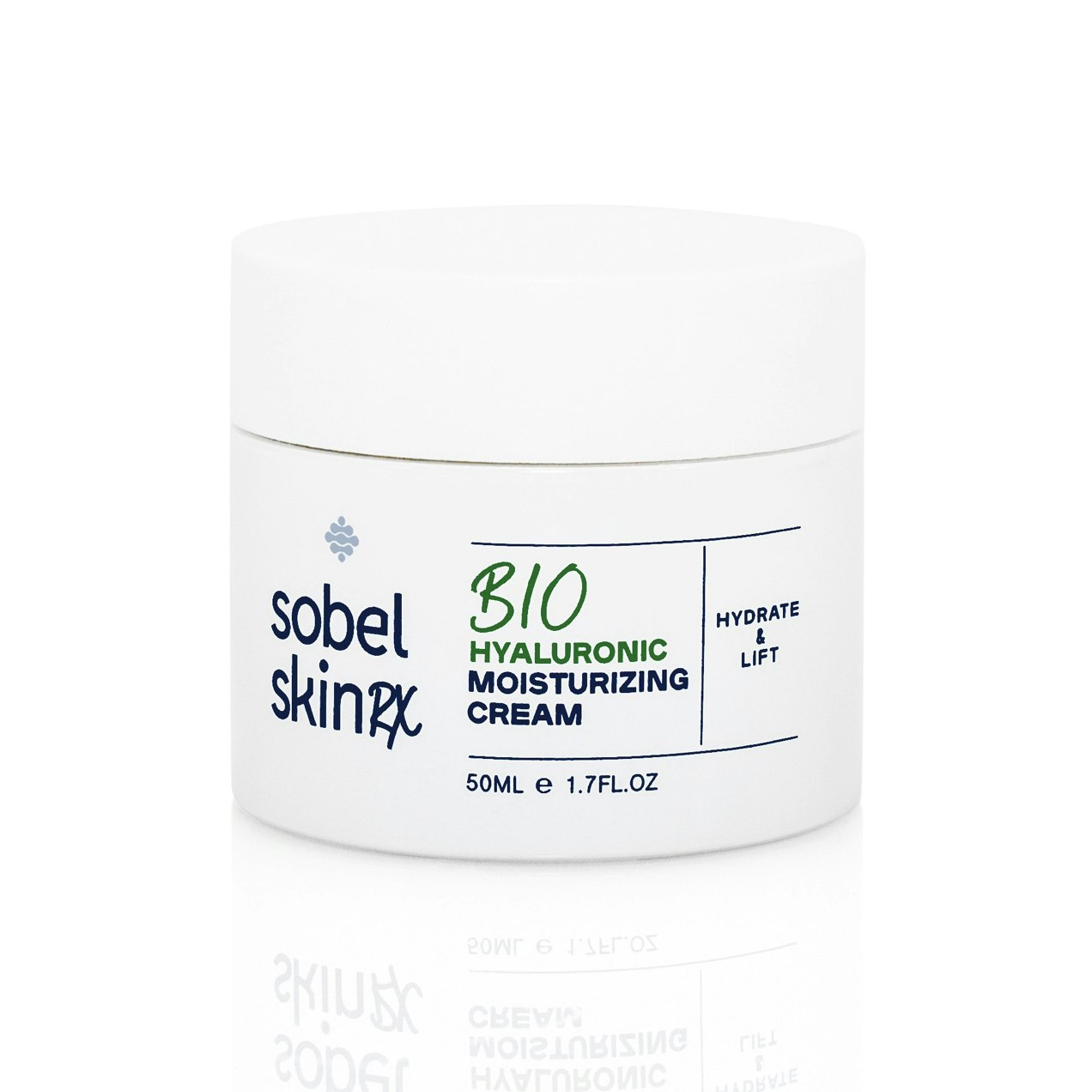 7/16
Sobel Skin RxTM Bio Hyaluronic Moisturizing Cream
Who: Emily
What: Sobel Skin Rx Bio Hyaluronic Moisturizing Cream 
Why: Every year, as we move into the harshest days of winter, I like to keep a rich, nourishing moisturizer on standby. This year, I'm relying on this buttery (but not greasy!) cream to keep my moisture barrier in tiptop shape. The formula is unique in that it contains a proprietary version of hyaluronic acid that mimics hydration in healthy skin, tricking your complexion into more fully absorbing the hydrating molecule. Added avocado, sunflower, and macadamia oils boost the formula's protective properties, leaving my skin feeling completely quenched and healthy.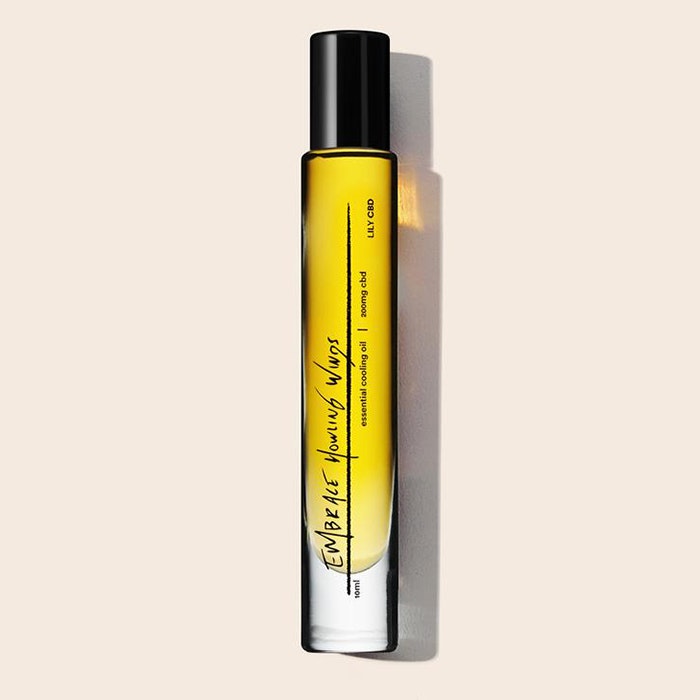 8/16
LilyTM Essential CBD Oil Roller in Embrace Howling Winds
Who: Thia Laurain, Social Media Editor
What: Lily Essential CBD Oil Roller in Embrace Howling Winds 
Why: Now that it's 2020, I am striving to leave the stress of the last decade behind me. And this herbaceous, tingly roll-on CBD oil is helping me do just that. The eucalyptus and tea tree oil-infused roller has all the relaxing benefits of full-spectrum CBD, plus the cooling sensation of menthol. When I feel a headache coming on, I roll a bit of oil on my temples and the base of my neck, take a few deep breaths, and let it all go. My ability to stay in the present is still a work in progress, but this soothing reminder to stay focused and calm is helping me get there.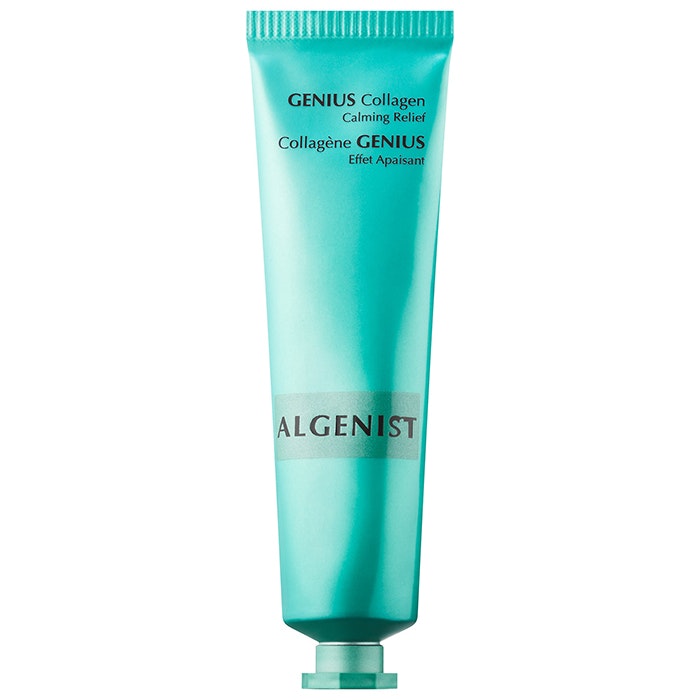 9/16
Algenist® GENIUS Liquid Collagen® Calming Relief
Who: Thia Laurain, Social Media Editor
What: Algenist GENIUS Collagen Calming Relief 
Why: Since I'm originally from California, New York winters always take a toll on my skin. This year is no different. What has changed, however, is how diligent I am at strengthening my skin barrier and protecting my face from the elements. This thick, rich moisturizer has been my skin's saving grace this season. The gentle formula is packed with soothing agents like oats, calendula, and the brand's signature alguronic acid — perfect for icy wind-whipped skin. I also apply it in a thick layer as my final step before bed for an ultra-nourishing overnight mask.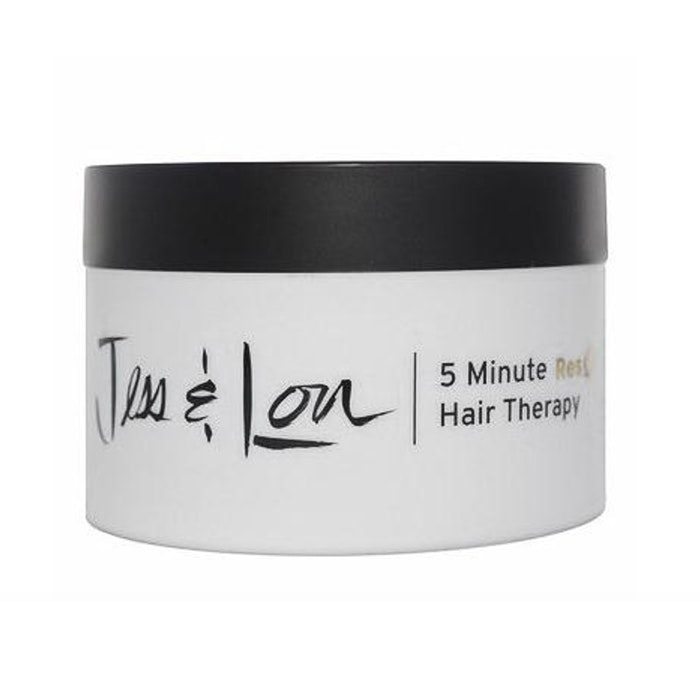 10/16
Jess + LouTM 5 Minute ResQTM Hair Therapy
Who: Thia
What: Jess + Lou 5 Minute ResQ Hair Therapy 
Why: I recently got to try this treatment at the Mizu Louis Lucari℠ salon in New York City, and let me tell you, my hair has never been smoother. This creamy mask is applied to dry hair pre-shower, then left on for five minutes to allow the vitamin- and fatty acid-infused formula to sink into strands. After the mask, shampoo, and blowout, I found my hair feeling ultra-smooth and full-bodied, thanks to the nourishing murumuru butter, coconut oil, and chia seed extracts. You can guarantee I'll be adding this mask into my weekly haircare routine — after all, it's only five more minutes.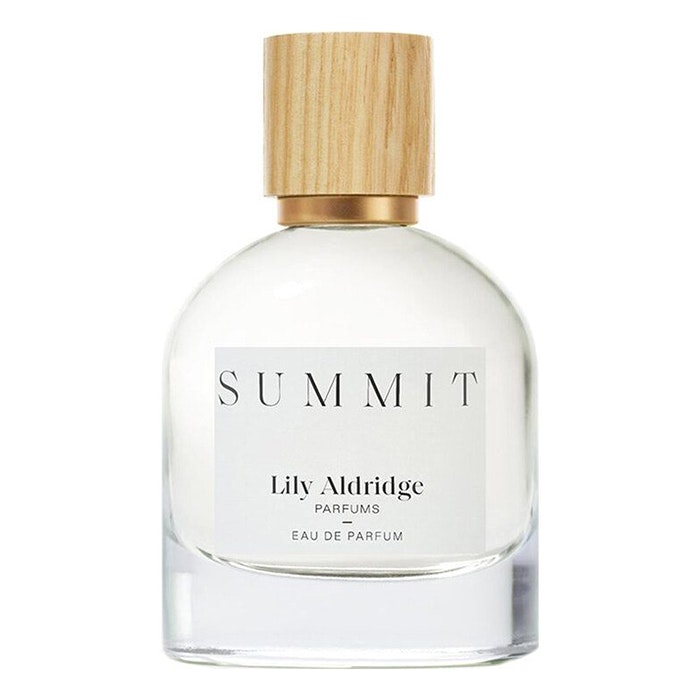 11/16
Lily AldridgeTM SummitTM Parfum
Who: Madisen Theobald, Social Media Editor
What: Lily Aldridge Summit Parfum 
Why: I have never set foot on a mountain — let alone climbed one — but if I enjoyed long hikes and rocky terrain, this is how I imagine the scene would smell: like Lily Aldrige's latest perfume launch, Summit. Inspired by her favorite Smoky Mountains escape, this new scent includes heavy notes of romantic spices, sweet tobacco, leather, and hints of warm musk. It is truly the perfect gender-free scent for the chilly winter months, or even a chic gift for one of your many holiday commitments. I actually ended up gifting one to my roommate who loves to spritz the musky scent on his scarf before leaving the apartment. I can sense that a winter escape is in my near future.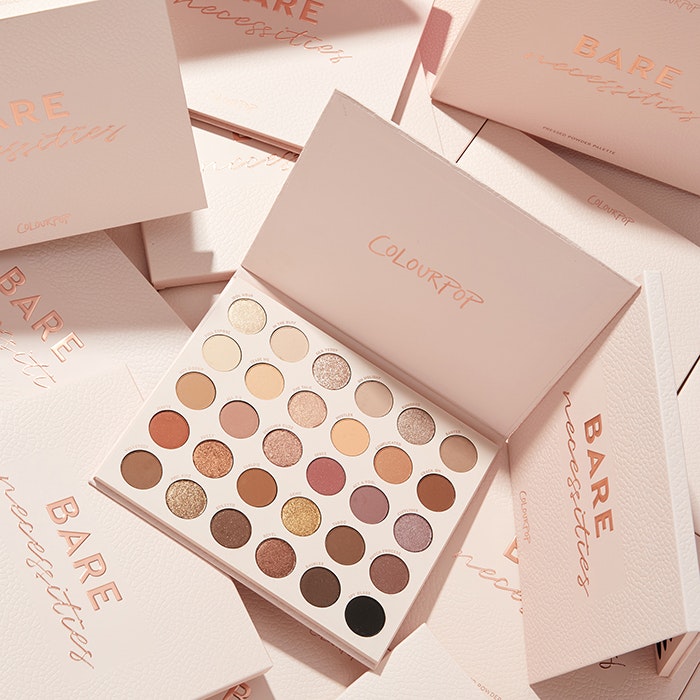 12/16
ColourPop® Bare NecessitiesTM Shadow Palette
Who: Madisen 
What: ColourPop Bare Necessities Shadow Palette 
Why: Anytime a new nude palette drops on the beauty market, I'm ready to swatch — and this new one from ColourPop is what dreams are made of. The 30-pan shadow palette features more than just typical beiges and glittery warm tones; it is filled with rich metallics, soft mattes, and sultry sparkle-based shadows. The high-pigment palette is so versatile that I have worn it — and created a different look — every day this week. Some of my favorite shades in the bunch are VelveteenTM (a buttery brown-orange), Prix FixeTM (a soft gold, metallic-glitter mix), and HauteTM (a matte, warm clay red). While they each look stunning when worn solo, I love mixing the three colors together to create a bold, sensuous eye. Now, I finally feel like I own a nude shadow collection where every single color is actually wearable.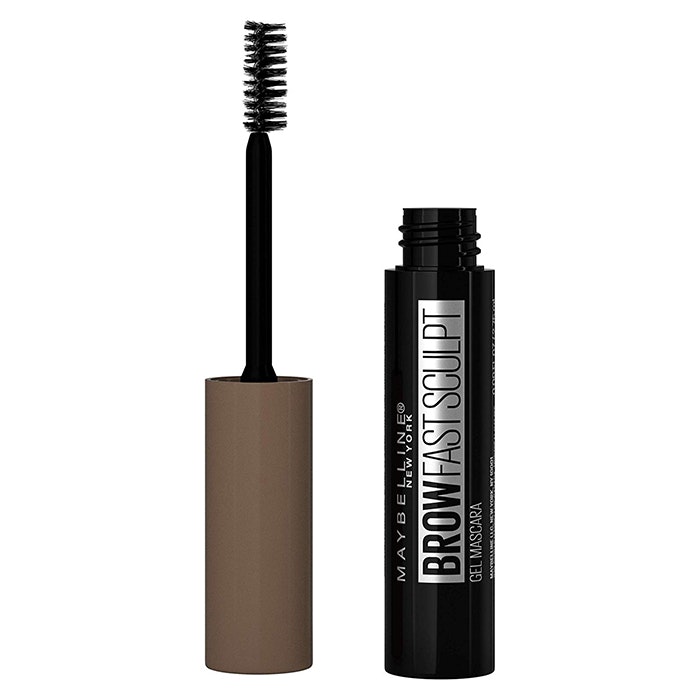 13/16
Maybelline® Brow Fast SculptTM
Who: Sophie Wirt, Beauty Editor
What: Maybelline Brow Fast Sculpt 
Why: Some people believe a bold lip completes an outfit; if you ask me, a burly brow has the same effect. Ergo, I'm known to splurge on fancy brow gels. Until now, I hadn't discovered a drugstore version on par with my pricier picks — but this one looks and feels like products two or three times its price. The spoolie is satisfyingly tiny, perfect for precision application and smudge mitigation. The gel itself has a medium strong hold; it also comes in eight colors, so you're sure to find one that works for you.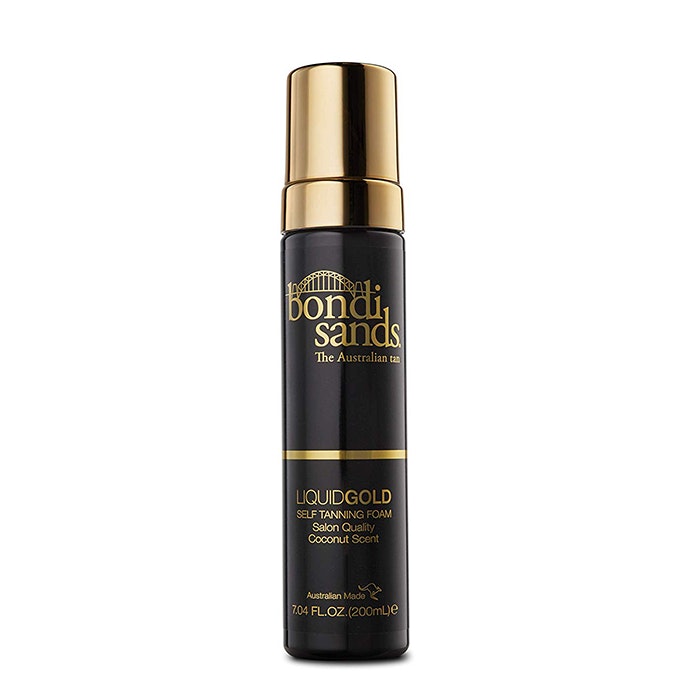 14/16
Bondi Sands® Liquid GoldTM Foam 
Who: Sophie
What: Bondi Sands Liquid Gold Foam 
Why: Initially, I thought winter seemed an odd time for a self-tanner launch — but then I remembered that Bondi Sands hails from Australia, where bronzing is always in season. I've tried a lot of formulas, and this one has virtually no flaws: it's playfully moussey, scrumptiously coconutty, and leaves my skin tantalizingly tawny in seconds. It's also spiked with nourishing argan oil, which helps keep dry winter skin at bay. The game changer: unlike other formulas which require rinsing (lest you stain your sheets!) this one is good to go sans-shower.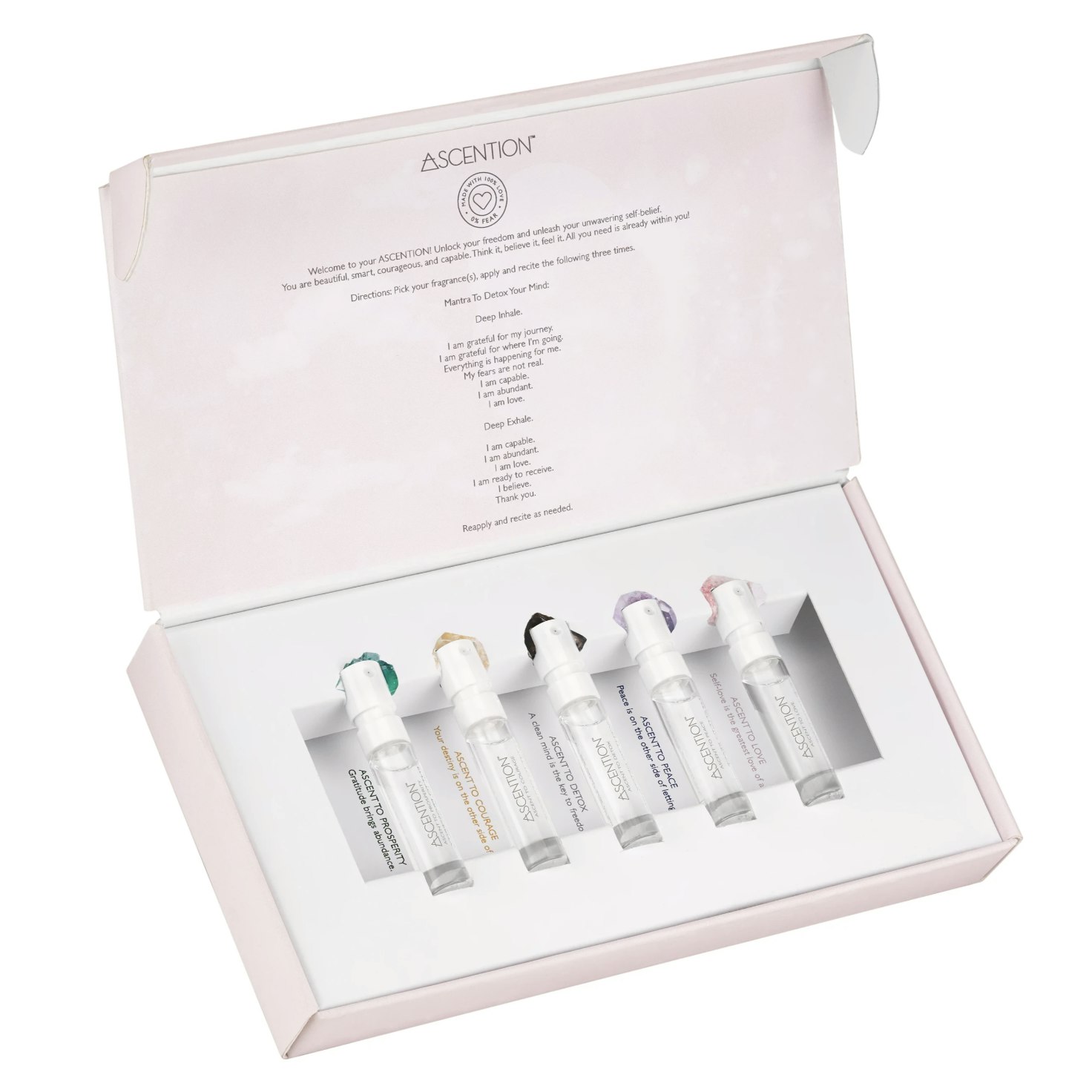 15/16
Ascention® Spiritual Fragrance Flight
Who: Cat Matta, Copy Editor & Fact-Checker 
What: Ascention Spiritual Fragrance Flight 
Why: Many of us are on a life-long mission to discover our best selves — easier said than done. That's why I was so intrigued when I came across the Spiritual Fragrance Flight, which was specifically developed to help you along the way. Leveraging our olfactory senses (the most powerful memory-makers we possess), the clean, non-toxic fragrances are meant to become a daily ritual of self-love. 
Each of the vials has a purpose (and mantra!) with which to set your intentions on: Love, Peace, Detox, Courage, and Prosperity. Although all of them appeal to me, I chose Peace as a way to calm my mind whenever stress starts running laps around my brain. First thing in the morning and throughout the day, when I breathe in the light musk, I imagine inhaling serenity and exhaling all my tension. The fragrance's associated mantra, "Peace is on the other side of letting go," serves as an important reminder that you are in control, while the daily ritual creates scent-induced memories that help dispel stressful feelings with each future whiff.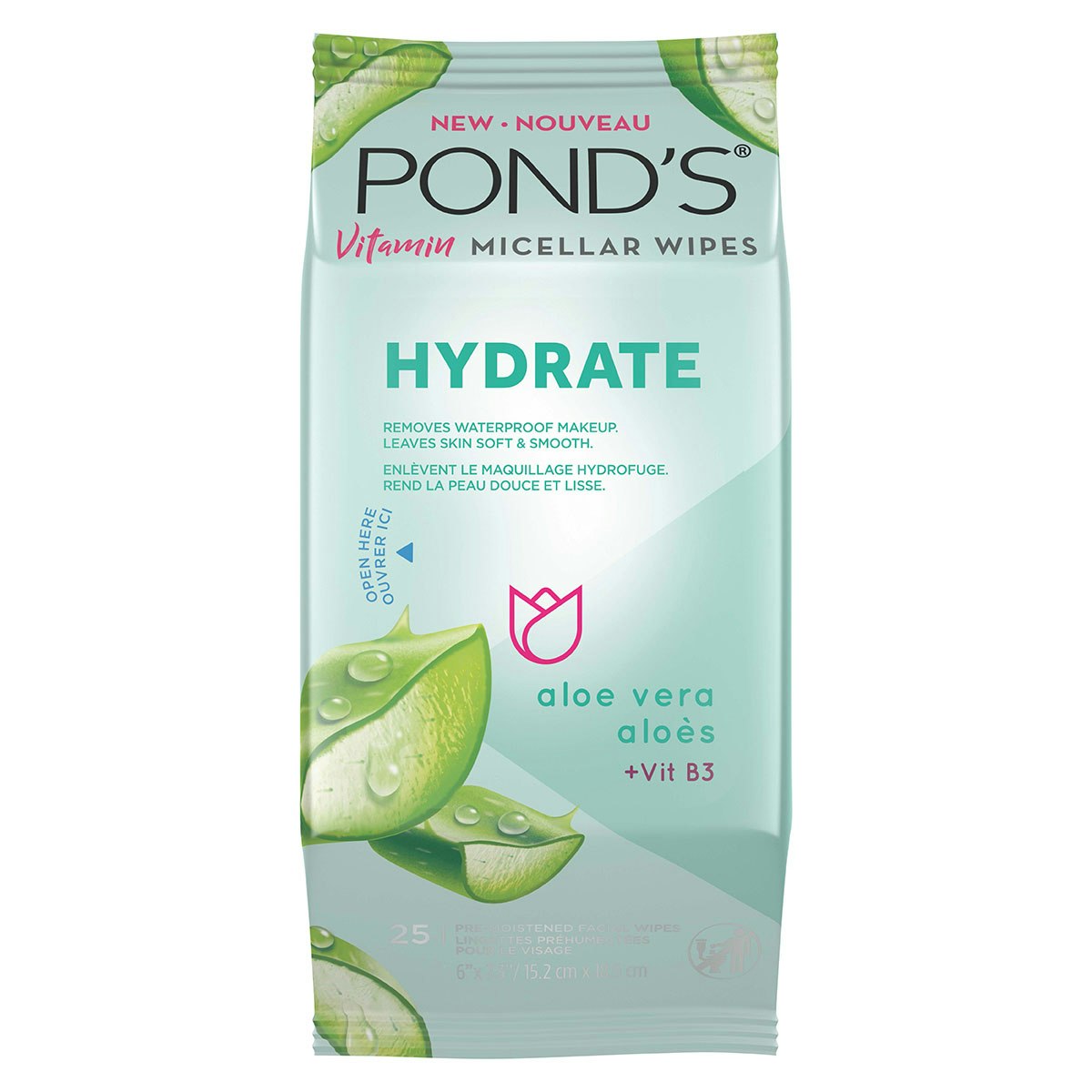 16/16
Pond's® Vitamin Micellar Wipes Hydrate
Who: Cat 
What: Pond's Vitamin Micellar Wipes Hydrate
Why: One of my New Year's resolutions is to be more consistent about removing my makeup before bed. (If I don't do it right when I get home, it's usually not coming off — heresy, I know.) So, I got excited when these popped up on my desk. Officially launching in January, they combine the best of two worlds: the magic of micellar water, which attracts dirt and makeup like a magnet, and the ease of wipes that I can use in my place of choice. Now I can keep these, some serum, and moisturizer in the cubby of my coffee table — hello nighttime skincare routine on the couch!
Some complimentary products were provided to the authors for the purpose of writing this article.
Product prices may vary from the time this article was written.
Allergan® may receive commissions for purchases made through links in this article.