Throughout my approximately 10 years in the beauty industry, I've learned a few universal truths. Trends are cyclical. Blowouts are always better when someone else does them for you. And even if you get really good at applying false eyelashes yourself, they're still a huge pain in the ass.
Ever since I was a little girl, I always wanted to be the woman who wakes up to put on her "face" in the morning, including false lashes. There's just something so elegant about the way this ritual is portrayed in classic movies and retro-inspired TV shows (like MadMen® or The Marvelous Mrs. MaiselTM). Those women often finish their look by shellacking on a final coat of hairspray, popping on false lashes, slicking on their power lipstick, and walking out the door. 
I can tell you that I was that girl in college who showed up to her 8 a.m. music theory class with a full look on. That didn't change as I entered the workforce — I'm known for wearing a winged cat eye or a bright red lip. And, in recent years, I have become a woman that (sometimes) does her hair in the morning. False lashes, however, have remained a beauty accessory that's strictly reserved for significant dressy events, ranging from friends' weddings to Halloween. No matter how many tips and tricks I've gleaned from professional makeup artists — place a mirror on a table and look down into it when applying lashes, use a tweezer to get them right into place, etc. — I just can't pop on falsies with ease. 
That all changed when a fellow beauty editor and friend posted about KISS® Magnetic Lashes on Instagram®. The brand has long been my go-to for a false lash (I'm particularly fond of BloomingTM Lash in Peony, $5, and Lash CoutureTM in Teddy, $7), so I was quite intrigued. "Do you actually like these?" I asked suspiciously. I'd tried a few iterations of magnetic lashes from other brands in the past and found them to be even more annoying to deal with than regular strips. They either didn't stay on or were too complicated to apply. "I love them," she gushed. "I don't wear strips because my brain and using lash glue just don't mix."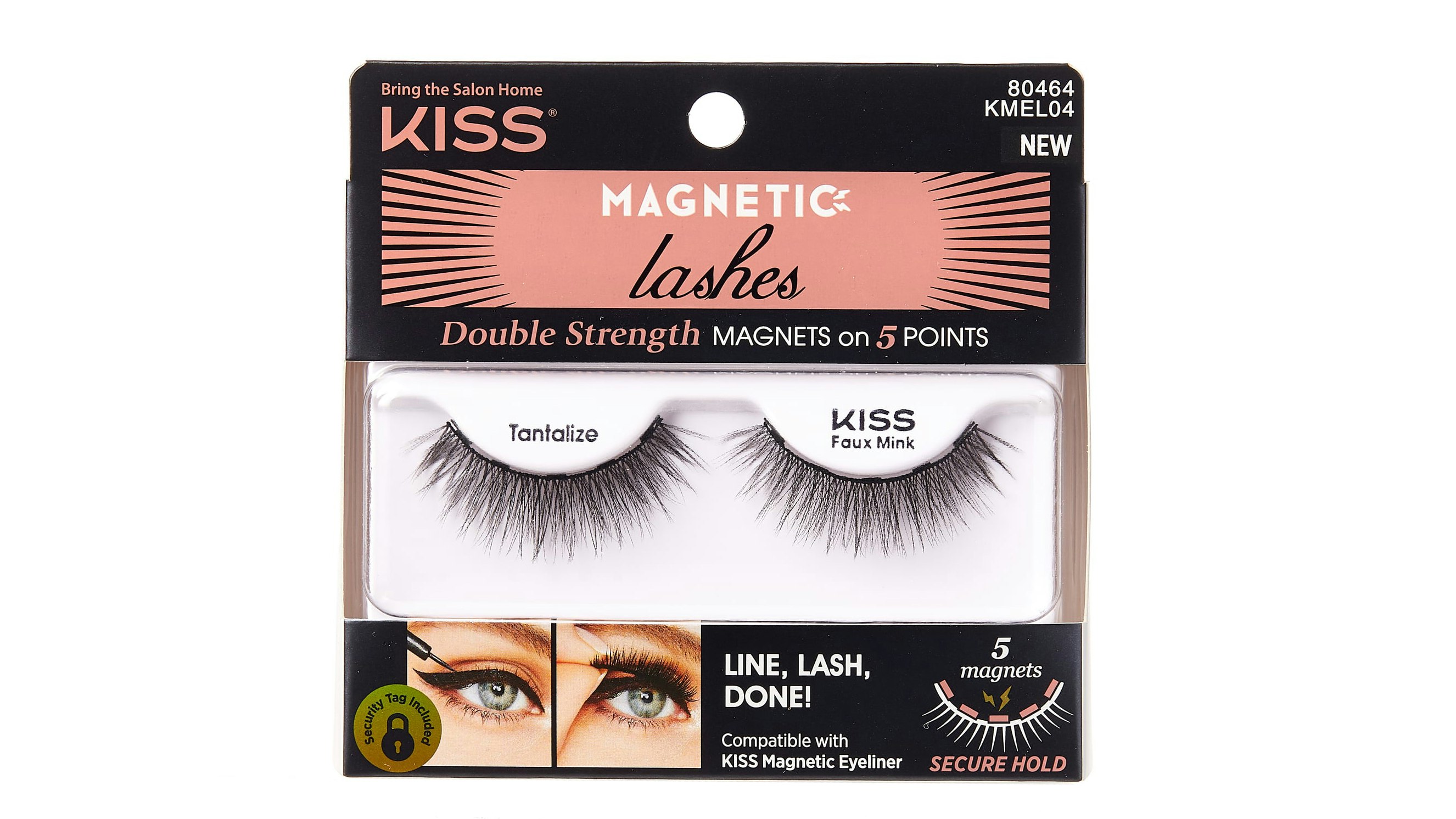 I trust her beauty judgment inherently, so, with her seal of approval, I asked the brand if I could check out this new launch. A set of falsies (the style "TantalizeTM," $8) and a tube of liquid liner ($10) appeared on my desk post-haste. I couldn't wait to experiment until I got home, so I opened up the products and examined them carefully. I found that the wispy, fluttery lash strips each featured five teensy magnets, which adhere to the eyelid via a magnetic liquid liner (sold separately). According to a representative for the brand, it's the iron oxides in the liner formula that help the magnets stick.


Though it had been a few years since I used a liquid liner with a brush tip instead of a felt one, I shook the tube and slicked on a cat eye with ease. "The Magnetic LinerTM formula works best when applied in thin layers," adds Yvonne MacInnis, a makeup artist that works with KISS. She advised applying two or three layers for best results. I was pleasantly surprised by the formula itself: it was extremely black and dried down to a matte finish. 
I then grabbed my falsies by the tips of the lashes and held them close to my lashline, curious to see how powerful the magnets were. The center magnets immediately gripped onto my lids, and I gently pressed the inner and outer corner magnets against my eye to secure the strip. I repeated this on the other eye, then leaned away from the mirror. 
I was totally agog. These lashes had helped me complete a ritual that once took up to 20 minutes (accompanied by occasional frustrated tears and nervous sweat) in fewer than five. I quickly posted a selfie on Instagram, and then headed to a dinner date with my boyfriend. He didn't remark upon my lush lashes — whether he failed to notice them or just didn't comment upon them is unclear — until I promptly pulled one strip off with ease, much to his horrified fascination. "How cool is this?" I asked, adding, "The wonder of science!" He watched as I pressed them back into place, admitting the technology was interesting (though he was less excited than my Instagram followers). I haven't stopped entertaining myself with the easy on/off process since.
So, readers and inquiring minds in my Instagram DMs want to know: Do these lashes really work? The answer on my end is a resounding yes, and I'm so glad I've started experimenting with them. I do, however, have some tips that will help enhance your magnetic lash user experience.
First of all, you must practice and master your liquid liner application before playing with this one. That sounds obvious, but this need becomes more apparent once you use this product. The formula will absolutely not budge when errantly placed — even when wet — and dries quickly in place. You may also need to change your application style. Though I'm a seasoned liquid liner user, I tend to only apply it to two-thirds of my upper eyelid, leaving the inner corner untouched. Unfortunately, that's not an option when you have a strip of magnetic lashes that requires anchoring in that precise spot. I've had to adjust my eyeliner aesthetic to include a bolder look, with more dramatically-defined inner corners. It's taken some time to get used to, but it's been worth it.
As MacInnis noted, multiple thin layers are recommended to get the best results out of this liquid liner. I'll go one step further and suggest concentrating those multiple layers at the inner and outer corners. Those are the areas where typical false lashes tend to lift on my eyes, and once those areas start to loosen, the whole strip's adherence becomes compromised. You can also keep the liquid liner in your bag for touch-ups, just in case.
Lastly, invest in an excellent oil-based makeup remover. This liquid liner is formidable in its strength, and no water-based makeup removers or micellar waters will even make a dent. (I confess to wearing the liner several days in a row, just painting more product over the previous day's line because I didn't want to deal with the removal process.) I tend to avoid oil-based formulas because I wear contact lenses, and even a smidge of oil on the surface of a lens renders my vision impossibly blurry. However, it's simple enough to just save my eyeliner removal for the end of the day, after I've disposed of my lens. I've been relying on Elemis® Pro-CollagenTM Cleansing Balm ($64) to break down the liner and cleanse my upper lid in preparation for the next morning. 
Currently, there are only four lash styles (CharmTM, a traditional wispy strip; TemptTM, a more voluminous strip with most of the length concentrated towards the center of the eye; Crowd PleaserTM, a seriously dramatic lash that uses dark, glossy faux mink fibers; and the style I tried, Tantalize) and one liquid liner shade available. However, I'm hoping for even more options (including a dark brown liner, my go-to shade these days). After all, I'm finally coming into my own as a woman who puts on her face in the morning, and I'd like to cater my lash look to my every whim.
Complimentary product was provided to the author for the purpose of writing this article.
Product prices may vary from the time this article was written.
Allergan® may receive commissions for purchases made through links in this article.