If you, like most everyone around you, are currently watching the Netflix® docuseries CheerTM, then you know what we mean when we say that Carly Cardellino was a flyer.

"I started cheerleading in sixth grade, and I loved being a flyer," enthuses Cardellino, also a fan of the show. "Cheerleading teaches you how to work hard and be a part of a team in the most crucial way — and how to trust your teammates. I mean, I was literally being thrown 25 feet up in the air, and relying on three people to catch me. You have to have a ton of trust for that. But it was such an adrenaline rush to be thrown super high."

Just follow Cardellino on her Instagram® feed and you completely get that she's a flyer. Her big brown eyes are always full of life — curious, engaging, always with an anecdote (or antidote) to share. Over the past year, the longtime beauty editor's posts have shifted more from beauty to lifestyle and parenting. Makes sense, since a little over a year ago she and husband Giovanni Vaccaro welcomed their daughter, Delfina Celine. From the moment Cardellino announced her pregnancy, her feed was full of questions, mishaps, triumphs, and tips.

"When you're pregnant, your body just does its own thing, including a lot of things no one ever tells you about," she laughs. "For example, my lips got bigger. It happened to Kim Kardashian and no one believed her, but I'm here to tell you, it's true."
Cardellino's social media numbers might not be quite near KKW's, but she's on her way. In January, she left her post as beauty director for Cosmopolitan® to focus on growing her own brand. "It's true what they say: When you have a baby, your priorities change," says Cardellino of the move. "That said, having a career and a life outside of being a mama is still very much a priority — especially since I want to show Delfina that you can have it all." She adds, "I love Cosmopolitan. It raised the little beauty editor baby that I was into the polished director that I am, and I couldn't be more thankful."

Cardellino first got attuned to the magazine world back in the mid-aughts during a visit to her cousin Leah's office at Health® (that would be fellow beauty legend, Leah Wyar Romito, now VP/GM at DotdashTM).

"Leah sent me to the beauty closet, and I remember standing there thinking, 'This can't be real.' I went home and said to my dad, 'I'm going to live in New York someday,'" recalls the Johnstown, Pennsylvania, native. "I just loved the energy the city brought, and how there's always a million things to do. It's a hustler's playground."

And this woman has hustled. She procured an internship at Health during college, then became an assistant editor at Shape® after graduating college, assisting both the beauty editor and the editor in chief. Six years later, in 2012, she spotted an opening on Twitter® for a beauty editor position at Cosmopolitan. "People were starting to care about online stories, but they certainly weren't a priority," explains Cardellino. "But then a massive switch happened, and I credit Amy Odell (who oversaw the website) with that. She showed us all how powerful the internet was going to be."

Five years later, love turned up in the form of a charming hairstylist. "Gio and I were set up on a blind date," recalls Cardellino. "I remember being really nervous to meet him, because I'd seen pictures of him and I thought he was so handsome. But, right before we met, he texted me: 'Almost there, look for me. I'm wearing a Hawaiian shirt.' I laughed and immediately, I was like, 'Okay, this is at least going to be fun.' I loved that he didn't take himself too seriously then and still doesn't now — even with all of the success he's had." [For the record, yours truly has interviewed Vaccaro, Glamsquad® Artistic Director, for SpotlyteTM and can attest to the Grade A sense of humor.]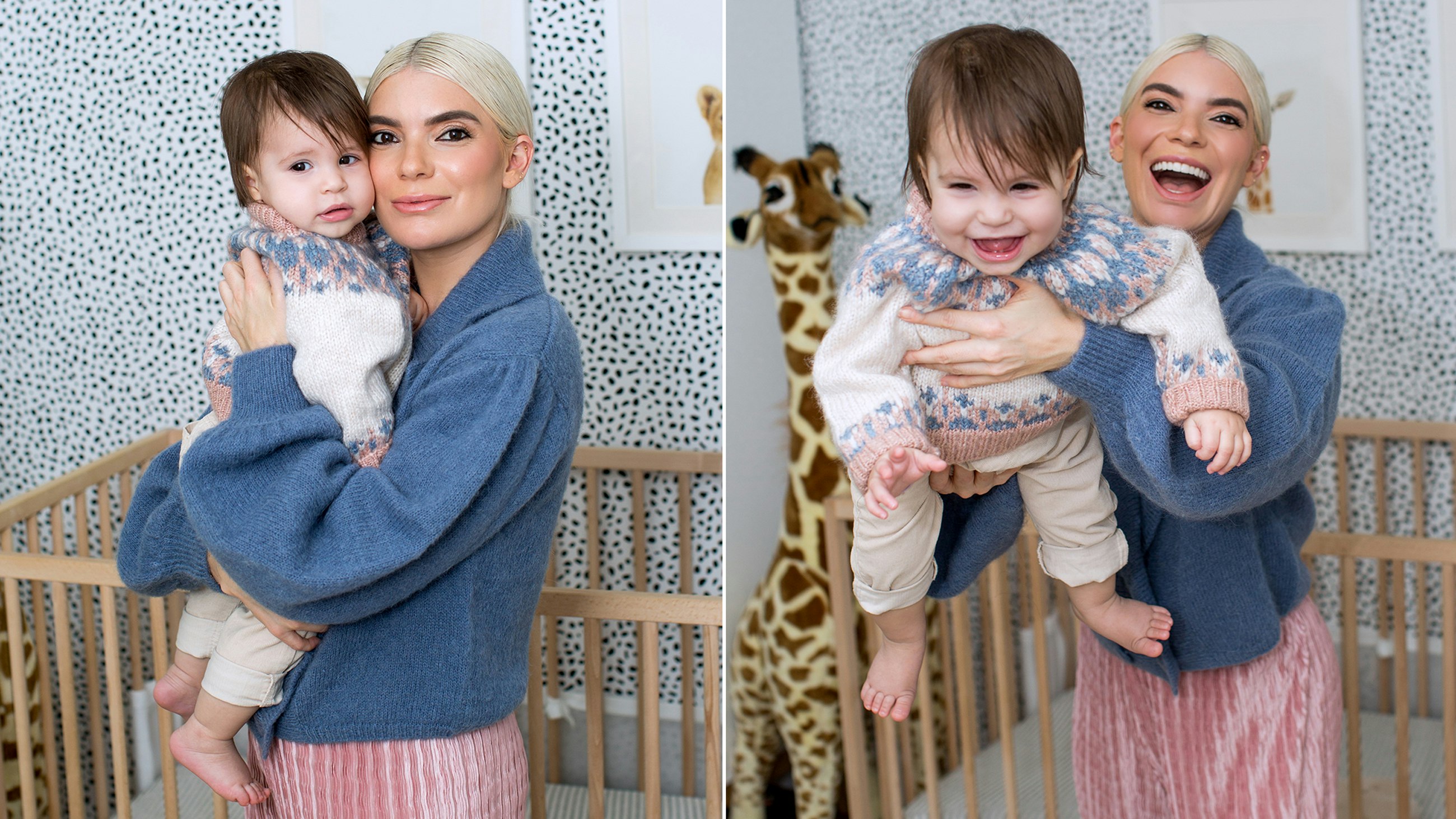 The laughter led to romance, which blossomed into love, then something even bigger — literally. "The day we found out we were pregnant, I was flying to Paris," laughs Cardellino. "Delfina came out of the blue, which was such a blessing, in hindsight. We're both so goal- and career-oriented, who knows when we would have actually stopped and planned it. And then it happened, and there was no time to think about anything."

So they leapt. Cardellino walked down the aisle three weeks before giving birth to Delfina on January 1, 2019. Three months into the new year, she became Cosmo's beauty director for both its print and online platforms.

"It was definitely a balancing act, because both print and digital are beasts, but I felt confident that I could handle both," she says. "Now, with my focus on freelancing, brand partnerships, and brand consulting, I'll definitely be much more in the digital space, which I'm sure will come with its own set of challenges!"

Read on to hear Cardellino share about her skincare must-haves, her makeup artistry moves, and a rather recalcitrant eyebrow muscle.
Spotlyte: Tell us about your skincare routine.
Carly Cardellino: I was suffering from something that was more intense than milea, but not as intense as a cyst. [I saw dermatologist Shari Marchbein, MD, and she] slipped on her gloves, touched my face, and told me I had deep comedonal acne. She promptly prescribed what I use to this day.

I use Simple® Micellar Gel Cleanser morning and night. It's fragrance-free; all of my products are fragrance-free. I can't stand fragrance in skincare. After that, in the morning, I use a [combination] prescription [product with] benzoyl peroxide. I must warn you, it will bleach your clothing. Many of Delfina's onesies have been bleached because I hug her [with it on]. After, I use SPF — as we all should — Elizabeth Arden® City Smart® SPF 50.
Editor's Note
As always, talk to your doctor before starting any new medication.
Spotlyte: What about at night?
CC: Micellar Gel Cleanser again, then on Mondays, Wednesdays, and Fridays, I use [prescription] tretinoin, followed by a topical dapsone gel (which I use every night). Then, Skinceuticals® Triple Lipid Restore 2:4:2® cream to keep my skin barrier intact. If I'm feeling dry, Glossier® FutureDewTM. That is my routine, and after [my first week of doing it], my skin was completely clear.
Editor's Note
Retinol shouldn't be used by women who are pregnant, considering getting pregnant, or nursing. Please consult with your doctor before use.
Spotlyte: Now, please share your makeup routine with us! 
CC: My makeup routine is super simple. IT Cosmetics® CC+® Cream in Medium, which I apply with a damp beautyBlender®, then Honest® Beauty Crème Cheek Blush in Coral Pink. I curl my lashes — I've tried tons of lash curlers, but Tweezerman® has always made my favorite lash curlers. For mascara, I've been trying SaieTM and I really like it; it gives a more natural lash. When I want a little more oomph, I use NARS® Climax MascaraTM. I line my lips with Charlotte Tilbury® Lip Cheat® in Iconic Nude. Then, over it, I use an old Tory Burch® shade called Pas du ToutTM, but I'm not sure she makes it anymore. I also use Glossier Vinylic LipTM in PonyTM. What I hoard the most are lip colors in nudes, deep berries, and reds. On date night, I like to line the inner rims of my eyes. If I do my eyelids, it's a swipe of black shadow with glitter in it.
Spotlyte: Is there any makeup move you're a klutz at?
CC: I can write about winged liner 'til the cows come home, but I cannot get it right. Fun fact: I do people's weddings, so that proves that I can do it on other people — just not myself! I always get nervous when I do people's makeup, though, because it's such a big day. But the brides always say to me, "I just want my makeup to look like yours, but my eyes amped up," and I'm like, "That, I can do.

Spotlyte: Do you get any in-office procedures? If so, who do you see?
CC: I go to Shereene Idriss, MD, a.k.a. the PillowTalkDermTM.  First of all, she's an artist who actually creates art. I've been to her apartment, and she has a bunch of pieces on the wall that she's done. I only trust her with my face. I don't want to look like I've done an overhaul, but I love [subtle results].
Spotlyte: What have you tried?
CC: My mom has these deep lines in her forehead, and I furrow my brow. I wanted to [temporarily treat my frown lines], which I've done successfully by getting injectable wrinkle reducers. My mom is so funny, [though]. She always says, "No, no, no, I don't want to do injectables, but how do I get [temporarily smoother-looking] lines?" I say, "I don't know how to tell you this, but . . . you're going to need [a consultation for] injectable wrinkle reducers."

Editor's note  Injectable wrinkle reducers are used to temporarily smooth the look of moderate to severe wrinkles in certain areas of the face such as the forehead, frown lines, and crow's feet. They should not be used more frequently than every three months. Like any medical treatment, they have potential risks and side effects. Be sure to talk to a licensed provider to see if they're right for you. Have more questions? Chat with our team of trained aesthetics specialists now. 

[I'm very expressive] when I'm talking. I have this one brow that gives this major attitude on my forehead. Sometimes when I apply mascara, I have to hold it. [It's made my] forehead wrinkles so high. When I saw Shereene, she gave me injectable wrinkle reducer [to temporarily reduce the muscle activity and wrinkles]. Also, she gives me filler in my [Cupid's bow] — but my lips don't look like a ski jump. Shereene will say no to me about certain things. I once asked if I needed filler in a different area, and she gave that a hard no.
Editor's note  Injectable filler is a temporary treatment that adds volume to areas of the face such as the lips, cheeks, and laugh lines. Like any medical treatment, it has potential risks and side effects. Be sure to talk to a licensed provider to see if it's right for you. Have more questions? Chat with our team of trained aesthetic specialists now.] 

I [also see] Neal Schultz, MD, for chemical peels. That's all I've had so far, but I'm open to other things.
Spotlyte: What about body work?
CC: I love lymphatic massage, and I do think I see a difference. Flavia Lanini is amazing. Also, my friend Piret Aava, a.k.a. the Eyebrow Doctor®, found these lymphatic drainage machines on a trip to a spa in Eastern Europe, and she brought them back home. You lean different parts of your body against them for different amounts of times. And you're sore the next day. I saw a difference.
Editor's note  If you take blood thinners, talk to your doctor before doing lymphatic massage.
Spotlyte: Let's finish on a social media note: Who do you think does Instagram best?
CC: I like how Chriselle Lim mixes lifestyle with beauty; same for Lauren Gores. And, now that I'm a parent, I feel we all have the same sort of thinking and sensibilities. I'm more engaged with them now. Fashion, beauty, lifestyle, fitness — that's kind of what my page is.

Spotlyte: Finally, what's the future of social media?
CC: If it's not Instagram, it'll be Instagram on steroids, or it'll be another platform we'll first avoid then feel compelled to get on. I know there were early adopters, but you never know which platform is going to stick. It's such a fun place to be, as long as it's not making you feel miserable.
Allergan® may receive commissions for purchases made through links in this article.