Whether you hit up Skin Laundry®, went in for Clear + Brilliant®, or took the ablative plunge, how you nurture your skin following a laser skin resurfacing treatment is critical to your recovery and results. When discussing the different types of lasers used in laser skin resurfacing treatments, note that there are numerous options to choose from according to your specific skincare goals. That said, each laser type falls into either one of two categories: ablative and non-ablative.

"The basic difference is that ablative lasers remove the top layer of skin, while non-ablative lasers work by heating up the underlying skin tissue without harming the surface," explains Hadley King, MD, a board-certified dermatologist based in New York City.

To elaborate further, non-ablative resurfacing treatments trigger collagen production in the deeper layers of skin, which helps improve overall tone, firmness, and texture. Pain, downtime, and results range from mild to moderate. Conversely, as Dr. King mentioned, ablative laser skin resurfacing completely removes the old, top layers of skin, which translates to a more intense experience in terms of discomfort, recovery time, and even risk. (This does make for more dramatic results, though.) "Regardless of which laser you've used, skin will be more sensitive after treatment," Dr. King adds. With that in mind, let's dive into what an ideal skincare recovery regimen looks like for mild, moderate, and intense laser skin resurfacing treatments. 
Superficial Laser Skin Resurfacing
This category includes non-ablative lasers, such as Nd:YAG, IPL, and Alexandrite. These are in-and-out treatments that can take as little as 15 minutes to complete. "The idea is that these low-energy procedures allow for [little to] no downtime," explains Dr. King. "Often, a hyaluronic acid serum is applied afterwards, and the added hydration helps any temporary heat from the laser treatment diminish quickly."

You may have some light redness, which can easily be concealed by makeup and usually clears up within a few days, adds Adarsh Vijay Mudgil, MD, a double board-certified dermatologist based in New York City. He recommends being hyper-vigilant about avoiding the sun and wearing SPF in the days that follow, and reaching for a physical versus chemical option with an SPF of 30 or more. Elta MD® UV Clear Broad-Spectrum SPF 46 ($35) is Dr. Mudgil's preferred option.

Since there's potential for skin sensitivity following your mild laser treatment, Dr. King says it's best to use a gentle cleanser and avoid active ingredients for 24 hours, including retinoids, chemical exfoliants, physical exfoliators, and acidic products, like some vitamin C formulations.
Editor's Note
Retinol shouldn't be used by women who are pregnant, considering getting pregnant, or nursing. Please consult with your doctor before use.
Instead, Dr. King recommends boosting your application of hydrating and gentle antioxidant ingredients. "Your skin is more amenable to the penetration of active ingredients after a laser treatment, so that makes it a great time to use non-irritating, anti-aging ingredients like peptides and non-acidic antioxidants," she says. She's fond of Alastin® Regenerating Skin Nectar® ($195), a silicone-based serum that contains peptides. It feels soothing and protective without being too occlusive for most people.
Medium Intensity Laser Skin Resurfacing
This category also includes non-ablative lasers, as well as treatments such as Clear + Brilliant and Fraxel®. Even though a topical numbing agent is used, you may experience some redness, swelling, and sensitivity similar to that of a sunburn immediately following the treatment. Depending on the type of laser and your skin's reaction, this can last for a few hours. 

Then, there will be a "sandpaper" phase in which your skin toughens and peels. Around the one-week mark, though, recovery will be mostly (if not fully) complete. Because skin has undergone more trauma compared to a mild treatment, a more stringent skincare regimen is recommended.

Similar to the mild laser skin resurfacing skincare regimen, you'll want to religiously apply SPF 30 or greater daily and limit the ingredients applied to your skin in the first few days. Those include retinoids, chemical and physical exfoliants, and acidic products.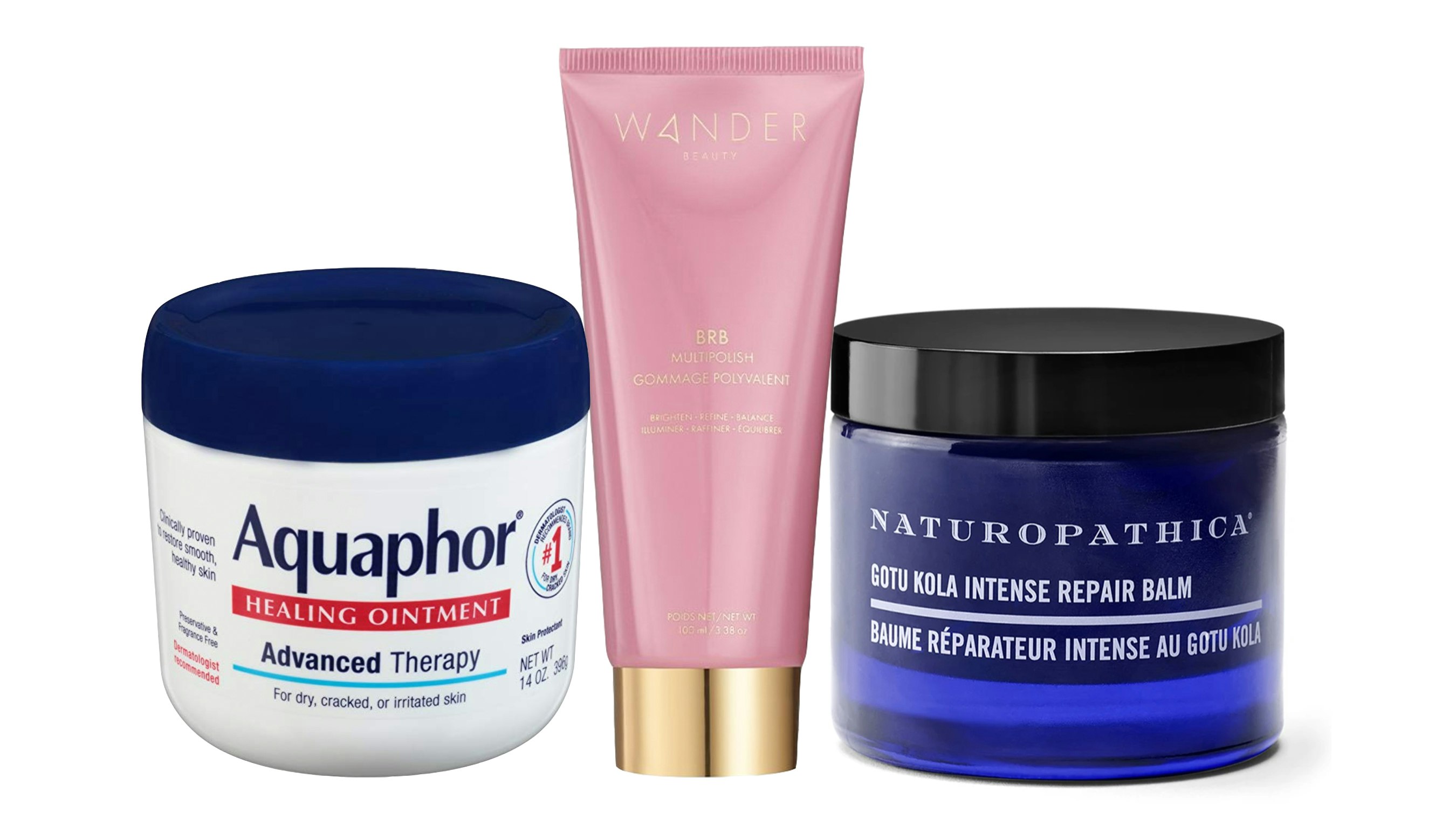 A gentle cleanser and hydrating toner is ideal, followed by a simple hydrating serum. "When the skin is raw, the most important thing is to keep it hydrated," advises Dr. King. "Keeping the tissues moist [helps] the epidermis to heal." To seal all that goodness in and further soothe and protect your skin, she says to use a rich, simple emollient, such as Aquaphor® Healing Ointment ($10) or Naturopathica® Gotu Kola Intense Repair Balm ($24).

If a full week has elapsed, all redness and sensitivity is gone, and you still have bits of old skin clinging on from the sandpaper phase, it's OK to use a very gentle exfoliator. Try Wander Beauty® BRB MultipolishTM ($36), which contains glycolic acid, fruit enzymes, and cellulose to carefully buff away dead cells.
Deep Laser Skin Resurfacing
This final category of laser skin resurfacing includes ablative treatments, such as traditional CO₂ and Erbium lasers. As we previously mentioned, this type of laser removes ("ablates") the surface layers of skin and is an intense, involved process that generally requires two to four weeks of major downtime, which is why many people schedule these procedures over long weekends and time-off. (To drive this point home, note that in addition to a topical numbing agent, some doctors prescribe a sedative and/or strong pain medication during the treatment.)

Following your treatment, skin will be red, raw, and highly sensitive. Your doctor will immediately apply a bland and heavy ointment to your skin, followed by a surgical dressing. Reapplying ointment and changing the dressing will likely be the only skincare regimen you'll need to follow for the next few days or weeks, and this might be something your doctor does at intermittent follow-ups. 

In addition to tingling, burning, stinging, and itching sensations, your skin will also likely ooze as it moves through the healing process. (Sounds gross, but there's gorgeous skin at the end of the experience, so stay strong!) This phase typically lasts for one to two weeks, and over-the-counter or prescription pain medications can help, as can cooling packs. At this time, you may also need to complete a round of antiviral medication to prevent infection, under your provider's guidance, of course.
Editor's Note
As always, talk to your doctor before starting any new medication.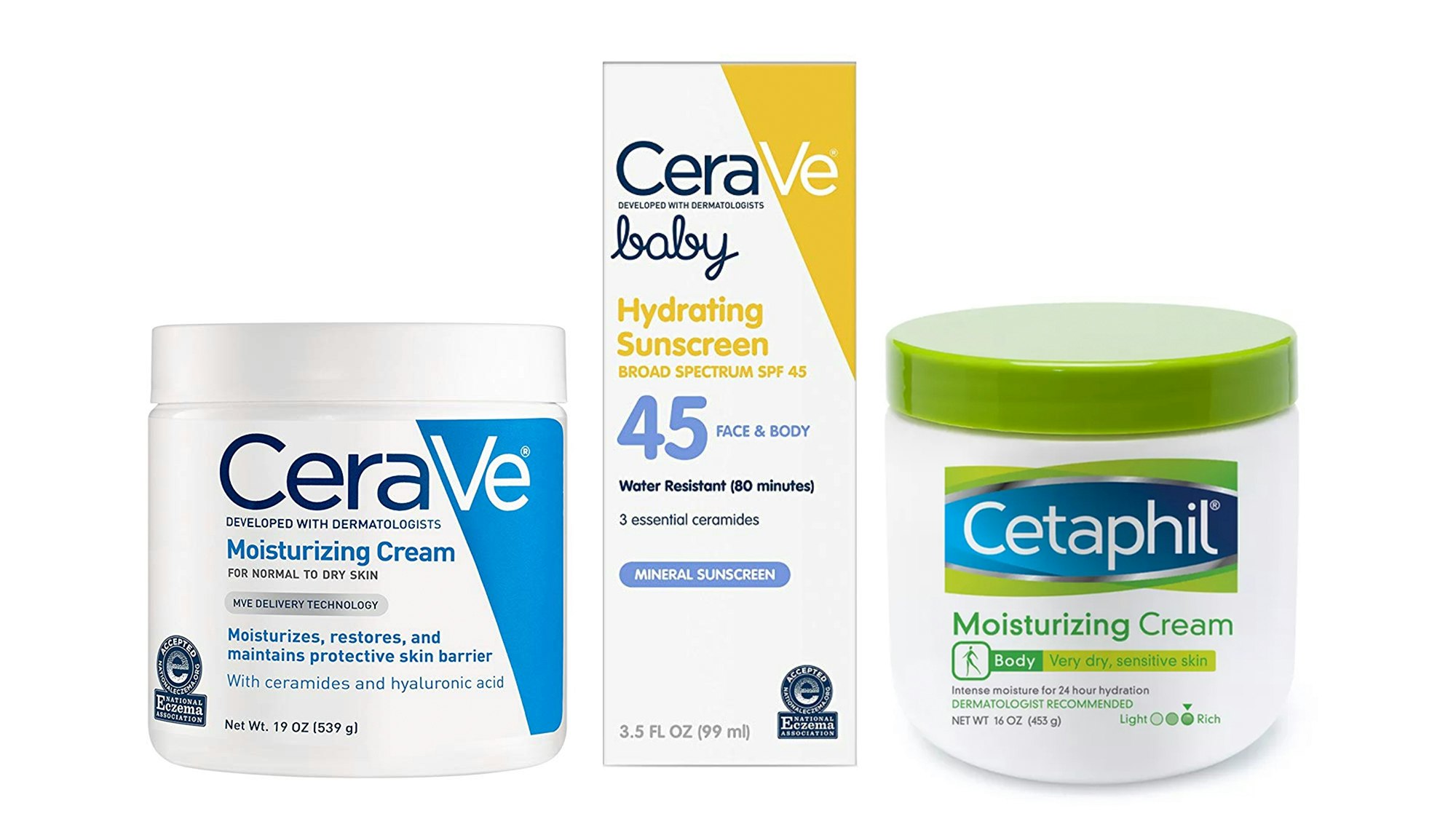 Once your new skin has grown in, the bandages can be removed and you can follow a mild, but vigilant skincare regimen. This includes gentle cleansers, bland hydration, and heavy emollients. Also, an SPF 30 or higher is mandatory. "Any newly resurfaced skin is extremely susceptible to UV damage, so it is very important to protect the skin from the sun," warns Dr. King, who advises seeking out a 100 percent mineral-based formula. "I often recommend looking for one made for babies," she adds. We like CeraVe® Baby Mineral Sunscreen SPF 45 ($18), which also contains complexion-nourishing ceramides to give your tender skin extra support.

As your skin begins to visibly heal, thinner, less occlusive formulas can be used. Dr. King generally recommends simple, reliable moisturizers like Cetaphil® Moisturizing Cream ($11) or CeraVe Moisturizing Cream ($17). Avoid retinoids, chemical and physical exfoliants, and acidic products for at least another two to three weeks following bandage removal. While it can be stressful to care for your skin during this delicate time, this advice — followed in conjunction with your provider's recommendations before application — will go a long way towards building healthier, more radiant skin. 



Product prices may vary from the time this article was written.

Allergan® may receive commissions for purchases made through links in this article.