When entrepreneur Dara Levy owned a medspa in Chicago years ago, she wanted to start a skincare line and "be the next Estée Lauder®." But Levy had a major hurdle: "I couldn't figure out what the hero ingredient was going to be for that line," she recalls. One day, as she was taking a routine shower, her "a-ha!" moment came, changing her career trajectory. "I screamed at the top of my lungs, 'Oh my God, it's DERMAFLASH®!'" she says. "I pivoted completely, because I realized that I had this idea that literally didn't exist [in the market]." 

Levy is the founder of DERMAFLASH, a handheld device using sonic technology that painlessly removes dead skin cells, built-up debris, and peachfuzz, which was introduced to the world in 2016. (Read one editor's review of the tool here.) The results are similar to dermaplaning, which is typically conducted in a medical office or spa.

Levy has since sold her spa, but her passion for dermaplaning obviously remains. It's also what initially inspired her to change careers in the first place, and what continues to propel her forward. In fact, Levy, 59, didn't start in beauty — rather, she pursued fashion, followed by a stint at the Chicago Mercantile Exchange® — but her quest for perfect skin kept her going. 

Before the DERMAFLASH device even made its debut, Levy had trademarked her medspa's dermaplaning treatment, "DERMAFLASH," and the venue had become known for the signature service. (They did 6,000 treatments in the first five years alone!) "We layered it into all of our facial treatments, and people would come to us to get red carpet ready, be it visiting celebrities or local newscasters, or just anybody that wanted to look great," she shares.

Levy didn't stop at DERMAFLASH. The company's DERMAPORE® device, a pore extractor and serum infuser, launched last fall on QVC®, selling 2,000 units in under eight minutes. (The brand has sold 20,000 units just on QVC.)

We chatted with the entrepreneur about her introduction to dermaplaning and career changes, as well as her skincare routine, the all-female staff she employs, and if her daughters will follow in her footsteps.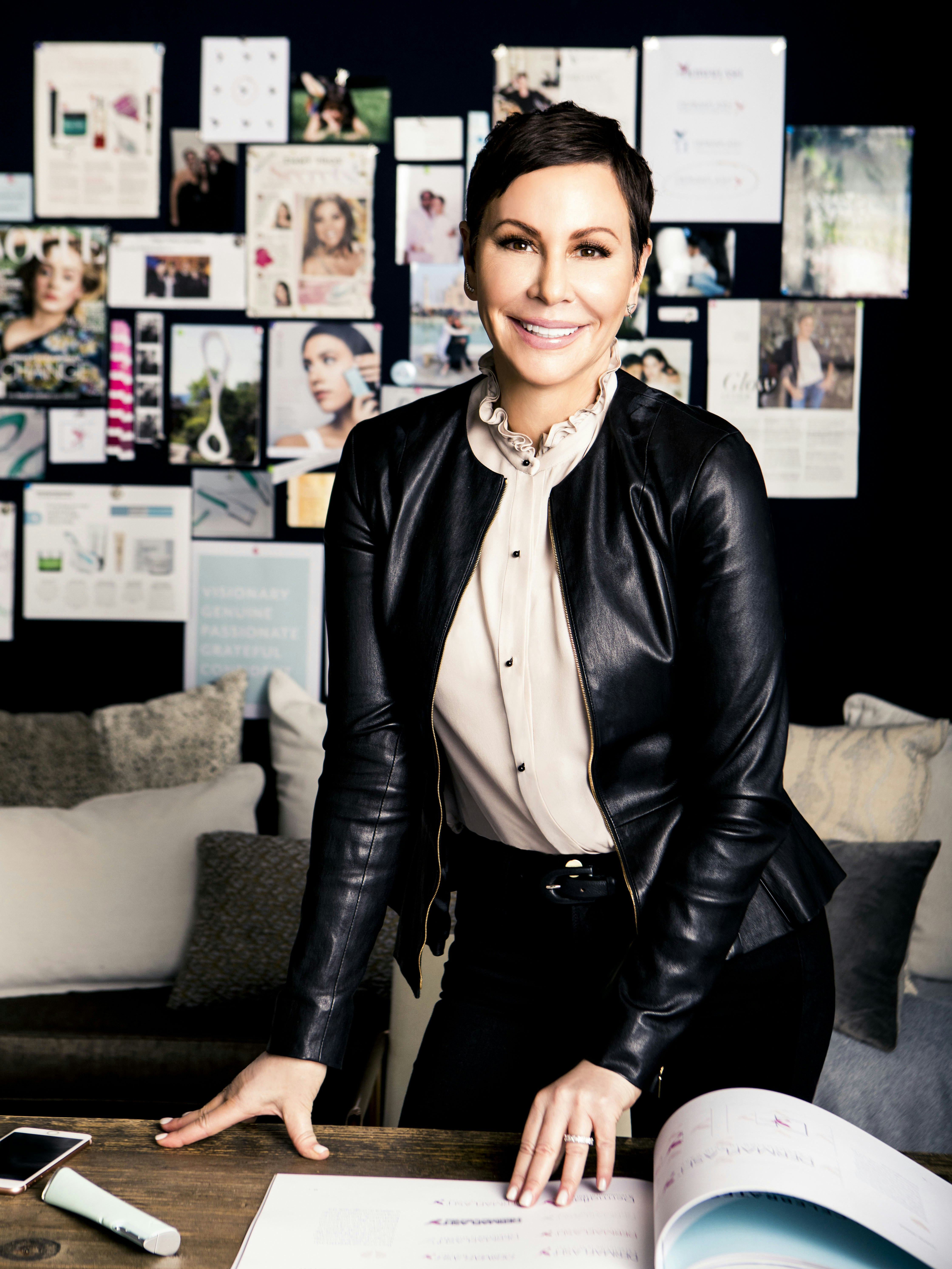 Spotlyte: What were your initial dermaplaning experiences like?
DL: I used to leave there really beat-up because the medical esthetician would do extractions. Traditional dermaplaning is performed with a surgical scalpel and a surgical blade. I did realize that the elegance of the treatment completely relied on the hand of the esthetician. If she's a little bit too aggressive, you can have a bit of redness. The end result a couple of days later was amazing, but there was a little downtime for me.

Spotlyte: How did you change the dermaplaning experience?
DL: When I decided to have this treatment in my spa, we tweaked it a little bit. We added oxygen to the treatment. We did a lot of different things with it. Every single time somebody walked into my spot tired and in a bad mood, a half an hour later they walked out with their shoulders back, standing tall, glowing, and feeling good about themselves. This treatment [can] ultimately transform your skin the very first time you do it.

Spotlyte: What were the first steps in making DERMAFLASH a reality?
DL: I got validation from people I trusted that this was a good idea. This was a brand new paradigm in beauty. It took hundreds of hours of research and development, prototypes in different factories, and different industrial designers before DERMAFLASH was born.

Spotlyte: How does in-office dermaplaning work compared to DERMAFLASH?
DL: When you have a dermaplaning facial in a spa, you go back four to six weeks later. Your skin cells have gone through re-epithelialization. They've completely turned over again, because our skin cells turn over every 28 days.  When I was developing DERMAFLASH, I wanted to take consumers off the hamster wheel — DERMAFLASH is done weekly, so their skin is constantly amping up microcirculation and cellular turnover. You're not waiting a month to start the whole process again. You're getting ahead of it in a kinder, gentler way.

The most important part of my routine is DERMAFLASH. What comes off of my edge every single week is crazy. There's just a psych element, too. It just makes you feel so much better about yourself. 

Spotlyte: Besides DERMAFLASH, what other treatments are you into?
DL: Even when I had my spa, I was the shoemaker's daughter that had no shoes; I was always waiting to put myself in for treatments. Aside from dermaplaning, I barely got on the table myself.

When I developed this device, I [thought I might start getting] professional treatments, but I truly don't. I don't really let people touch my face because I DERMAFLASH once a week. I'm obsessed with the La Mer® mask in the green packet. I like the SK-II® masks and 111SKINTM out of the UK — they make some beautiful products as well.

Spotlyte: Do you get injectables?
DL: I do injectable wrinkle reducers in my elevens and my crow's feet. I haven't done any filler for a while. I go to a local woman in Chicago, Ronna Kennelly with Northwestern MedSpa℠.

Editor's note  Injectable wrinkle reducers temporarily smooth the look of moderate to severe wrinkles in certain areas of the face, including the forehead, frown lines, and crow's feet; they should not be used more frequently than every three months. Injectable filler is a temporary treatment that adds volume to areas of the face such as the lips, cheeks, and laugh lines. Like any medical treatment, both injectable wrinkle reducers and injectable fillers have potential risks and side effects. Talk to a licensed provider to see if they're right for you. And learn more now by chatting with a trained aesthetic specialist.]

Spotlyte: When did you start doing injectables?
DL: I started doing injectable wrinkle reducers 15 years ago. I like [them to look subtle and] to have some movement, because I'm on TV and I'm speaking. I think it's important to have some animation on your face. 

Spotlyte: What's in your makeup bag?
DL: If I'm just working from home or if I don't have meetings, I don't really wear makeup. I'm not someone that stays in the house and looks pretty. But, I have a pretty simple makeup routine. I change up my primers. I currently love the new Victoria Beckham® x Augustinus BaderTM primer. I'm obsessed with the IT Cosmetics® CC+® Cream Illumination with SPF 50+ Medium. Or, I'll use La Mer The Luminous Lifting CushionTM Foundation SPF 20.  I'm obsessed with the Dior® eyebrow pencil. It's a neutral color, like a taupe. It just fills and I love it. I use Jillian Dempsey® Lid Tints, Perricone MD® No Makeup EyeshadowTM. I use NARS® Multiple StickTM, Copper Almay® Eyeliner Pencil, and Armani® Mascara.
Spotlyte: What is your morning skincare routine?
DL: I always start the day with coffee with homemade almond milk and two scoops of Vital Proteins® Marine CollagenTM. I'm not married to any one cleanser. Sometimes I won't even use a cleanser. After I cleanse, I always use SK-II Facial Treatment PITERA® Essence. I've used it for years. You put it in your hands and pat it on your skin. For a serum, I've always been a chemist in my own bathroom, and I actually took all of the different serums that I was mixing together and created my own with silver ear mushroom, purslane, and hyaluronic acid. I also use The Ordinary® Caffeine Solution 5% + EGCG if I'm puffy and Perricone MD Cold Plasma+TM Advanced Serum Concentrate. I use La Mer The Eye Balm IntenseTM around my eyes and Tatcha® Ageless Revitalizing Neck Cream on my neck. I use an SPF. 

Spotlyte: What is your evening skincare routine?
DL: I use SK-II Facial Treatment PITERA® Essence and YonKa® JuvenilTM Purifying Concentrate for blemishes and imperfections. Then I apply my own serum, La Mer Crème de La Mer®, and Tatcha Ageless Revitalizing Neck Cream. When a pesky zit shows up, I use ZitStickaTM. I occasionally use an overnight mask on top of it all. On my hands, I use Weleda Skin Food® Original Ultra-Rich Cream, and I like the Laneige® Lip Sleeping Mask.

Spotlyte: Do you think your daughters will follow in your footsteps, whether it's going into the beauty industry or becoming entrepreneurs?
DL: My youngest, Jorie Fieldman, is 27 and she works for me. She's my social media coordinator and assistant marketing manager. My older daughter, Amanda Fieldman, 30, is part of a nonprofit that builds organic gardens in schools that are located in food deserts. She writes their grants and does their fundraising. 

Spotlyte: All along your family has cheered you on.
DL: We lost my daughters' father to colon cancer 18 years ago. He used to always say to me, "When you find the thing in life that you're most passionate about, there's going to be no stopping you." I have an angel up there leading this journey. I've never been as passionate about anything as I am this brand.

Spotlyte: What's the best advice that you have for people looking to break into the beauty industry?
DL: I truly believe that we manifest our own destiny, and I really do live by putting positive energy out there. It's about creating your own reality, creating your own truth, and sticking to your vision. If somebody says no, go find someone that says yes. Surround yourself with people that you look up to, and find a mentor. It is very important for women to build each other up, support each other, and help each other. 

Spotlyte: How do you practice what you preach in terms of surrounding yourself with strong women?
DL: My company's completely by women, for women. Right now, we don't have a man on board. We have 15 employees.

Spotlyte: When you aren't working, how do you like to spend your free time?
DL: I like to workout. I'm remarried, and we travel a lot. My husband, Richard, is from South Africa. He's opened up this whole world of travel to me and my kids. It's been really nice. Seeing the world is the biggest gift that you can give yourself, and it just opens your horizons. Last weekend, I was in the Bahamas. After Christmas, we were at a resort in Mexico. 

We made a decision that we're not going to spend that much time in the cold weather. My husband and I are lucky because we can work from almost anywhere. We travel to warm weather destinations a lot. 

Spotlyte: Do you have a mantra that you live by everyday, or any quote that you love or that really stands out to you?
DL: The way I was raised, my father always said, "There's no such word as 'no.' Say you can and you will. Say you can't and you won't." I grew up never believing that I had any limitations, and that there was nothing I couldn't do. It's really that simple. My bible is the book The Power by Rhonda Byrne. Every once in a while I'll just open it up to whatever page I get, and that's the message I'm meant to get that day. 

The first thing I do every morning when I wake up is thank the universe for the amazing day I'm going to have. The last thing I do every night before I go to bed is thank the universe for the amazing health, happiness, and love that my kids are going to find. I try to put positivity on my pillow.



Allergan® may receive commissions for purchases made through links in this article.