Six years ago, Los Angeles based fitness trainer Marnie Alton opened her own studio, teaching a signature 60-minute workout class that combined barre, yoga, and dance cardio. During the first year, she was a one woman show: she taught every class, answered every email, and scrubbed every toilet herself. 

Alton, who initially pursued acting, hadn't planned on opening a fitness studio. And she certainly never imagined she'd start one as successful as M/BODY℠, which has become one of LA's hottest fitness destinations, replete with celebrity clients (more on this later). 

"When I first had the idea to open a studio, I had zero [business] background at all," Alton recalls. "I went to a performing arts college. My mother is a crazy hippie. We could never pay our bills. Nobody understood money organization in my world," recalls the Alberta, Canada, native.

With limited resources, Alton turned to friends of hers that had MBAs, who then suggested she develop a business plan. Creating a formal blueprint proved stressful, so Alton broke her plan down to essentials. "I thought, I'm going to need some money. I'm going to need a space. But, I can build the space. I can fly my friend in on [airline] points and feed him pizza, and he'll help me build it'," says the resourceful 42-year-old.

"Everyone told me it was going to cost hundreds of thousands of dollars," Alton says. Thanks in part to her resourcefulness, it ended up being closer to $50,000, which she spread over multiple credit cards. Within five and a half months, doors opened. 

Her lesson to other aspiring founders is rooted in the moral of the story. "Sometimes we can get bogged down in the planning," she says, "but sometimes, it's easier than you think."

Speaking of ease, when we sat down with this dedicated dog-mom, she couldn't have been easier to talk to. She's calm and uplifting, in a grounded manner that doesn't feel forced. Her enthusiastic energy is not only inspiring, but it's the kind of attitude that makes her students  amped to complete 16 more pulses of low squats — even when their rear ends are burning. One such student is Drew Barrymore, who recently lost 20 pounds by training with Alton's feel-good, results-oriented approach.

Read on for our one-on-one chat about mantras, meeting Drew, shifting careers, and Alton's beauty regimen, including what she uses instead of deodorant.
Spotlyte: How did you first get involved with group fitness?
MA: I was an actor. I started teaching fitness at 24. I was trained by Burr Leonard, who founded The Bar Method®. No one knew what barre was [at the time]. I just needed some non-craziness, and honestly, they were like, "If you teach it, then you can work out for free." I thought, "Great. That sounds perfect." 

Spotlyte: How did you transition from acting with a fitness gig on the side to fitness full time? 
MA: [I was an actor with a fitness gig on the side] for 10 years off and on. The entertainment world was just not for me. I really found that wellness — which I never thought was going to be a thing — was my love.

Spotlyte: Love being the key word, how did your relationship with fitness evolve?
MA: My journey through fitness is sort of like one of those romantic comedies where the girl keeps dating the a******s, and goes and cries on her best friend's shoulder [when she realizes they're not for her]. For about 10 years, I was trying to do this thing that I thought was my dream. But I was coming back to teaching as my joy.

Spotlyte: When did you decide to channel this joy into a full-blown career?
MA: It sounds so lame and "LA", but on New Year's Day in 2014, I was walking my terrier mutts, Whiskey and Bourbon. The streets were dead, and I had this epiphany. I thought, "Well, that's it. Done. I'm doing it. I'm leaving, and I'm doing it."

Spotlyte: How did you start working with Drew Barrymore?
MA: We've known one another for about 15 years. I met her back at The Bar Method, when it first opened. This was when boutique fitness hadn't blown up yet. There was not a celebrity who didn't come into the classes, because it was "the thing." I was a teacher and she was a client.

Spotlyte: What does your workout regimen entail when you're not teaching classes?
MA: I do my class five days a week. I really did make this class to do everything I wanted. I have been teaching this class and taking this class for six years, and I'm excited to do it. I don't want to go somewhere else. I know what it does and how it makes me feel, and how it brings me wellness. 

That being said, I love a girls' spin afternoon. For 'me-time,' I'll walk my dogs. 

Spotlyte: What products do you carry in your gym bag? 
MA: I really love female founders who are doing things in the wellness space. There's a woman I met: she founded this company called Recess®. They make shower wipes. 

My mom had breast cancer. She's totally fine [now], but she had to stop wearing deodorant. I suddenly was like, "I can't wear deodorant anymore." It freaked me out. I found natural deodorant made me smell worse. I couldn't find one that worked, so I just stopped. Now, I don't wear deodorant. I always have a few towelettes in my bag. I don't actually use that many, honestly. I think my body's leveled out.

Spotlyte: Do you wear makeup when you teach class and/or when you work out by yourself?
MA: The truth is, I own the business — I am the business. So, I show up looking presentable. I get dressed for work like everybody else does. If I'm just going to work out alone, I'm the most barefaced you could ever get.

Spotlyte: What's in your makeup bag? 
MA: I love anything that's all-purpose. I use Laura Mercier® Tinted Moisturizer. I'll always put face oil underneath. I love a little glow on the cheek, a little highlighter, and mascara. I tried the Glossier® Lash Slick®. It's really rad. At night, I go out in eyeliner.

Spotlyte: What's your morning skincare routine?
MA: A few years ago, I really started looking at what I was putting on my skin and how I was treating it. I got turned on to a couple of brands that I've stuck with pretty consistently. One is Weleda®, which is just a pretty run-of-the-mill brand, but it's so clean and accessible, and I can find it if I'm on the road. I love the [brand's] 2 in 1 Gentle Shampoo; I use it to wash my face. I'll also use it if I run out of shower gel. It's an all-purpose product to me. 

I got turned on to True Botanicals® a few years back. and I really fell in love with facial oils. I'm a wash, oil, and serum kind of gal. The more paired down for me, the better.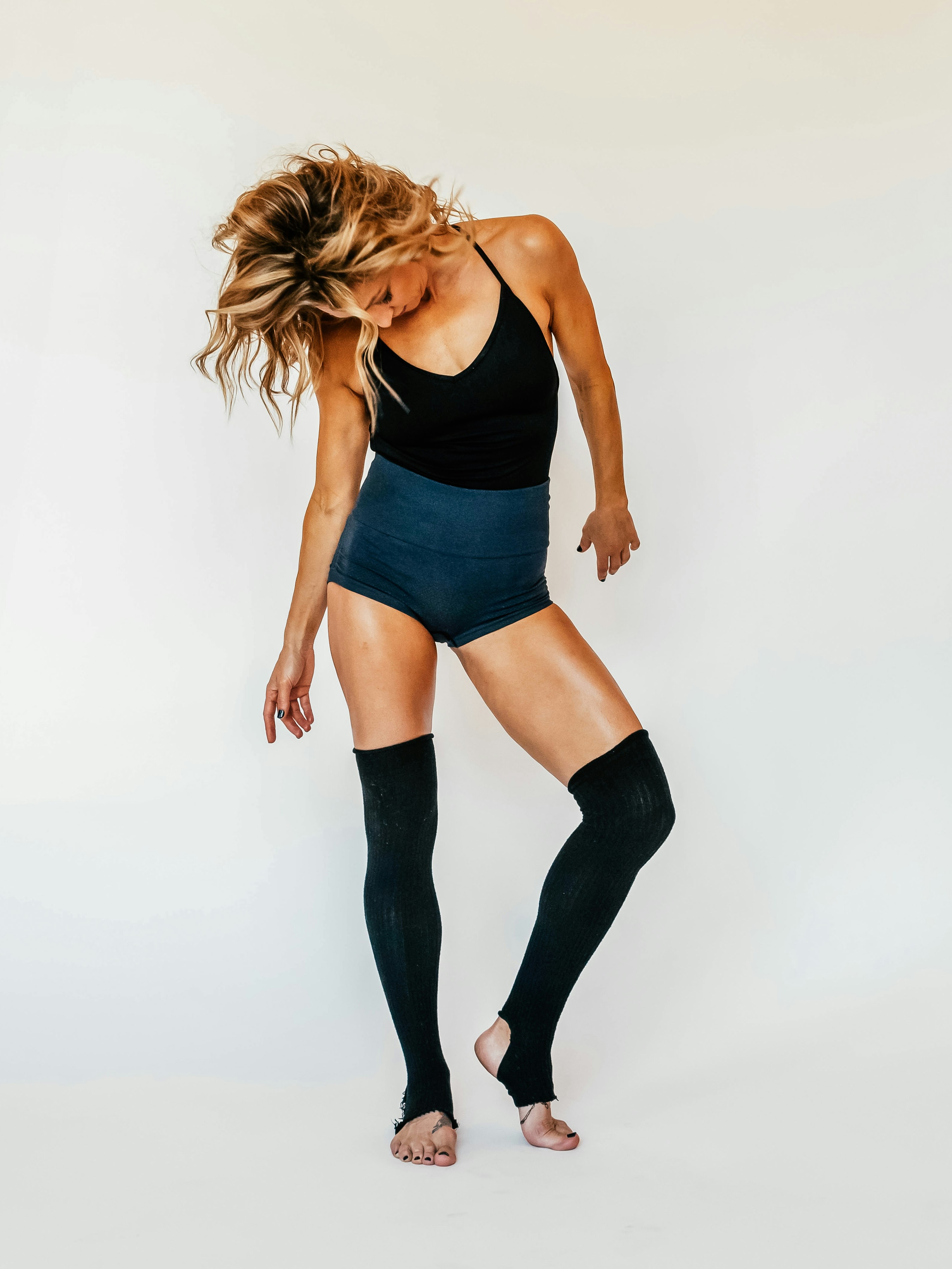 Spotlyte: What is your evening skincare routine?
MA: At night, I try to kick it up a notch. Depending on what kind of condition my skin is in, maybe I'll use a thicker night cream. Or, I will put castor oil on my face and go to sleep. I'm not joking — when I wake up my skin's never looked better. 
I learned how to do that when I got perioral dermatitis, which looks like you have crazy acne around the mouth. My dermatologist said it's common for women. It's really hard to treat, because it's basically eczema with acne, which means that what you do for one exasperates the other, which is really hard.
Spotlyte: Do you have any beauty faux pas in your past?
MA: I was one of those teenagers who always washed their face before bed. Through my twenties, no matter what kind of night it was, I never went to bed with my makeup on.
Spotlyte: What beauty treatments are you into? 
MA: One of the things I really like in LA is a Korean Spa in Koreatown. It's a naked spa. It's the weirdest the first time, and then you just, like, deal. It feels very primal, because you're all walking around naked. They have a full body treatment where they will scrub you head to toe. It's invigorating, and it's kind of freeing. They leave no place unscrubbed. They just flip you around like you're a piece of meat and they don't care. They have healing baths, warm soaks, cool tubs, steam rooms, and salt rooms. I'll go once every few months. 
I'm a big fan of facials; they're a way for me to really unwind. One of my facialists will often do dermaplaning.
I also believe very much in getting a massage every two weeks — I have a standing appointment. For me, it's necessary, it's not a luxury. It's how I maintain balance in my body.
Spotlyte: What does 'me-time' look like for you?
MA: The way that I start my day is inputting energy, because most of my day is outputting energy. I'll put on my big old don't-talk-to-me headphones. I'll roll a podcast, like some sort of inspiring audiobook. I'll walk for 45 minutes or an hour, if I can, to get my brain ready to output.
Spotlyte: Do you have a mantras that you love?
MA: One of them that I speak of a lot in class is, "Strong back and soft heart." Your body is either stable or mobile, right? The low back is mobile, which is why it's more prone to issues. The middle of your torso is stable, and that's why you can't move from your ribs the way you can your lower back. That's just how your body is. In order to be balanced, you have to have mobility and stability working in equilibrium. When my back is strong, when I feel uplifted, my heart can be soft. If your back isn't strong, your heart can't open up because it has nothing to support it.
A lot of the work we do in class is integrating stretch into the experience. I learned that palm trees can get so tall because their trunk is incredibly flexible. When the winds come they can bend, and they don't snap. Being around palm trees all the time in California, I always think, "You have to learn to bend, so you don't break." 
Spotlyte: What's the best life advice you've ever received?
MA: I don't want it to sound trite, but this is the truth: trust your instincts. My coworkers or my friends will remind me, "Remember that time you thought that you had this gut feeling." That can go anywhere from walking down an alley and going, "I don't think I want to walk down this alley today," to "I don't know if that's a person I want to give my energy to," to "I'm going to make this major big career choice that's super scary and it doesn't make sense right now, but everything in my gut is telling me to do it."
Allergan® may receive commissions for purchases made through links in this article.