For many, there's been no shortage of video calls over these last few weeks — whether it's to attend a work meeting from home, dial in for a happy hour with friends, or celebrate a loved one's birthday. Although we're immensely grateful for the wonders of technology, these hours spent video-chatting has left us thoroughly conscious of how we look through the lens of low-quality webcams and smartphones. In fact, it's almost alarming: the camera on a laptop doesn't do our face any favors — and we're hyper-aware of how easily a double chin can appear with the slight wrong tilt of the computer screen. We called upon two celebrity makeup artists for their best tips and tricks for looking great on video conference calls. Spoiler alert: all it takes is a few key products, techniques, and the right lighting. 
Video Conference Beauty Tip #1:
Don't Skip Your Skincare
This should go without saying: the key to flawless-looking makeup is having a solid skincare routine. Blending your base onto a dry, dull complexion just amplifies the look of any parched patches on your skin — and this is especially true when it comes to putting your best face forward on video calls. Makeup artist and Brand Ambassador and Product & Content Creator at Charlotte Tilbury® Beauty, Sofia Schwarzkopf-Tilbury (who has worked with Sienna Miller and Minnie Driver), says now is the time to put a little extra care into your skin. 

Before your call, she recommends cleansing to remove any dirt and oil, and following it up with a hydrating moisturizer to ensure your makeup applies smoothly on top. Try the Charlotte Tilbury Magic Cream Moisturizer ($64): it boasts a lightweight texture which sinks into the skin effortlessly, leaving you looking hydrated and plump (and it won't pill up under makeup). However, if you're an avid wearer of face oils, it's best to skip it during the day and stick to a more lightweight lotion or moisturizer. This will keep your makeup looking fresh, rather than greasy. 
Video Conference Beauty Tip #2:
Take a TV Makeup Approach 
TV makeup is known for looking intense in real life, but appearing flawless on camera. That's because bright lights tend to wash out your complexion, and wearing a more heavy-handed makeup look counteracts that effect. That being said, we don't necessarily suggest caking it on if you don't feel like it (besides, it's a lot of work for something you'll just be wiping off after your call!), but there are easy tweaks you can do to embolden your look. 

New York City-based celebrity makeup artist Neil Scibelli, who has worked with Elle Macpherson and Molly Sims, says in lieu of making your entire look stronger, you should take this time to enhance key features. "Strengthening the brows, subtly enhancing the eyes, and keeping the skin relatively natural with a touch of contour will keep you looking polished and put together on screen," advises Scibelli. "These specific features are focal points on the face." Showing them a bit of extra love helps to enhance your unique facial symmetry, which can get lost under bright lights (more on lighting later!). Plus, if you're dealing with particularly low-resolution cameras, defining these areas will make them pop, versus making you look like a blurry pile of pixels. 
Video Conference Beauty Tip #3:
Don't Underestimate the Power of a Strong Brow
While we're not recommending you recommit to the Instagram® brow that was trending a few years back, there's something to be said for having strong arches — after all, they don't only frame your eyes! 

"Feathering in the brows a bit with a pointed brow pencil (like NYX® Professional Makeup Micro Brow Pencil, $5) helps enhance your facial structure while in front of the camera," says Scibelli. "The brows are one of the main points on the roadmap. Once they're on, you can start to see where everything else is going," he says. 

If your eyebrows are already full and shaped, Scibelli suggests simply brushing them through with a clear brow gel or wax to polish them up. We love Patrick TaTM Major Brow-Shaping Wax ($22) for its strong yet conditioning formula that keeps hairs in check — sans any crunchy or stiff feeling. 
Video Conference Beauty Tip #4:
Make Your Eyes Pop With Liquid Liner
Because your eyes tend to get lost in front of the camera, taking the time to enhance them with a quick flick can make all the difference. "[Video] conference calls seem to blur your features slightly, so it's nice to define and elongate your eyes for a more flattering look with a feline flick," says Schwarzkopf-Tilbury. Plus, the sharpness of a liquid liner (as opposed to the smudgy streak of a pencil) will help create more definition. 

That said, don't reach for a standard black formula right now — instead, Schwarzkopf-Tilbury suggests opting for a dark brown color like Charlotte Tilbury The Feline Flick® Volume 2 Liquid Eyeliner ($30) in the shade Super Brown. "The soft, sultry color allows you to create a cat-eye shape without appearing too harsh," she says.
Video Conference Beauty Tip #5:
Chisel Your Favorite Facial Features
If you associate contouring with the harsh lines of the early 2010s, it's time to refresh your mindset. That fad was about creating an entirely new face shape, but the roots of this technique are more about flaunting what you already have.

"Whether you want to enhance your overall face shape, or contour specific features like your cheekbones, jawline, nose, or forehead, this will help define them on camera — rather than have your face look one-dimensional," explains Scibelli. If you're wary of getting started, concentrate on using a light hand to deepen the shadows under your cheekbones and below the chin — it'll prevent you from looking flat on camera. 

Scibelli also recommends sticking to matte, shine-free formulas (we have a deep appreciation for the classic Kevyn Aucoin® The Sculpting Contour Powder, $44) over those with shimmers or glitter. Adding shine to those areas could defeat the purpose of contouring. On that note, we don't really suggest that you opt for highlighter, as it could make you look overwhelmingly shiny on camera. But, if you can't resist, sparingly applying a subtly radiant formula could make you look less exhausted. Scibelli recommends dabbing a cream-based formula just above the cheeks to wake-up your complexion and add a touch of targeted luminosity. We love Chanel® Baume Essentiel Multi-Use Glow Stick in Sculpting ($45) — don't let the shade name fool you, it's a beautiful shimmering champagne hue!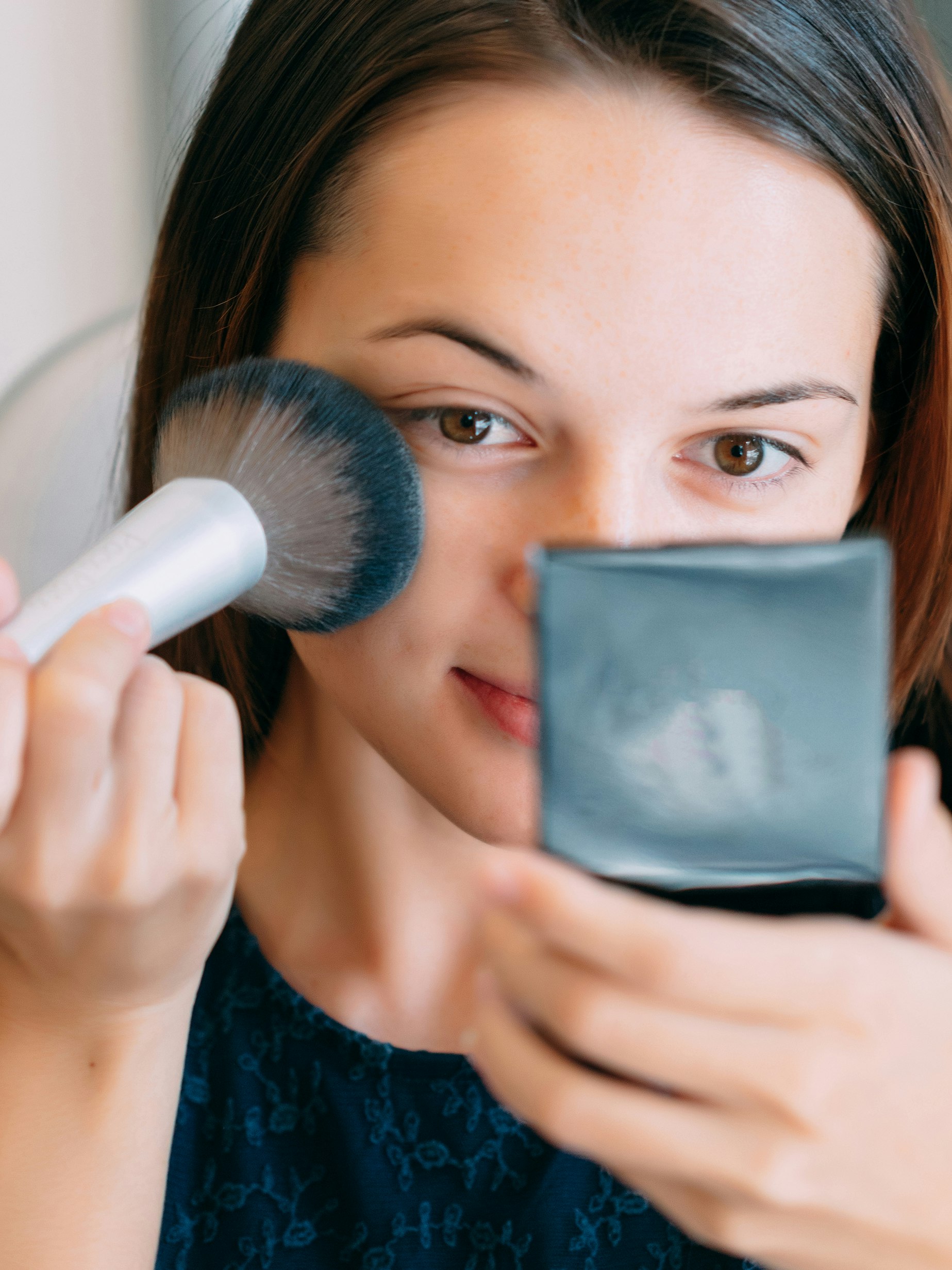 Video Conference Beauty Tip #6:
Blush Up For the Camera
As we already touched on, video calls can typically make a person look washed out. To counteract this unflattering effect, you may need to apply a bit more blush than you're used to. If you're afraid of going overboard, good news: the expert-recommended tip here is sticking to cream formulas over your usual powder pots, which look far more natural  — even when overapplied. "Tapping on a cream blush in a rose or berry tone can instantly bring color to the skin," suggests Scibelli. 

If your complexion is on the fair side and you don't already have a cream blush you love, Scibelli advises that you test the category with a coral hue, which could look more realistic. No matter your skin tone, though, we recommend Fenty Beauty by Rihanna® Cheeks OutTM Freestyle Cream Blush ($20), which offers a sheer, buildable, practically fool-proof formula and ultra-flattering hues. That said, if you do end up getting a little overzealous with blush, just take the brush or makeup sponge you used to apply your foundation and dab it over your cheeks — this will sheer out the pigment without erasing it entirely.
Video Conference Beauty Tip #7:
Powder the Right Places
There's a reason why news anchors often dust on a bit of face powder moments before going on air. Applying powder in the right spots removes any unwanted grease, while minimizing the appearance of sweaty spots, which unfortunately can appear extra shiny on camera. "If you're concerned about shine, I'd recommend setting the center of your face with a bit of translucent powder before logging onto any calls," informs Scibelli. 

In particular, aim for dabbing powder onto the chin, on and around the nose, and the forehead — also known as the T-zone, which is typically the oiliest area of the face. We're partial to the lightweight and silky-smooth formula Laura Mercier® Translucent Setting Powder ($39), which soaks up excess oil without dulling our complexion — simply dip your fluffiest brush into it, tap off any excess, and dust away.
Video Conference Beauty Tip #8:
Find Your Light
Good lighting is typically the key to looking great onscreen, and taking a few extra moments to get your lighting situation in its prime can make all the difference. "Natural light is the best, so I would always situate your camera so it's right in front of you or slightly above you, with a window behind it," says Schwarzkopf-Tilbury. "If you haven't got natural light, lamps are great too." Just avoid using overhead light, she cautions, as it can cast too much of a shadow on the face, which can create the illusion of bags under your eyes. 

To give your lighting setup an additional boost, switch your fluorescent bulbs to LED ones, which give off a clean, warm, and even light. When shopping, look for bulbs with a color temperature of about 2700K, like Philips® LED Dimmable BR30 Frosted Light Bulb with Warm Glow Effect ($32). These offer a soft white light, ideal for video calls. If you'd rather go the ring light route (like a beauty influencer!), we suggest getting a small, portable one that that you can clip onto your phone, laptop, or other screen, like the QIAYATM Selfie LED Circle Light ($25). It'll direct light to your face while helping to diffuse and eliminate any of those unflattering shadows.


Discover more beauty tips:
Product prices may vary from the time this article was written.

Allergan® may receive commissions for purchases made through links in this article.