The first time I met Alana Weinroth in 2015, I was casually exploring Brooklyn with a group of guy friends. This was years before she had a podcast, before she became a certified yoga instructor, and before she left her corporate job in New York City and moved to Los Angeles to become the development officer at Covenant House® California, a homeless shelter for transitional youth ages 18 to 24.

The Petaluma, California, native, 32, has always been passionate about working with at-risk populations — especially after she participated in her first "sleep out" fundraiser in 2013, and many times after. Yes: she's slept on the streets of New York City and Los Angeles in solidarity. "It just moved me in a way that felt really different from anything I had felt in a really long time," she says.

It's a token of who Weinroth is on a personal level. She's not only going to talk about what can be done to improve a social issue, or merely fantasize about how to fix a problem — she's the friend who's going to actively get involved in the situation, take charge to make improvements, speak openly about solutions, and recruit an army of friends to make moves (oh, and uproot her life, too). Even in college, she was motivated to lend a helping hand.

"I created a social justice major because I wanted to study exactly what I wanted to do," says the graduate of St. Mary's College of California℠. "I graduated from school and there just weren't really any jobs available. And so when this opportunity came up to work for an investment software company, which would give me a salary and benefits, I took it, but I always stayed connected to that side. I wanted to work with at-risk populations, and particularly at-risk youth." Even at her corporate gig (which led her to live in New York for five years), she was always running the company's volunteer projects and community affairs initiatives.

While serving the greater good (a trait she's no doubt adopted from her mother), Weinroth's career change, day-to-day conversations with friends, and thoughts about self-care inspired her to start the Give A DamnTM podcast. Again, (not surprisingly) to help others. "I've always been able to be really vulnerable and I wear my heart on my sleeve. I think that's important to do right now," she said. "I just started to hear more people silently suffering with everyday things. I decided that even if it helps one person or a handful of people, I thought, I don't care if people ridicule me."

From topics about personal boundaries to talking trash, each under-20-minute episode offers a fusion of good energy — like that of Gabrielle Bernstein and Brene Brown — with practical tools for everyday life.

"I think every 30-something grew up in this time where [taking care of yourself], self-awareness, and emotional intelligence weren't really what were taught to kids, so we've learned that," Weinroth said. "We're a generation that really has adopted that into our lives in a big way."

Speaking of taking care of yourself, Weinroth does take the time to focus on her own needs as well. She notes that it's imperative to fill up her own cup and not feel guilty about taking care of oneself in the process of helping others (more on that later). One way she does both of these things is by practicing yoga. "I've always had a very strict workout regimen, but yoga is so different," she said. "Yoga became something more of a mental exercise for me. It brought me peace and grounding in my life."

Read on for more about Weinroth's feelings on caring for oneself (so she can attend to others), what she's doing when she isn't saving the world, and how she really feels about aesthetics treatments.
Spotlyte: How did yoga teacher training change your day-to-day life?
AW: Half of it is about the practice of yoga, and half of it is about finding yourself and your identity and your voice. There were so many times that we cried together and it was really, really emotional — more so than I ever could've imagined.

It's a huge time commitment, so you can't be social. During that time, I vowed not to go out. I wasn't drinking, I wasn't dating, I wasn't going to be physically intimate with anyone, because I wanted to just create that space for myself. What came out of it — what's so profound — is it was so much more than I ever imagined. I genuinely live my life differently now, post-training, than I did before.

Spotlyte: In addition to practicing yoga, what other workouts do you incorporate into your regimen?
AW: I'm working out about six days a week right now. What I learned is that I can't just do yoga. Three days a week I'm doing hot yoga at Urban 728℠ in West Hollywood. I love to do weight or circuit training, so I alternate every other day. I do this workout called The Phoenix Effect®, based in West Hollywood. Some of the classes are lift classes, where you're lifting a ton of weight. I feel super strong. Some classes are group circuit training. I can't go and do my own workout. Somebody needs to tell me what to do.

Spotlyte: What beauty products do you carry in your yoga bag? 
AW: I bring a travel-size Philosophy® Purity Made Simple® One-Step Facial Cleanser and face lotion for afterward.

Spotlyte: What is your morning skincare routine? 
AW: Every morning, I wash my face with a Philosophy Purity Made Simple One-Step Facial Cleanser. Right afterward, I put EmerginCTM Pomegranate Toner on my face. Right now, I'm obsessed with Charlotte Tilbury® Magic Cream Moisturizer. It's so incredible. I've never used anything better. It goes on kind of thick, but once it's on, you can't feel it. I always do eye cream. I use Charlotte Tilbury Magic Eye Rescue Cream, and then I put on my makeup. 

Spotlyte: What does your daily makeup routine look like?
AW: I always use the IT Cosmetics® CC+® Cream first,  along with the IT Cosmetics CC+ Airbrush Perfecting Powder. Then, I use Charlotte Tilbury Filmstar Bronze & Glow Contour DuoTM and the Charlotte Tilbury Cheek To Chic® Blush. I put on a little bit of brown or black Stila® Stay All Day® Waterproof Liquid Eyeliner; it's the only thing I've used for a zillion years, and I've turned a million people onto it. Then I use Too Faced® Better Than SexTM Mascara.

Spotlyte: What is your evening skincare routine?
AW: I keep  Neutrogena® Makeup Remover Wipes on hand in case I need them, but, for the most part, I just wash my face with the Philosophy Purity Cleanser. I do exfoliate with Lifeline® Dual Action Exfoliator, and it's amazing. That makes me feel like I'm actually getting my makeup off. 

Then, I use Charlotte Tilbury Charlotte's Magic Night Cream, which is thick and amazing. When I go to bed, I want to feel like I just have lots of moisture on my face. I put the same eye cream back on, and then I put Aquaphor® on my lips. I use Rodan + Fields® Lash Boost® on my lashes every night.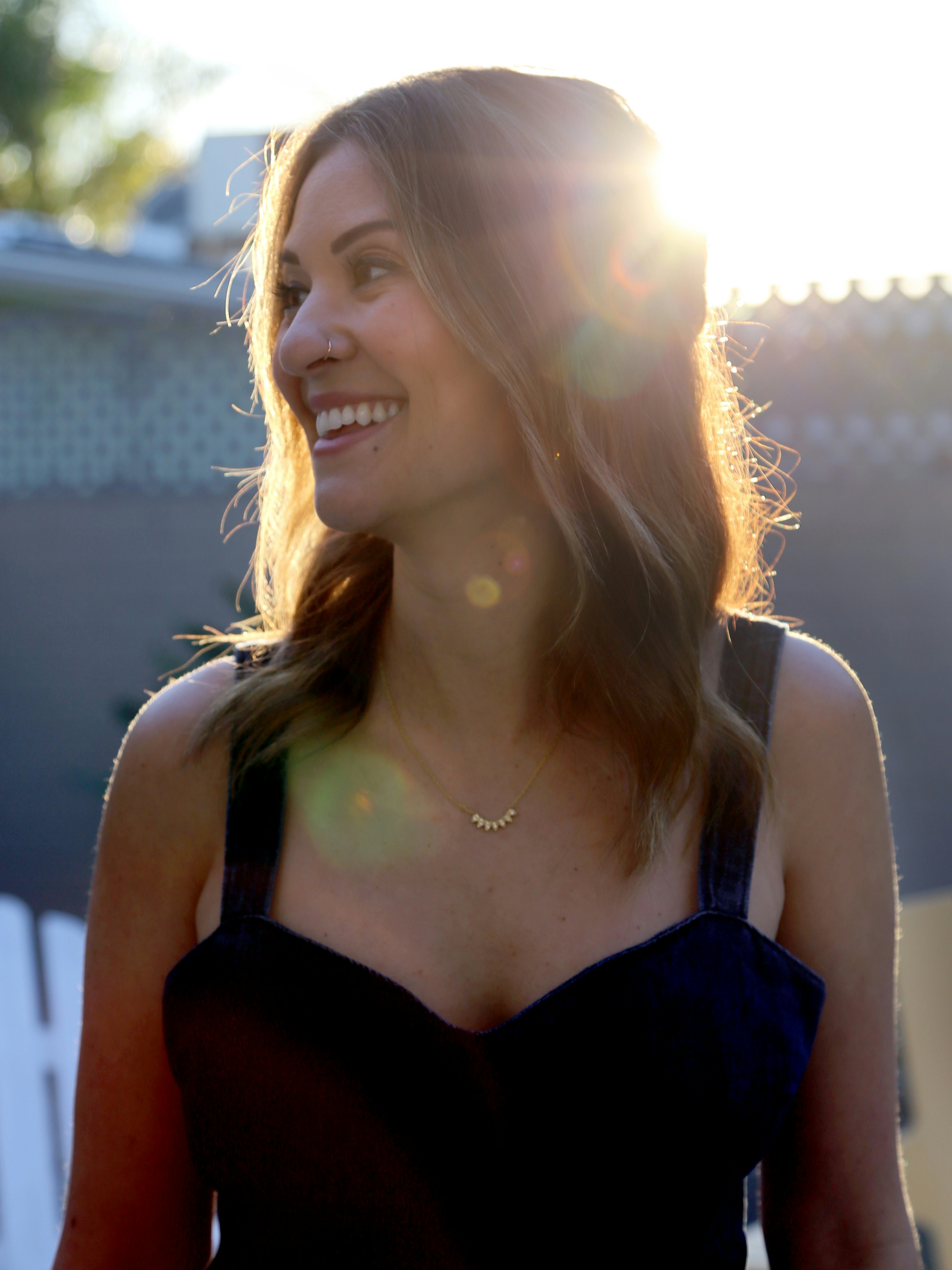 Spotlyte: What beauty treatments do you love?
AW: I get regular manicures every two weeks and pedicures every four weeks at Ibiza® Nails. I go to Burke Williams® for facials once every three months. I also like to get massages every four months or so. My body is just like, "You need it." 

Spotlyte: Do you get injectables?
AW: I get injectable wrinkle reducers on my forehead and on my crow's feet every six months. I've only done it a few times, but I'm obsessed with the results. I started about a year ago. 

Editor's note  Injectable wrinkle reducers are used to temporarily smooth the look of moderate to severe wrinkles in certain areas of the face such as the forehead, frown lines, and crow's feet. They should not be used more frequently than every three months. Like any medical treatment, they have potential risks and side effects. Be sure to talk to a licensed provider to see if they're right for you. Have more questions? Chat with our team of trained aesthetics specialists now.

Spotlyte: You're very open about the different treatments you try — why is that?
AW: I think it's so important to actually talk about them, because there's this stigma that you can be one thing but you can't be all things: You can be a do-gooder, but you can't take care of yourself and spend money. 

It's okay to put in the work and to be selfless, but it's actually critical to also take care of yourself and make sure that you feel good. If [beauty] treatments make you feel good, or if getting massages once a week is the care that you need to show up your best every day, then that's okay. None of us should be judged for that. You've got to fill up your own cup so that it can spill over, and you can help other people.

Spotlyte: What do you like to do when you're not working, podcasting, teaching, or working out?
AW: I value my downtime so much. When I'm not doing all those other things, I'm spending time with my dog and my boyfriend. We love to go on hikes at Runyon Canyon or just take long walks around the neighborhood. Often, it's just the three of us hanging out at home cooking and watching a good show on Netflix®. I'm rewatching Mad Men®, which has been fascinating. I watched all eight seasons a while ago. The Bold Type® is on right now, which is one of my faves. Every week, I await a new episode. 

Spotlyte: Besides your boyfriend and dog, who's been your biggest cheerleader?
AW: 100% my mom. She came to every dance recital, every performance, just everything I've ever done. Even when I fall, my mom's been there for me, cheering me on.

Spotlyte: What's a mantra you live by?
AW: "Be fearless in the pursuit of what sets your soul on fire." It's my favorite, and I keep it up everywhere in my home and my office, and on my phone

Spotlyte: What's the best career advice you've received, and who gave it to you? 
AW: I am an Enneagram three, so that means I'm an achiever, but to a point that I will make myself crazy. Recently, my boss, Amanda Sattler, the chief development officer at Covenant House, said that you can control your intentions, but you can't control the outcome. That has really shifted my thinking. I don't have to do it all. I can't control whatever success that I have. If I put my heart and my intentions in the right place, everything else will work out and that's all I can really control.


Read about more inspiring women in the wellness world and beyond:

Allergan® may receive commissions for purchases made through links in this article.