If you're one of Mona Kattan's 2.2 million Instagram® followers, you might know a thing or two about the serial entrepreneur. For one: she's the co-founder and president of the overwhelmingly successful cosmetics brand Huda Beauty® and the fragrance collection KAYALI®. And two: the 34-year-old works very closely with her family, including her older sister Huda, a blogger-turned-business woman and namesake of Huda Beauty.

While the thought (or actual practice) of working with siblings is stressful for some, it's been a positive experience for Kattan. (She and Huda also work alongside their other sister, Alya.) "My sisters have always been my best friends and we work well together," she shares. "We are lucky that we all have different strengths and have naturally fallen into defined roles that we enjoy. We work all the time, but also have a ton of fun."

It's not all playing around with palettes, though. The sisters work hard to set boundaries, put emotions aside, and be very strong communicators." Kattan knows that these skills, along with her enthusiasm for her job, are necessary for success. Before going into business with her family, the Oklahoma City native (who currently resides in Dubai) graduated with a finance degree from the University of Sharjah in the UAE in 2008, and spent her first year out of college as an investment banker.

"I quickly grew bored and decided to try something of my own," says Kattan, who left her corporate job after a little under two years. "I started my own PR/marketing agency that I called Mastermind." Her new venture was a project she started while she was still working in finance, and thrived for nearly three years. "It was less of a traditional marketing agency and more of a full-service consultancy business where I helped start-ups to get off the ground." From there, Kattan took what she learned and decided to dive more into the relationship building side of PR, which led her to start a niche VIP guest list business, "The A List." She helped brands and companies build out premiere guest lists for luxurious events. "I was constantly working on something new and exciting, which I later learned was the optimist in me coming out in my professional world," Kattan quips.

Kattan's experience wasn't limited to marketing and rubbing elbows. She started a World CupTM kiosk selling exclusive merch in Dubai, worked on a candle making business, and embarked on a fashion label with a friend. She ultimately ended up launching a network of beauty salons in Dubai. "The beauty salon was my first taste of growing a team of talent, hiring and managing people and digging deep into what it meant to run a successful business," she says. 

This was a year or so before Huda Beauty launched in 2013. "It was a great experience at the right time and helped when Huda, Alya, and I founded our company," said Kattan. "If we didn't start Huda Beauty, I probably would have stayed hyper-focused and continued to grow the salon business."

Today, her upbeat attitude continues to shine — like every business she touches. In our one-on-one chat, Kattan reveals the best business advice she's received, what she'd be doing if it weren't for cosmetics, her injectables regimen and (of course) what's in her makeup bag.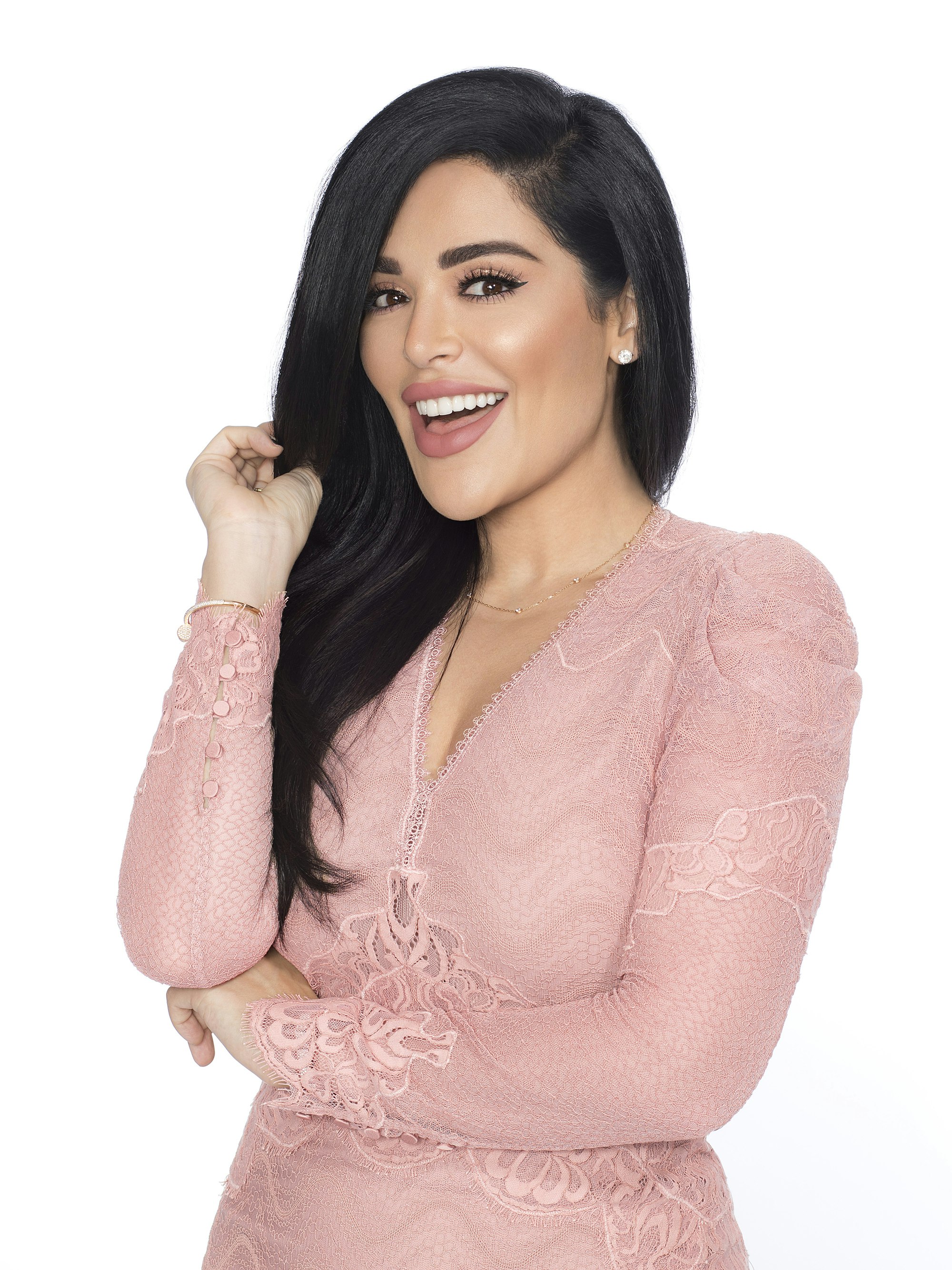 Spotlyte: What does a typical work day look like for you? 
Mona Kattan: Every day is different, which is what makes it exciting! A large part of my job as Global President is to lay the groundwork for the business in terms of scalability. It's grown so fast that we've had to think long and hard about how to regionalize, where to open new offices, communications and marketing, hiring, and that just skims the surface in terms of my role. 

I'm also the founder and face of our fragrance brand, KAYALI. I am so passionate about fragrance. Huda has been an amazing mentor from her experiences launching and being the face of Huda Beauty — and now Wishful®, our new skincare line. Being a founder is a hard job: you're setting the vision for the brand, you're in labs discussing formulas and ingredients with your product development team, leading international teams, and spending time in the studio shooting campaigns.

Spotlyte: You're so busy! When do you sleep?
MK: It's a great question that sometimes I even find hard to answer!

Spotlyte: What advice do you have for someone aspiring to follow your footsteps, or go into the beauty industry? 
MK: Start with a lot of thorough research. Check out what other inspiring or successful brands and people are doing; What are their obstacles? What are their wins? Ask yourself, "What am I going to do to stand out amidst the competition?" If you have a solid mission, it will keep you going longer and stronger vs. replicating something for short term gains. You need a unique and purposeful vision. Whatever you decide to do, it needs to be something you feel so passionately about that you'd do it for free if you had to.  

Another great piece of advice is to try to find mentors before you even get started. Surrounding yourself with good people is crucial to your success! We all need cheerleaders and confidants. 

Spotlyte: Who are your cheerleaders? 
MK: I have a few. My best friend, Hanoof, has supported me from day one and is the most loving, encouraging sweetheart I've ever met. 

My other cheerleaders would be Huda and my dad. They give me the best and most honest advice. My dad lent me money for my first big business. From a financial perspective, he has always helped me to get started if I needed it. He is sometimes pessimistic when it comes to business, but he always trusts us and believes in us! 

Lastly, my oldest sister, Alya. She is our company-wide cheerleader and has also been a huge financial support for the company. She lent Huda $6,000 to start Huda Beauty and our initial line of false lashes. We'll never be able to thank her enough for that. 

Spotlyte: What's the best career advice you've been given and who gave it to you?
MK: One of the best pieces of advice came from the book Rich Dad's Before You Quit Your Job by Robert T. Kiyosaki. The advice that stood out the most essentially states that you shouldn't wait for perfection before launching something. It's one of the biggest mistakes that people make and it can be a major setback. He references Microsoft®  — they built Windows® and launched it, knowing there were bugs in the systems that would require future updates. The key to getting started is launching with enough, and learning and updating as you go. A lot of people hold themselves back because they believe that things need to be perfect before launching and that's simply not the case. 

Spotlyte: What personal and professional obstacles have you overcome?
MK: Learning how to focus — and learning how to say no! I used to say yes to everything. I guess that's the optimist in me. Starting out in my career, I loved saying yes and learning from opportunities. As I got older, I learned how to be more focused from Huda. It's OK to say yes to a lot in the beginning, but you have to focus on what you want in order to succeed. 

Also, I used to have a tough time confronting people or giving constructive feedback, but it's crucial in both personal and professional situations. I have learned that it's all in the delivery and approach and it makes us grow and learn from one another.
The key to getting started is launching with enough, and learning and updating as you go. A lot of people hold themselves back because they believe that things need to be perfect before launching and that's simply not the case.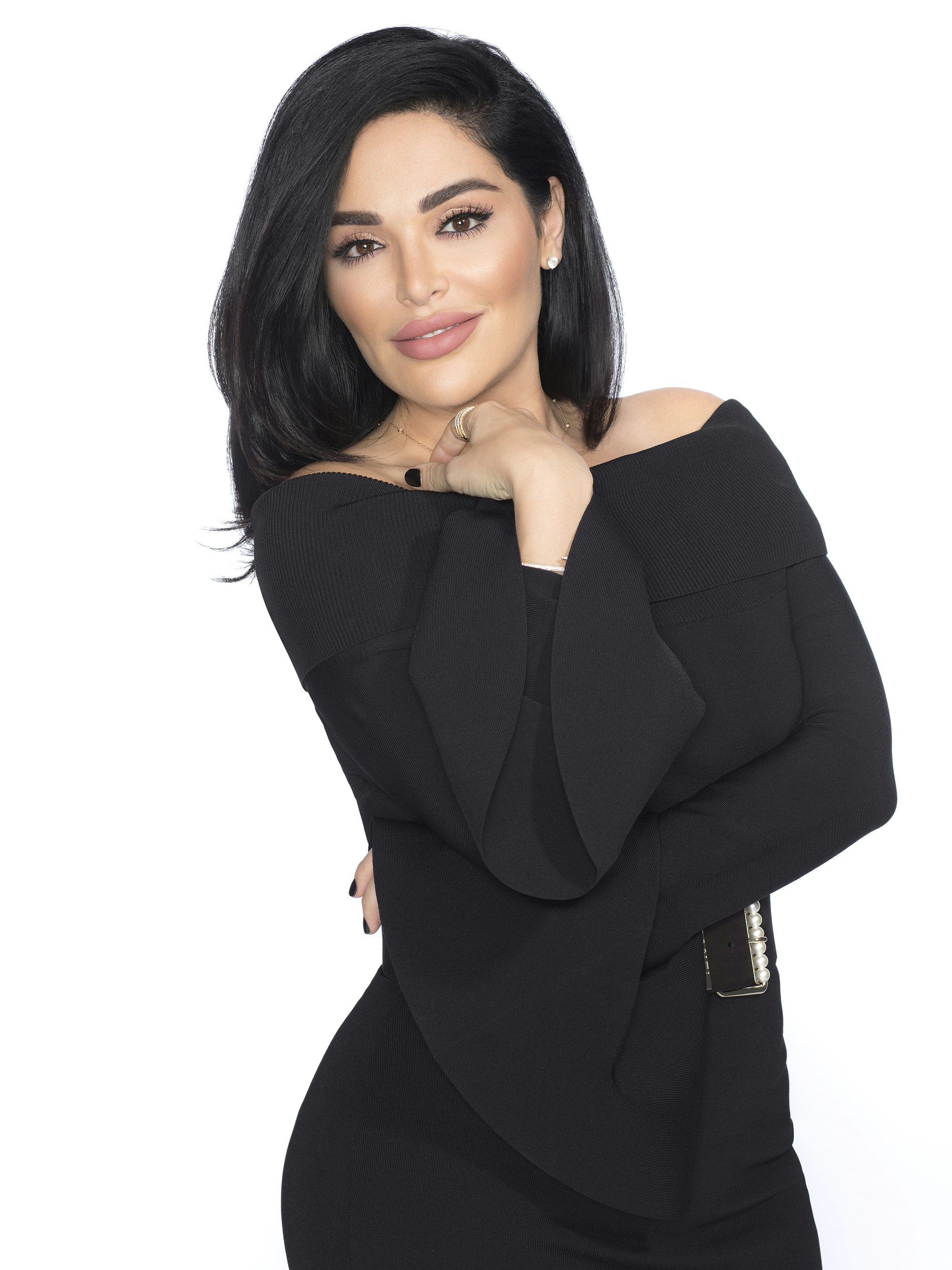 Spotlyte: What influencers, celebs, or other people in the industry do you follow for inspiration?
MK: From a celebrity standpoint, I love Eva Longoria. She is an activist, a philanthropist, and one of the kindest people I know. She is an amazing friend and mentor and we're beyond grateful for the relationship we have with her. She's a true gem! 

For someone outside the industry, I would say author and speaker Simon Sinek. He's the epitome of a great leader. He encourages people to be leaders, not bosses. I like his mindset of teaching leaders to lead with empathy and compassion. I think people would be happier at work and work harder and more effectively if more people followed his approach. 

I find inspiration from a lot of people outside of the beauty space, but if I had to choose one in our industry, it would be [celebrity stylist] Jen Atkin. She is passionate and hardworking and on top of that, is a great human. She's beyond talented, yet super cool at the same time. 

Spotlyte: What was your first experience with makeup like?
MK: I had my first experience with makeup when I started participating in beauty pageants at 4 years old. I was too young to do my own makeup but my older sisters, Alya and Huda, practiced their makeup and beauty skills on me. It wasn't until I was 10 years old that I started experimenting with doing my own makeup. 

Spotlyte: What kind of makeup looks or trends did you experiment with throughout the years?
MK: I vividly remember going through a phase where I wore black lipstick and bright colored eyeliners. At that time, I wanted to be a bit funky and never liked anything normal or "regular." Huda would attempt to change my look, but I was too deep in the goth phase to listen! 

Spotlyte: What were some of your biggest beauty faux pas of the past?
MK: My eyebrows, without question! When I was younger, I copied everything Huda did — even if it didn't make sense for me. when I was about 13 years old, she tweezed her brows, so I did too. She has thicker hair and bigger brows, so I didn't have as much hair to pluck. I ended up making them way too short. They never grew back properly, so I ended up with brows that were spaced very far apart and eventually had to microblade to fill the gap. 

Spotlyte: How has your makeup evolved over time? 
MK: Around the age of 14, I became obsessed with eyeshadow and spent a lot of time learning techniques to enhance my own features and doing my friends' eyeshadow in class. I wore lipstick every day and oftentimes wore purple or grey contact lenses. I've always had this obsession with experimenting with beauty and trying different things to make me stand out. 

I used to be more heavy handed, but I've gradually become more natural and focused on what makes me look and feel my best.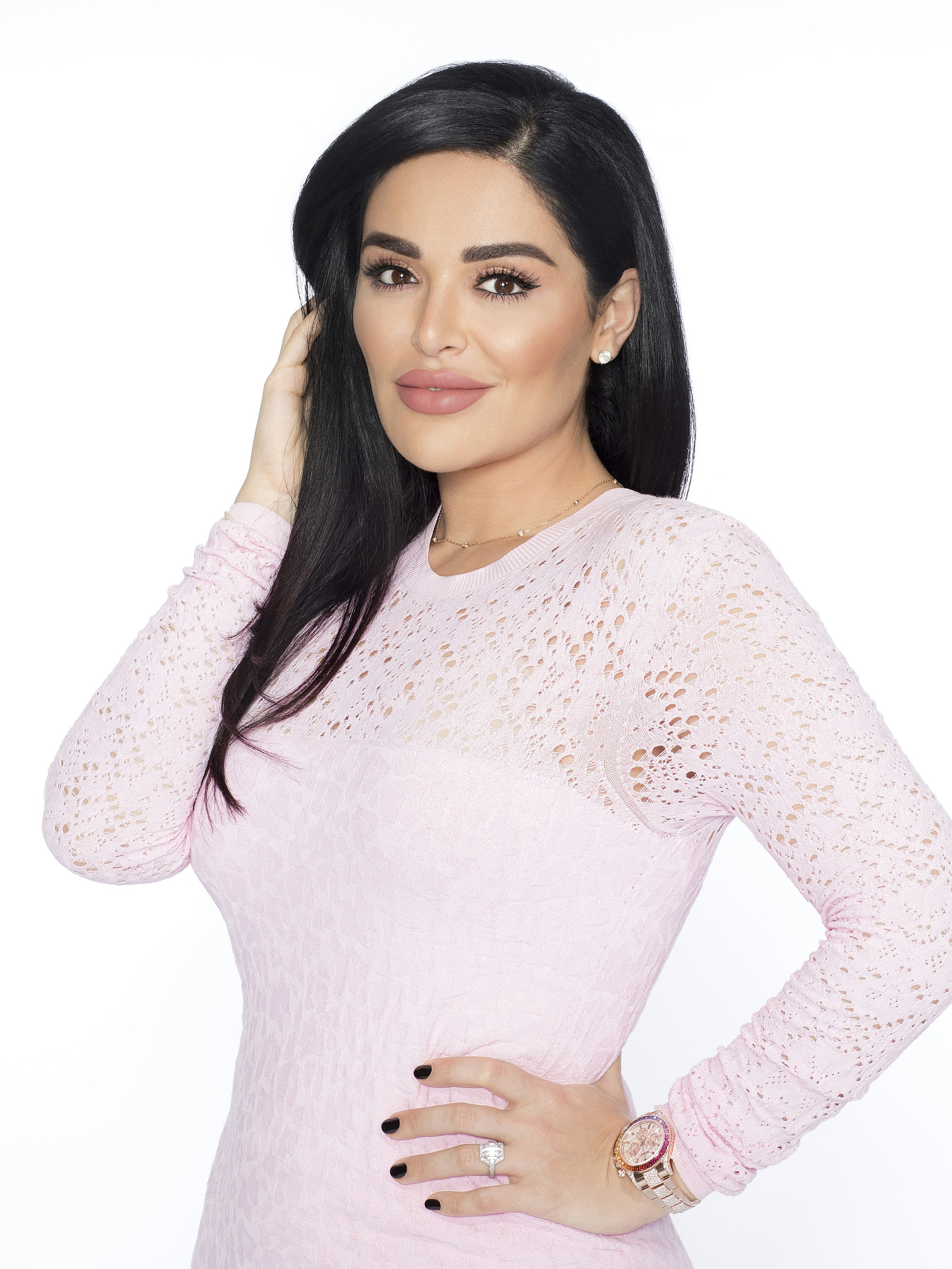 Spotlyte: How have your sisters influenced your beauty looks?
MK: Just like when we were younger, Huda continues to give me ideas for my makeup and how to enhance my features.  

Spotlyte: What does your current makeup routine entail?
MK: It's very minimal on a regular basis. I don't wear much. I normally have on my Huda Beauty #FauxFilter®  foundation, Huda Beauty Overachiever concealer, a touch of bronzer and a little mascara. Velvet Noir Major Volume Mascara by Marc Jacobs® is my favorite! Depending on my mood, I'll typically put on some lipstick as well. Huda Beauty Power Bullet Matte Lipsticks are the best. The shade Interview is my favorite, because it's a bolder take on my natural lip color. It's a must try. I don't typically wear a ton of eye makeup, but I do love adding a fun lip to add a pop to my everyday look, depending on my mood.

Spotlyte: What is your morning skincare routine
MK: I cleanse my face with soap and water or the Tatcha® Deep Cleanse Cleanser, followed by new Huda Beauty WISHFUL Yo Glow Enzyme Scrub. I'll also apply the Olay® Regenerist Micro-Sculpting Cream® and Kiehl's®  Facial Fuel Eye De-Puffer before applying my makeup. 

Spotlyte: What is your evening skincare routine?
MK: I typically remove my makeup with a makeup wipe or Bioderma® Micellar Water and a cotton pad. After I cleanse, I apply The Rose Mist toner by MDNA Skin® along with the Rose Maroc Night Elixir by Shiffa Beauty®. This combo is my favorite. I finish by applying the Shiseido® Bio-Performance® to the undereye, along with my Guerlain® moisturizer.

Spotlyte: What is your take on anti-aging? 
MK: I have always been a fan of preventative measures. I believe that it's easier to do maintenance than repairs, and that it's never too early or too late to start good habits. Being the youngest of three, I was definitely looking up to my sisters and applying eye creams at a young age! 

Spotlyte: What treatments do you get?
MK: I have tried Ultherapy® on my neck and my chin. It was super beneficial for tightening the skin. 

I am a huge fan of lasers because you can do them frequently and if you use them often, you get great results. When I was in Los Angeles, Nurse Jamie used a variety of different lasers for hair removal and skin tightening. I loved LPG Endermologie specifically for cellulite. I mainly get laser treatments for tightening, scar removal, and pigmentation. I'm honestly very grateful for the incredible technology and I highly recommend it as they are an amazing non-surgical option! 

As for any other beauty treatments: I would normally get my hair blown out twice a week, my nails done once a week, my roots touched up every two weeks and my eyebrows microbladed. 

Spotlyte: Do you get injectable wrinkle reducers? 
MK: I get injectable wrinkle reducers on my forehead and around the eyes — the crow's feet. I started at age 24. 
Editor's Note
Injectable wrinkle reducers are used to temporarily smooth the look of moderate to severe wrinkles in certain areas of the face such as the forehead, frown lines, and crow's feet. They should not be used more frequently than every three months. Like any medical treatment, they have potential risks and side effects. Be sure to talk to a licensed provider to see if they're right for you.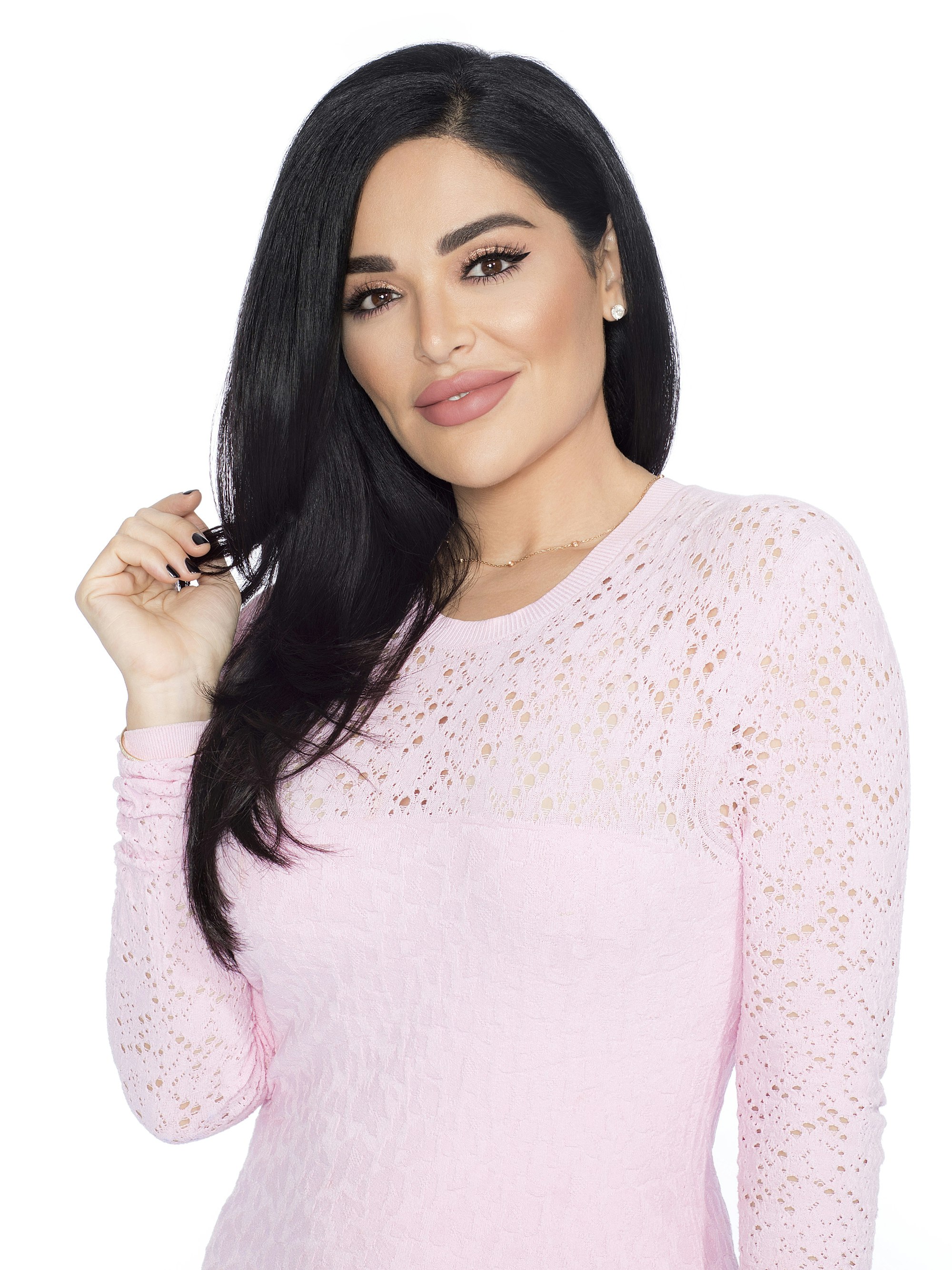 Spotlyte: What about filler?
MK: I have had injections in my lips, cheeks and smile lines. Knowing exactly what the doctor is using is key, and it's important to make sure you are educated on the doctor and process. If I'm in Los Angeles, I always go to Nurse Jamie℠. 

Editor's note  Injectable filler is a temporary treatment that adds volume to areas of the face such as the lips, cheeks, and laugh lines. Like any medical treatment, it has potential risks and side effects. Be sure to talk to a licensed provider to see if it's right for you.

Spotlyte: Outside of the beauty-world, what do you enjoy doing in your spare time? 
MK: I love to read, mostly self help and motivational books! Right now, I've been utilizing my spare time by learning new keto-friendly recipes, listening to podcasts and creating tons of new YouTube® content.  

Spotlyte: What's your fitness regimen like?
MK: I have been focusing on my personal health for the past couple of years. I've shifted my lifestyle, which I have grown to enjoy. Six days a week, I kickstart my day by waking up and going downstairs to my gym, where I spend an hour with my personal trainer. We normally do a combination of HIIT workouts, cardio on the treadmill, and elliptical, and free weights. My trainer surprises me with new workouts every so often, to keep me on my toes.

Spotlyte: Do you have a mantra? 
MK: I have so many mantras, but my favorite is probably, "To understand all is to love all." I really believe when you understand where people are coming from, you have compassion and empathy for them and begin to love them in a different, more meaningful way. If people were a bit more understanding or cared to ask more questions, then I feel like there would be more world peace. 


Read about more inspiring women in the beauty world and beyond:

Allergan® may receive commissions for purchases made through links in this article.