Can a pedicure still be enjoyable if you're performing it on yourself? We'd like to think so. With the help of an aromatic soak and the right ambiance, it's possible to get your toes into shape for summer, and perhaps decompress in the process. "Get out the candles, turn down the lights, get a book, eat a snack, watch The Notebook, pour some wine or tea, whatever makes you happy and relaxed!," suggests editorial manicurist Julie Kandalec. "Put your phone on silent — or, better yet, out of arm's reach. Every little thing adds up to recreate the spa-like atmosphere," she says. 

To ensure a successful end result, we picked the brains of celebrity nail experts and compiled their must-have tools, foot-prep processes, and polishing techniques. Plus, we've rounded up both the classic and trending lacquer shades of the season. Consider this your go-to guide to achieve just-stepped-out-of-the-salon feet — at home. 
DIY Pedicure Step 1: Assemble Your Tool Kit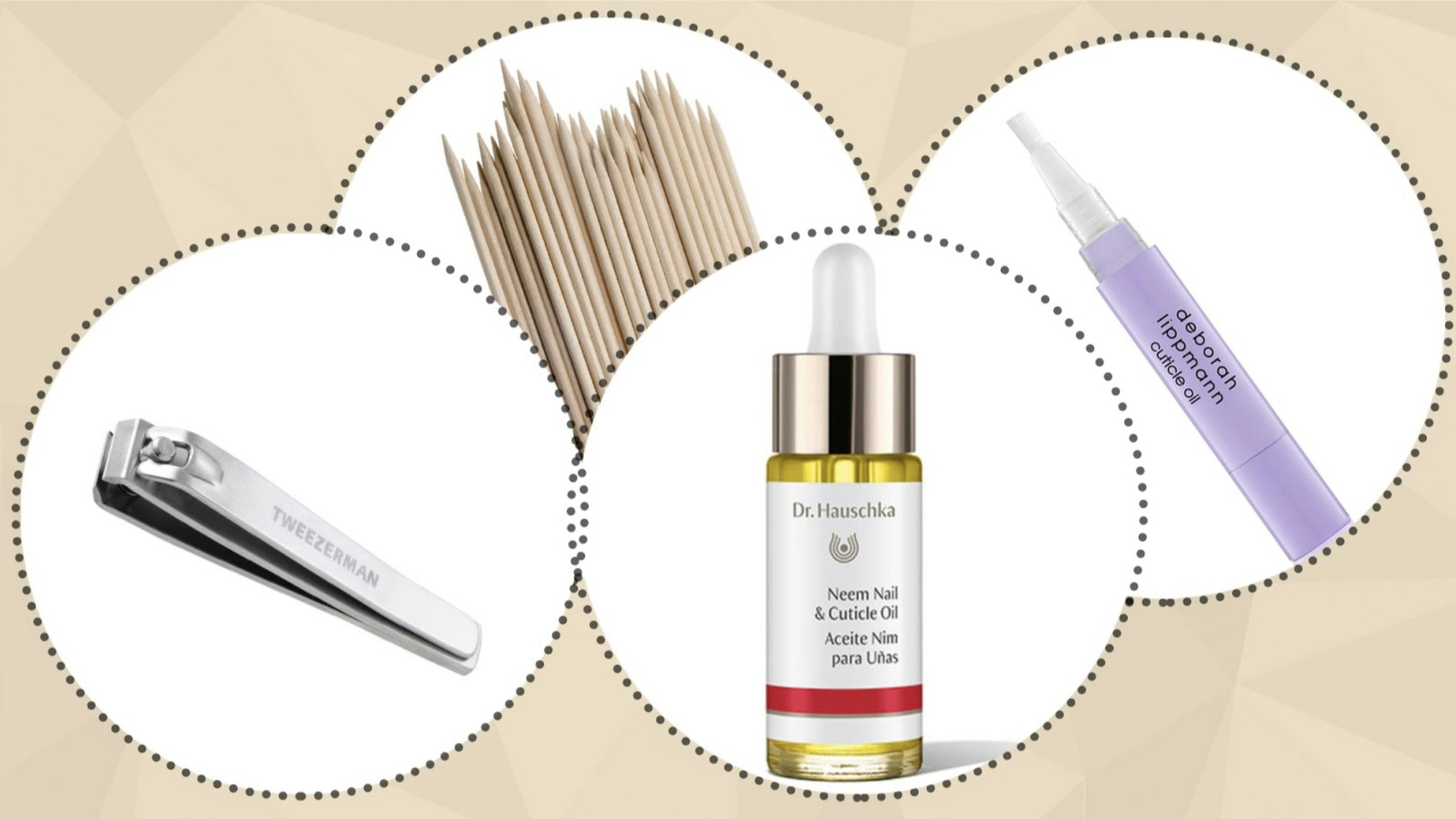 If you've had a professional pedicure, you know that pretty lacquer is basically the finishing touch on a labor-intensive task — a lot happens before your nail tech opens a bottle of polish. For a salon-quality pedicure accomplished at home, you'll need a few essentials in your kit beyond gorgeous, sandal-ready nail polish shades (we'll get to those later!). 

Our experts agree that the first must have is a straight-edge toenail clipper. While you may not even realize that nail clippers come in a variety of options, it's an important distinction: cutting your toenails in a straight line — not with curved or rounded edges — will help prevent ingrowns from forming. We like Tweezerman® Stainless Steel Toenail Clippers ($7); the durable stainless steel is easy to clean, so you'll have no excuses when it comes to keeping your beauty stash hygienic. Then, you should have an array of nail file options at your disposal. Keep an eye out for grit levels when you shop, keeping in mind that the higher the grit number, the smoother the file. You should choose a medium grit of 180 to smooth the free edge of the toenail, a grit around 220 to tackle ridges, and one of 400 for gentle shaping of the corners. Lastly, our pros recommend picking up a buffer cube, like this four-way "shiny block" from Amazon ($5), which will help combat ridges on the top of the nail and help shape the edge. 

Once you've gotten your essentials for clipping and shaping, you have a few more investments to make for finishing touches. One perhaps unexpected pick is those little wooden sticks you've likely seen your manicurist use. They're known as double-sided orange-wood sticks, and aren't just for professionals — they deserve a spot in your at-home kit. That's because they serve double duty: the pointy side allows you to clean up messy spots post-polishing while the angled end is ideal for pushing back cuticles. Invest in ones made from natural wood, like Mini Skater 50-Piece Orange Wood Nail Sticks ($5), and be sure to dispose of each one after use (wood is porous and holds onto bacteria!). 

On the note of cuticles, you should snag a cuticle nipper (if even just to snip hangnails!). This one from GERmanikure® ($45) is constructed with high-tech springs that allow for maximum cutting control (read: fewer nicks). You'll also need a cuticle oil. They can be found in many forms, so you should decide whether you prefer a dropper applicator or a pen. Either way, they help to quickly soften rough skin, making it easier to trim. We like Deborah Lippmann® Hydrating Cuticle Oil Pen ($24) and Dr. Hauschka® Neem Nail & Cuticle Oil ($39). If compiling this many tools seems daunting and pricey, another option is to purchase an all-in-one set. Olive & June® The Tool Box ($42) provides you with all of the basics in one kit.
DIY Pedicure Step 2: Take Time to Prep Your Feet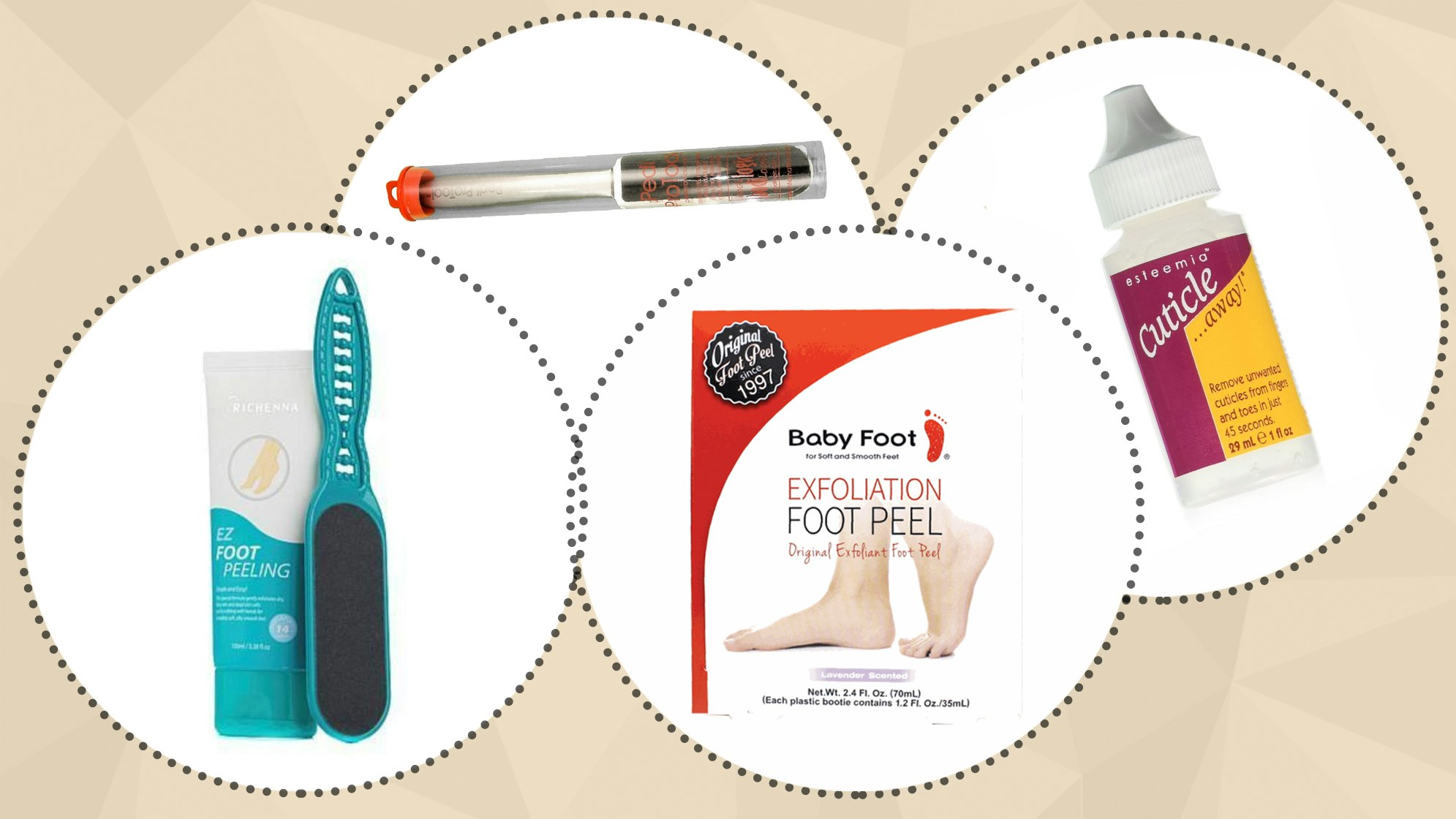 Exfoliation: Even the highest-quality tools and glossiest polish job won't rival a salon service if your feet are covered in calluses. While daily use of a pumice stone in the shower is great for keeping rough patches at bay, a metal or diamond foot file is necessary for more heavy-duty callus removal. Kandalec swears by the BodiLogic Pedi ProtoolTM  Foot File ($29), a stainless-steel file wand with disposable abrasive pads in three coarseness levels. "I bring these to my private clients," she says. Note: unlike pumice stones, many pros recommend that foot files should be used on dry skin — before you soak your feet — unless otherwise stated in the product's directions. 

Bonus: to take your callus removal up a notch, high-profile manicurist and New York City spa owner Jin Soon Choi suggests trying a foot peeling product, which can slough away layers of dead skin that have built up over several months. Choi likes Richenna EZ Foot Peel ($20). "It smooths out your calluses quickly and without much effort," she explains. Beauty insiders also praise The Baby Foot®  Original Exfoliating Peel ($25). Thanks to a blend of lactic and glycolic acids that zero in dead skin cells, feet are transformed into soft, new skin over a week of intense (yet satisfying) peeling. The process can take up to two weeks from start to finish, so plan ahead of your pedicure. For those uncertain about extreme forms of exfoliation, though, a product like EsteemiaTM Cuticle…Away!® ($7), "is really effective on calluses," Kandalec adds, and can be used the same day as you polish your toes. Use it as a spot treatment to target specific areas of your foot.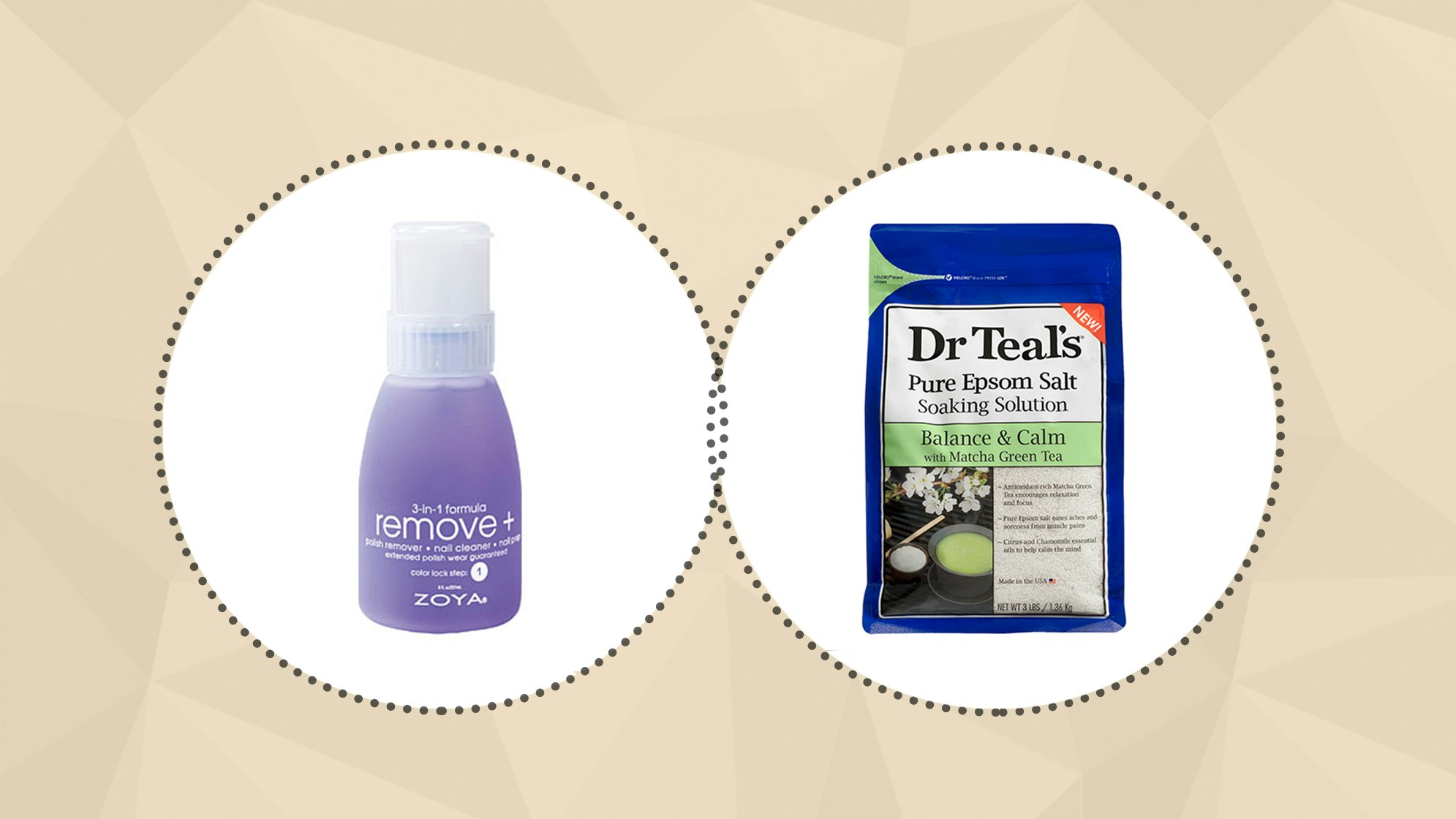 Clean and Soak: A fragrant foot bath can work wonders for tired toes and a stressed-out mind. Once your feet are freshly exfoliated, remove any existing nail polish. We love Zoya® Remove+ Nail Polish Remover ($10) for its ability to quickly (and gently) strip lacquer from the nail while simultaneously conditioning it. Now, for the relaxing part: fill your bathtub or a large bowl with warm water and a cup of Dr. Teal's® Epsom salts ($5). Consider a calming eucalyptus or lavender scent to amplify the relaxation vibes. Celebrity manicurist Deborah Lippmann is also a devotee of adding baking soda and lavender oil to water. "Your whole body will love you for that," she tells us. 

To elevate the experience even further, you can also recreate one of Choi's essential oil-infused services offered at her JinSoon Hand & Foot SpaSM. "I have always incorporated essential oils into my manicures and pedicures, and these are a simple way to make your experience relaxing," she explains. In particular, she recommends adding rose oil to "reduce swelling and discomfort in the feet." Plan to soak your feet for approximately 10 minutes (or longer if you wish), while you mellow out and unwind.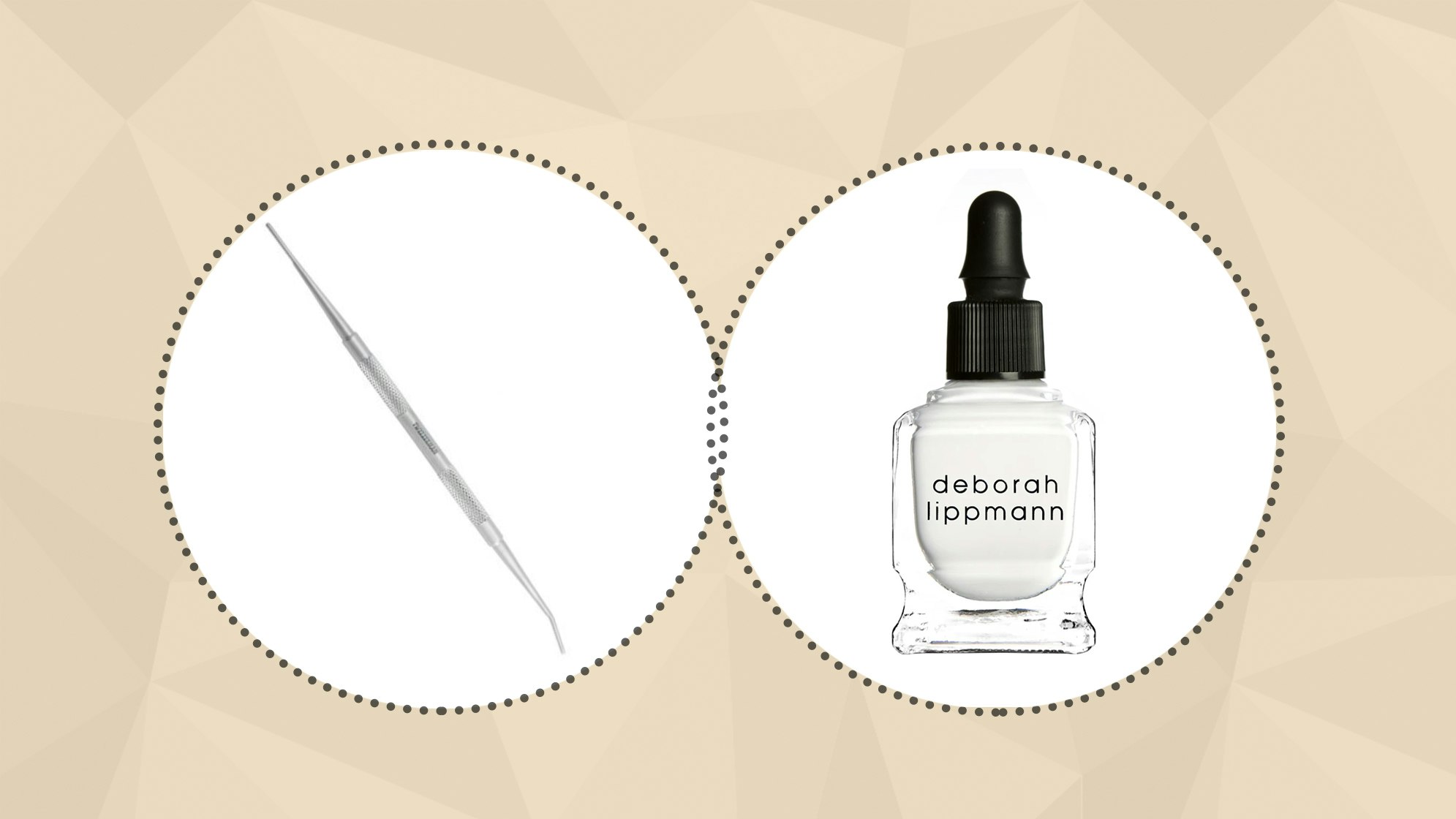 Trim, Shape, and Nip: Now that you're (hopefully) feeling a bit more zen, it's time to roll up your sleeves and focus on the details. Dry off your feet and cut each toenail straight across; this is essential for preventing ingrown nails. (If an ingrown is already an issue, do not cut it, warns Choi, "they're only going to get worse." Instead, place a special tool like the Tweezerman Ingrown Toenail File ($17) under the nail and file it gently to relieve pressure on the skin.) Continue by filing each toe in one direction, instructs Lippmann. "Don't saw back and forth on the tip," she says, "that can weaken the nails and cause splitting and peeling." Finish the shaping process by lightly rounding the edges of each nail, similar to how you would do a "squoval" shape on your fingernails.  

Next, apply a cuticle oil where the nail and skin meet, carefully push back your skin with the orange-wood stick, and use your nippers to clip the remaining skin around the perimeter of the nail. Don't trust yourself with a sharp tool? Try this cut-free cuticle option instead: apply an exfoliator like Deborah Lippmann Cuticle Remover ($20), push back the skin, and wipe it clean with a cotton ball. Most of the cuticle skin should be eliminated, and any hanging excess can be easily trimmed.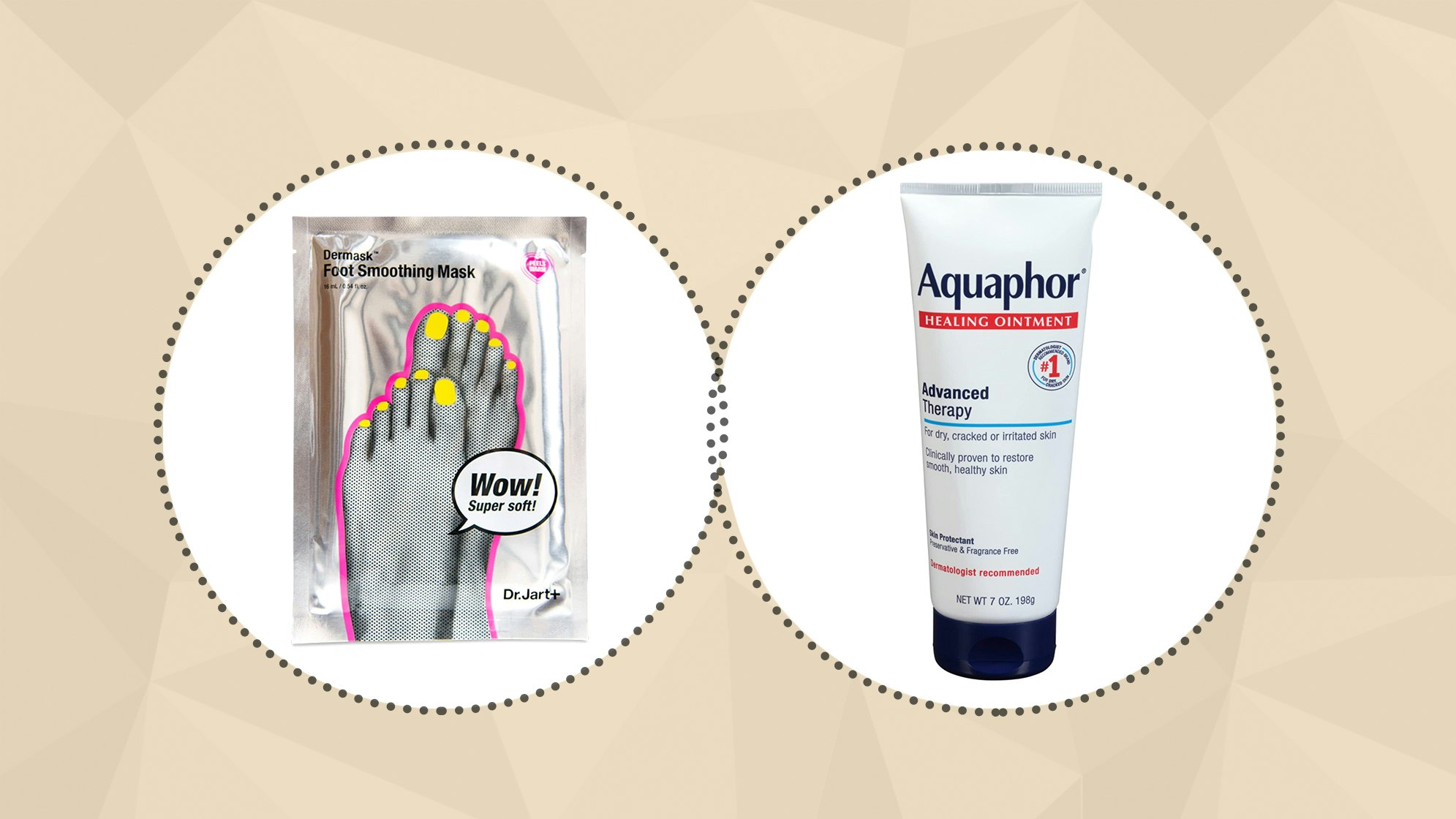 Buff, Moisturize, and Buff Again: At this point, your feet should start to resemble their mid-pedicure selves: the skin is softer, the nails are shorter, and any overgrown cuticles have been cleaned away. So, what's next? Wipe off any excess oils, then massage the toenail surface with a fine-grit buffing tool to prevent splitting and peeling. "[These issues are] more common in toenails because they are subjected to pressure from shoes, walking, and generally don't get as much hydration," explains Kandalec. 

To complete the prep process, finish with a rich moisturizer or foot mask. We like Dr. Jart+ DermaskTM Foot Smoothing Mask ($12) or Aquaphor® Advanced Therapy Healing Ointment ($12). Be generous, giving extra hydration to your heels and the balls of your feet. Once the moisturizer is fully absorbed, wipe your nails dry, and prepare to buff once more. This guarantees the nail beds are free of residue, which makes it ideal for nail lacquer to adhere — and last. 

DIY Pedicure Step 3: Polish Like a Pro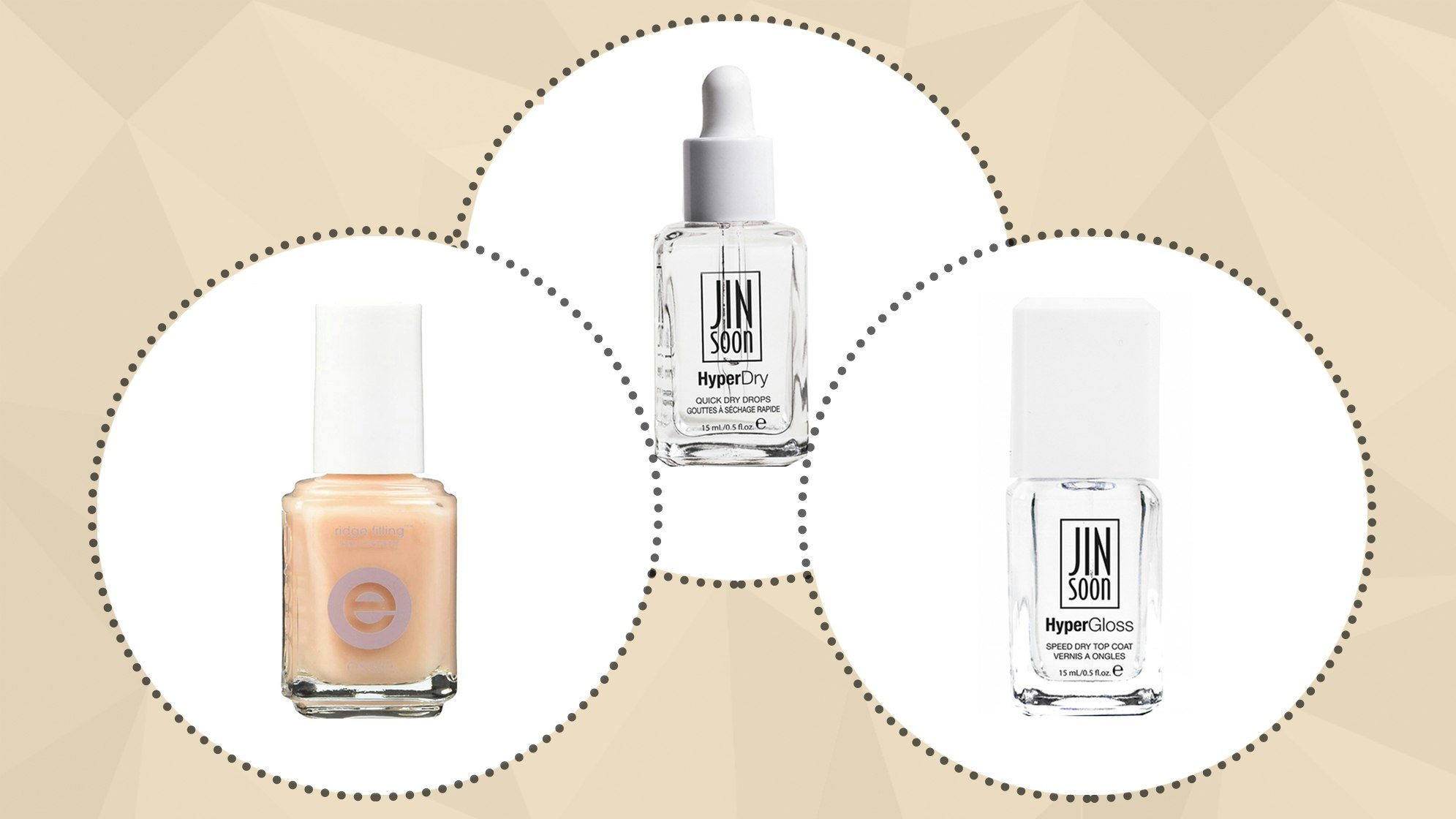 Welcome to the fun (and final) part of your pedicure: adding color! Prepping the nail itself is key to achieving a long-lasting polish job that won't prematurely chip. First, wipe off each nail with an acetone polish remover or alcohol before applying polish. Remember, any oils or residue will work against your lacquer. Then, apply a base coat — even if you think you don't need to, you do: it helps the polish grip your nail better! Choose one with added benefits like Essie® Ridge Filling Base Coat ($10) to smooth out uneven texture and also combat yellowish nail discoloration. 

Now that you're ready to add color, apply two (thin) coats of your preferred shade, waiting one to two minutes in between each layer to speed up drying time at the end. For those of us with tiny toe nails, less is more, advises Lippmann. "You might try dipping the brush into the polish and start polishing the big toe and finish with the pinky toe when there is only a small amount of polish left on your brush," she says. Or, try rotating the brush 90 degrees so the lacquer is deposited just from the edge of the bristles, offers Kandalec. Finally, finish with a quick-dry top coat and drops. Try Jinsoon® HyperGloss ($22) and HyperDry ($24) quick dry drops to help prevent smudges.
DIY Pedicure Bonus: Spring/Summer 2020 Color Trends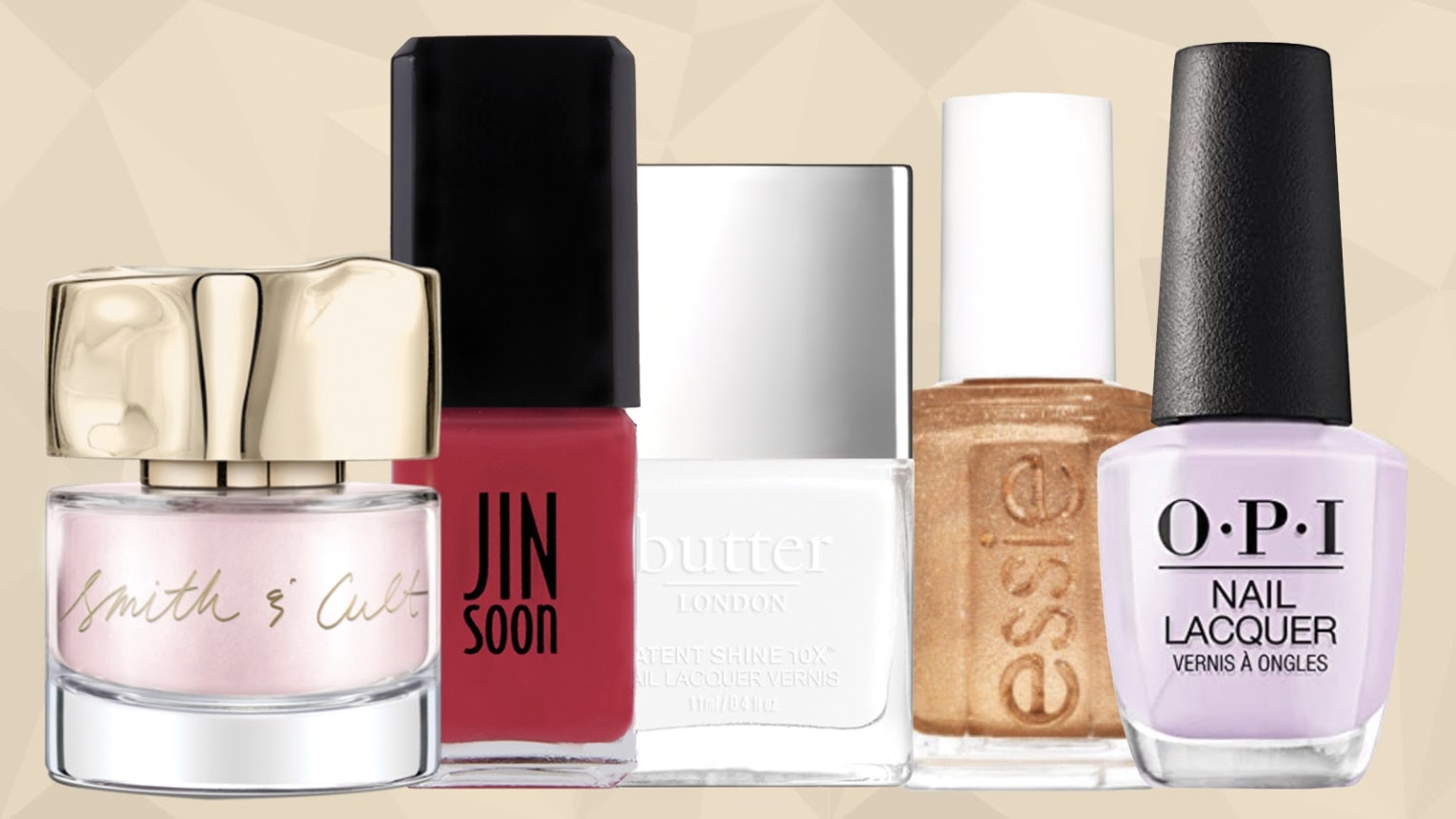 Perhaps you have a wardrobe of polishes already in your bathroom, or maybe you need to go shopping. Either way, allow us to help you select the perfect summer shade. Whether you opt for a traditional hue or for something a bit trendier, you can't go wrong. A bold, bright color, like a pink-based coral or fire-engine red, is an easy way to add a statement to your look. Not only are these both "on-trend," says Choi, but they feel classic at the same time. For corals, try the pink-leaning JinSoon® Nail Polish in Coral Peony ($18) or the orange-based CND® VinylLuxTM Weekly Polish in Desert Poppy ($11). More of a red fan? Try punchy Sally Hansen® Miracle GelTM Nail Polish in Poppy Patch ($6) or Orly® Nail Lacquer in Fireball ($10).

If you prefer more minimalist shades, consider a conventional sheer pink (like Smith & Cult® Nail Polish in Certain Sweetness, $18) or peach (such as, Deborah Lippmann® Gel Lab Pro in Boujee, $20). For a universally flattering option, choose a sheer shade that contains shimmer, which tends to enhance any skin tone. Equally as minimalist — and also simultaneously trendy and iconic — is opaque white. For a simple cream, try Butter London® Nail Lacquer in Cotton Buds ($18), and for a shimmering finish, check out Zoya® Nail Polish in Genesis ($10). Still looking for something soft and feminine, but different? Pastels provide a neutral effect that's never boring — and Kandalec and Choi are both in agreement that purple-y polishes, like lilac and lavender, are the summer 2020 pastel of choice. We like Essie® Nail Polish in Worth The Tassel ($9) for a bolder effect, and OPI® Nail Lacquer in Polly Want a Lacquer? ($11) for a barely-there take.

Learn more about nails:
Product prices may vary from the time this article was written.

Allergan® may receive commissions for purchases made through links in this article.